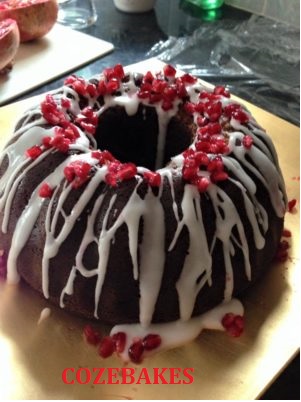 A spiced, sticky ginger cake which is one of my favourite! This very simple bundt cake recipe is flavoured with ginger and cinnamon and has a wonderful sense of the festive season about it. I do have a bit of a thing for bundt tins but you can use a standard 20cm instead 🙂 
I decorated it with white dripping icing and pomegranate seeds as it was made originally at Christmas, but as the season changes, you could make a coulis from raspberries and pour it over while saving some whole ones to decorate. Once it gets closer to summer, using Passion Fruit to drizzle over would make a great taste combination and the colour would look fantastic.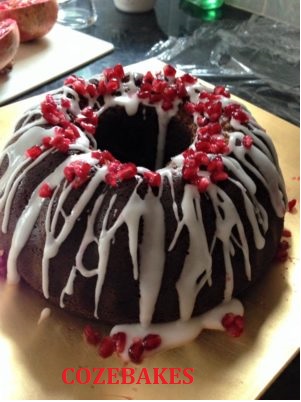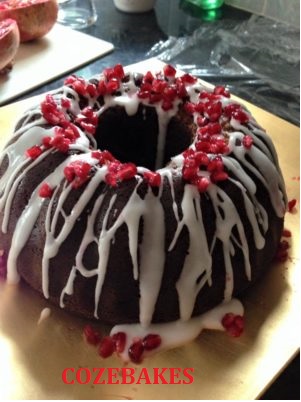 Ingredients:
200g unsalted butter, plus extra to grease
200g dark muscovado sugar
200g black treacle
4 balls stem ginger in syrup, roughly chopped (I used 4 heaped teaspoons of ginger reserve)
2 large free-range eggs, beaten
200g plain flour
1 tsp bicarbonate of soda
1 tsp ground ginger
1 tsp ground cinnamon
225ml natural yogurt
Method:
Get all your ingredients together and grease and flour the bundt tin really well.
Heat the oven to 180°C/Fan 170°C/gas 4. Generously grease a 1.5 litre bundt tin. Heat the butter, sugar and treacle gently in a pan until the butter and sugar have melted. Beat in the stem ginger and eggs with a balloon whisk.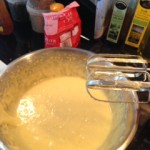 Sift the flour, bicarbonate of soda and spices into a large bowl. Pour in the sugar/butter mixture and stir with a balloon whisk, then stir in the yogurt until combined. Pour into the greased bundt tin. That's it! Simple as.
Bake for 50 minutes or until a skewer inserted into the cake comes out clean. Leave to cool in the tin for 30 minutes, then turn out onto a wire rack to cool completely. Don't be tempted to remove before the time or it could stick to the tin.
Cooling in the tin. Remember that it's a dark mixture so it will come out darker than your standard cake.
For the topping, put 75g of icing sugar in a bowl, then gradually whisk in a drizzle of warm water until you have an icing that runs thickly from a lifted spoon. You'll need less water than you might think, so add it slowly. Drizzle the icing over the cake, then scatter over the pomegranate seeds. Leave the icing to set for 30 minutes approx.
You don't have to use pomegranate, you can use freeze dried raspberries and/or strawberries and add some holly leaves for a very festive feel.
The cake will keep, wrapped in baking paper and foil, for up to 6 days in a cool, dark place (the texture is at its best after about 2-3 days). Freeze it, wrapped well, for up to 3 months, then defrost thoroughly to serve.
If you prefer to use a different shape tin, go for one that takes the same volume – this recipe works well in a 20cm round cake tin. Check the cake after it's been in the oven for 50 minutes, as with the bundt tin version, but a different shaped cake might need a little longer in the oven before it's baked just right.
Bake with love
Soraya x