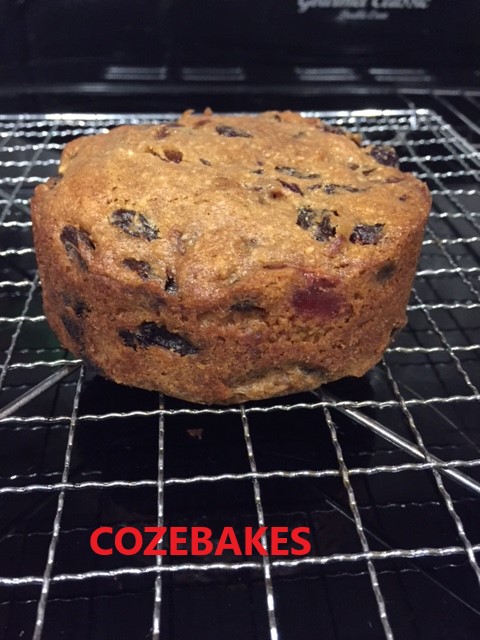 I have another lovely fruit cake recipe here on cozebakes and I've used it for a Christmas Cake before. It's very fruity and a lovely traditional fruit cake. It's a 7″ square cake which can be cut to make 2 gift cakes or keep all for yourself!
This is a new recipe I tried and it's also a lovely bake, probably a little spicier than the Fruit Cake and will work really well for a Christmas cake also. It makes an 8″ / 20cm round cake though I made it in a 6″ as requested and used the leftover for a mini trial cake. There has to be a cook's treat!!
My advice? Read both recipes and decide which rings your bell. I can stand over both as delicious and impossible to tell the difference from a regular non gluten free cake. Here's a link to the other recipe for you to check out: https://www.cozebakes.com/2016/11/09/fruit-cake-gluten-free/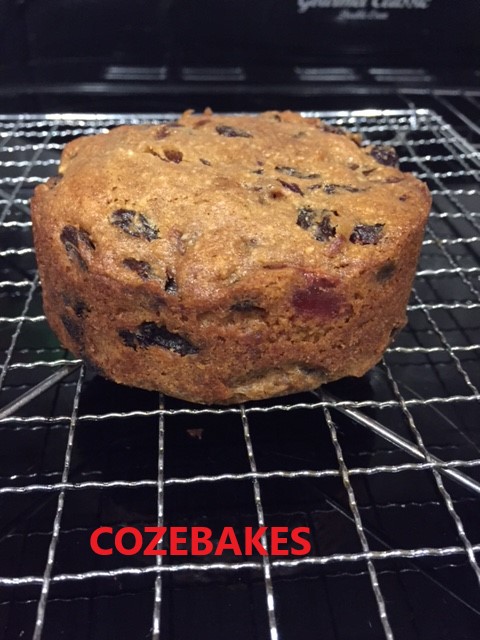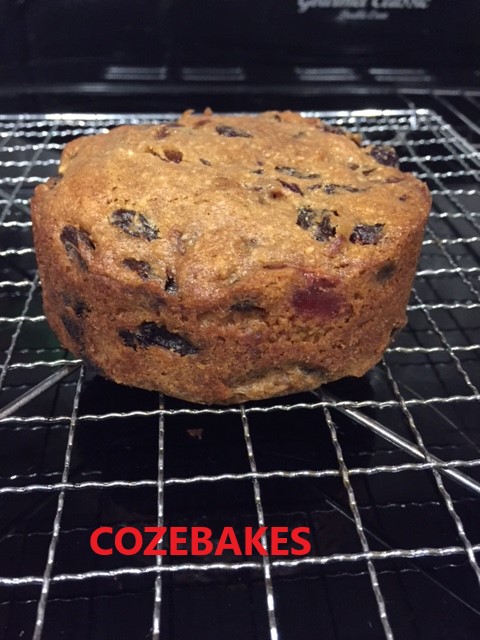 It's a lovely, straightforward recipe which only takes about 25 minutes to get into the oven. If you're making the 8″ / 20cm size, you need 2 hours baking. I made a 6″ one which took 1 and half hours. Just check with a skewer. If it comes out clean, it's baked and ready but do leave it in the tin for at least 3 hours to completely settle before removing then wrap in clean parchment and then foil. It will keep fresh for several months in a cool place.
Here's a quick video to show how to line your tin so you get perfect results: https://www.youtube.com/watch?v=MkQER6pF0lc
Ingredients:
150g currants
150g sultanas
150g raisins
100g glace cherries, halved
50g mixed peel (or replace with dried cranberries)
Zest and juice of 1 lemon
150ml port, sherry or brandy
175g softened butter
175g soft brown sugar (I used dark brown sugar)
3 large eggs
100g gluten free self raising flour (I used Dove's Farm)
2 teaspoons xanthan gum
1 tsp cinnamon
1 tsp ginger
1 tsp allspice
1/2 tsp nutmeg
85g ground almonds
Method:
Preheat oven to 150C Fan / 170C or Gas 4.
Grease and then double line a 20cm cake tin.
Put all the dried fruit, lemon zest, juice and alcohol into a large bowl and mix well. Leave it for 2 hours to soak. I left mine overnight.
Put the butter and sugar in a large bowl and beat well. I would advise you beat the butter first then add the sugar and beat again. Add the eggs one at a time and beat well between each addition.
Add all the dry ingredients and using a large spoon, mix well. When there's a number of dry ingredients like in this recipe, I would always put them first in another bowl and whisk them together to get everything evenly combined. It just prevents any hidden lumps.
Add the fruits mixture and again, mix well with a large spoon.
Transfer to your prepared cake tin and bake for 2 hours. Check after 1 hour and if the top if browning too quickly, put some parchment over the top. Check if the cake is cooked by inserting a skewer and if it comes out clean, it's baked.
As mentioned before, leave it for several hours in the tin before removing and don't decorate or cut for at least 3/4 days.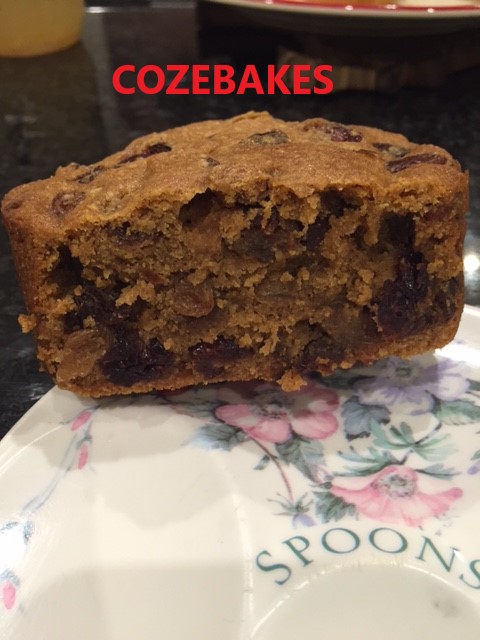 Bake with love
Soraya x