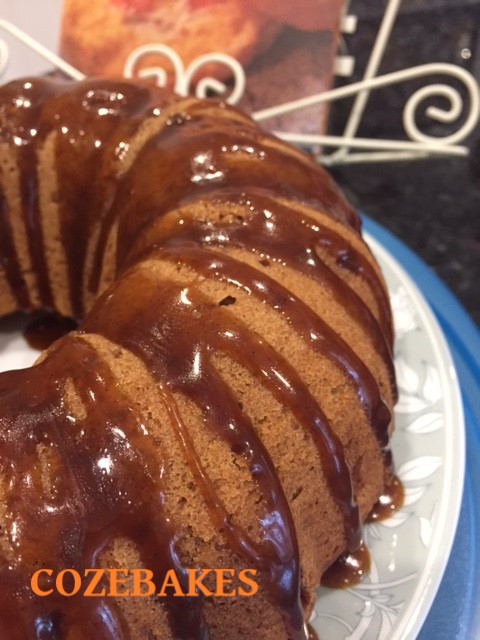 I feel this is a really traditional style cake that could have been passed down from one generation to another. Making it in a bundt tin does just lift it to another level. Any cake looks so special in a bundt shape!
The cake itself doesn't have any butter. It uses vegetable oil so if you leave out the caramel glaze, you can give to dairy free friends.
There's a lovely simple caramel glaze over this cake but you could just as easily dust it with icing sugar.
This recipe makes a really tasty, soft and delicious cake and if you decided to serve it with vanilla ice cream, well you will be very popular!!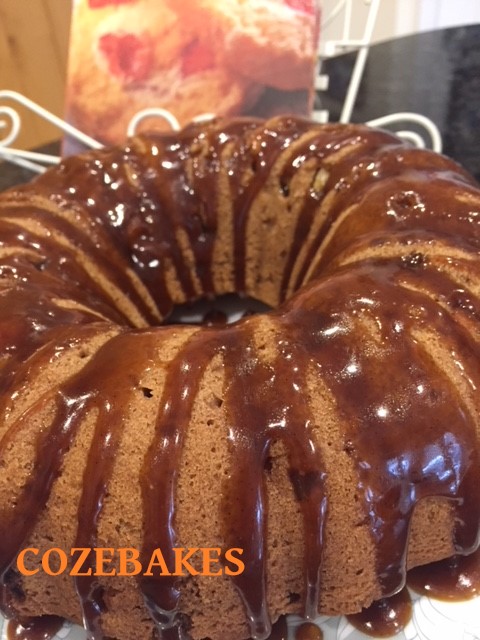 A couple of things to take note for a perfect result.
Use a classic bundt tin, not one with lots of grooves as the apple pieces won't sit properly
Use a 9″ or 10″ bundt tin – bigger or smaller will loose the shape
Grease the bundt tin properly. Use a pastry brush to get into every curve
You can frost the cake as I did but another option is to pour the caramel sauce over the cooled cake before it becomes thick. That way, it will soak into the cake. I left it for 15/20 minutes and then decorated the cooled cake.
As usual, I greatly reduced the quantity of sugar from the original recipe and I've converted it from cups to metric measurements. The recipe originally comes from I Am Baker.
Ingredients:
160g caster sugar
250ml vegetable oil
2 tsp vanilla extract
3 large eggs (room temperature)
335g plain flour
1 tsp bicarbonate of soda
1 tsp cinnamon (I used 2 as I like a strong flavour)
1 tsp salt
3 medium Bramley apples, peeled, cored and chopped into small pieces. I weighed them after and it comes to about 275g of prepared apple pieces.
Caramel Glaze:
112g butter
2 tsp double cream
85g brown sugar
1 tsp vanilla extract
Method:
Preheat oven to 175C and grease the bundt tin making sure to get into all the corners and curves.
Using an electric mixer, beat together the sugar, oil, vanilla and eggs until they are light and fluffy. It will take about 3 minutes.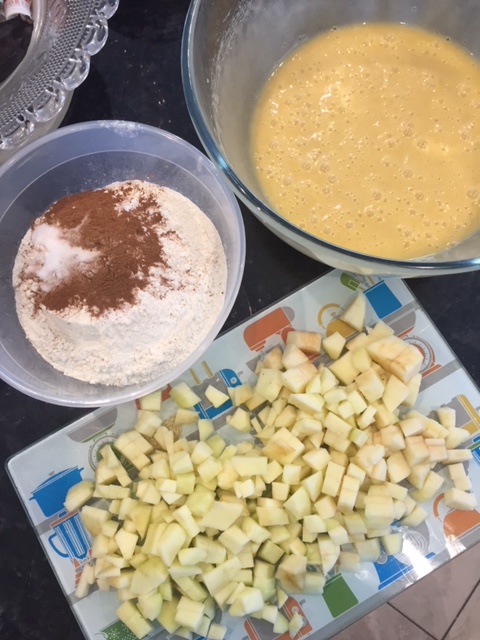 In a smaller bowl, use a whisk to combine the flour, bicarbonate of soda, cinnamon and salt.
Stir this into the batter until it's just blended. Don't overwork it or it will become tough.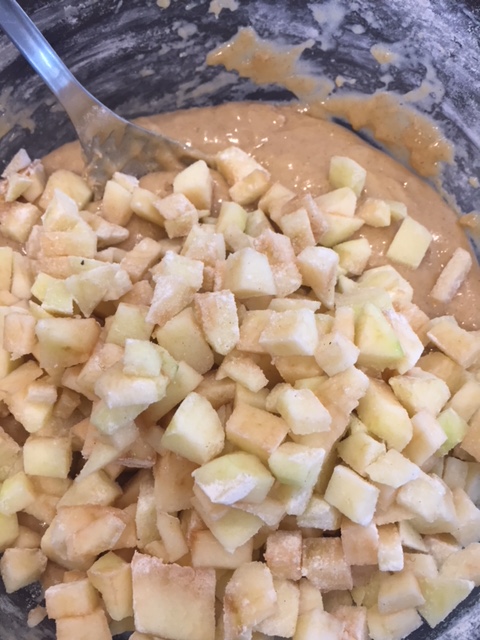 Fold in the apples and spoon into the prepared bundt tin. Smooth over the top.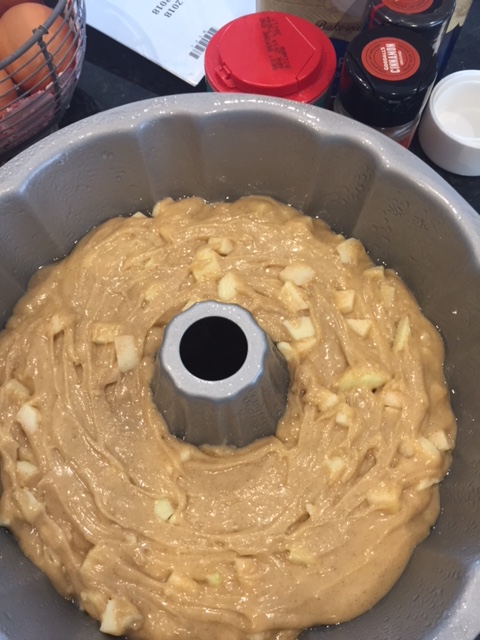 Bake for 55 / 65 minutes and check with a skewer that it comes out clean.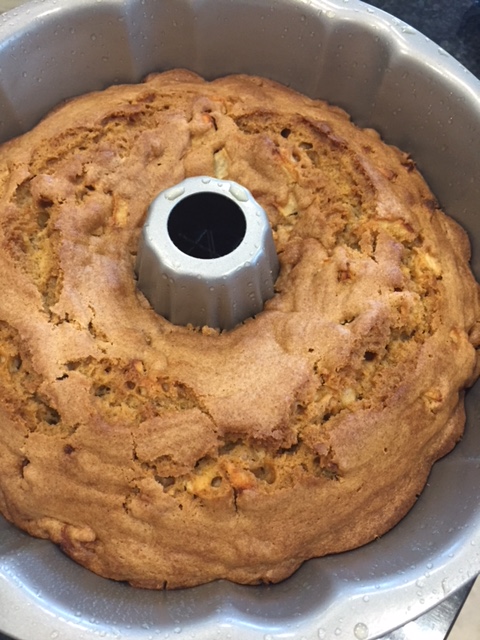 Allow to cool for a good 20 minutes in the pan before trying to remove to a wire rack to cool completely.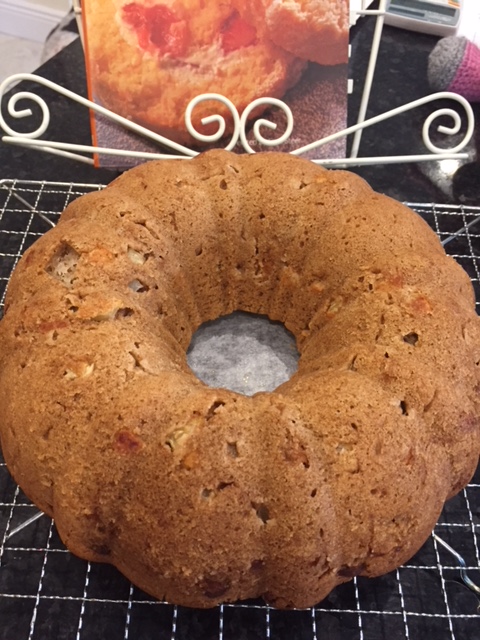 There's something just so satisfying and actually makes me quite smug when a bundt cake turns out perfectly with every bit intact. These are good days 😉 😉
While the cake is cooling, you can make the glaze by putting the butter, cream and brown sugar into a small saucepan and dissolve over a medium heat.
Bring it to the boil and stir all the time to dissolve the sugar and then remove from the heat.
Add in the vanilla extract and stir until combined. You can now pour it over the cooled cake if you like and it will all soak in. Otherwise, I left it sit for about 15 minutes and it thickened right up and then I spooned it over the cake trying to make it look all fancy!!
Don't you love when the glaze drips down the side of a bundt?? It can't just be me??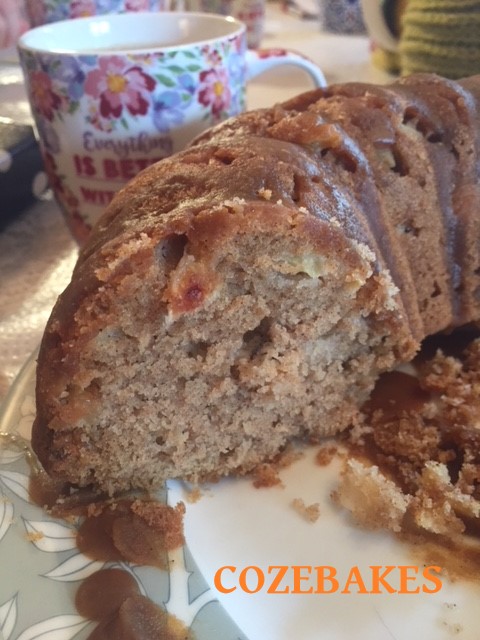 Now it's time to enjoy! Bake with love
Soraya x