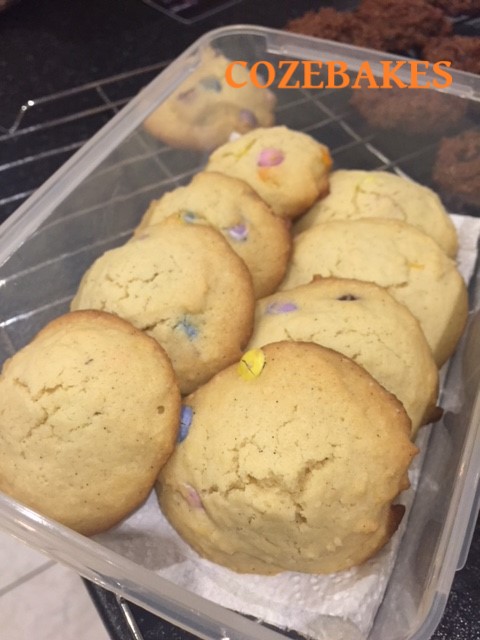 Originally these cookies were made to be sugar cookies where you roll the dough in sugar before baking but I'm not a fan of coating biscuits in sugar. I did add some mini chocolate smarties to these, just a handful to make them look nice and as I greatly reduced the sugar content in the cookies, I thought it wasn't too bad to add a few for flavour.
You should get about 10 out of this recipe but it will depend on what size you make them.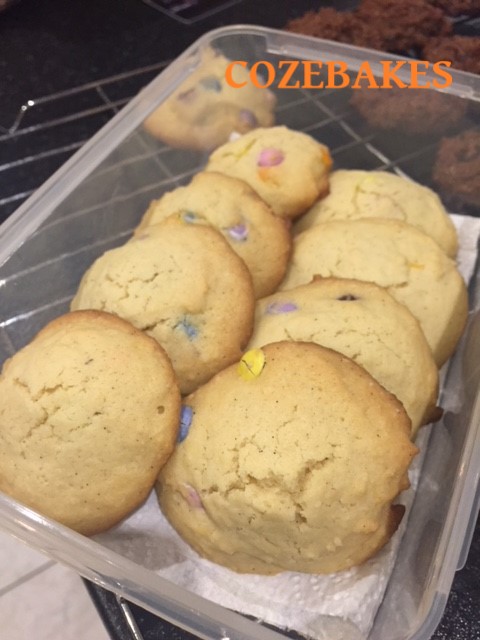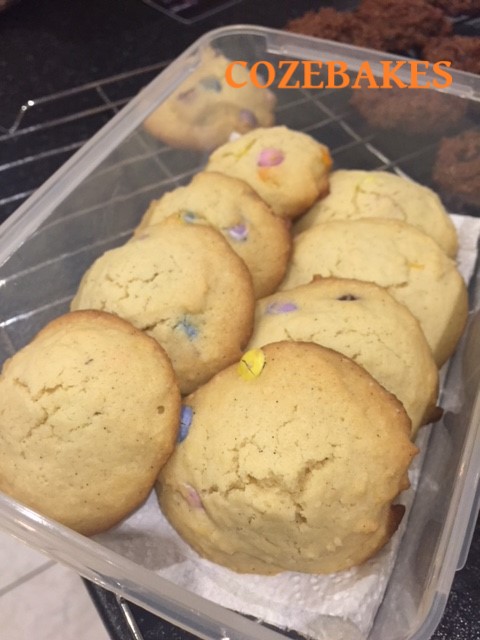 Unfortunately I think I deleted the pictures I took while making them (don't ask!) but it's pretty straightforward. What's lovely about this recipe is that you can add some lovely flavours so have a think about adding these flavours:
grated zest of lemon
grated zest of orange
teaspoon of cinnamon
chocolate chip cookies
dried fruit – raisins, sultanas, etc
dried cranberries or blueberries
So if you do want to make them into sugar cookies, then once you shape a piece of dough, you can lightly roll it in a little bit of caster sugar. If you have a vanilla flavoured sugar, it will add a lovely flavour or you can add 1/4 tsp ground cinnamon to a small bit of caster sugar and coat each biscuit in this too.
So here are the basic ingredients:
65g butter, melted
30g caster sugar
1 large egg yolk
1/2 tsp vanilla extract
125g plain gluten free flour
1/4 tsp bicarbonate of soda
1/2 tsp xanthan gum
2 tbsp. ground almonds
Method:
Preheat oven to 175C (conventional oven) so 165C Fan and line a tray with parchment paper.
In a bowl, stir together the melted butter, sugar, egg and vanilla extract till well combined.
Then add the flour, bicarbonate of soda, xanthan gum and ground almonds and stir to combine but don't over work it.
Press this dough in the bowl to bring together. Roll or shape a piece of dough and place on the prepared baking tray. I think I probably should have flattened mine down a bit more before baking as they rose in the middle and I ended up with little domes (no one was complaining).
Bake for 10 / 12 minutes and you will see they start to crack and appear dry on top. Remove from the oven and let them sit on the tray for about 2/3 minutes before moving them to a wire rack to cool completely.
Keep in an airtight container for up to 3 days (they won't last that long!)
Enjoy and bake with love
Soraya x