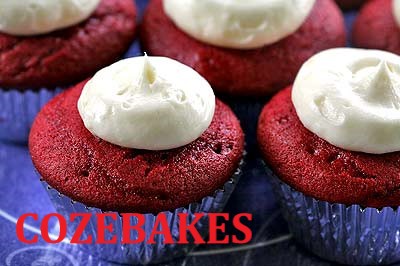 When you hear Red Velvet you always feel they are a little bit special and up a notch from your usual cupcake. Personally, they don't rock my boat as much as other flavours do but they always receive a great reaction and visitors love them so for that reason, they are served at cozebakes. We're all about pleasing people!
Made this particular recipe for the first time;  I've always found Red Velvet recipes seemed quite complicated for a simple cupcake but this one worked out well and wasn't difficult. There are more ingredients in a red velvet than most other cupcakes but they are worth it for a special occasion. What I like about this recipe is that these cakes will keep for a few days in a cake tin or airtight container. You can also freeze them and then defrost and ice when you need them. Handy to get ahead 🙂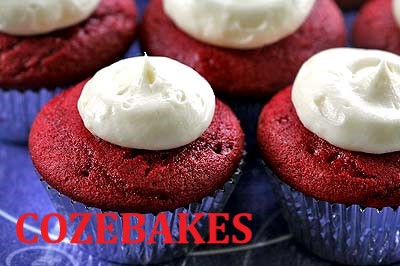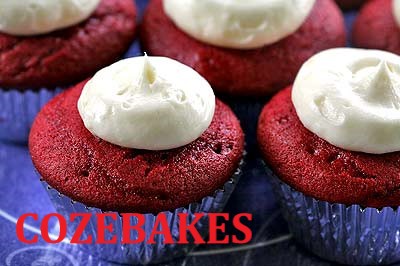 I used red food colouring for this recipe to get that bright, vibrant red that's known for Red Velvet. I haven't tried the gel colouring yet as I feel the quantity needed might effect the taste but I will do again and report back. For the moment, you will need a full bottle of colouring. I know it looks really bright but it works out brilliantly!
Ingredients:
100g butter, softened
140g golden caster sugar (I used 80g and it was fine)
2 large eggs, beaten
225g plain flour
25g cocoa powder
1/2 tsp bicarbonate of soda
150ml buttermilk
25ml bottle of red food colouring
Method:
Heat oven to 180C/160C Fan/Gas 4. Line a 12 hole muffin tin with cases. If you can get purple cases, use them. The contrast looks fantastic. But any bright case will look great.
Beat the butter and sugar in a large bowl till pale and fluffy. Add the eggs a little at a time (it's worth it), whisking after each addition until fully mixed in.
Sift in the flour, cocoa, bicarb and a pinch of salt.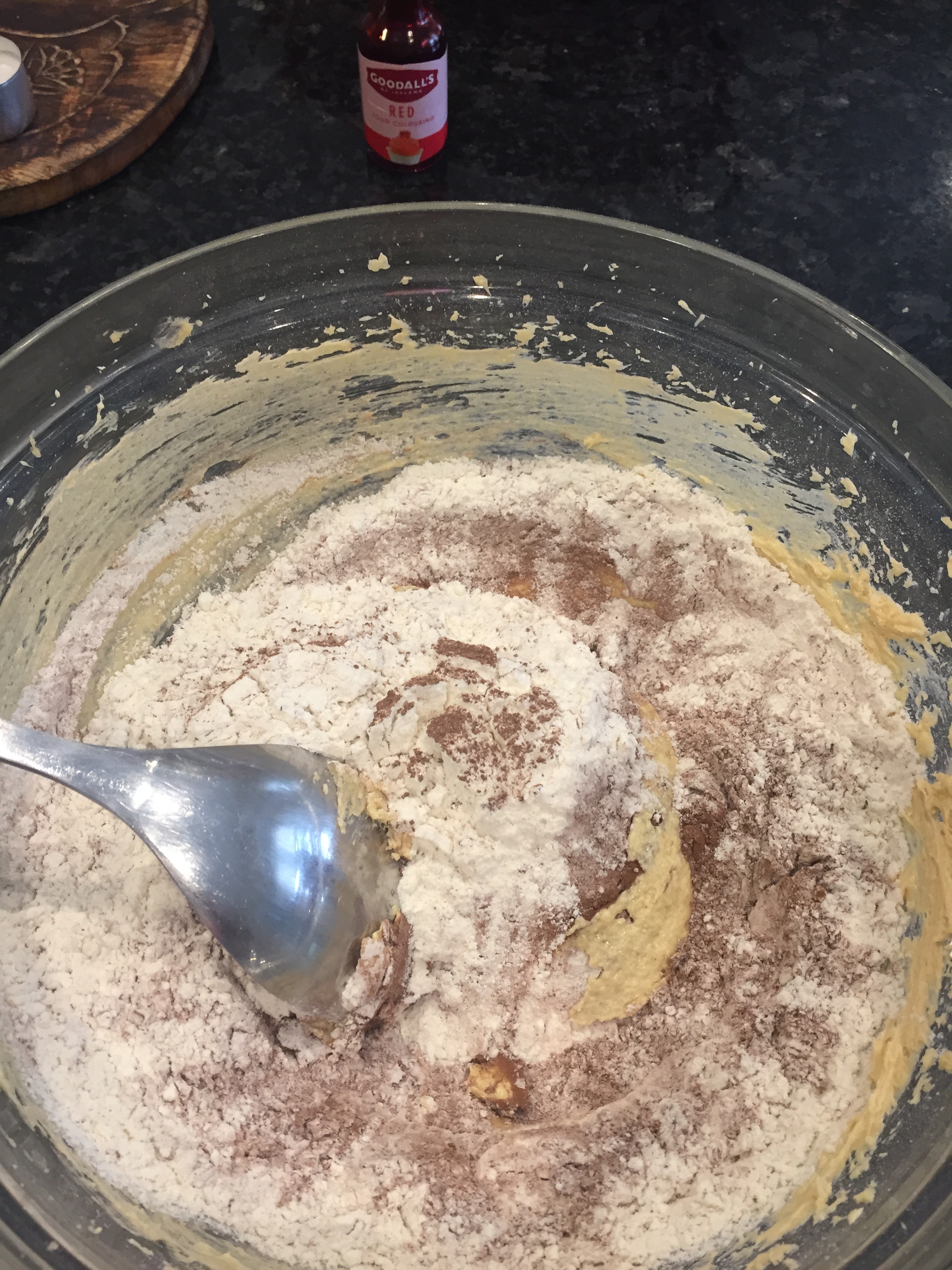 Fold in the dry ingredients with a spatula until you can see no lumps. It's important to fold here and not to whisk.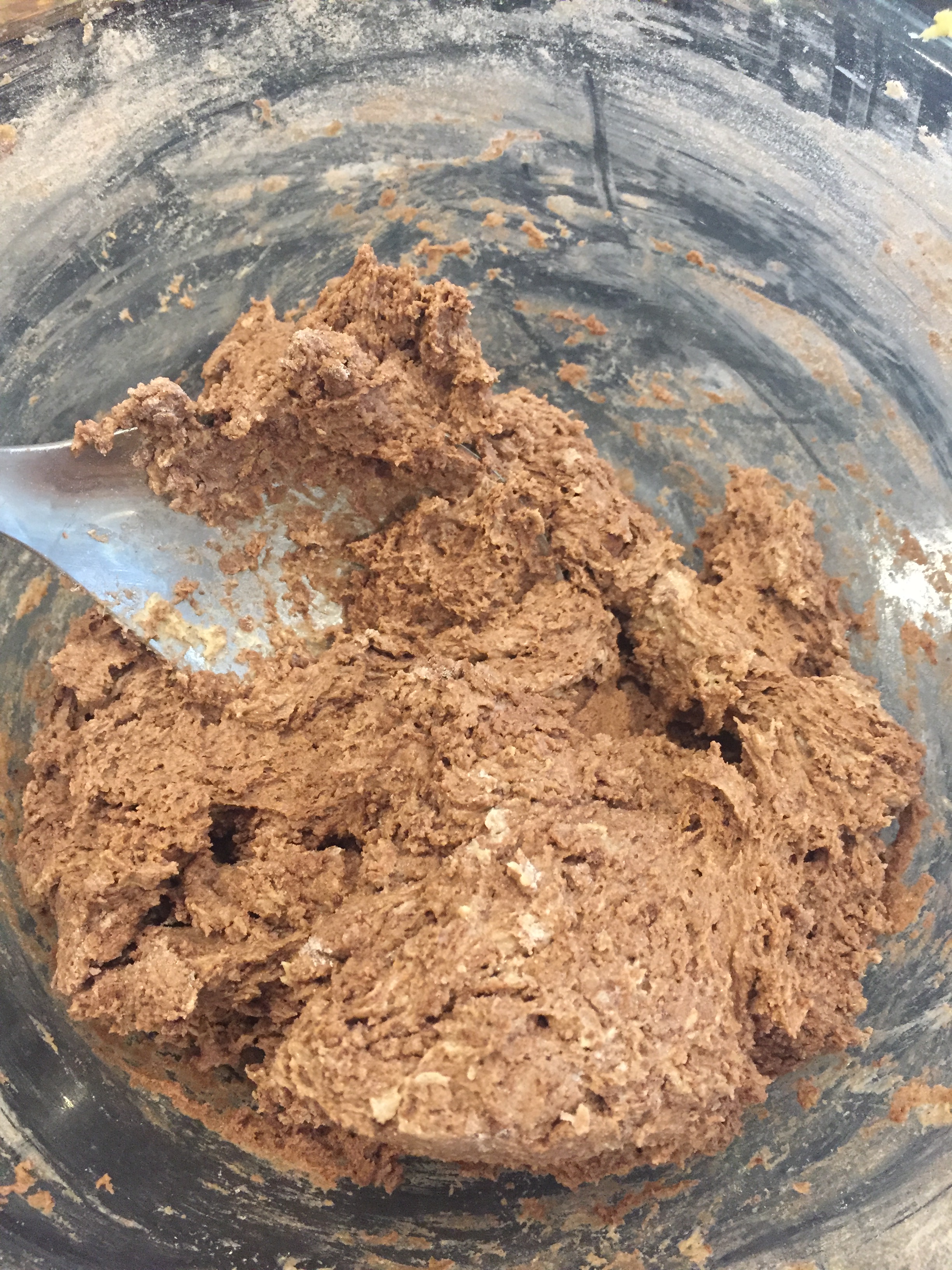 Add the buttermilk and food colouring and stir to combine. Don't be shocked at the colour! Divide the mixture into the muffin cases, only filling half way. Bake for 20 mins until risen. Leave to cool for a few minutes and then place on a wire rack to cool completely.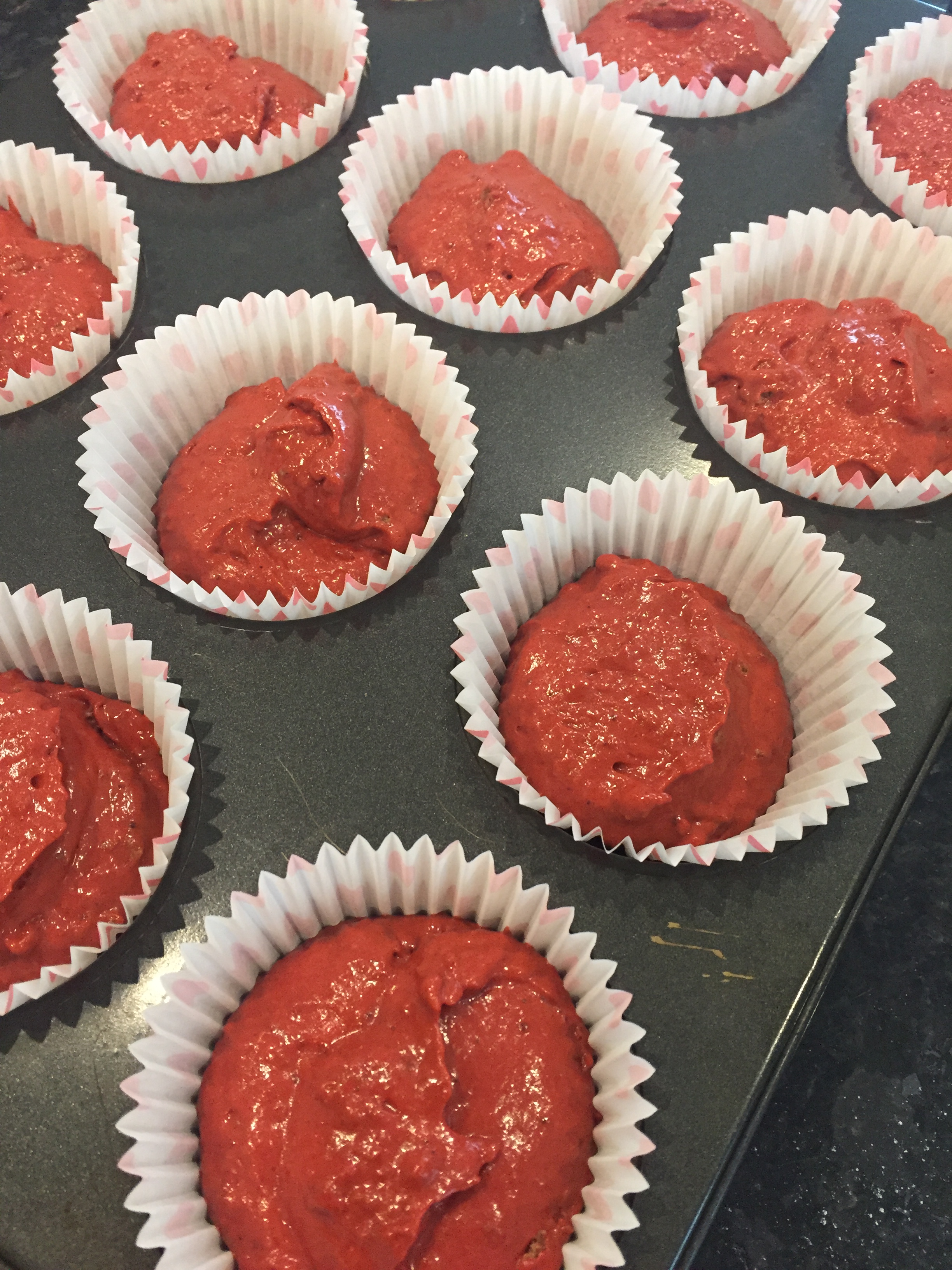 There are lots of different ideas about decorating red velvet cupcakes. Vanilla flavour buttercream icing, whipped cream, cream cheese frosting … and so it goes on. Do what you like best. There are no rules. The white frosting does look great against the red cake and I think a dollop of cream topped with one or two raspberries looks very effective, is simple and works!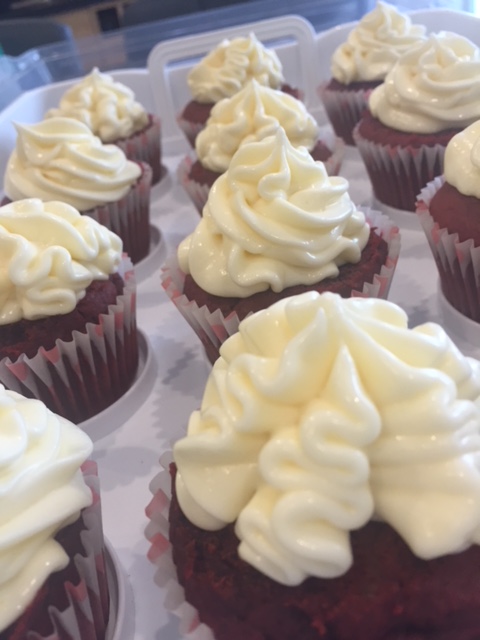 But traditionally Red Velvet is topped with a Cream Cheese Frosting so this is one I use anytime it's called for. There's enough here for more than a dozen cupcakes so you can divide the quantity by half.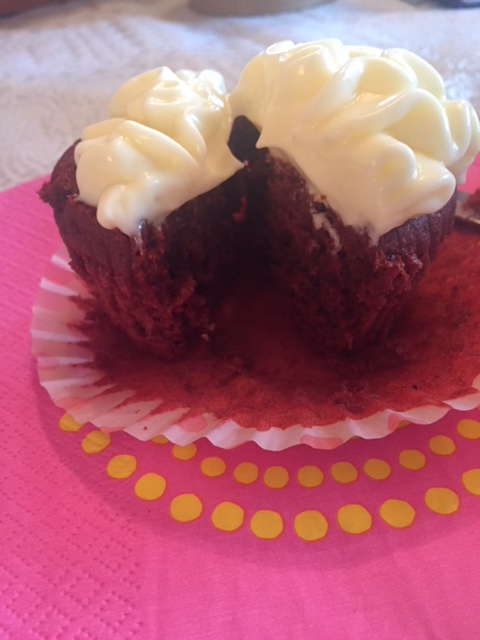 110g butter, softened and 225g cream cheese – beat together until well blended.
Add 400g – 450g icing sugar (your choice) and 2 teaspoons of vanilla extract. Beat really well until thick and creamy and use as needed. This frosting can be made a couple of days ahead.
Bake with love
Soraya x