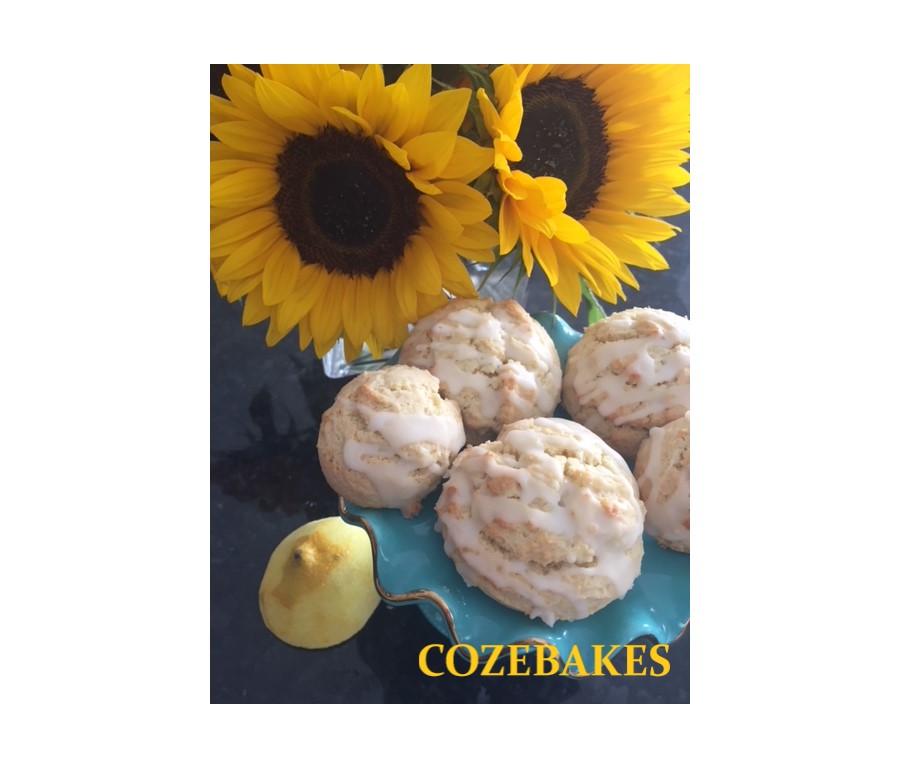 Some of you will know that Lemon is featured a lot at cozebakes HQ. We can't help it. We love practically anything with lemon and when I saw this recipe from Martha Stewart (yes that Martha Stewart), I was always going to make them.
Once I converted them from US weights and cut the sugar in half, I think they are perfect. The great thing about this recipe is that there's no chilling time in the fridge. They take 10 minutes to make and then it's straight into the oven. They are what's known as a "soft cookie" so there's no crunch but I heard no complaints, no … not one 😉
Try to use fresh lemon juice for both the cookies and the glaze as it makes a big difference and I used the zest of a medium sized lemon for the cookies to give them a bit of zing!
A couple of flavour variations are listed below 🙂
I also reduced the sugar quantity by half and they are still delicious and you can taste the fresh lemon zest and juice while still having a nice sweet hit.
I'm sorry I have no method pictures but it took such a short time to make them that it was done and they were on the tray before I realised I hadn't taken any but it's very straightforward.
Ingredients:
230g plain flour
1/2 tsp bicarbonate of soda
1/2 tsp salt (leave out if using normal butter)
Zest of one medium sized lemon
70g unsalted butter, room temperature
75g caster sugar
1 egg (mine weighed 59g so about a medium sized egg)
1 tsp vanilla extract
2 tbsp. lemon juice (half a lemon well squeezed will give you this)
Method:
Preheat oven to 175C and line a baking tray with parchment paper.
In a medium bowl, whisk the flour, bicarbonate of soda, salt and lemon zest together and set to one side.
In a large bowl, beat the butter for a few seconds before adding the sugar and beat till the mixture is light and fluffy.
Then add in the egg, vanilla extract and lemon juice and beat again till everything is fully mixed together.
Reduce the speed of the mixer and add in the bowl of dry ingredients in about 3 parts and beat again till fully combined.
Using a small or medium scoop or if you prefer, a tablespoon, drop spoonfuls of the mixture on the prepared baking tray.
Bake until light golden on the edges which takes about 13/14 minutes.
Remove and let them cool on the baking tray for about 5 minutes as they are really soft and then you can remove them to a wire rack to cool completely. Once they are completely cool, you can add the glaze if you like.
Use 65g icing sugar to 1 tbsp. fresh lemon juice and whisk together until well combined. If you like a sharp taste, add 1 or 2 tsp of lemon zest too. Spoon or drizzle over the cookies and let them dry.
Store in an airtight container (not in the fridge) and enjoy them!
Variations:
Use the same quantities of orange zest and juice but make sure not to get any white pith
Add 1 tbsp. of poppy seeds to the original recipe
Use a combination of lemon and lime for a zesty cookie but don't use the lime zest in the icing as it can be quite overpowering
Bake with love
Soraya x