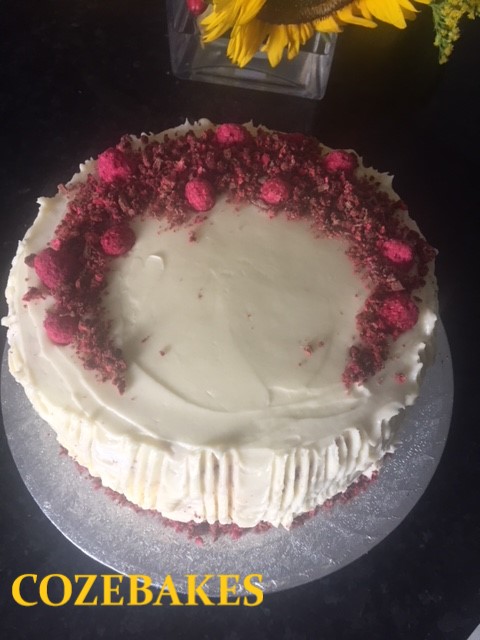 Lots of people relate a Red Velvet Cake to Valentine's Day, an engagement or wedding but it's a wonderful celebration cake any time of the year. It makes quite an entrance with it's red and white contrast and there are lots of decorating options for you to choose.
White chocolate is always a favourite and any red berries work well. I had freeze dried raspberries which I felt would contrast well with the sweetness of the cream cheese frosting and I crumbled some Flake chocolate over this to complete the decoration.
As I made this recipe in two 8″ sandwich tins, I used the cream cheese frosting both for filling and covering. It's a lovely light recipe and straightforward to put together.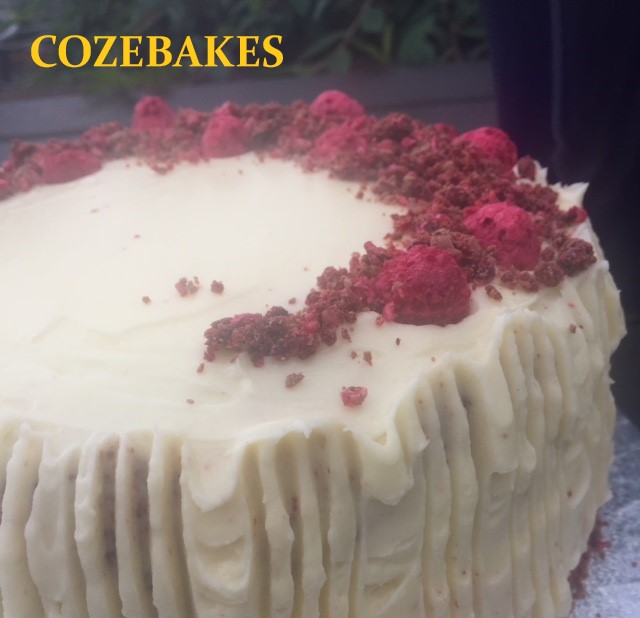 Of course the big wow factor with a Red Velvet is exactly that, a red interior which always succeeds in making an impact. Traditionally a bottle of red liquid colouring would be used to achieve that deep red colour and of course you can do that but I've opted to use a red gel paste with no flavour for this cake. You use far less to achieve the same result and you don't add any liquid to the batter.
I used 8″ high sided sandwich tins as it does rise a bit but once removed from the oven don't worry if you see it settle down a bit. This is perfectly normal and it ends up being nicely evened on topped which of course helps with your decorating. I only had to cut a small bit from the top centre of each cake and I used these cut-offs crumbled into small pieces to help decorate.
Ingredients:
100g butter, softened
300g caster sugar
2 large eggs
3 tbsp cocoa powder, sieved
3 tsp red paste food colour
250g plain flour
150ml  buttermilk
1 tsp vanilla extract
1 tsp bicarbonate of soda
2 tsp cider vinegar
Cream Cheese Frosting:
150g butter, softened
150g cream cheese
400g icing sugar, sieved
Method:
Heat the oven to gas 4, 180°C, Fan 160°C. Grease and base line two 20cm (8in) round sandwich tins with high sides.
Cream the butter and sugar well together. Give this about 3 minutes with an electric whisk.  Beat in the eggs, then add the sieved cocoa powder and the food colouring.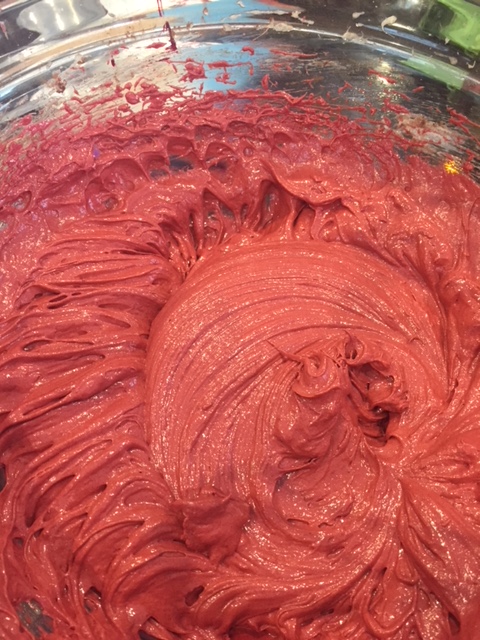 Beat in the flour and buttermilk, alternately, one-third of each at a time. Stir in the vanilla extract.
Then in a small bowl or measuring jug, mix together the bicarbonate of soda and the cider vinegar, it will fizz up,  and stir into the cake batter.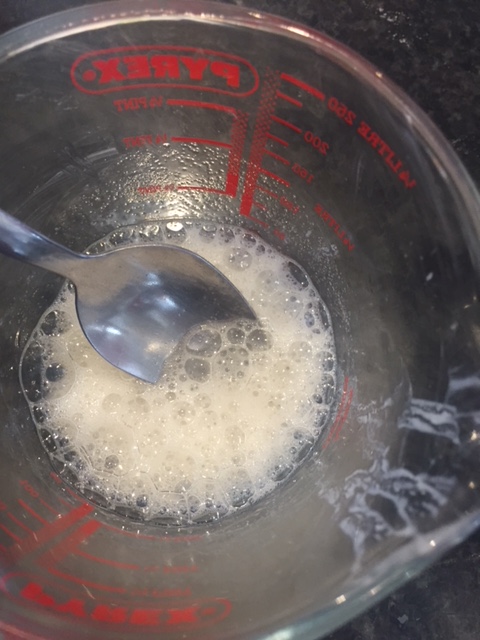 Divide the mixture between the tins and bake in the oven for about 30 minutes. Check with a skewer to make sure it's baked through. Remove from the oven and leave to cool. It may have a dome top when you remove it from the oven but this will sink down so don't worry, it's perfectly normal.
Leave in the tin for about 5 minutes and then use a sharp knife around the edge to loosen and turn out onto a cooling rack. Peel off the parchment and leave to cool completely.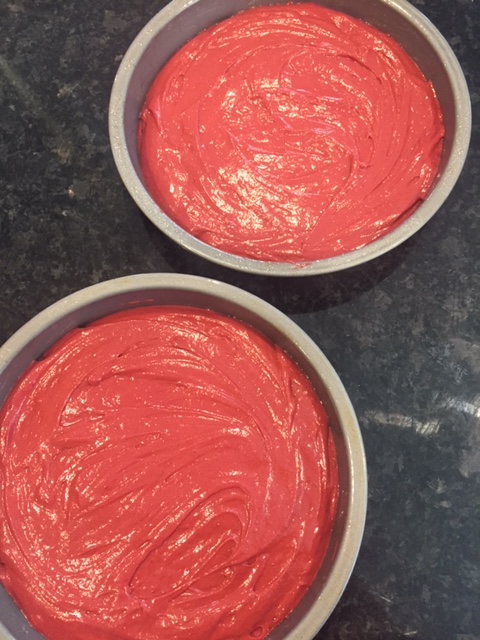 CREAM CHEESE FROSTING:
To make the icing, beat the butter and cream cheese together first and then stir in the sieved icing sugar. I added the icing sugar with a spatula in about 3 parts and at the end, gave it a beating with the electric whisk to make sure everything was well combined. I also feel it lightens up in colour a bit when you do this.
Spread some of the cream cheese frosting over one of the sponges. Place the other sponge on top. If this is for a special occasion, a crumb coating will help to give a professional finish. Add a thin layer of the frosting all over the top and sides of the cake and leave in the fridge for about 30 minutes. There will be crumbs mixed with the frosting but they won't show in the second coating.
Then remove from the fridge and spread the remaining icing over the top and sides of the cake and decorate as desired. This will minimise the amount of red crumbs you get in your cream cheese frosting 🙂
I used the cuttings from the cake crumbled with freeze dried raspberries to create an arc on one half of the cake. I used a fork to decorate the sides.
Because of the cream cheese, this cake needs to be kept in the fridge or somewhere very cool.
Bake with love
Soraya x