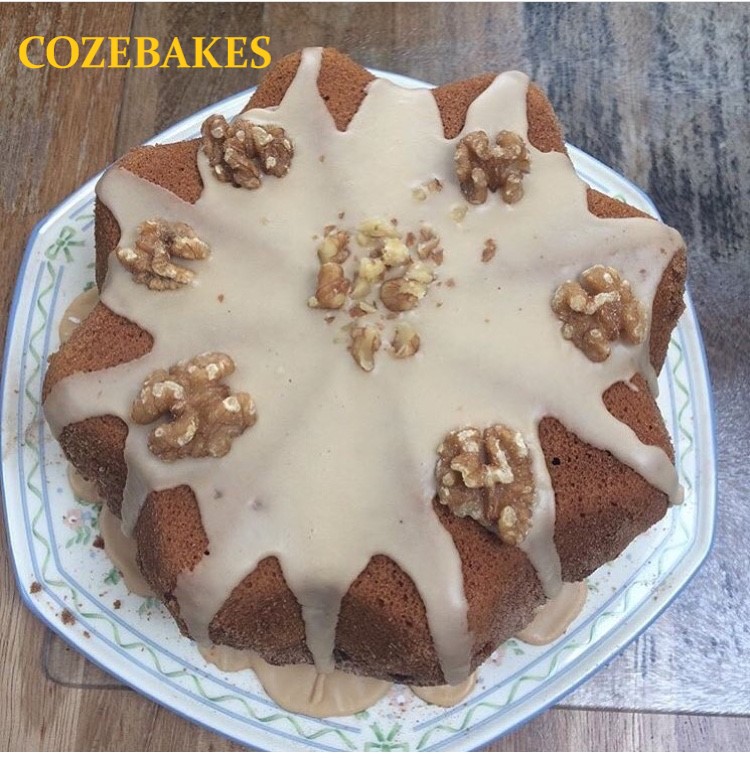 A coffee cake just always seems to grab everyone's attention. It's easy to see why. A well made, full of flavour coffee cake that's not dry or over sweet is a wonderful thing. I love a bundt tin as I feel it turns every cake into a "something special" cake. Just when you see that circle of deliciousness, it's really exciting. I'm not saying that the sight of a cake is not exciting, but a bundt just has that something extra but saying that, you can make this cake in any preferred tin or even in a traybake and cut into squares.
It lasts well too which is always a bonus in case you need a fix the next day or even the day after. I've added a cinnamon and brown sugar streusel type of topping to this particular cake but you don't have to. Also I'm a big fan of a coffee icing more than a coffee buttercream icing so this recipe got the coffee icing drizzle but I do have another recipe which uses buttercream which you can see here: https://www.cozebakes.com/2016/02/23/coffee-cake-with-coffee-buttercream-icing/ 
It's up to you which you use. Both will work equally well but if you choose the buttercream option, I wouldn't add the streusel, it would be too much going on in the cake.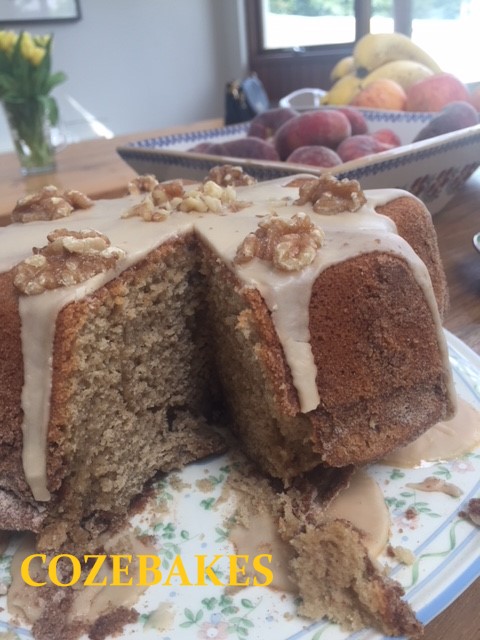 I thought it was a nice idea to include some ready made iced coffee I had in the fridge to add lightness and flavour to this recipe and it worked out nicely so again, if you have it and want to use it, by all means add in the iced coffee but otherwise, make up your own coffee mix using a good, strong coffee flavour. Just leave it to cool a bit before adding. A note here is if you have a flavoured coffee such as vanilla or caramel, try that for a change. It works really nicely!
This cake rises quite a bit so make sure whatever tin you use has high sides or it might be a messy result in your oven!
I placed the streusel topping on top of the cake mix before placing into the oven so that when baked and turned over, the streusel would be on the bottom of the cake. If you prefer, you can make the streusel topping first and sprinkle it all over the bottom of your tin before adding the cake batter on top so that when you turn it out, the streusel will be on top.
It's up to you … I wanted a smooth top for my frosting drizzle but honestly, I don't think anyone is going to complain!! 😉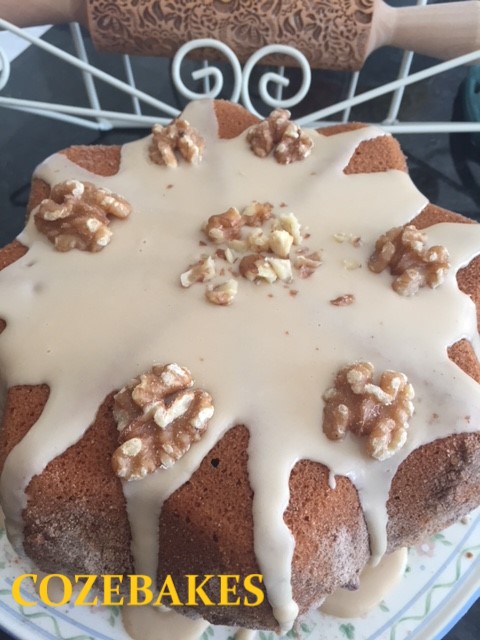 Ingredients:
150g golden caster sugar
75g vegetable oil
2 large eggs
200ml coffee (see above for tips)
360g plain flour
3 tsp baking powder (yes that's 3 teaspoons)
1 tsp salt
Streusel topping:
100g brown sugar
75g softened butter
4 tsp ground cinnamon (you can opt for 3 tsp if you prefer a more mellow taste)
50g plain flour
Frosting:
130g icing sugar, sieved
2 tbsp. strong coffee (Make up using boiling water)
Method:
Preheat oven to 175C (fan oven) and spray your bundt tin well making sure to use a brush to get into any corners.
In a large mixing bowl, combine the caster sugar, vegetable oil and eggs and beat well until incorporated. Should take about 2 minutes. Add in your cooled coffee and mix again until combined and leave to one side.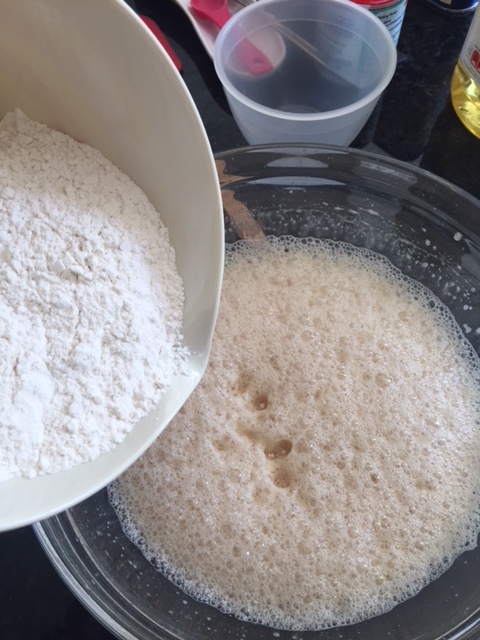 In another bowl, whisk the flour, baking powder and salt. Then add to the sugar/oil/egg mixture and stir till just combined. Don't over mix or it will be too dense. Pour this into your prepared tin.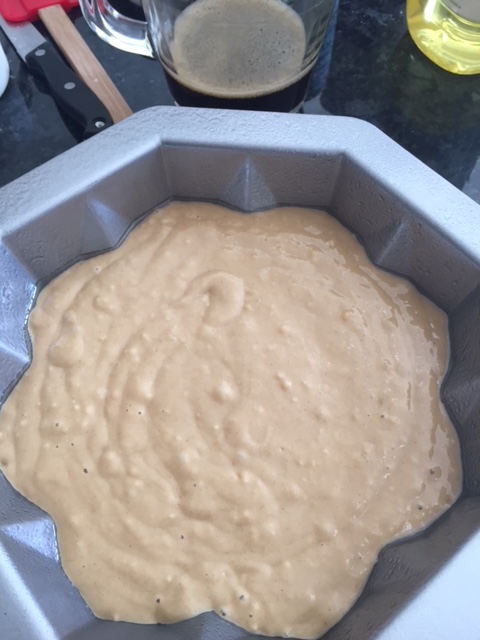 In another bowl, mix together the dry streusel topping ingredients and then using a fork or your fingers, mix in the softened butter until everything looks like breadcrumbs.
Sprinkle this evenly all over the cake mixture in the tin. See above for another option.
Bake for 55 mins to 1 hour and check with a skewer to see it's done. Depending on your tin, it could take up to an extra 10 – 15 minutes. Remove once baked and leave to cool in the tin for at least 10 minutes. Turn out onto your serving plate and then leave to cool completely.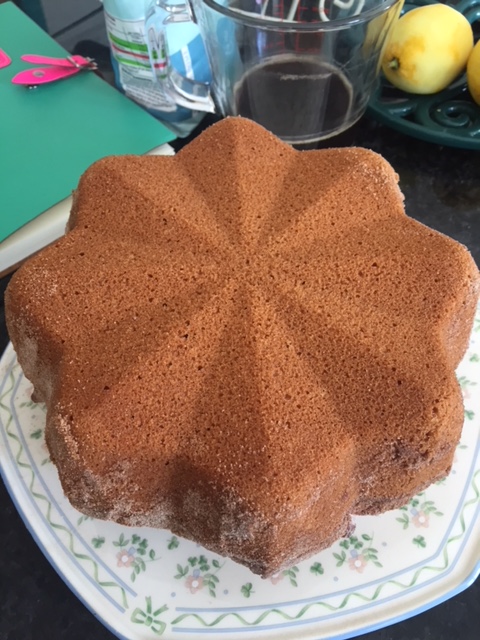 Mix together the frosting ingredients and you can add or decrease the coffee quantity depending on the consistency you prefer. Drizzle away over the cake and this is where a bundt comes into its own …. watching that frosting drizzle down the sides is really a beautiful thing.
Bake with love
Soraya x