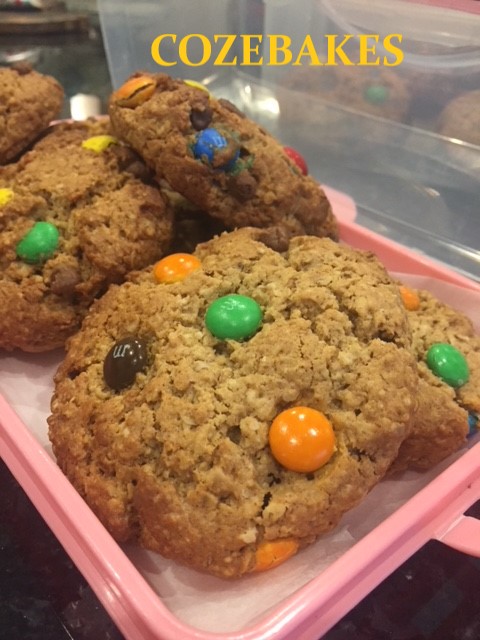 In honour of the 2018 Great British Bake Off season, I made these fantastically indulgent cookies for the first episode, Biscuit Week!
Not enough to have them full of chocolate chips, they are also full of delicious M&Ms for extra oomph! They are big cookies people ….. BIG cookies. There's nothing delicate here. Just saying …
I reduced the sugar in them as you use two types of sugar and then you're adding chocolate chips and M&M's but wait, they have lots of wholesome oats in them so there's the healthy ingredients 🙂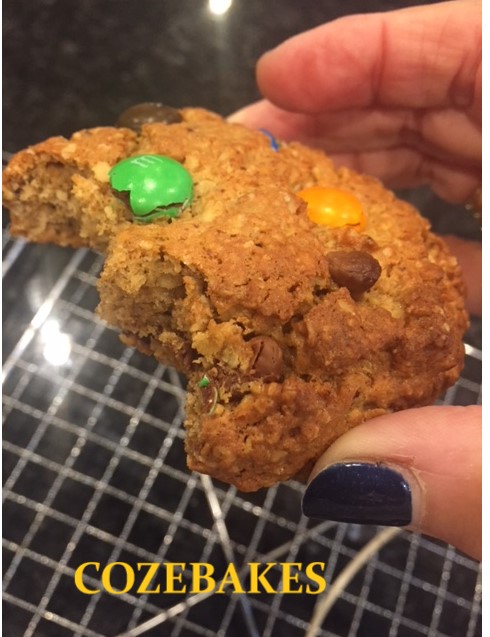 I haven't made a gluten free version of these yet but if you replace the oats and plain flour with coeliac friendly options, they should be okay though the texture might be a little different. Also add about 1/2 tsp xanthan gum to help hold them together and they should work out fine.
I replaced the smooth peanut butter with a Kelkin Coconut and Almond Butter and used Chocolate M&M's but if you want some variation you can use any of the M&M's available; you could add 1/2 tsp of ground cinnamon to give them a slightly warm depth of flavour too. One last option is to dry roast the oats in the oven for about 10 minutes to bring out a stronger oaty flavour (175 C)
I'll write out the original quantities with my adaptations in brackets and you can decide which to try.
Here are some healthy changes you can make for a gluten free, lower fat & sugar cookie:
To make the Giant M&M Cookies into a healthier version and suitable for coeliacs, here's the changes I made:
1. Use gluten free oats & blitzed them into flour
2. Add 1/4 tsp xanthan gum (gf only)
3. Replaced M&M's with dark chocolate chips and a handful of white chocolate chips
4. Subbed the peanut butter for a nut butter. I used one by Pip & Nut which was chocolate orange almond butter and contains no palm oil.
5. Swap flour for gluten free plain flour (you can use Spelt or wholemeal flour)
6. Reduced the sugar quantities as I have in the recipe and used Organic Coconut Sugar in place of brown sugar.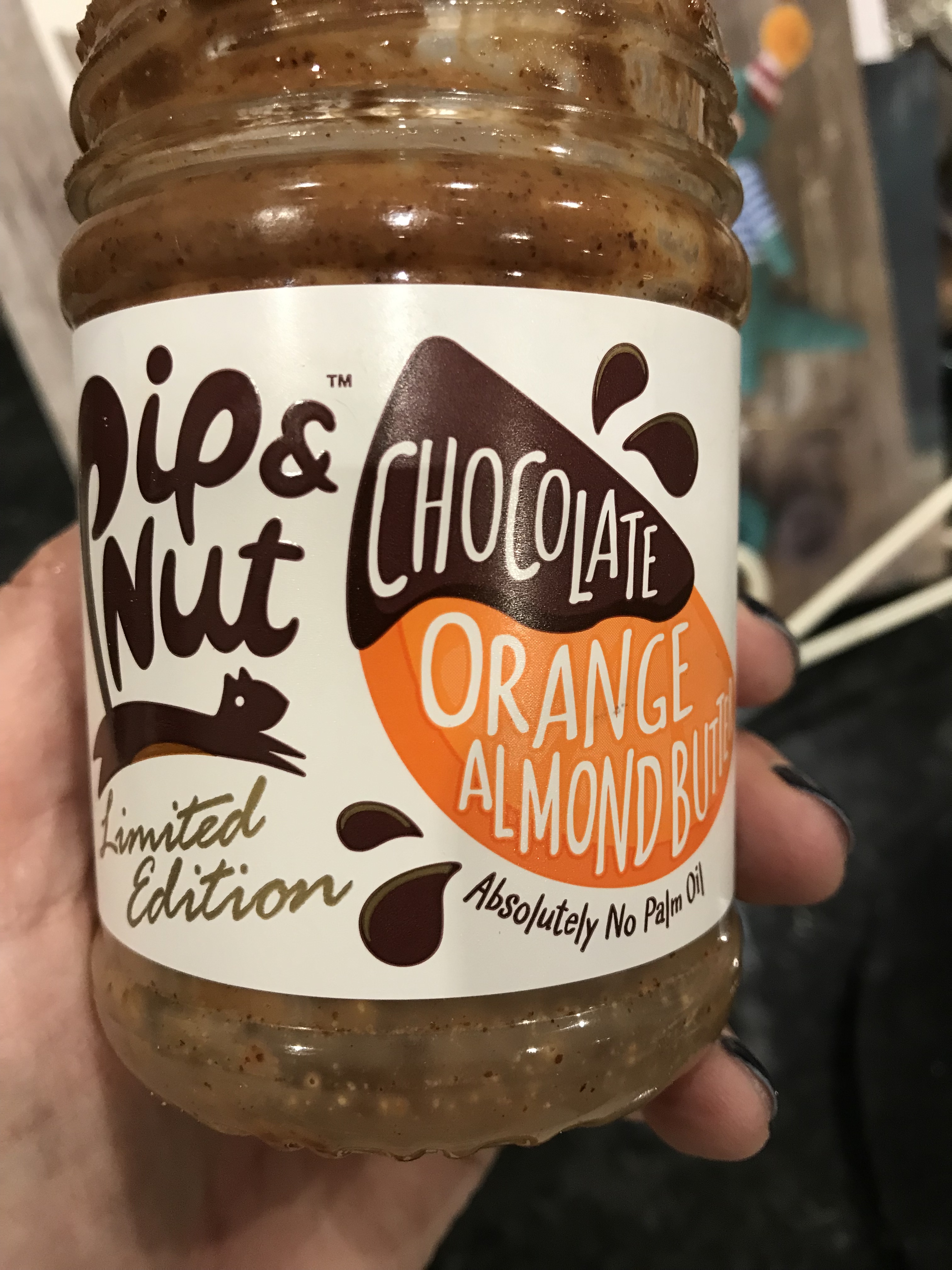 I used this brand to add a different flavour and to use a lower fat, non refined version with no palm oil.
Ingredients:
300g porridge oats (see above for a flavour option)
1/4 tsp baking powder
1 tsp bicarbonate of soda
130g plain flour
115g softened butter
60g caster sugar (I used 40g)
150g brown sugar (I used 90g)
225g creamy peanut butter (use any variety you prefer)
2 tsp vanilla extract
2 large eggs
133g bag of M&M's of your choice
50g chocolate chip cookies – milk or dark
Method:
As mentioned before, you can toast the oats before using them. Preheat oven to 175 C and spread them on a baking tray. Bake for 12 minutes and leave to cool.
Put the oats, baking powder, bicarbonate of soda and plain flour into a bowl and mix. If you use the cinnamon, add it here too.
In a large bowl combine the softened butter, both sugars and peanut butter of your choice until really well mixed. This should take a good 3 minutes using an electric mixer on a medium to high speed.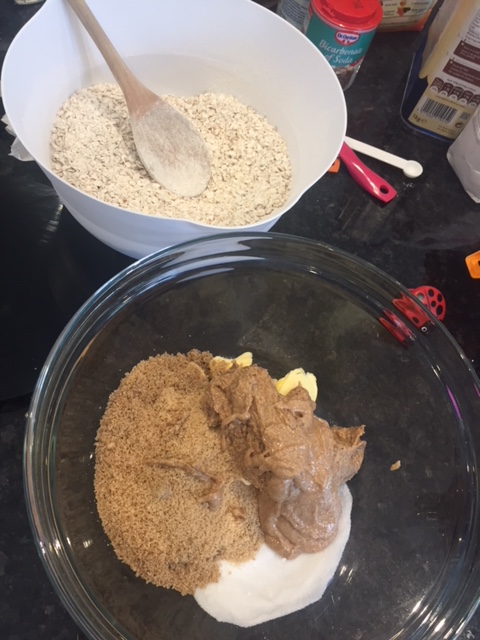 Add the eggs one at a time, beating for 30 seconds after each one. Then add in the vanilla extract and beat again.
Reduce the mixer speed to slow and add in the oat mixture. Mix together until just combined. Don't overwork it.
Add in the M&M's (keep some aside for decorating) and the chocolate chips. Personally I would use about 3/4 of the quantity of M&M's as I feel it's sweet enough but again, it's up to you.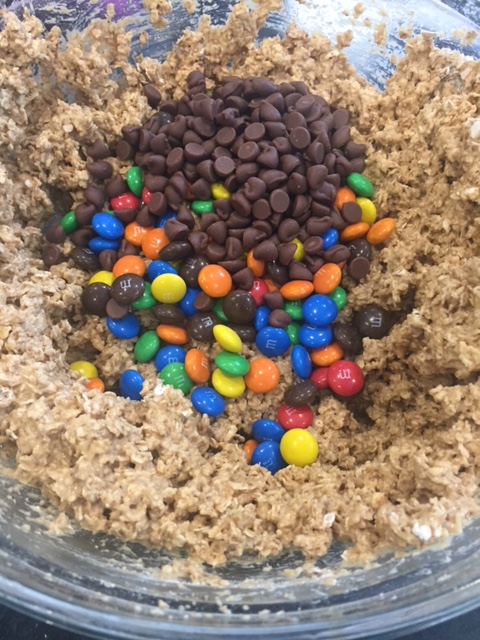 Cover the bowl with cling film and leave it at room temperature for about 45 minutes to an hour. You can use the mix straightaway if you want to but if you have time, then let it sit. The oats will soften a bit and it will result in a nice bake.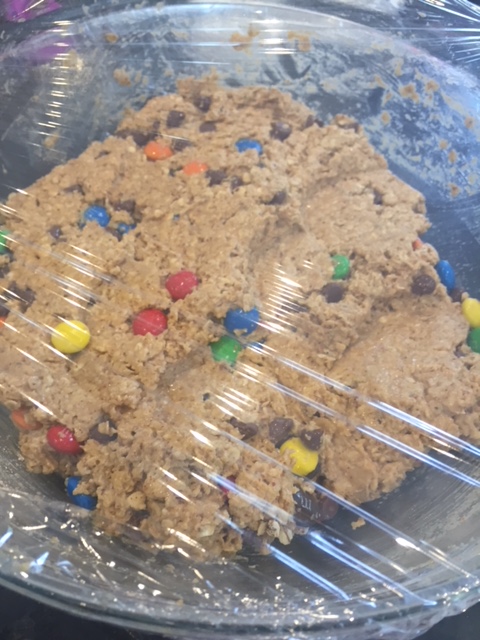 Preheat oven to 175C (fan oven) and line 2 baking trays with non stick parchment.
I used my 1/2 cup measure to spoon portions of the mixture onto the tray. I spooned the mix into the cup, gave it a pat down and then turned upside down to get the size I needed. Finish off by decorating with the M&M's.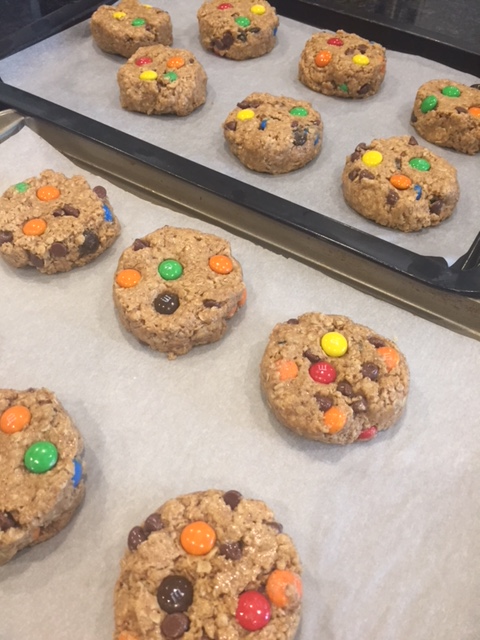 Bake for 16 – 20 minutes until the edges are slightly golden brown. My oven is quite hot and mine took 18 minutes.
Remove from the oven and leave to cool. They will be quite soft so leave them to set. Then simply enjoy!
Bake with love
Soraya x