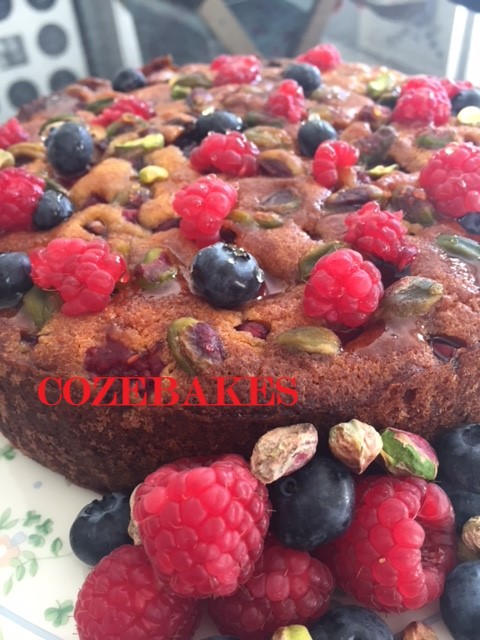 This eye catching cake recipe comes from Jane's Patisserie and once seen, I couldn't wait to make it. Glad to say, it didn't disappoint and it's a real treat for the eyes.
If you want to lean on the healthy side, then serve with some crème fraiche and you're already half way there as honey is used instead of sugar. The use of ginger and the zest of an orange just adds a beautiful edge to this very pretty cake and it's perfect for serving after a meal, for a Coffee Morning or Afternoon Tea. It's not a particularly sweet cake, it's full of flavour but not very sweet so if you like a sweet touch, add a few extra tablespoons of honey to drizzle over the top.
Nothing complicated here, it's simple to make with lovely results. I added a handful or two of pomegranate on top along with the berries and pistachios.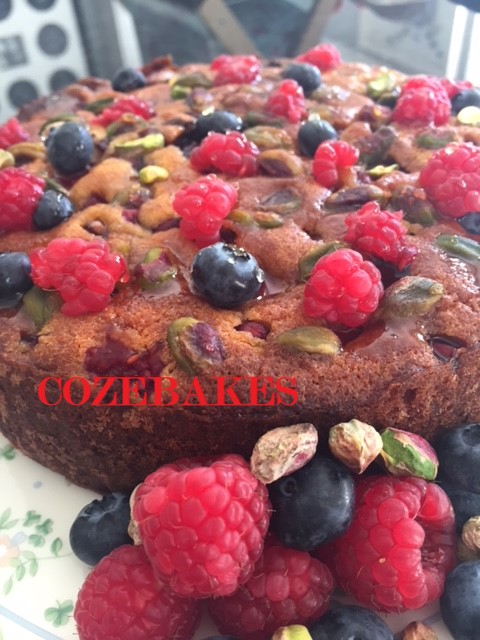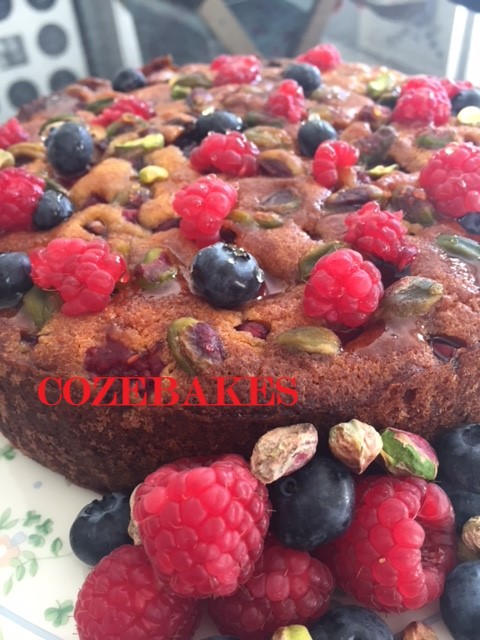 To start prepare an 8″ deep cake tin. I used a springform which makes life very easy when it comes to the removal stage. I lightly greased the tin and then base and side lined it and set aside.
Preheat oven to 160C (Fan)
Ingredients:
125g honey (use organic if you can)
175g unsalted butter, softened
125g self raising flour
75g ground almonds
3 eggs, large
Zest of an orange
1 tsp ground ginger
50g each blueberries and raspberries
20g pistachios
Method:
In a large bowl, beat the butter and honey together till well incorporated.
Add the flour, ground almonds, eggs, ginger and orange zest and beat again so everything is mixed together.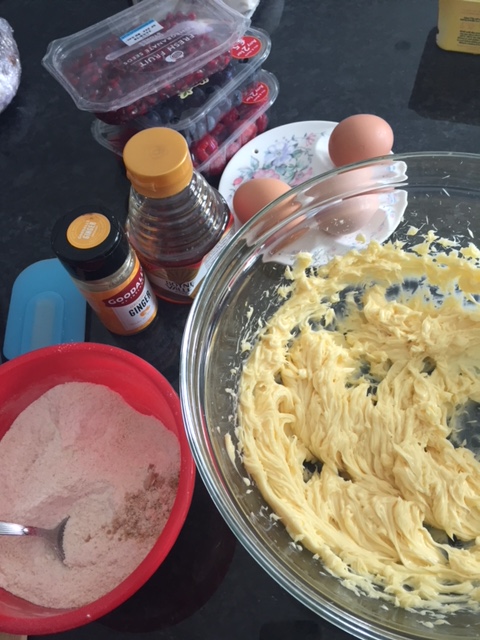 Transfer this batter to the prepared tin and then add the berries and pistachios on top. I pressed them gently into the batter but not too much as you want to see them on top once baked. I added in some pomegranate seeds but you could also add a few fresh blackberries if you had them.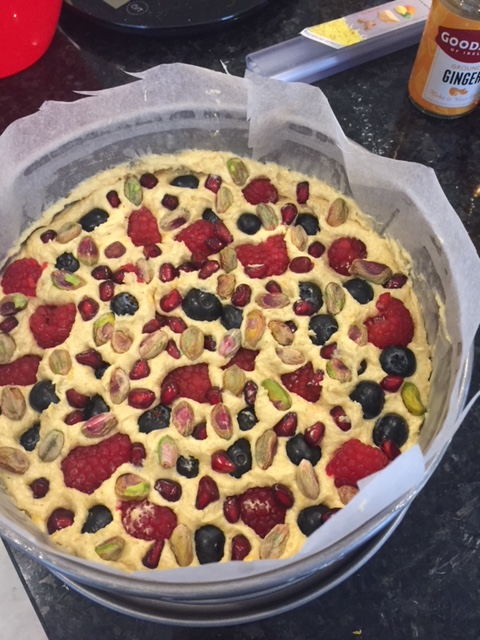 Bake for 45 – 50 minutes and check that it's baked through with a skewer.
Remove from the oven and leave to cool in the tin for a good 10 minutes as it's quite delicate while hot. Then remove from the tin and leave on a wire rack to cool completely.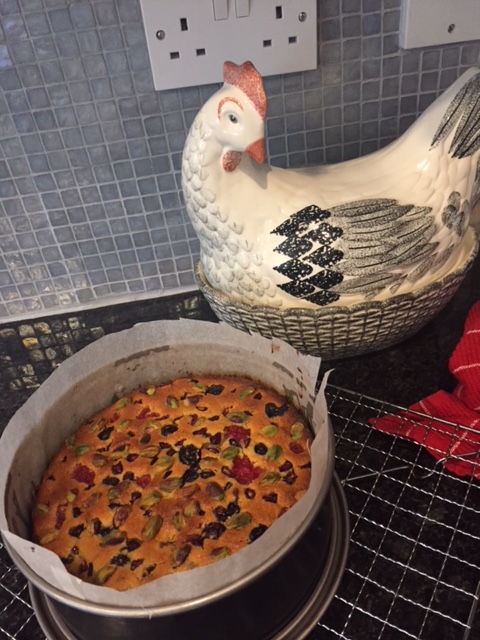 When ready to serve, drizzle over some honey and decorate with extra berries and pistachios. Serve with some crème fraiche or just enjoy as is.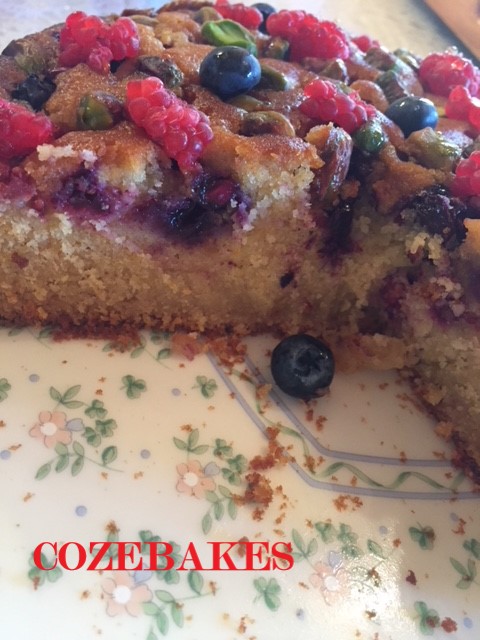 You can see the love in this cake!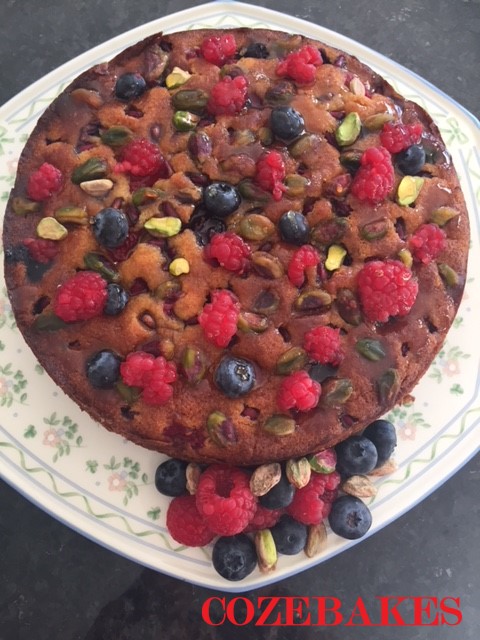 Soraya x