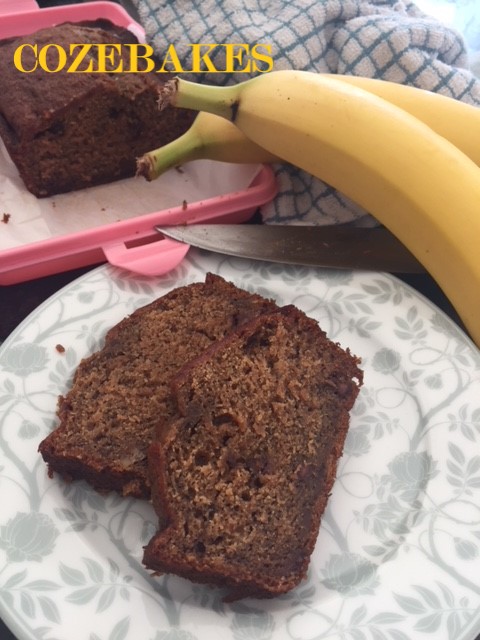 We all regularly have bananas that no one will eat as they've gone black and soft and all sorts of faces are pulled when you suggest it's taken! So the only thing to do is make Banana Bread. I've a few recipes here already including a great gluten free one : https://www.cozebakes.com/2017/02/03/gluten-free-dairy-free-healthy-banana-loaf/ 
but there are so many recipes out there that it's great to find a new one to try and this originally came from Sarson's (yes the vinegar people) and was published in the Baking Heaven magazine.  It has a very fancy frosting which this time I left off as I just wanted a tasty Banana Bread to have with a cup of tea; you know sometimes, you just want something not too sweet or full of icing at hand and this works beautifully for both. I'll give the Frosting details at the end and if you want, it can be boozy (it keeps getting better) !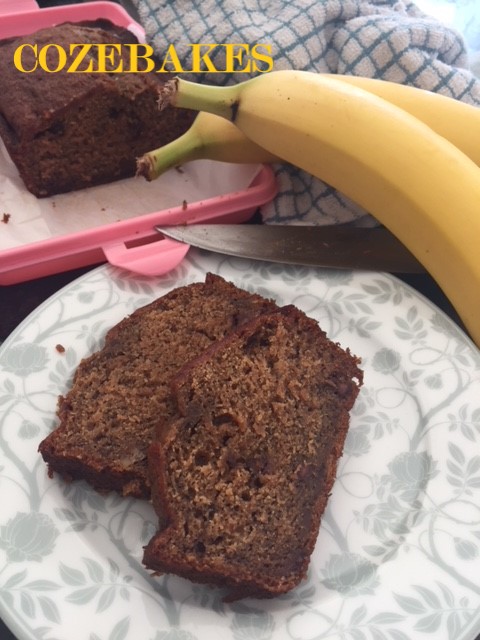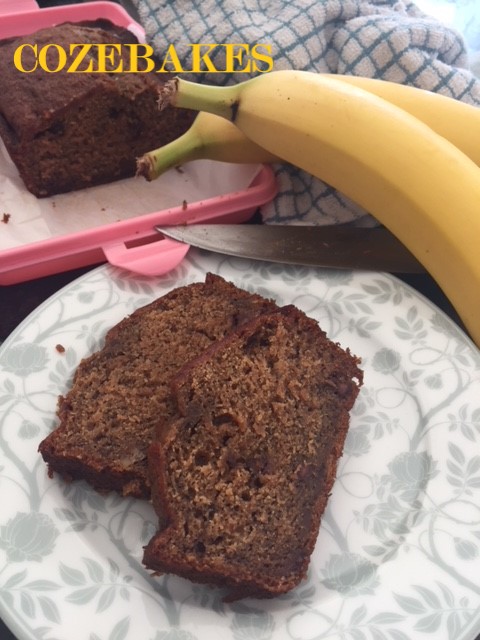 By adding some spices into this recipe, it gives a lovely depth and warmth and at the end, I threw in a handful of chocolate chips and some walnut pieces. Not a lot, just a handful of each so they are well dispersed through the end result without overpowering the flavour. I love adding chopped dates to Banana Bread but as I'm the only one who enjoys dates, I left them out of this one. Dried cranberries work really nicely with Banana Bread too so try out a few variations to find your own favourite.
Preheat oven to 170C (fan) and grease a 2lb loaf tin.
Ingredients:
125g plain flour
1/2 tsp baking powder
1/2 tsp bicarbonate of soda
1/2 tsp ground cinnamon
1/2 tsp ground nutmeg
75g unsalted butter, softened
140g light brown sugar (I halved this)
1 egg, large, beaten
250g peeled bananas, very ripe and mashed (about 2 – 3)
1/2 tsp vanilla extract
Method:
Sift the flour, baking powder, bicarbonate of soda and spices together in a medium sized bowl.
In a large bowl, beat the sugar and butter until it's fluffy. This will take a couple of minutes. Then add in the beaten egg, mashed bananas and vanilla extract.
Finally fold in the flour mixture, a small amount at a time. If you want, now add in the chocolate chips and walnuts and fold in gently.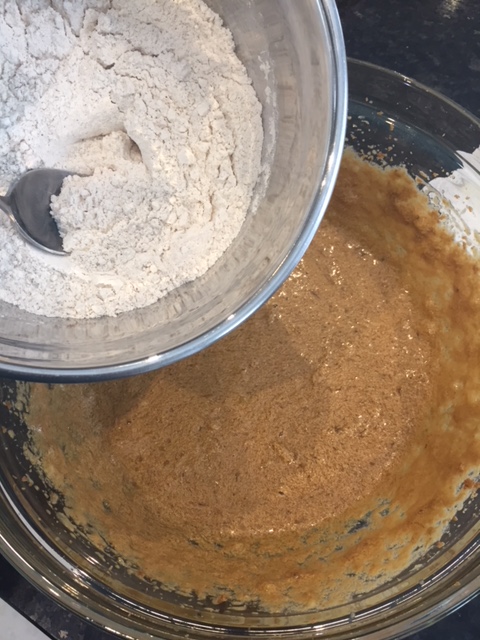 Spoon this batter into the prepared loaf tin and spread it out gently with the back of a spoon.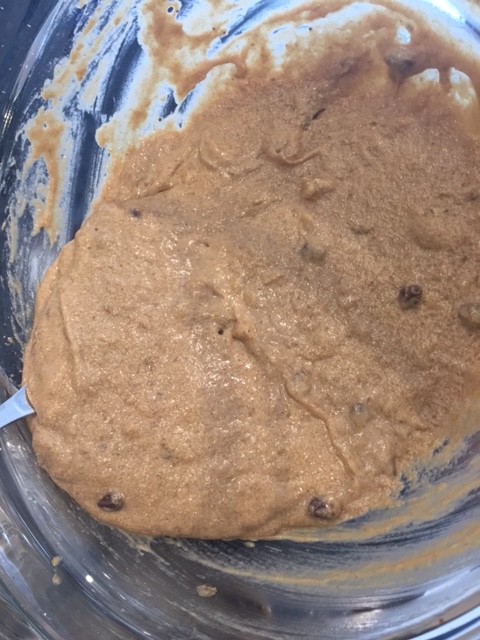 Put into the oven and bake for 35 – 40 minutes or until a skewer inserted into the middle comes out clean.
Remove and leave to cool in the tin for at least 10 minutes. Then carefully run a knife around the edge and gently turn out onto a wire rack to cool completely.
If you choose to use the frosting, here are the details:
Frosting
150g icing sugar
50g white chocolate
70g unsalted butter, softened
2 tbsp. Sarson's Browning
3 tsp dark rum (optional)
Beat the sugar and butter until very creamy. Add the browning and rum (if using) and continue to beat well until very smooth.
Once the banana bread is completely cool, cover it generously with the frosting.
Melt the white chocolate and pop into a small plastic bag and drizzle over the frosting.
The bread will keep in an airtight container for up to 3 days in the fridge and let it come to room temperature before enjoying 🙂
Bake with love
Soraya x