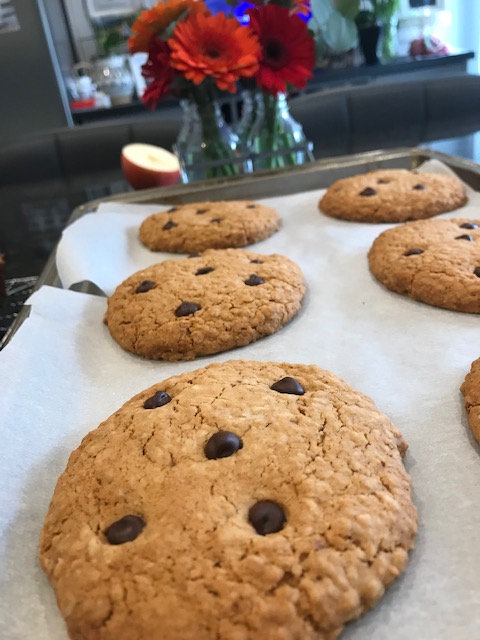 I recently bought the lovely Val Stones' book, The Cake Whisperer and there are some great home baking recipes in it which are tried and tested over many years. I loved Val on GBBO when she said she listened to her cakes to see if they were baked through. She came across such a lovely, warm person who really loved baking and those she baked for.
This recipe is originally for Ginger & Cinnamon Cookies and I've made both the original version plus I've made a Chocolate Chip & Cinnamon version too. Both are really delicious and went down very well with everyone. I converted them to gluten free so everybody at cozebakes could enjoy them and no one noticed the difference so that's always a good sign. I've put the regular and gluten free versions in the ingredients.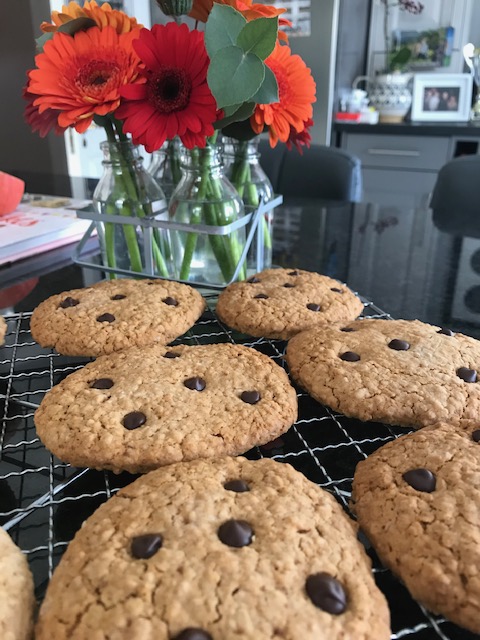 When making them, the recipe says to roll out the dough but it was still really sticky even after the required time in the fridge so I found two ways around this. First way is to put the dough between two sheets of parchment or cling film to make it easier to roll out and cut into circles or second way is to dampen your hands and push the dough to flatten it, dip your cutter into flour, cut out and use a palette knife to transfer to the baking tray.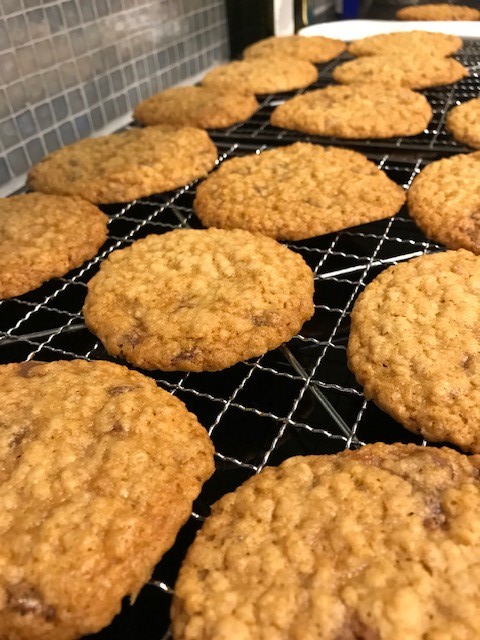 I've tried to reduce the sugar quantities and to use non refined sugar to help make the cookies healthier and lower in fat and it worked out well so I'll give both the original recipe quantities and the reduced sugar one.
Ingredients:
172g soft light brown sugar (I used 120g organic coconut sugar)
172g soft margarine
172g golden syrup (I used 120g Sweet Freedom sugar replacement)
200g self raising flour (use gluten free if needed)
1/2 tsp bicarbonate of soda
1/2 tsp xanthan gum (for gluten free only)
20g ground ginger (omit for chocolate chip version)
1/2 tsp cinnamon
200g oats (use gluten free if needed and blitz into a flour)
1 tsp vanilla extract (use 2 tsp for the chocolate chip ones)
75g dark chocolate chips (for chocolate chip version)
50g stem or crystallised ginger (chopped – for Ginger & Cinnamon version)
Don't turn the oven on until the batter is in the fridge but you can line two baking trays with parchment.
Method:
Put the margarine, sugar and syrup into a saucepan and let them melt. Mix well to combine them all. Let this cool a little.
Place the flour, bicarbonate of soda, spices and xanthan gum if using into a large bowl and stir to combine. Add the oats (and stem ginger if using) and stir again.
Make a hollow in the middle of the flour mix and pour the melted ingredients along with the vanilla extract in and use a wooden spoon to stir well until it all comes together.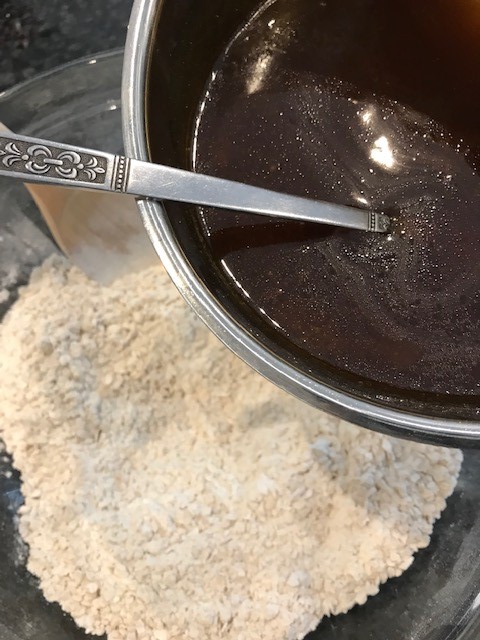 Knead into a rough ball. You can dampen your hands if this helps.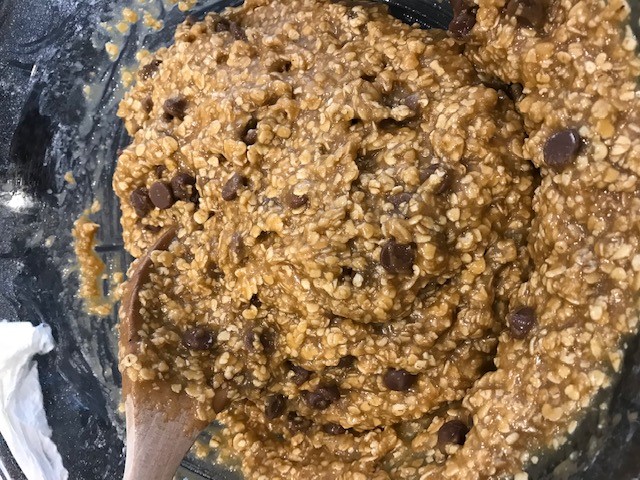 The mixture will be quite soft and sticky and needs to cool so cover the bowl with a clean tea towel and pop into the fridge for about 20 mins for the dough to become firm.
Preheat the oven to 160C Fan, 180/190C or Gas 4/5
When it feels quite firm to handle, lightly dust the work surface with a little flour and place the dough on the floured surface (please see above for some tips on this). Press or roll out the dough to the desired thickness.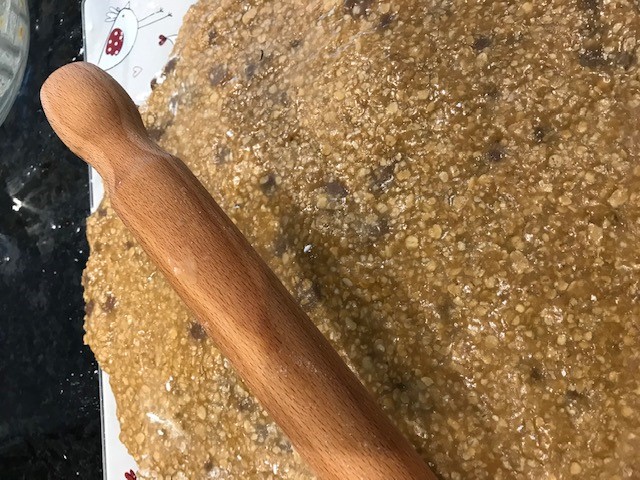 Cut out with cutters and place each one on the baking tray. Allow a bit of space between them to spread.
Bake for 15/20 minutes in the oven until light brown and just firm to touch. Remove and leave on the tray for about 5 minutes before transferring them to a wire rack to cool.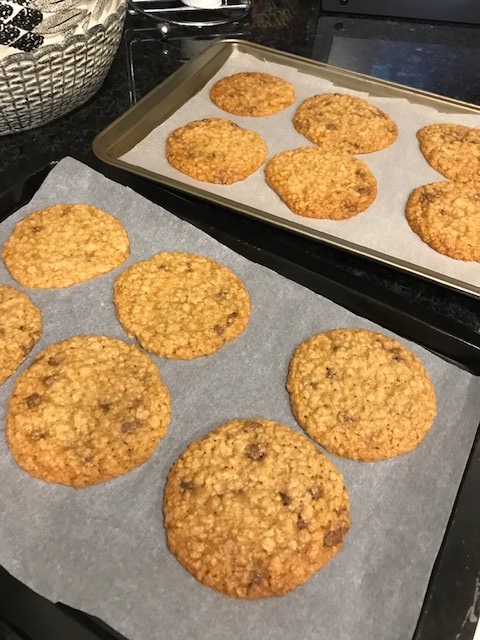 These cookies are great for the freezer and you can also keep them in an airtight container for a couple of days.
Two for the price on one! Bake with love
Soraya x