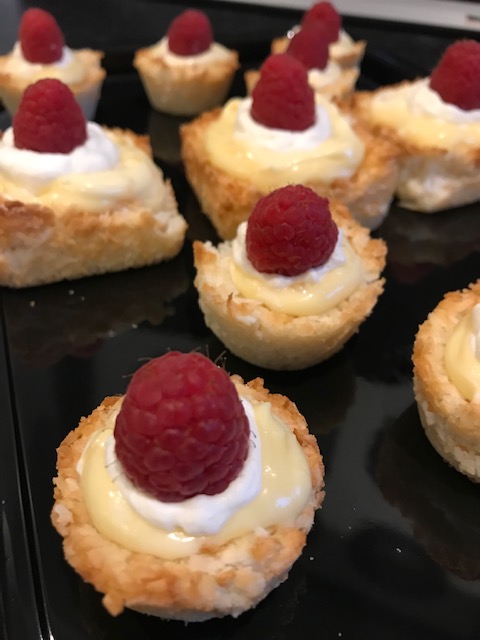 These little mini coconut cups filled with delicious, tangy lemon curd are just so good and make a great mini dessert for any occasion. Quick to make, just a gently bit of handling is all that's needed and you will have a pretty impressive dessert! They are gluten free which is a bonus and if you omit the whipped cream to decorate, they are also dairy free so you're covering everyone!
Originally from the blog, Hidden Ponies, I've adapted the recipe slightly and feel it's worked out really well. I did use mini sized tins to make them but the second batch were made in a slightly bigger sized tin which I found easier to manage with less breakage but the key here is to really grease your tins well – you have been warned so don't curse me when some of them break on removal.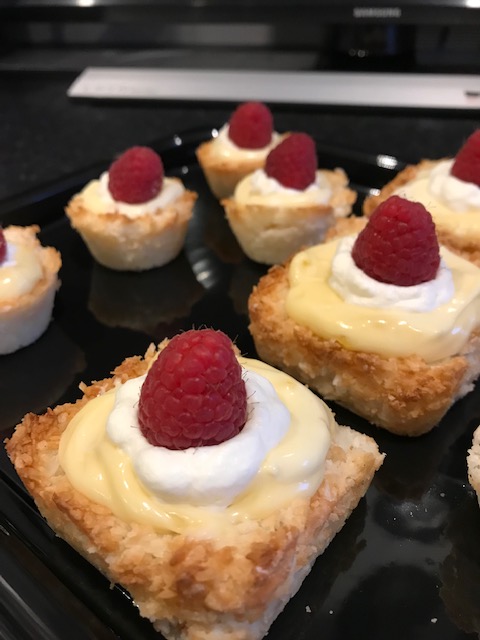 These mini pies are really just so sweet looking and perfect for lots of occasions. I used both round and square tins to give different results and they were very well received by everyone. I used a jar of good quality shop bought lemon curd to make these and I'm not in the slightest bit sorry! I added some whipped cream just to lighten the overall flavour.
You can make ahead and freeze them till needed (without the filling of course) and they are best assembled on the day you plan to serve them.
I liked adding lime zest to my coconut base to give the lemon filling something to hit off. Lime tends to be less harsh than lemon so using both together works really well.
For the Coconut Crust:
240g desiccated coconut
3 large egg whites
70g caster sugar or sugar substitute such as Xylinol
35g ground almonds
1/2 tsp vanilla extract
Zest of 1 lemon or lime (optional)
Filling:
Some good quality lemon curd
Whipped cream
Topping: Fresh raspberries
Method:
Spray/grease your mini tin thoroughly with a non stick spray or you can also use a pastry brush to get into all the corners and make sure no bits are left ungreased! Preheat oven to 175C Fan
Using a large bowl, stir the coconut, egg whites, sugar, ground almonds and vanilla extract together. I gave the egg whites a little whisk before adding. Then add in the lemon zest if using.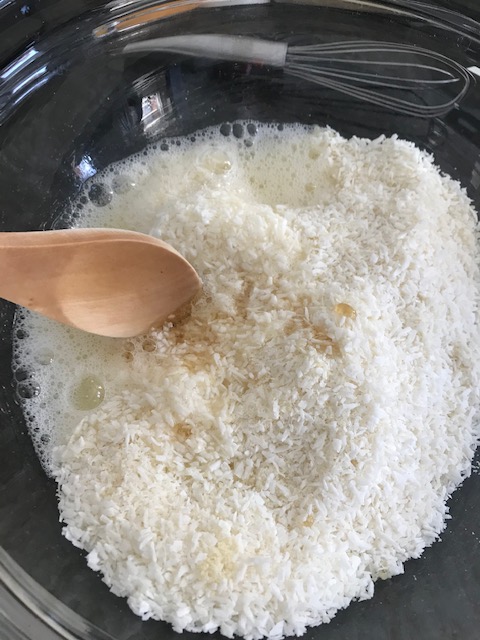 You will know it's ready when you squeeze the mixture, it should stick together in your hands.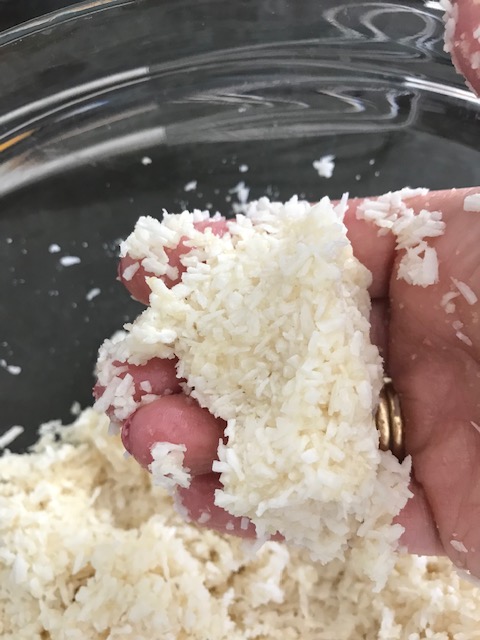 Then using a teaspoon, divide the mixture into the mini tins and press it into the bottom and up the sides to form a crust in the shape of the tin. You can very lightly oil your hands when doing this if you find the mixture is sticking to you.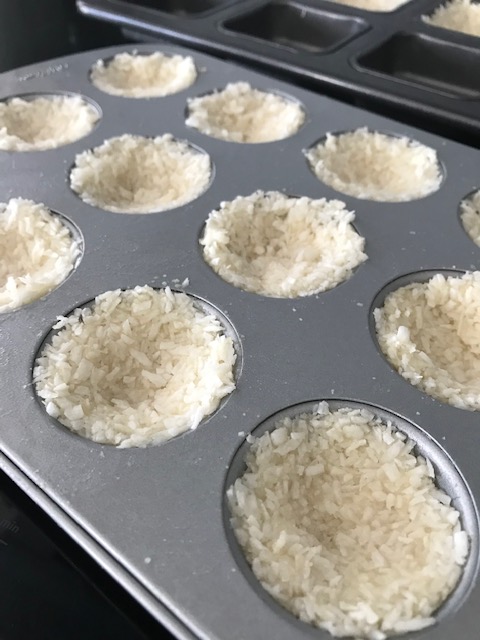 Then bake in the preheated oven for 10 – 13 mins until the tops and edges are a lovely golden brown and the bottoms are just starting to brown. They will fluff up while baking but when you remove the from the oven, they settle back down. If you find they have completely lost their shape while baking, use the back of a teaspoon and very quickly and gently press the middles down slightly while they are still hot so you have enough of a dip for the lemon curd filling.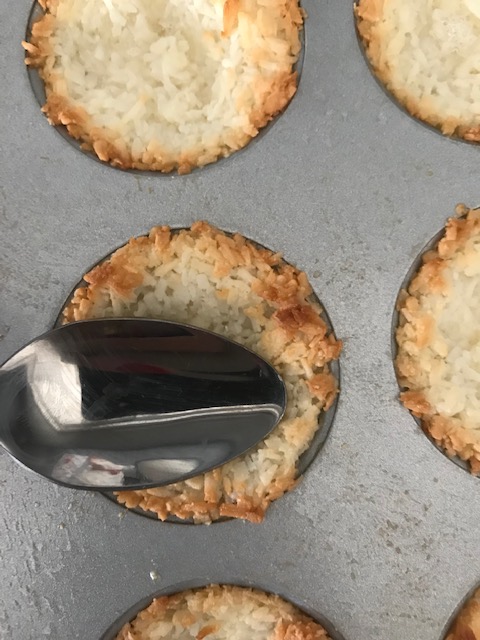 Leave them to cool completely in the tin on a wire rack. When you're ready, gently use the tip of a sharp knife to run around the edge while gently prising out. Go gently and take your time!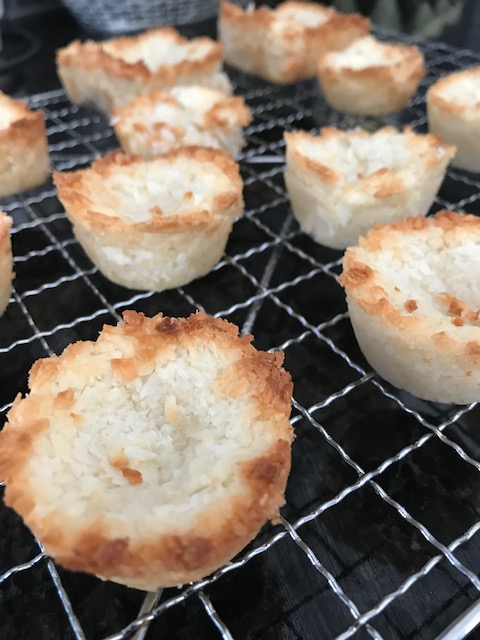 Spoon the lemon curd out of the jar into a bowl and give it a good mix around. If you want, add some whipped cream. I like to try and give it a less "shop made" taste by also adding some lemon zest.
Divide your lemon curd mixture into each coconut cup. Fill to the top and if you wish, you can pipe some whipped cream in the centre and then top with a fresh raspberry. Only do this shortly before serving (an hour or two will be ok and kept in the fridge).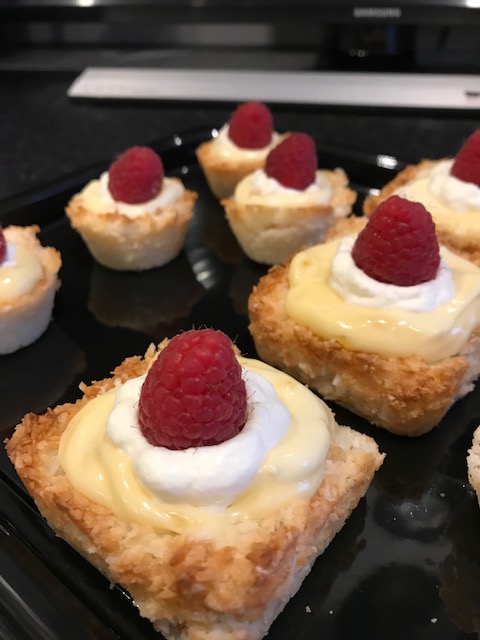 You can see I've used square and round ones above and they looked great! A lovely dessert to serve at a BBQ, buffet or any gathering.
Bake with love
Soraya x