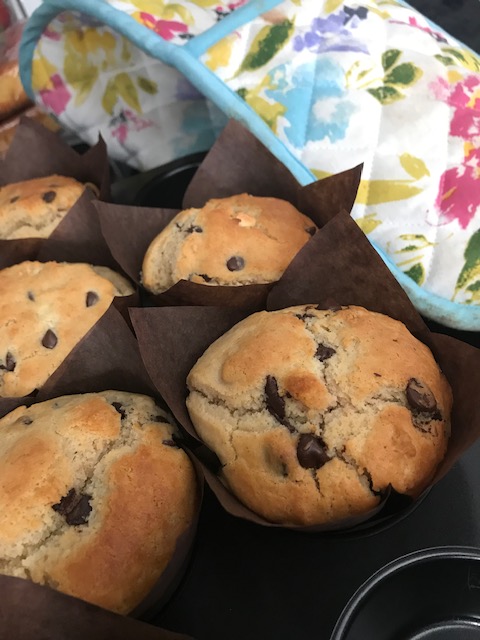 Yes indeed there are such wonderful things as the perfect gluten free chocolate chip muffins and this recipe is possibly one of the best. Bragging I know but it works and it works really well.
They are light and airy just as muffins should be and with the reduced sugar quantity, still full of just the right amount of sweetness with your morning beverage or for an afternoon pick me up. Please ….. give them a try and let me know how you get on 🙂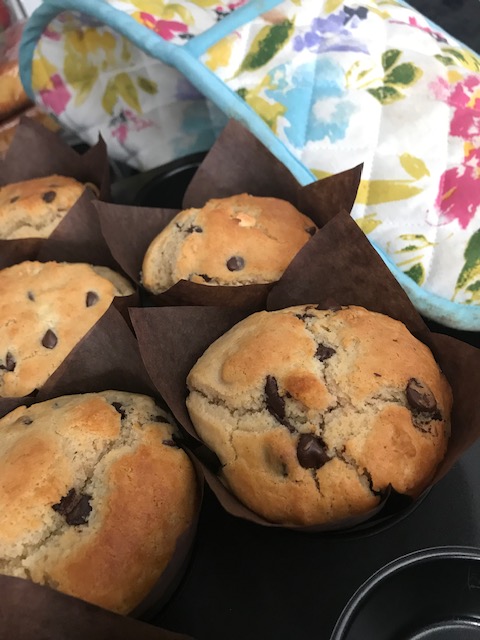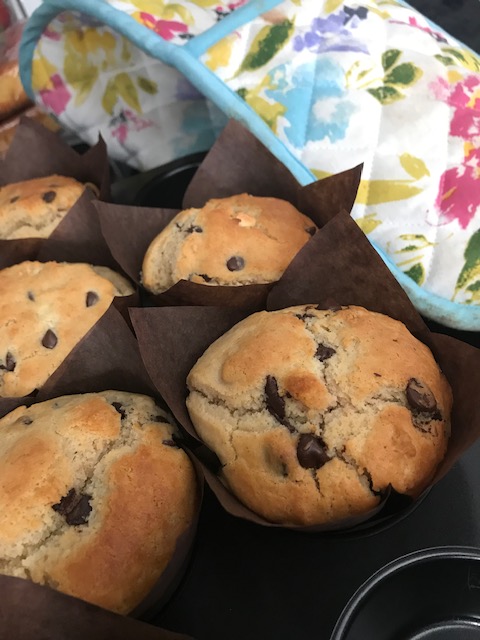 Just a few things to mention …. if you have the tulip muffin cases, you should get about 8 fairly large muffins from this recipe. If you use standard muffin cases, you will get 10. They are supposed to be large, delicious muffins so don't scrimp.
My one bit of advice is to use as deep a muffin tray as you have. So put away your cupcake or fairy cake tins and use a proper muffin tin which is always that bit deeper. It helps to hold them up while baking and get a good rise.
So with the technicalities out of the way, here's this fantastic recipe:
Ingredients:
370g plain gluten free flour
3 tsp gluten free baking powder
1/4 tsp xanthan gum
1 tsp ground cinnamon
2 large eggs
60g plain yoghurt (I used 0% Fat Greek Yoghurt as it's what I had)
240ml milk
100g caster sugar (or use a sugar substitute)
80ml vegetable oil
60g butter, melted
1 tsp vanilla extract
250g chocolate chips (I used dark chocolate but whatever you want)
Method:
As with all good muffin recipes, it's about getting the dry ingredients together, the wet ingredients together and then mixing gently. They don't like sitting around either so have your oven preheated and ready to go. I set my Fan Oven at 190C and 200C for a standard oven.
Put the eggs, yoghurt and sugar into a medium size bowl and mix together. I used a hand whisk but if you prefer, you can use your electric whisk.
Add the melted butter, oil, milk and vanilla extract and continue to whisk further until all the wet ingredients are combined.
In a large bowl, place the dry ingredients – the flour, baking powder, xanthan gum and cinnamon and just whisk gently to mix everything.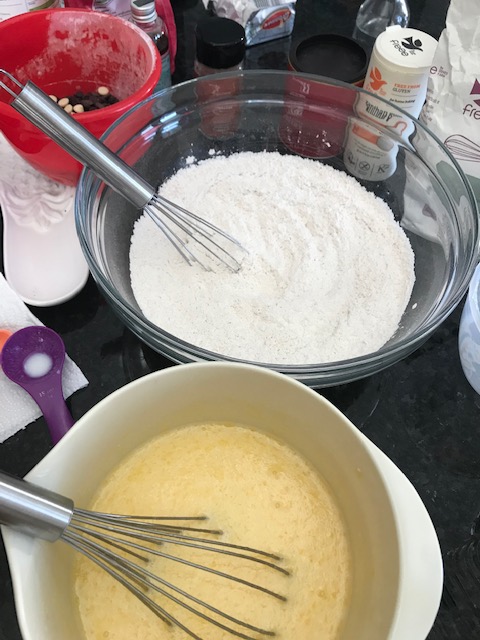 Next you pour the wet ingredients into the dry ingredients and fold gently together. Don't over do this. It causes you to end up with dense muffins and they are all about being light.
Then finish by carefully folding in the chocolate chips. If you're mixture is lumpy, that's ok and good! Just try to make sure there are no large pockets of flour left.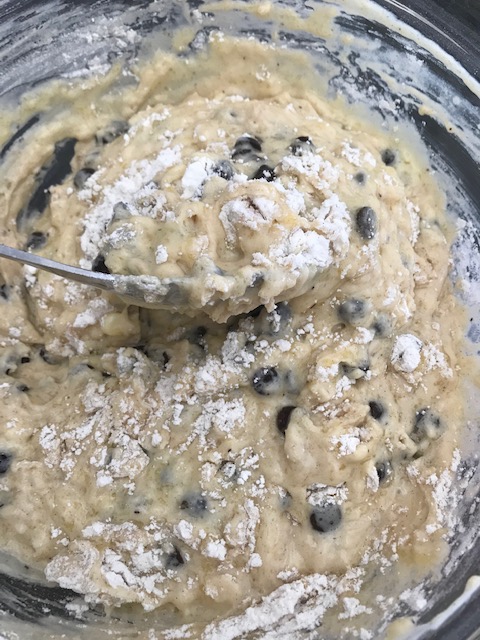 The batter will be quite thick and lumpy and that's what you're looking for 🙂
Using an ice cream scoop, fill the muffin cases about 2/3rd of the way up. It helps to measure out evenly.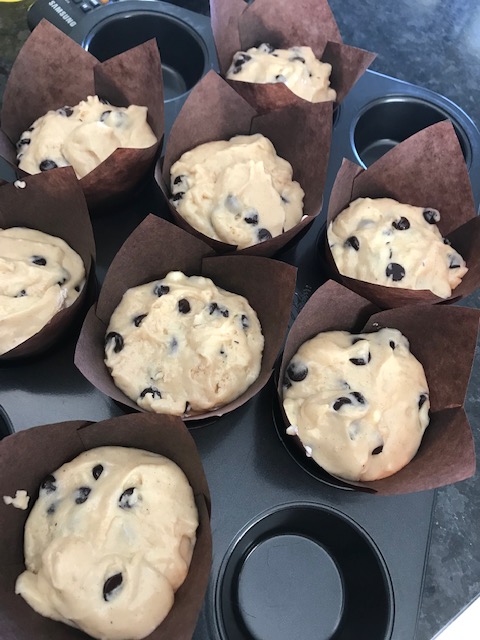 Bake at 190C for 5 minutes and then reduce the oven temperature to 160C and cook for another 25 minutes. If they are very large, leave them in for 30 minutes and if smaller, check after 20 minutes to see if they're baked through.
Allow to cool in the tin for 5 minutes and then place them on a wire rack to cool completely.
You can store them in an airtight container for a few days or you can freeze them for up to 3 months.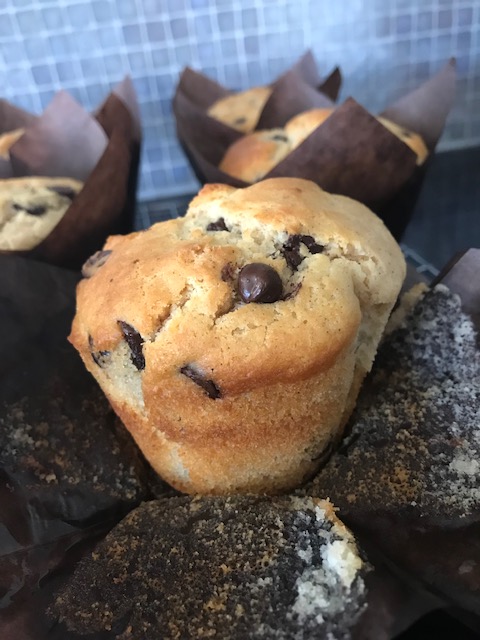 Look at the height of that!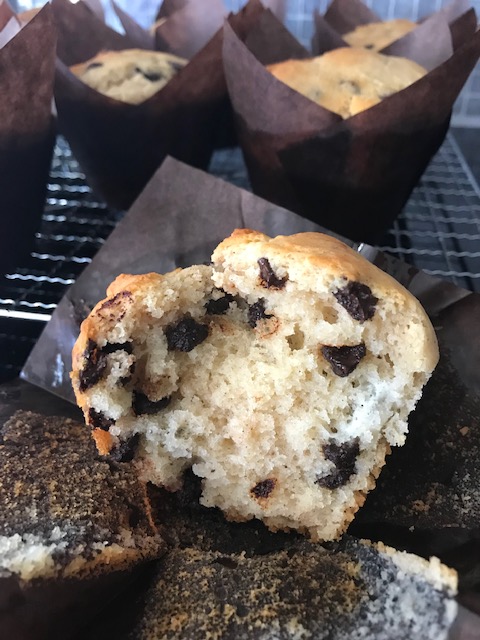 So there's your light and fluffy muffin ready to enjoy!
Soraya x