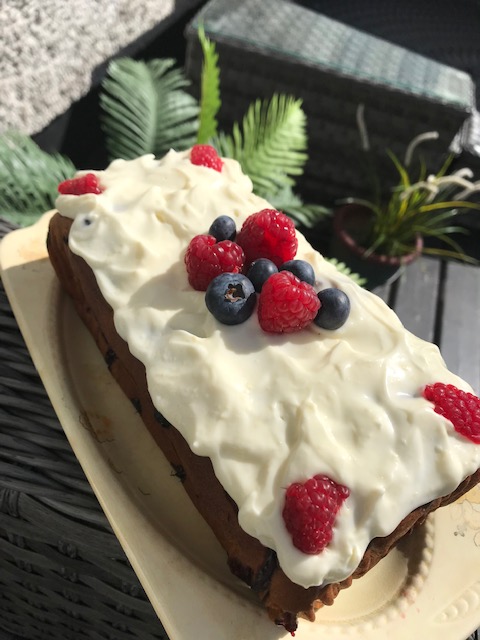 The original recipe for this cake is what the American's call a pound cake. It's similar to our madeira cake mixture so the result is a more dense texture compared to a traditional sponge. It has to be like this in order to hold the addition of berries but it still works out nice and light and the addition of almond extract gives it a lovely buttery flavour.
It's from a US blog, "if you give a blonde a kitchen" – great name!! and was used as a 4th July Independence Day cake using blueberries and raspberries. I've reduced the sugar quantities, removed refined sugar and made mine a gluten free version. I will put both options in the ingredients below so go with your own choice.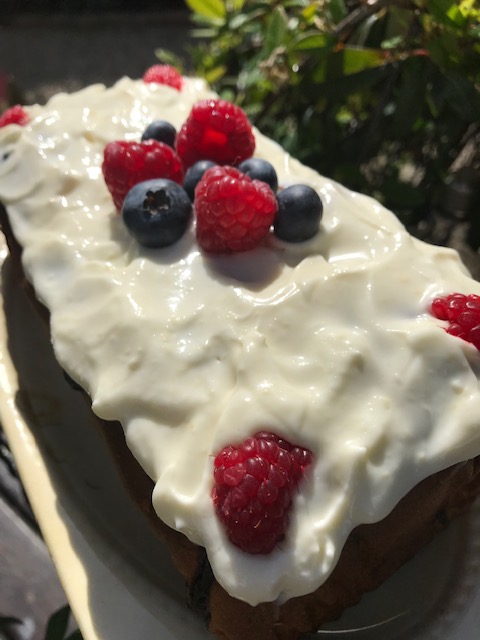 As the recipe includes cream cheese, I decided to give it a cream cheese frosting to complete the presentation and it worked really well. Adding a few fresh berries were the finishing flourish the cake needed. Equally you can give the cooled cake a dusting with icing sugar and top with some berries and of course, you can top with whipped cream.
I used a bag of frozen mixed berries to make this and I left them whole. It worked out fine but I'd probably break the larger pieces up next time so you get a good mix throughout the batter without gaps.
You can of course use fresh berries and choose firm, ripe ones. Also you will need to dredge the berries with flour so they don't sink to the bottom of the cake.
Ingredients:
187g plain flour (160g plain gluten free flour and 27g rice flour)
100g caster sugar (100g sugar substitute such as Stevia or Xylitol)
1 tsp baking powder (gluten free baking powder)
1/2 tsp xanthan gum for gluten free version
155g butter, softened
68g cream cheese at room temperature (full fat)
2 tsp vanilla extract
1/4 tsp almond extract
4 eggs
150g berries of your choice – fresh or frozen
Frosting: I beat about 25g of soft butter then added about 3 or 4 tbsp. of cream cheese with sieved icing sugar to taste and beat them well till smooth. You can add a little more to your own personal taste and to get the right consistency to spread on the cake. Apologies it's not more accurate, but I did it by eye this time.
Method:
Preheat oven to 180C Fan and line a 2 lb loaf tin.
In a medium bowl, whisk the flour, rice flour if using, sugar, baking powder and xanthan gum if using, just to disperse it evenly.
In a large bowl, use your electric mixer to beat the butter and cream cheese until it's light and fluffy. This should take about 3/4 minutes. Next add the vanilla and almond extracts along with one of the eggs and beat well.
Then add the remaining 3 eggs, one at a time and beat well after each addition. Scrape down the sides of your bowl to make sure everything is included.
Reduce the speed of your mixer to low and slowly add the flour mix bit by bit. Increase the speed to medium once all the flour is added and mix until the whole lot is light and fluffy. It will be about 1 minute or so.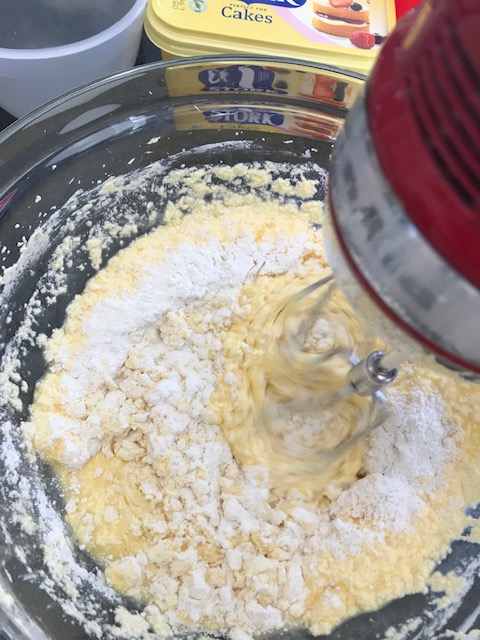 In the bowl you used for measuring out your flour, add about 1/2 to 1 tbsp of flour and toss the berries to cover them so they won't sink to the bottom of the cake while baking.
Next add them to the batter using a large metal spoon, very gently fold them in.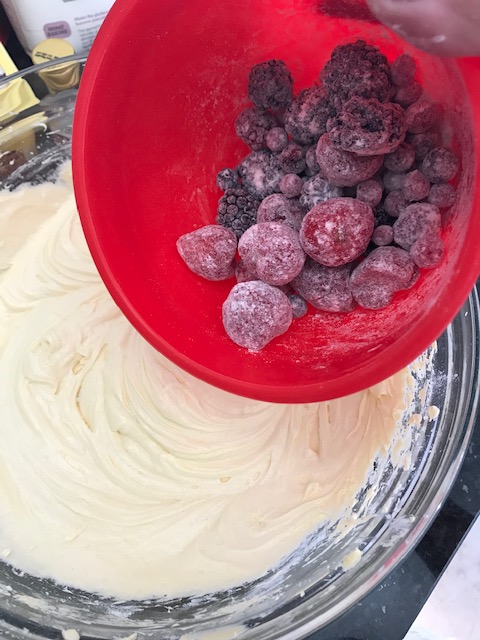 Spoon the batter into the loaf tin and use the back of the spoon to flatten out. You can add a selection of berries to decorate the top. Try not to use very large pieces (lesson learnt)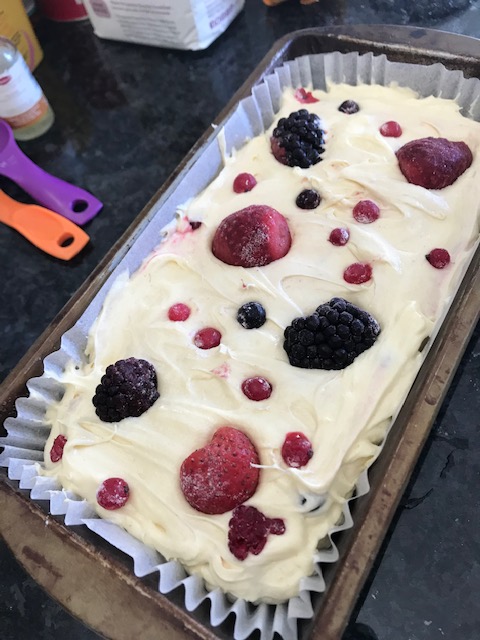 Bake in the preheated oven for an hour and 15 minutes. You will most likely need to cover the top of the cake after about 50 minutes with some tin foil so it doesn't burn. Check with a skewer to make sure it's baked. It should be a rich, golden colour. It rises quite a bit in the oven but don't worry, once you remove it and leave it to cool in the tin for about 15 minutes, the cake will deflate to a "normal" size.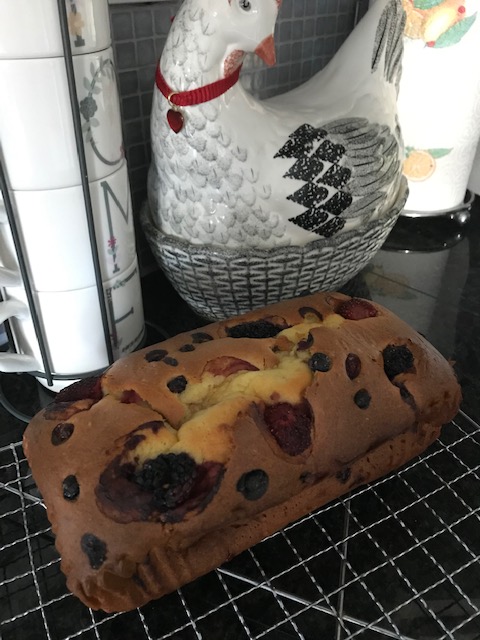 Remove it from the tin and leave it to cool completely on a wire rack. Handle it with care as you have a cake full of berries and you don't want it to crack while moving.
You can keep this cake in an airtight container, uniced, for up to a week.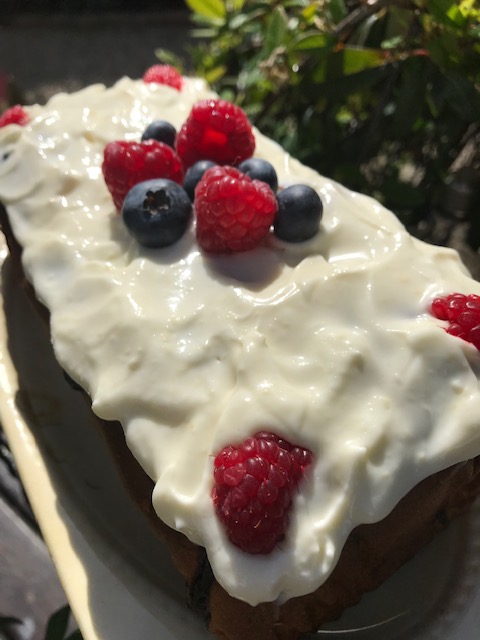 If you use the cream cheese frosting, then it needs to be kept in the fridge but a dusting of sieved icing sugar will be just as nice and serve with some vanilla ice cream 🙂
Bake with love
Soraya x