Sometimes I get absent minded while baking and make a mistake. Now and then, those mistakes turn into a new recipe that works out wonderfully and all is well again.
I wanted to make scones with a healthy twist, less sweet but full of flavour and decided to try mixing these ingredients. I used raisins as I had them but wanted them a bit plump as they can sometimes be hard to bite once baked. I covered the raisins with warm water and accidently threw the whole lot instead of draining them and it worked out ok! Suddenly the recipe turned from scones to muffins.
The mix of all spices works really well with the carrot and gives these muffins a lovely warm bite. They will last for up to 5 days in the fridge, in an airtight container and I just popped mine into the microwave before enjoying them.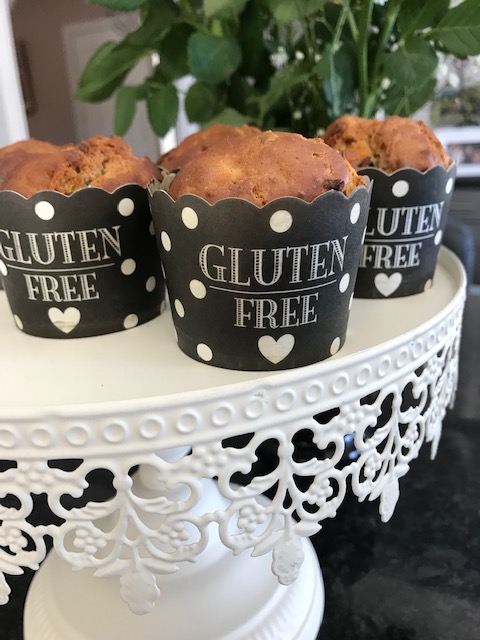 There's only a small amount of butter used in the recipe so this helps to keep them low fat and if you use low fat milk and non fat Greek Yoghurt, the muffins come up around 140 cals each.
The recipe is given for gluten free but I'll put the regular ingredients in brackets for you. It makes about 6 muffins depending on the cases used but it's easy to double up and make a dozen if you like. They freeze well and keep well in the fridge too.
Ingredients:
150g gluten free plain flour (150g wholemeal flour or just 150g plain flour)
1 1/2 tsp baking powder
1/2 tsp xantham gum
1 tsp cinnamon
1/2 tsp ginger
1/4 tsp allspice
1/4 tsp nutmeg
1/4 tsp cloves
1/4 tsp salt
21g butter, cold from the fridge and cubed
120g plain Greek Yoghurt
45ml pure Maple Syrup or use Agave Syrup or Stevia Syrup
3 tbsp low fat milk
1 tsp vanilla extract
80g grated carrots, use fresh carrots only (about 2/3 carrots)
30g raisins, cut in half, cover them in water and microwave for 1 minute. Leave them to rest while getting everything else ready
Method:
Preheat to 190C Fan and get muffin cases ready
In a medium bowl whisk together the flour, xantham gum, baking powder, salt and all the spices. Add the cold, cubed butter and using a pastry cutter, work it till the mixture resembles small breadcrumbs.
Stir in the Greek Yoghurt, maple syrup, 3 tbsp. of the milk and vanilla extract.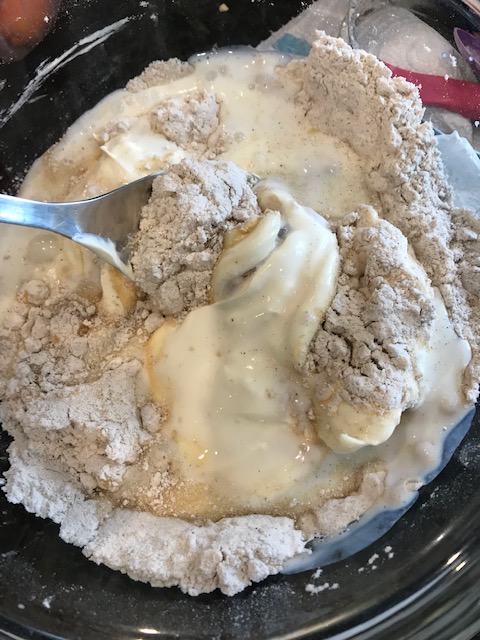 Once combined, then fold in the grated carrots and the raisins. This is where I made my mistake. I added the raisins with the liquid and then it stopped being a scone recipe and became a muffin one.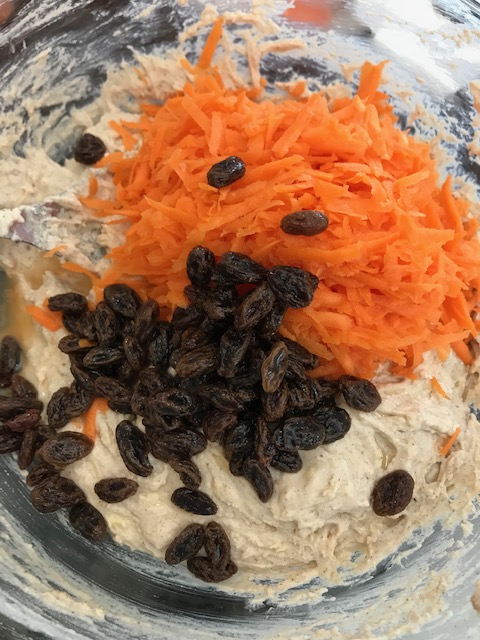 After folding in the two last ingredients, use an ice cream scoop to measure out equally into the muffin cases. This mixture will make about 6 good sized muffins.
Bake in the preheated oven for approx. 30 minutes and use a skewer to check they are baked through. It should come out clean and the tops should be deep gold in colour.
Leave in the tin for about 5 mins and then remove the cases to a wire rack to cool completely.
While the muffins are cooling, you can make a drizzle if you like by mixing sieved icing sugar (about 5 tbsp.) with 1/2 to 1 tbsp. milk. Start with half and add more if needed. I put the icing into a small plastic bag, snipped the corner and used that to decorate the muffins.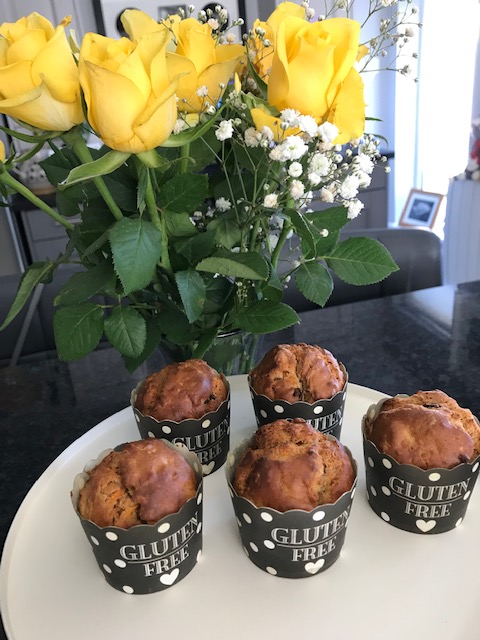 If you want to freeze these muffins, don't add any icing and also if they are refrigerated, sometimes the icing drizzle can crack a bit but it still tastes great! You can sieve some icing sugar on top if you prefer. It works well too.
I topped half of mine with some coconut sugar (you could use Demerara too) just for added crunch and it worked well also.
Bake with love
Soraya x