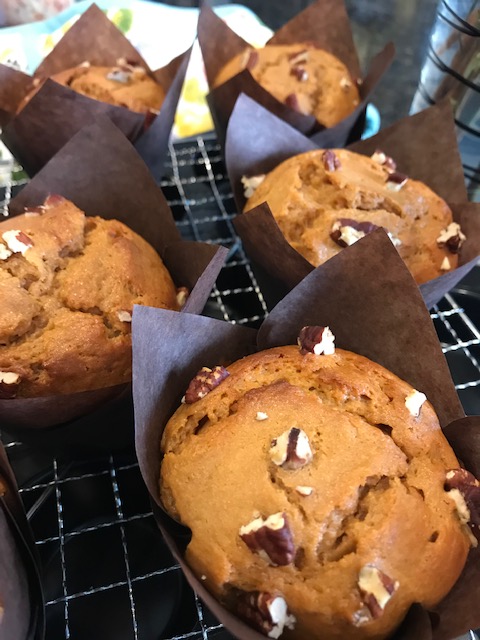 Such a simple, sweet and totally delicious muffin recipe yet looks really professional. Definitely one to impress guests. The muffins are light and fluffy just as muffins should be even though this time you use a hand mixer. It's not at all like a muffin recipe to do this but in order to completely combine the dulche de leche, it has to be done.
I found that making the muffins the day before you need them really deepens the flavour so it's a great make ahead recipe too.
You can of course make your own dulche de leche but I buy a tin of the Carnation Condensed Cream Caramel and this works perfectly.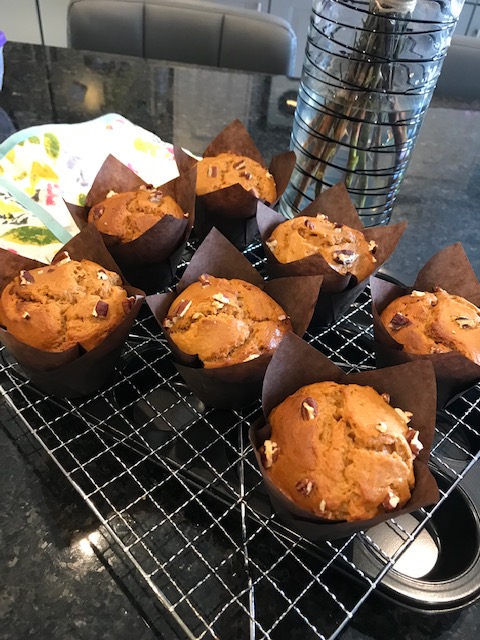 I used large tulip cases but you can use traditional sized cases too and they will work just as well. The recipe will make up to 14/15 standard sized muffins. Chopped pecans finished them off really nicely but that's optional.
Ingredients:
200g plain flour
1 tsp baking powder
1/2 tsp ground cinnamon
1/4 tsp salt
2 large eggs
80g caster sugar (I used 30g but it's up to you)
60ml vegetable oil
240ml sour cream or double cream (I only had Greek Yoghurt and used this)
1 tsp Vanilla Extract
1 tin of Carnation Condensed Cream Caramel
Pecans to top (optional)
Method:
Preheat oven to 175C Fan and line your muffin tin with cases.
In a large bowl whisk together the flour, baking powder, cinnamon and salt and set aside.
In a large bowl, beat the eggs and sugar if using for about 3 minutes until the mixture is light and fluffy. You can use a stand mixer with a paddle attachment too.
Reduce the speed and add the oil slowly and beat until combined. Next beat in the sour cream and vanilla extract. Then beat in the dulche de leche until it's completely combined.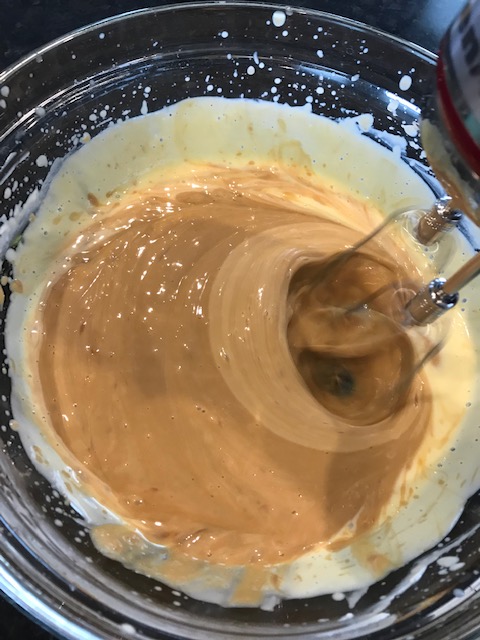 Stop the mixer and add the flour blend and beat again until just combined. Only a minute or so. Just don't overmix here or the muffins will be dense.
Using a large scoop, divide the mixture between the muffin cases. Fill them about 3/4 of the way as they do rise. Top them with chopped pecans if using.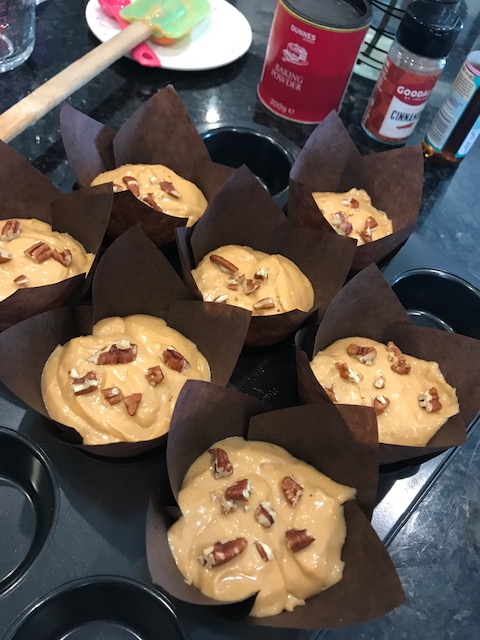 Bake in the preheated oven for 25 – 35 minutes depending on the size of your muffin cases. Keep an eye on them and insert a skewer into the centre to check they're done.
Remove and leave to cool for 10 minutes in the muffin tin and then remove to a wire rack to cool completely.
Now the even more wonderful thing about these muffins is they will keep for 3 days in the fridge and they can be frozen for up to 2 months! To thaw, just leave them overnight in the fridge. Love it!
Bake with love
Soraya x