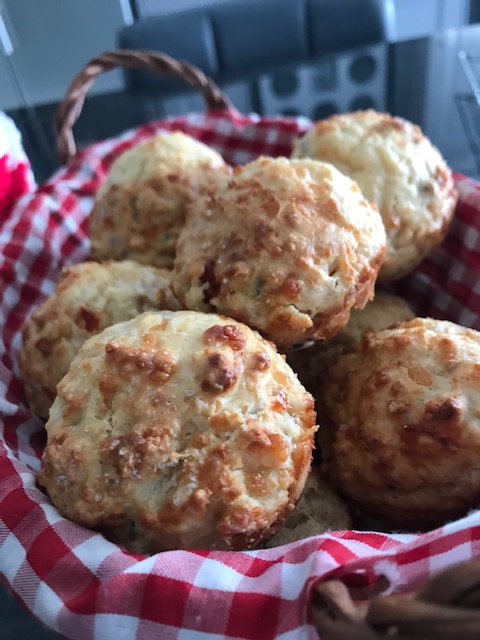 You can make about 24 mini muffins or 12 average sized delicious servings from this recipe. They are totally yummy and it's really nice to offer a savoury bake at the start of a Coffee Morning, Afternoon Tea or just as part of a buffet.
For a healthier version, I replaced the flour with Spelt Flour which is far less processed and easier for you to digest and it worked well.
The type of cheese you use is up to you but you do need a good strong tasting cheese to get that hit. I used fresh grated Parmesan and it worked so well with the sundried tomato and thyme. I've previously used Mature Cheddar also but I would suggest you increase the quantity.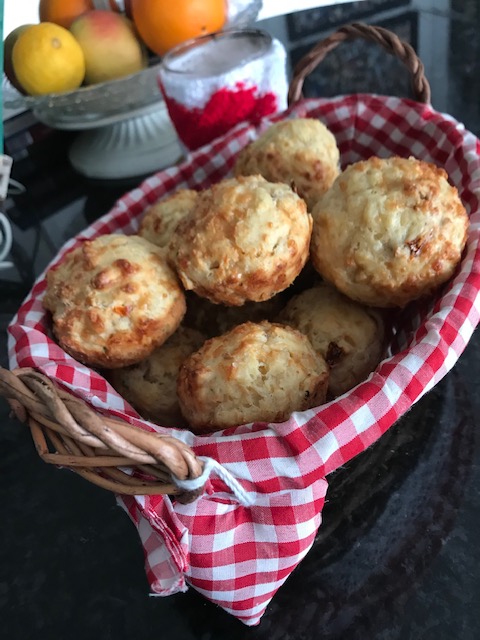 As I mentioned before, you can use different cheeses and if you do, then change the herbs too. Fresh Rosemary works well with cheddar and thyme is a good companion for the parmesan and sundried tomato.
One last tip, don't be tempted to use paper cases here. They will stick to the muffins. Grease the muffin tins well and once cool, just prise very gently with the tip of a sharp knife and they will come away no problem.
Ingredients:
300g plain flour
1 tsp baking powder
1/2 tsp salt
35g walnuts, chopped
140g Grated Parmesan or 155g Mature Cheddar, grated
1 tbsp Fresh Thyme
Sundried tomato (about 6 pieces cut up)
225ml milk
2 large eggs
Method:
Preheat oven to 180C Fan or 200C convention. Grease the muffin tin.
Sift the flour, baking powder and salt into a large mixing bowl.
Stir in the grated parmesan, chopped walnuts, sundried tomato and thyme.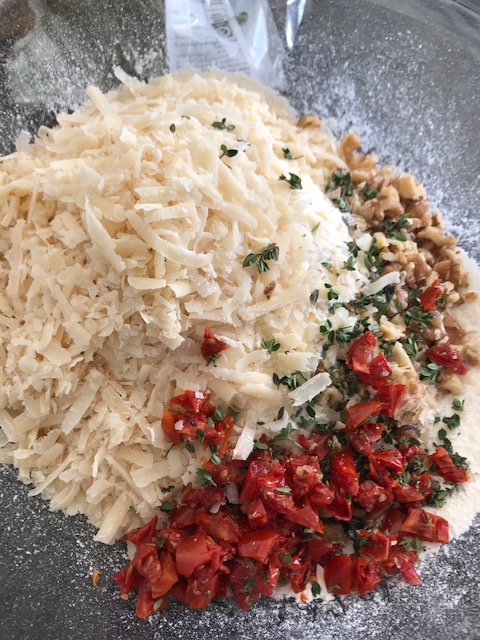 Mix together and then make a well in the centre. Beat the milk and eggs together and then pour into the well.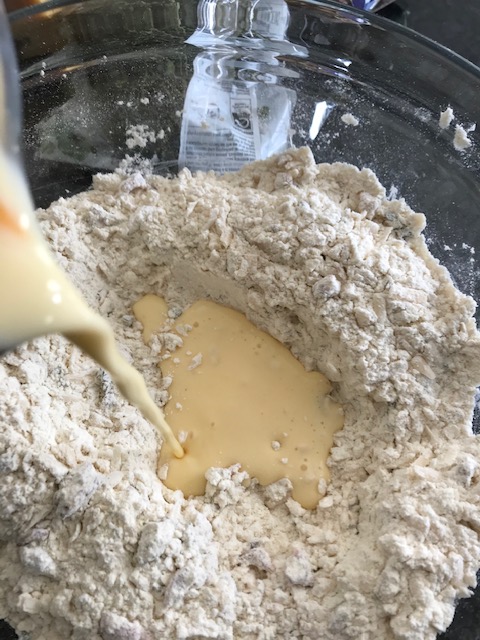 Stir until just combined. Don't overwork the mixture. Lumps are okay 🙂
Spoon this into the greased muffin tins. I used an ice cream scoop.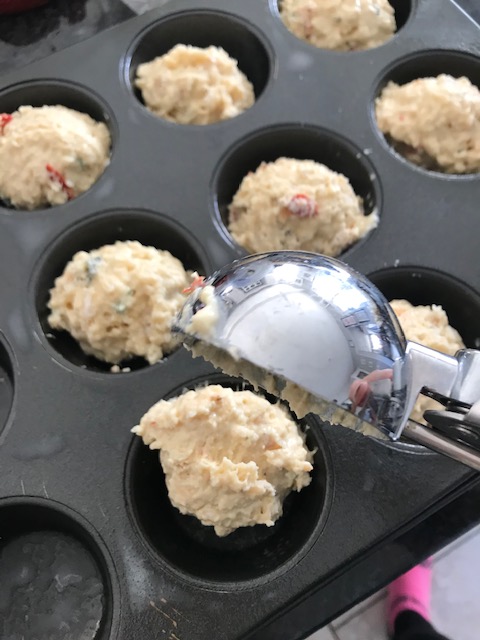 Don't overfill as they do rise. I used sea salt and ground it over the top of each muffin. It really makes a difference and as you're using tomato and eggs, they both shine with the addition of salt.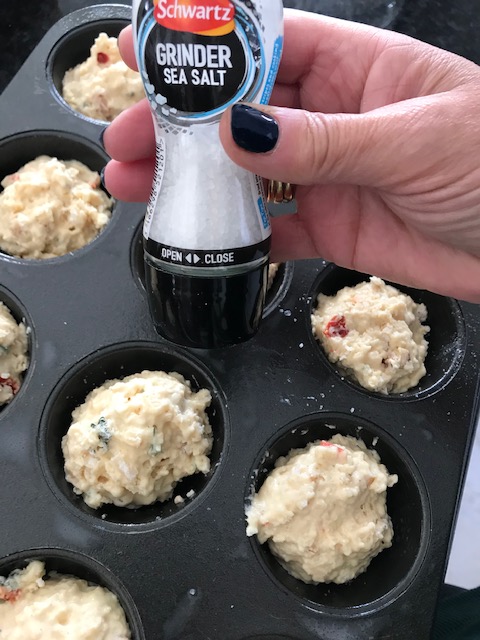 Bake in the preheated oven for approximately 20 minutes. They will rise and be a lovely golden brown.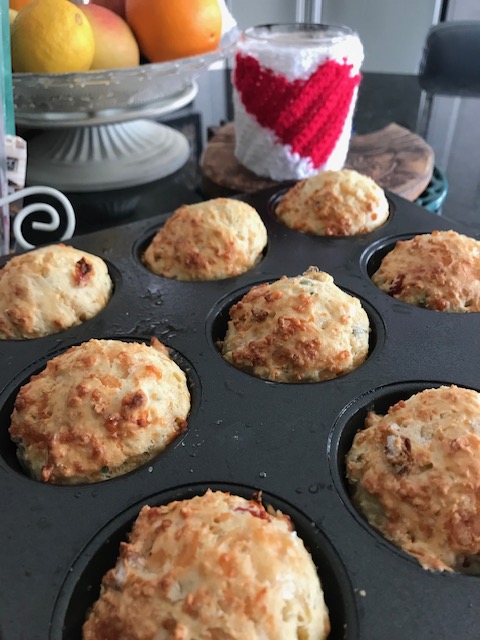 Leave them to cool in the tin and then gently use the tip of a sharp knife to loosen and very gently prise them out. They should come out easily.
These are best enjoyed either on the day you bake them or the next day. Store at room temperature in an airtight container. They also freeze well. Just pop them into a freezer bag, remove the air and seal. Leave them at room temperature to defrost and you can pop them in a low oven to heat up before serving.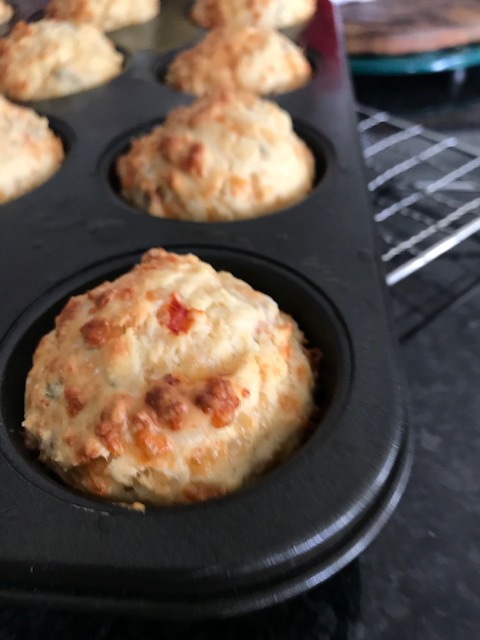 Bake with love
Soraya x