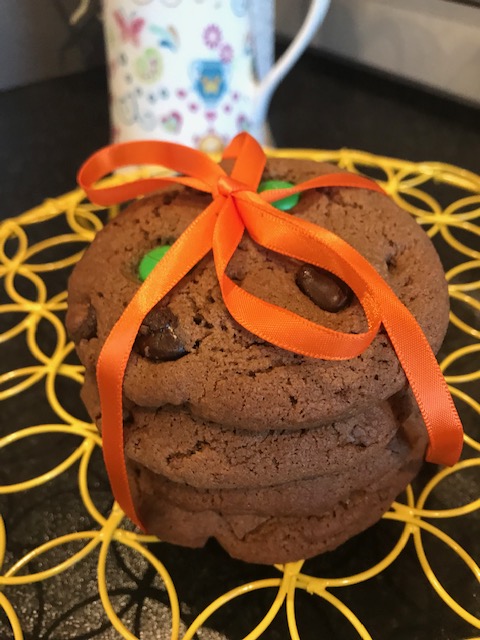 Get your Irish on by making these great chocolate cookies which are packed full of green candies such as M&M's and Mini Eggs. I did wonder could I get white and orange M&M's to really fly the flag (get it? ha ha) but it was becoming expensive and time consuming to try and locate them but if you're in a position to get them … wouldn't it be so great!
I didn't go with mint flavoured M&M's as it might not appeal to everyone and they can be bit strong, but what I did do is to mix the type of M&M's to add a surprise element to my cookies so in some bites it's chocolate, some are crispy, some with peanut and some salted caramel – went down a major treat! People's faces when they bit into a salted caramel … fantastic!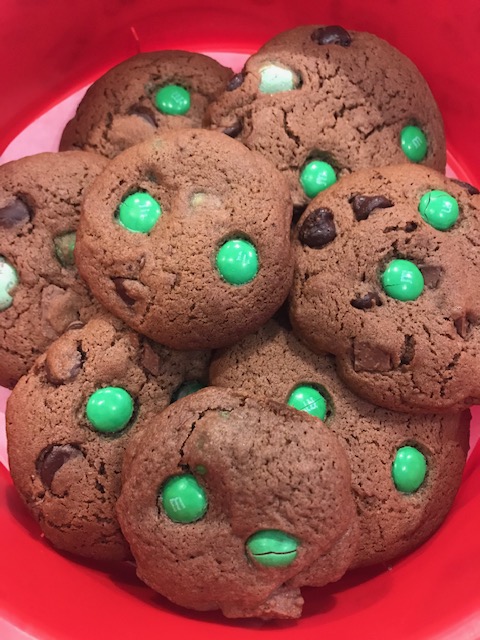 There are a few things to think about here .  First one is size. Are you a big cookie or a dainty cookie person? I used two ice cream scoops to see what the results would be. Obviously I got a good bit more out of the smaller one but those large sized cookies were gone first! Here are the two sizes I used and do what you need to …. there's no judgement here 😉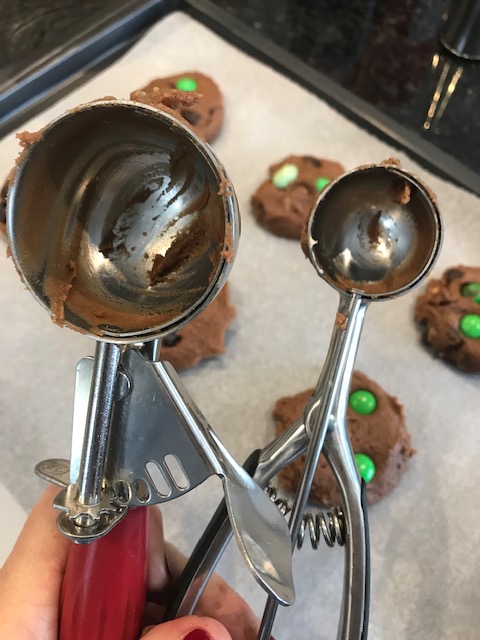 I also added regular dark chocolate chips to the recipe as you can overkill with green M&M's. For added depth to your cookies, you can add Espresso Powder. It really brings out the chocolate flavour and if you have it, add it.
Okay enough talking – lets get to the recipe. I converted the measurements from US cups for ease.
Ingredients:
113g butter, melted
95g brown sugar (any type will do)
45g caster sugar
1 large egg
2 tsp vanilla extract
190g plain flour
12g cocoa powder
1 tsp espresso powder (optional)
1/2 tsp bicarbonate of soda
1/2 tsp salt
80g chocolate chips or chunks (milk or dark)
75g Green M&M's
30g Green M&M's for topping the cookies
Method:
Line two baking trays with parchment and preheat oven to 175C
In a large bowl, beat the butter with both sugars until well combined. It will take a couple of minutes. Next add in the egg and vanilla extract and beat again.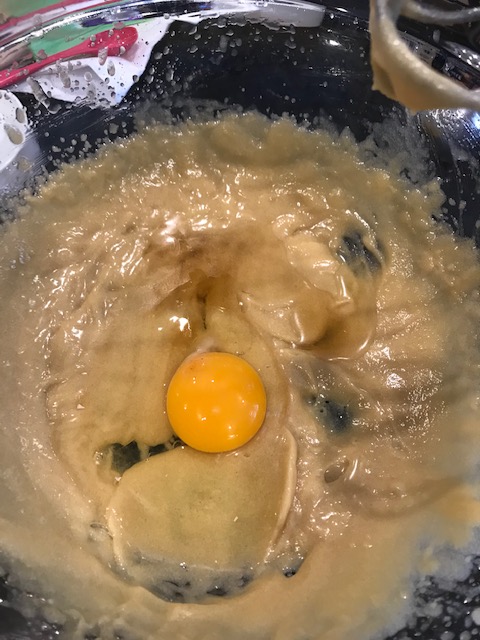 Next add in the flour, cocoa powder, espresso if using, bicarbonate of soda and salt and stir everything well together until it forms a soft dough.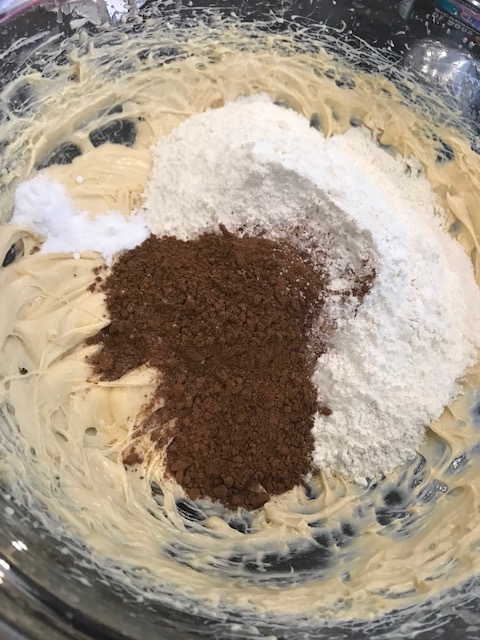 You can stir in the chocolate chips and M&M's now. I added a bar of Mint Crisp cut into pieces to get a little hint of chocolate mint.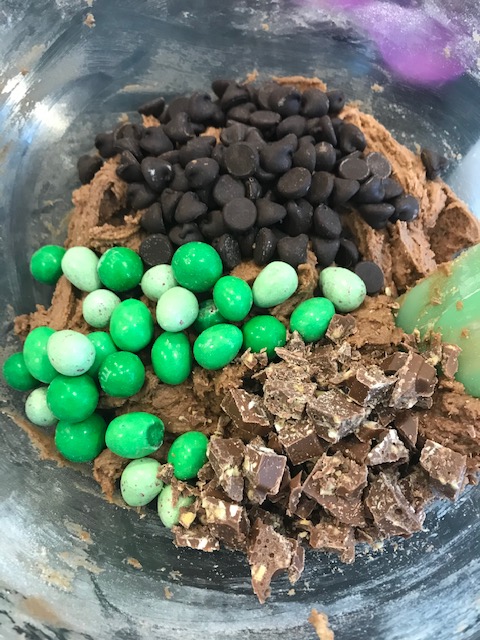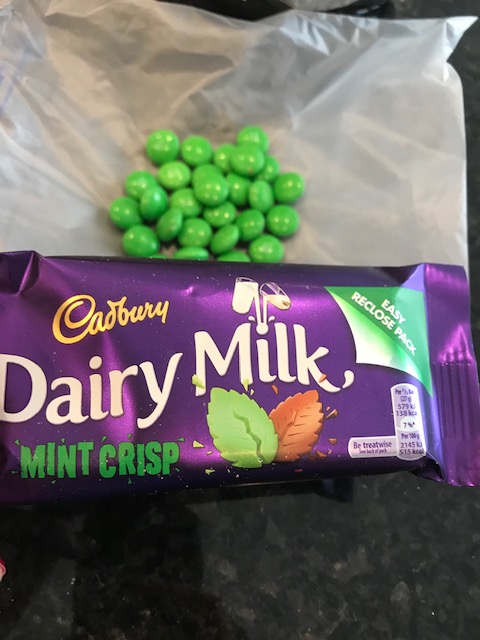 Use your chosen ice cream scoop and scoop evenly on the parchment paper. You can see the difference here between the large and small cookie sizes.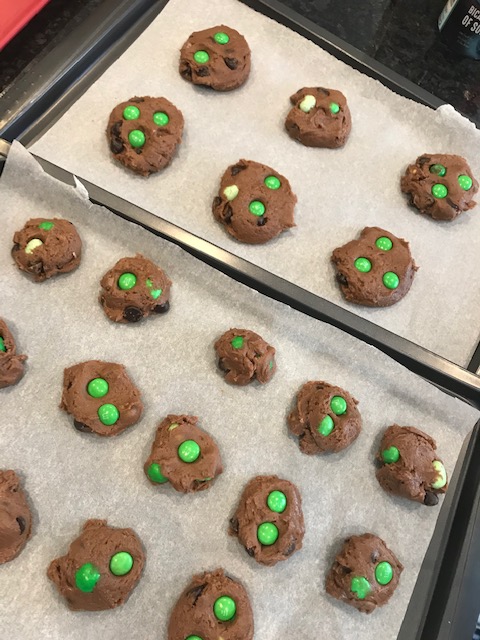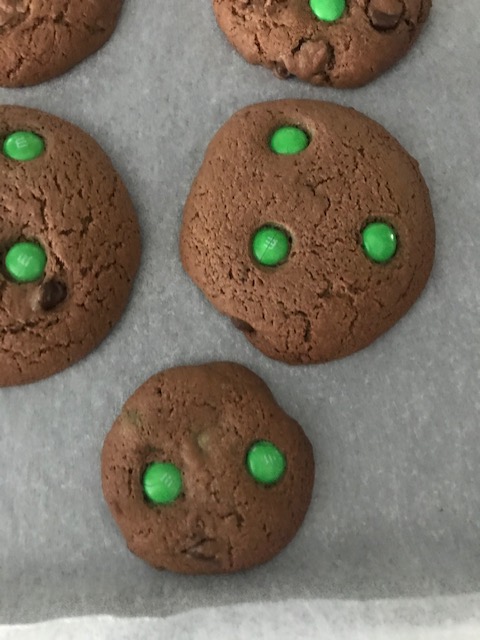 Bake in the preheated oven for 11 minutes. They will seem soft when they come out but that's what they should be. They will continue to set while cooling. Keep an eye on the bake as it will be different for smaller sized cookies.
Cool on the baking sheet (they are too soft to move) and then transfer them carefully to a wire rack to cool completely (or sneak one while it's still warm 😉 )
Store them in an airtight container.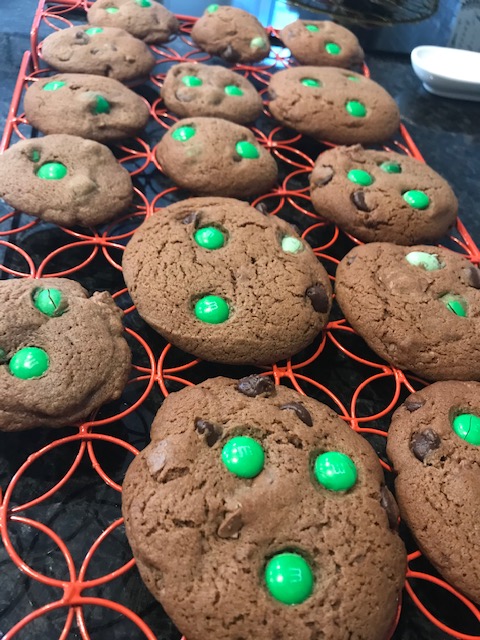 They look so good! Of course we had to test one with a bite ….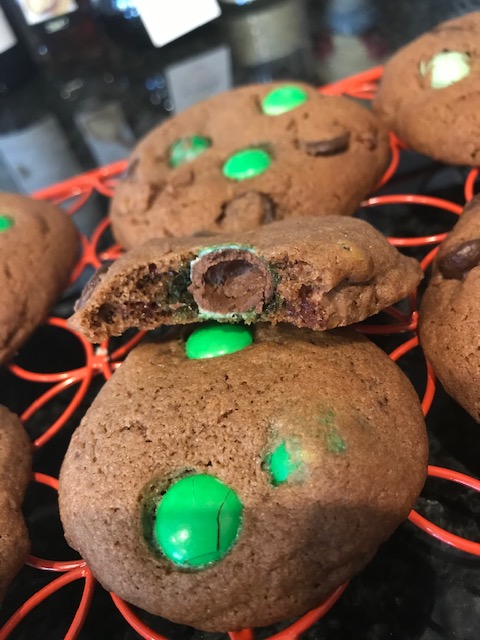 Make these as soon as you can! A great way to celebrate St Patrick's Day and to get kids into baking.
Enjoy!
Soraya x