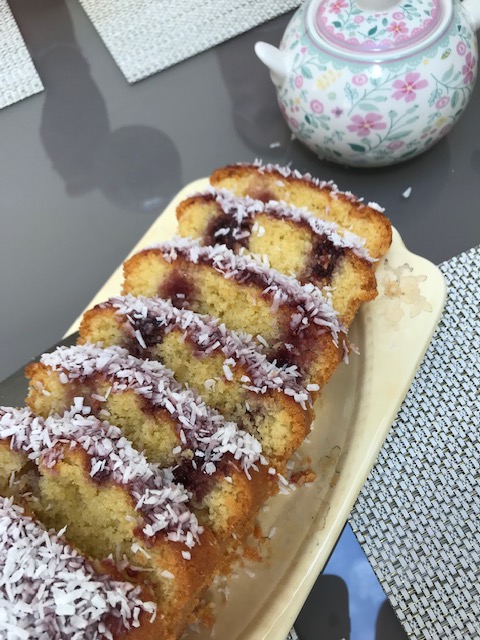 I follow the very talented Jo Wheatley of GBBO and have one of her baking books which I refer to regularly. She was one of the winners at the start of Bake Off and had such a passion and love for baking that I knew she would be hugely successful which she is.
Her Poke Loaf is a joy to make and of course to eat! There are lots of variations and I'll list them below in the recipe. Jo originally covered her loaves with buttercream but for lots of reasons, I changed it up a little and am very happy with the result. I think these turn out to be the perfect "piece of cake" with that morning or afternoon break and works perfectly for a Coffee Morning.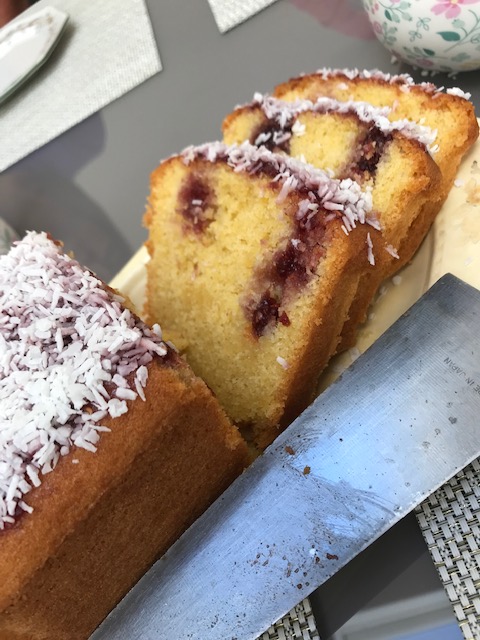 These pretty loaf cakes are made in 1lb tins and originally I thought they would turn out small, not enough to go around and look a bit mean but actually they works beautifully in this size tin. I found there was plenty for 8 generous slices and as the cake gets an injection of filling, any larger and the slices would fall apart.
You can see from the picture above that one side got more of a filling than the other and my tip to you would be to push in the nozzle about half way, release some filling and then remove. Don't be tempted to push further into the cake with the nozzle or the slices might not hold properly when being served.
I went with a favourite of mine, Raspberry & Coconut and of course you could leave off the coconut and use toasted almonds, sprinkles, chocolate flake, freeze dried or fresh raspberries. It's really very versatile. I'll list the other options below.
Ingredients:
150g unsalted butter, softened
150g caster sugar (I used 80g)
3 large eggs, beaten
150g self raising flour
1/2 tsp baking powder
Filling:  Raspberry Jam
Method:
Grease and line a 1lb loaf tin. Preheat oven to 170C (fan)
Cream the butter and sugar until the mixture is pale and light.
Very gradually add the beaten eggs and beat well between each addition.
Sift the flour and baking powder together and whisk to combine. I decided at this stage to add 2 tbsp of desiccated coconut to the mixture to see how it would add to the overall flavour. I used a large metal spoon and folded gently so as to keep the air in the mixture.
Spoon this into your prepared tin and level off with the back of a spoon.
Bake in the oven for 25 – 35 minutes until well risen and golden in colour. Check with a skewer that it comes out clean.
Remove from the oven and then using the handle of a wooden spoon, poke 8 holes into the loaf, 4 on each side. Leave in the tin for about 10 minutes to firm up and then remove from the loaf tin and put on a wire rack to cool completely.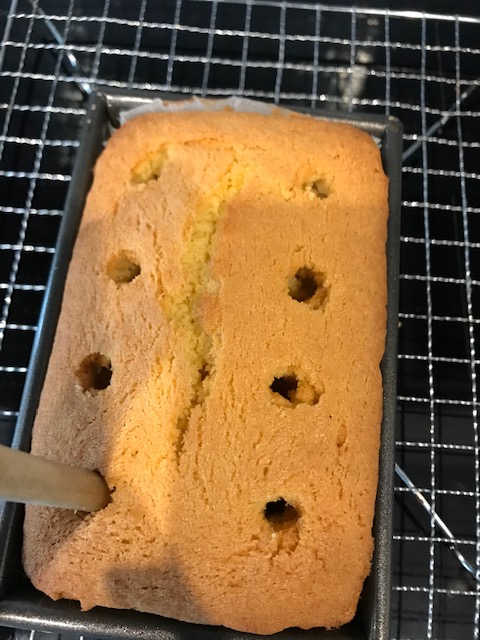 Once the loaf is completely cooled, spoon the filling into a piping bag, cut a small piece from the top and pipe into each of the 8 holes made by the handle of your wooden spoon.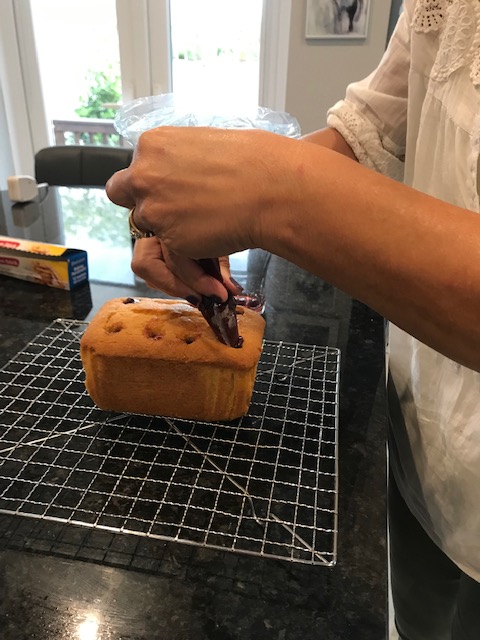 Next spoon some Raspberry Jam over the top of your cake, enough to cover the holes and then sprinkle desiccated coconut and press down gently.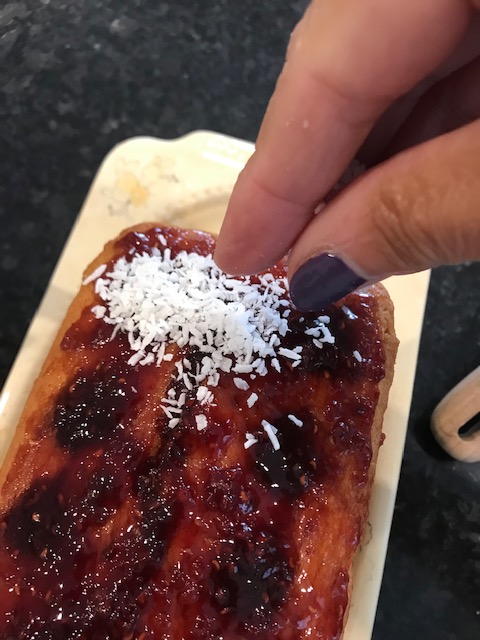 Once covered, just enjoy!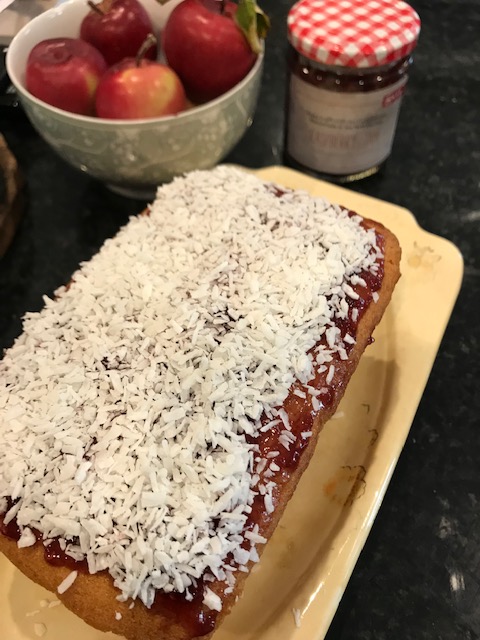 Here are some variations you can also try:
Filling – Caramel and top with Dried Banana Pieces
Filling – Lemon Curd and top with broken Meringue pieces
Filling – Ganache and top with Toasted Hazelnuts or Flake pieces
Bake with love
Soraya x