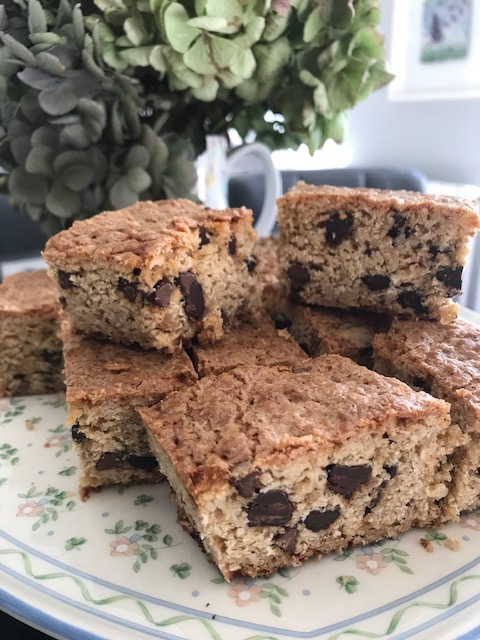 Found this recipe in an American magazine from Sugar Spun and converted it to a gluten free and metric version and I'll give both below. It's chock full of healthy oats and a sweet treat when you want something but can't find just the right thing. These bars are thick, chewy and totally delicious!
I love the fact you don't need to take out any machinery to make these. It's all done by hand which is always a bonus.
You can of course make them plain by leaving out the chocolate chips and they are very good that way too. I used dark chocolate chips and there are lots of variations you can make. I'll list them below.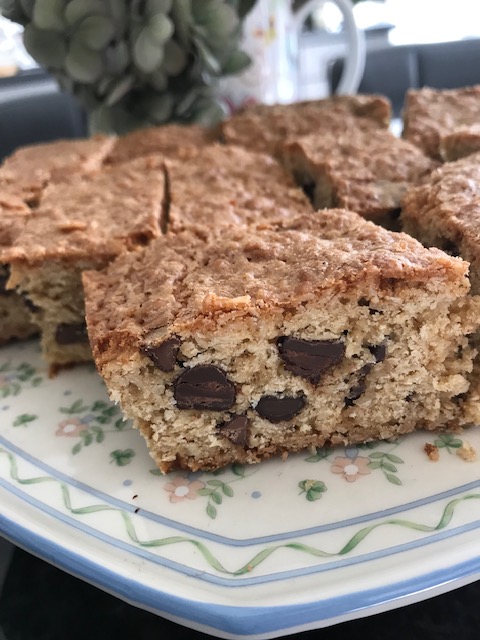 I'll put the Gluten Free option in bold and italics next to the ingredient where needed. Otherwise, it's as seen.
So if you want to add something other than chocolate chips here are a few options:
Butterscotch Pieces
Walnuts
Pecans
Banana Chips
Dried Cranberries
Mixed Seeds
Dried Apricots
You get the idea and I'm sure you have your own favourites to try also 🙂
Ingredients:
226g butter, melted
200g light brown sugar (I reduced this to 120g)
100g caster sugar (I used 50g)
2 large eggs and 1 egg yolk
1 + 1/2 tsp Vanilla Extract
157g Plain Flour – Gluten Free Plain Flour – + 1/4 tsp Xanthan Gum
2 tsp Cornflour
1/2 tsp Baking Powder – Gluten Free Baking Powder
3/4 tsp salt
1/2 tsp Ground Cinnamon
285g Oats – Gluten Free Oats **
180g Dark Chocolate Chips – Gluten Free if needed
Method:
Preheat oven to 175C Fan and line a 9″ x 9″ square baking pan with parchment.  Leave an overhang for easier removal.
Place melted butter and both sugars in a large bowl and whisk until combined.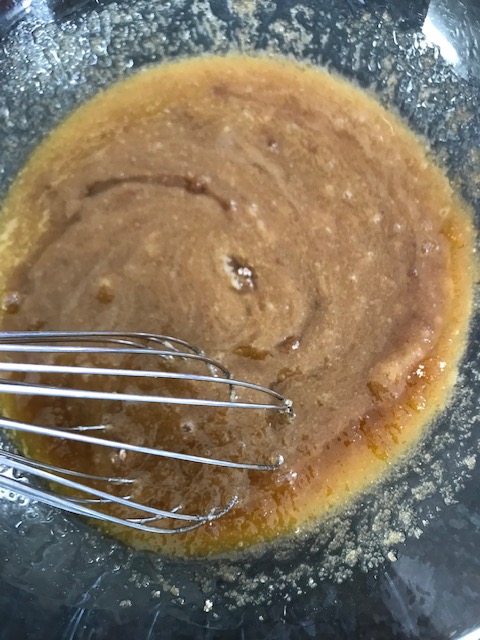 Next, add the eggs, egg yolk and vanilla extract and again, whisk well to combine.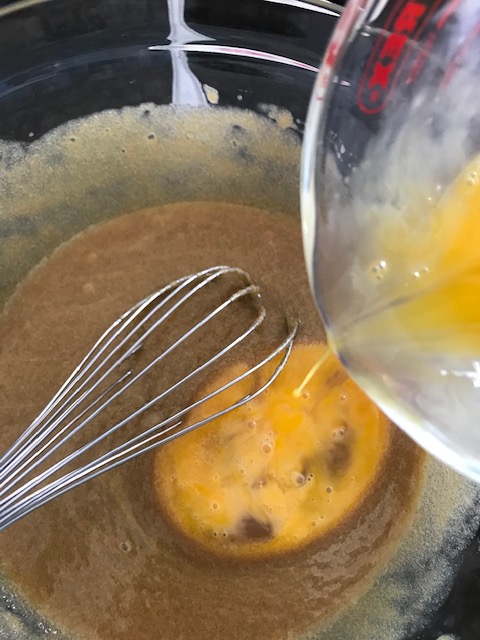 In a smaller bowl, whisk the flour, cornflour, baking powder, salt, xanthan gum if using and cinnamon. Then, gradually add these dry ingredients to the wet until completely combined. I added this in 4 stages to make sure everything was totally combined.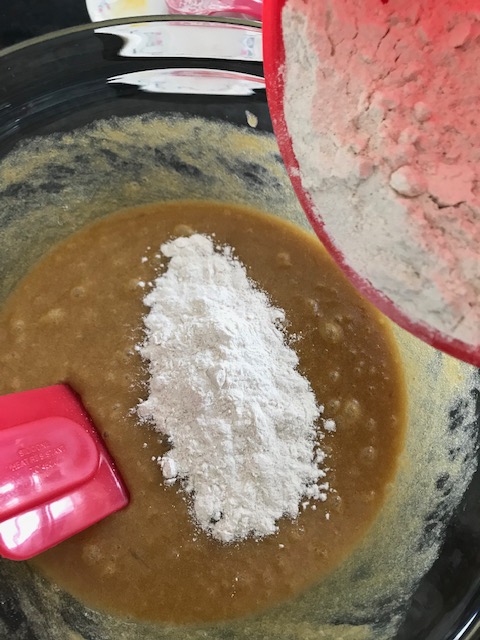 Then you add the oats and chocolate chips and stir these until well mixed through.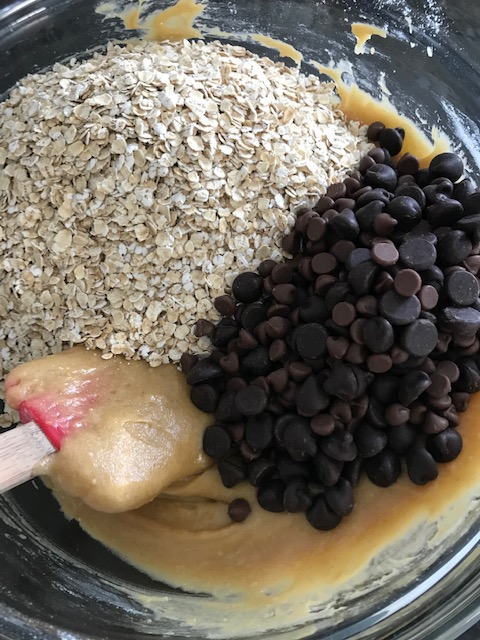 The mixture is quite thick but that's what it should be like. Spoon this dough into the prepared tin. I spooned it into 4 sections into the tin and then pushed it out into the corners to get an even as possible spread.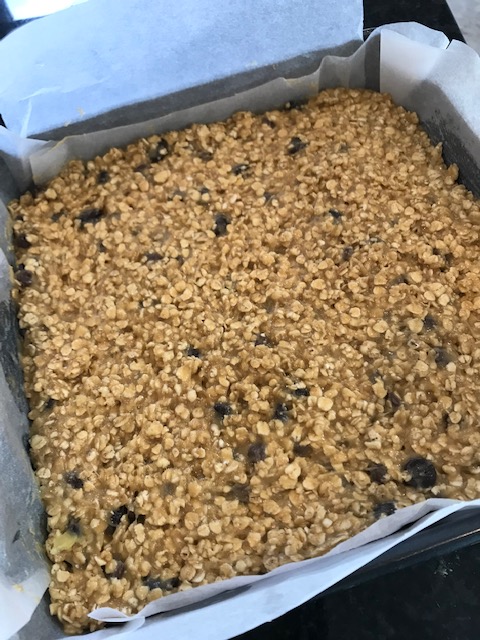 Bake for 40 / 45 minutes but check with a skewer or toothpick inserted into the centre. It should come out almost clean. I had to leave mine in for another 8/10 minutes.
Leave in the tin for about 10 minutes and then remove to a wire rack to cool. You can see how thick they are – perfect bar size!!
For an added treat, melt chocolate of your choice and drizzle back and forth; leave to set before cutting into squares.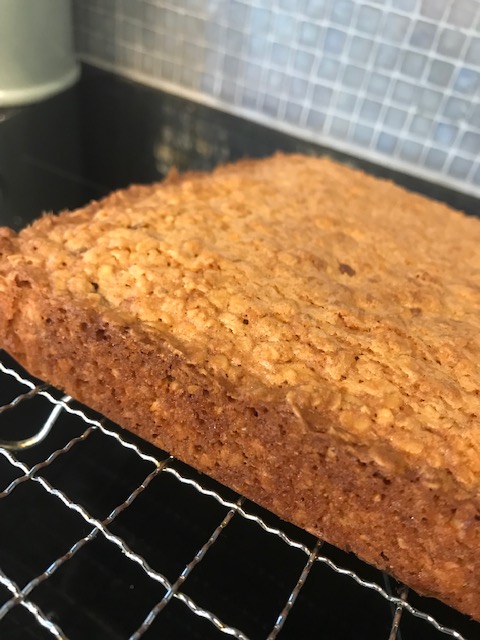 ** Don't use the "Quick Oats" for this recipe. It will definitely affect the result so best stick with the traditional porridge oats.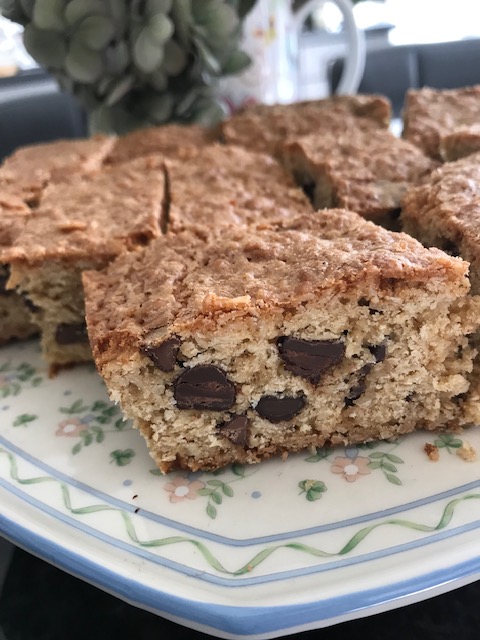 Bake with love
Soraya x