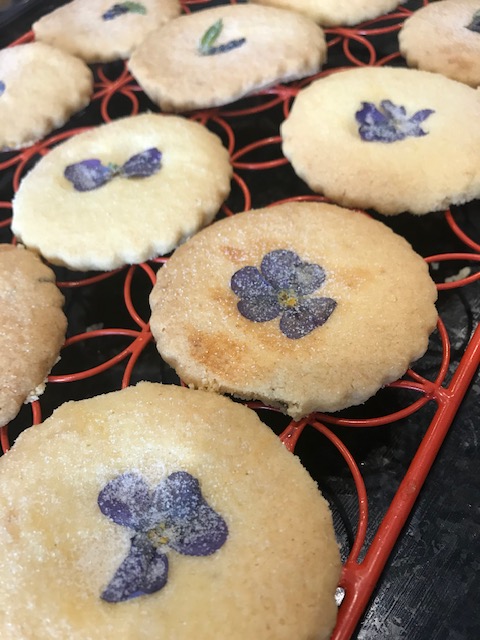 I adapted this shortbread recipe from another one which had chocolate and raspberries. Sounds pretty good and I definitely might try it later but I wanted to try something I had seen on Pinterest and couldn't wait!
So I decided to try and bake with edible flowers and the lavender that grows in my garden. I used a shortbread recipe but I think a plain, vanilla biscuit recipe would probably also work. The reason I chose the shortbread is because it comes out of the oven really soft which allows you to VERY gently press in the flowers and then return to the oven for the last 5 minutes of baking.
As I was using violas and also the lavender from the garden, I decided to add lemon flavour to the shortbread also as I felt they would work well together.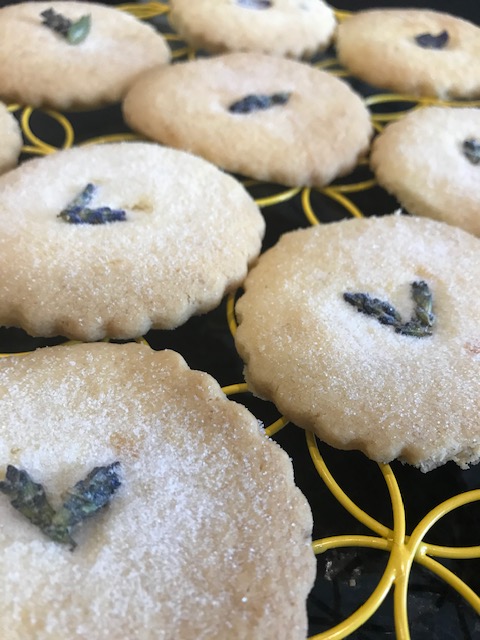 Unfortunately at the minute, I don't have step by step pictures as I made a video of making these Shortbread and totally forget to stop and take images. I'll put that link up for you to see and hopefully I'll update with pictures the next time I make these Shortbread Cookies.
Part I video: https://www.facebook.com/soraya.quigley/videos/pcb.3411471775537777/10217401621373619/?type=3&theater&ifg=1
Part II video – adding flowers: https://www.facebook.com/soraya.quigley/videos/pcb.3411471775537777/10217401624293692/?type=3&theater&ifg=1
** I tried dusting the shortbread with sugar before baking for the last 5 minutes but they browned a bit too much so I wouldn't recommend it. Dust with caster sugar after baking.**
There's no need to preheat your oven till later in the method stage as you need to put them in the fridge for at least 30 minutes before baking. I used my smaller baking trays, lined with parchment so everything would fit into the fridge.
Also I used a stand mixer. I find it's really easy to make shortbread with a stand mixer. It does all the work for you and takes no time. Of course you can use an electric hand mixer too; it will just take a little longer.
As with all Shortbread recipes, there are three main ingredients but as this is a Gluten Free recipe, and shortbread is notoriously crumbly, you absolutely DO need Xanthan Gum.
Ingredients:
250g butter, softened (use a dairy free if needed, like the Stork block)
110g caster sugar ** see note below
360g gluten free plain flour
1/4 tsp xanthan gum
Zest of 1 lemon (optional)
Edible flowers to decorate (optional)
Caster sugar to finish
Please be sure to use cultivated to eat flowers or those that you have grown yourself only. Do not use flowers bought from garden centres or florists.
** I used 40g of lavender infused sugar and 70g of regular caster sugar
Method:
Line 2 baking tins with parchment paper and set aside.
In the bowl of a stand mixer, add the butter and mix for a minute to completely soften it. Next add all the sugar and beat together till it's smooth and well combined.
Add in half of the flour and xanthan gum mixture and on low speed, beat till it's incorporated. Add in the lemon zest if using. Then add the rest of the flour mixture and beat again (on low) until it's combined. Then up the speed for a minute just to bring it all together.
On a lightly floured surface, tip out the dough and bring together. The dough will feel soft and silky. Then cut into 2 or 3 portions and gently roll out each section. Don't roll too thin. You want about 1cm thickness. Using the cutter of your choice, cut out shapes and gently, using a palette knife, transfer them to the prepared baking trays. It's easier to use a palette knife as they are quite delicate and you don't want to ruin the shape you've just cut out. Keep a space of about 2 inches between them as they spread a little bit.
I feel the shortbread should be thicker than I have them cut here so bear that in mind when rolling out the dough.
Keep rerolling the dough until it's all used. Put your baking tins into the fridge and leave for about 30 to 35 minutes. This will help the shortbread to keep their shapes.
Now it's time to preheat the oven. 160C Fan or 180C Conventional.
Once the time is up, transfer the baking tins directly from the fridge to the preheated oven and bake for 25 minutes.
** If you're adding edible flowers then follow the instructions below instead.
Bake for 20 minutes; remove from the oven and VERY GENTLY place an edible flower or lavender flower in the centre of each biscuit. They will be very soft so please press gently. Using a small brush, give each flower a quick coating of an egg wash and place back into the oven for a further 5 minutes.
An egg wash is 1 egg, beaten, then add 1 tbsp milk and beat again. It gives a bit of a shine when baked.
Continue for regular recipe as follows:
Remove the biscuits from the oven. They will be a very light, golden brown colour. Leave them on the trays for at least 4/5 minutes. They are very soft out of the oven. I like to sieve some caster sugar over the top of each shortbread.
Next you can use a palette knife to move them to a wire rack to cool completely. Work gently as they are fragile.
Bake with love
Soraya x