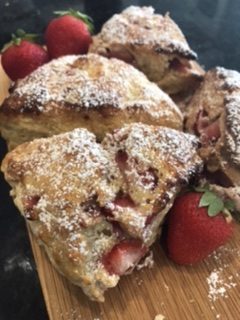 I've tried making scones using fresh strawberries before but ended up with squashed strawberries and a pinkish coloured dough so haven't gone back to revisit that recipe until now …. I got a punnet of really sweet and delicious Irish strawberries and really wanted to make strawberry scones so off I set to do a little research.
As with a lot of my baking, I also wanted to make a Gluten Free version too so I've included both below so everyone can enjoy these amazing scones.
They veer slightly away from ingredients a lot of us would traditionally use for making scones but the result was a really rich and creamy scone with chunks of strawberries throughout so I'm putting this recipe down as a success!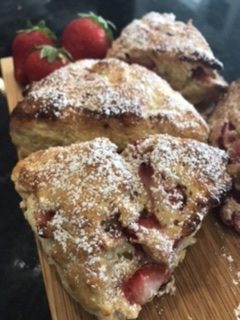 Originally the recipe I found was from the U.S. so I converted it to metric, substituted an ingredient or two and wanted a Gluten Free version so I tried that out too. I will put the gluten free ingredients in bold italics  below. Everything else will be the same.
As I was using fresh strawberries, I felt the only way to get them to hold their shape and not "bleed" into the dough was to freeze them first. I cut the strawberries into chunks and put them in the freezer for 25/30 minutes. Keep them in the freezer until they're needed.
Also the scones were cut into wedges rather than the traditional smaller rounds, as again, because I used fresh strawberry chunks, I felt larger pieces would work better.
Ingredients: (gluten free in italics)
320g plain flour (160g GF plain flour and 160g rice flour)
2 tsp baking powder (2 tsp gluten free baking powder)
1 tsp bicarbonate of soda
70g caster sugar (if you want a sweeter scone, use 95g)
Finely grated zest of a lemon
112g butter, cold and cut into cubes
1 large egg
65g plain yoghurt
120ml buttermilk
150g chopped strawberries, from the freezer
Brown sugar for sprinkling
Method:
Preheat oven to 200C Fan and line a baking tray with parchment paper.
In a large bowl, whisk or sieve the flour, baking powder, bicarbonate of soda and sugar.
Add the cubed, cold butter and using a pastry cutter or your fingers, blend until the mixture resembles breadcrumbs. Add in the lemon zest.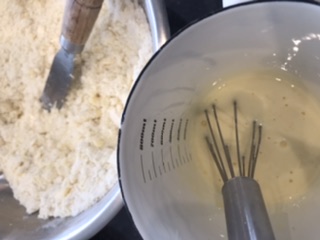 In a small bowl or jug, whisk the buttermilk, egg and yoghurt till combined. Next pour almost all the wet ingredients into the dry mix. I added about 3/4 first and then just a bit more. I had a little left and it was enough to brush the tops of the scones before baking. Using a knife or palette knife, mix together until it starts to come together. Now take the strawberries from the freezer and add them in.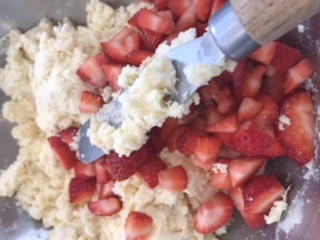 Gently give the mixture a few more turns either with your hands or a large spoon to distribute the strawberries through the dough.
Turn out unto a floured work surface, knead gently and mould into a circular shape. I would tend to have the dough a good 1 1/2″ to 2″ in height. Cut into equal sized wedges.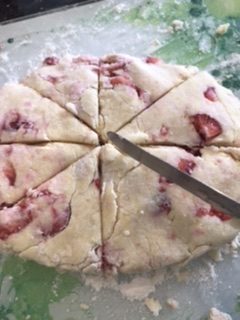 Gently move them to the lined baking tray and leave about an inch between them. Brush the scones either with the leftover of the buttermilk & egg mixture, a beaten egg or some cream. Sprinkle with some brown sugar.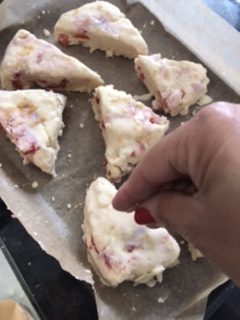 Bake for 18 – 20 minutes. If your wedges are on the larger side, you will need to bake them for the full 20 minutes. They will puff up a little and be a nice gold colour on top.
Remove and let them cool on the baking tray for a few minutes before transferring them to a wire rack to cool. Serve warm or at room temperature. Add some whipped cream, jam and strawberries for a bit of decadence … and why not!
Bake with love
Soraya x