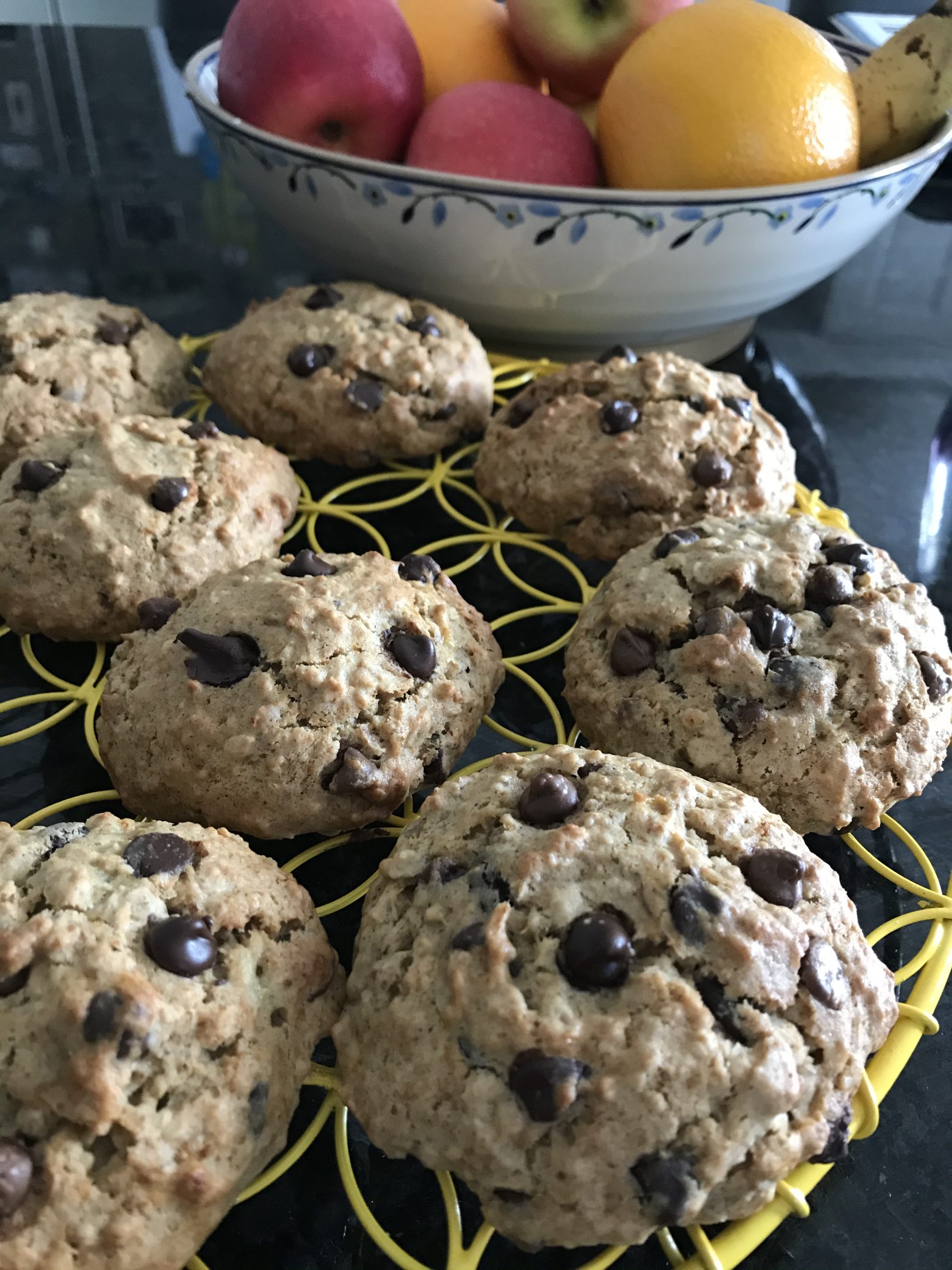 I think these should be called Cakies! They are the perfect combination of a cake and a cookie. They are thick and loaded with chocolate chips; they are very satisfying and filling and full of good stuff like bananas and oats.
I've adapted some of the ingredients so you can choose to go with the original or make the recipe a little healthier with less refined products. Either way, they are perfect as an afternoon or mid morning snack to keep you going till lunch or dinner time.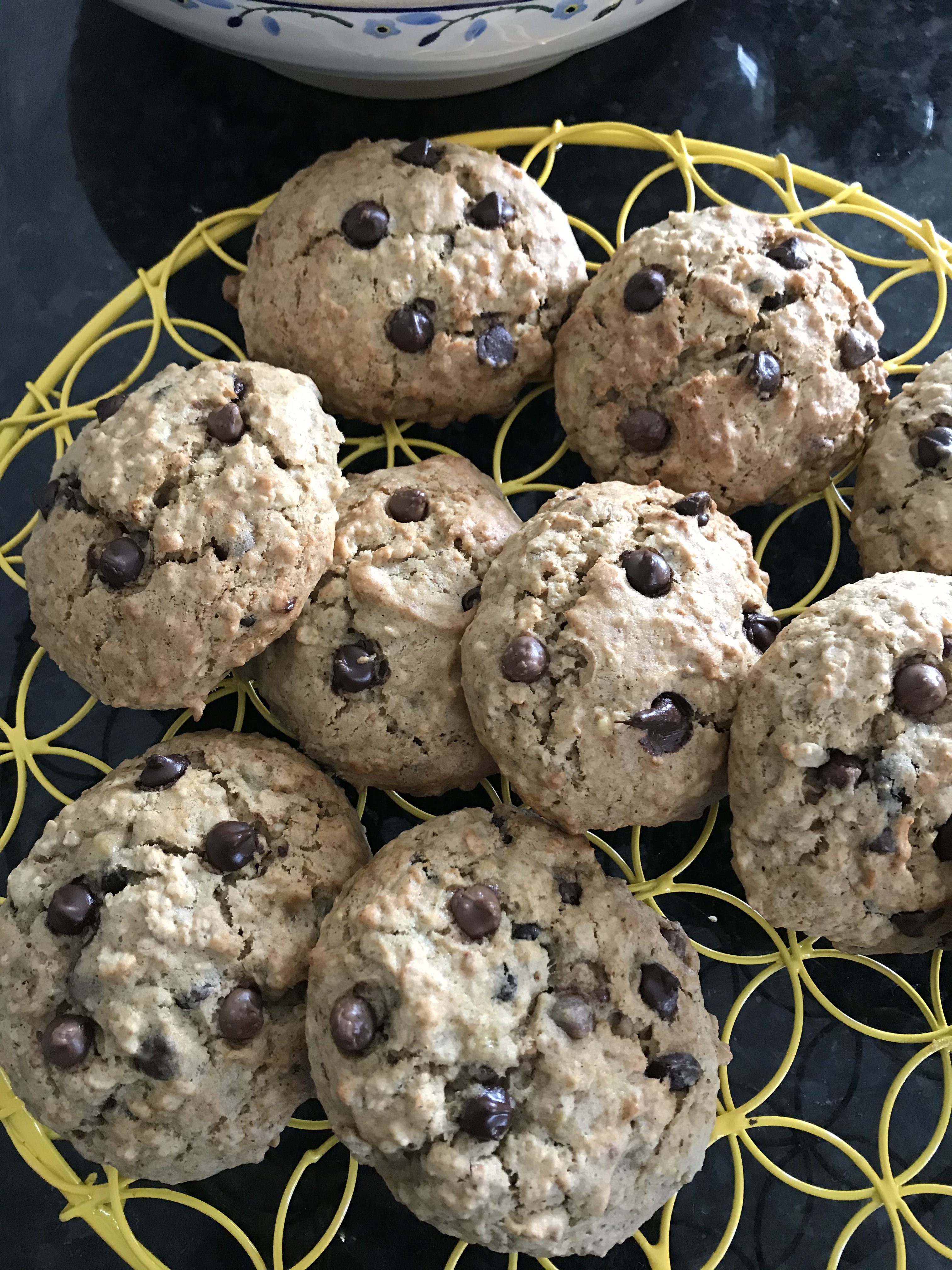 I've tried this recipe both as is and in a gluten free format and both worked well. The Gluten Free options are listed in bold. You can freeze the dough before baking. Place the scooped dough on a baking tray and put this into the freezer. Once frozen, you can transfer to a freezer bag and bake as below but add about 2/3 minutes extra.
If you have already baked them, once they are completely cool then wrap each one individually and then place them in a freezer bag. You can thaw them overnight on a worktop.
Ingredients:
60g Butter, softened
60g Peanut Butter – Smooth or Crunch (Meridian is GF) I subbed in Almond Butter but Cashew Butter or any other will also work but won't give you as strong a flavour.
50g Caster Sugar
50g Brown Sugar (use Coconut Sugar if preferred)
1 Egg
1/2 tsp Vanilla Extract
130g Plain Flour (125g Gluten Free Plain Flour)
90g Oats (90g Gluten Free Oats)** See Note below
1/2 tsp Bicarbonate of Soda
Pinch of Salt
1 – 2 large Bananas or 3 Medium Bananas
80g Dark Chocolate Chips (GF if necessary)
** Note: The second time I made these, I blitzed the oats in a blender to get a finer result and I think this works better
Method:
Preheat oven to 170C (Fan) / 190C / 375F / Gas 5 and line a baking tray with parchment.
In a large bowl, beat together the butter, peanut butter and both sugars until they are light and fluffy. You can use a stand or electric mixer.
Next beat in the eggs and vanilla extract.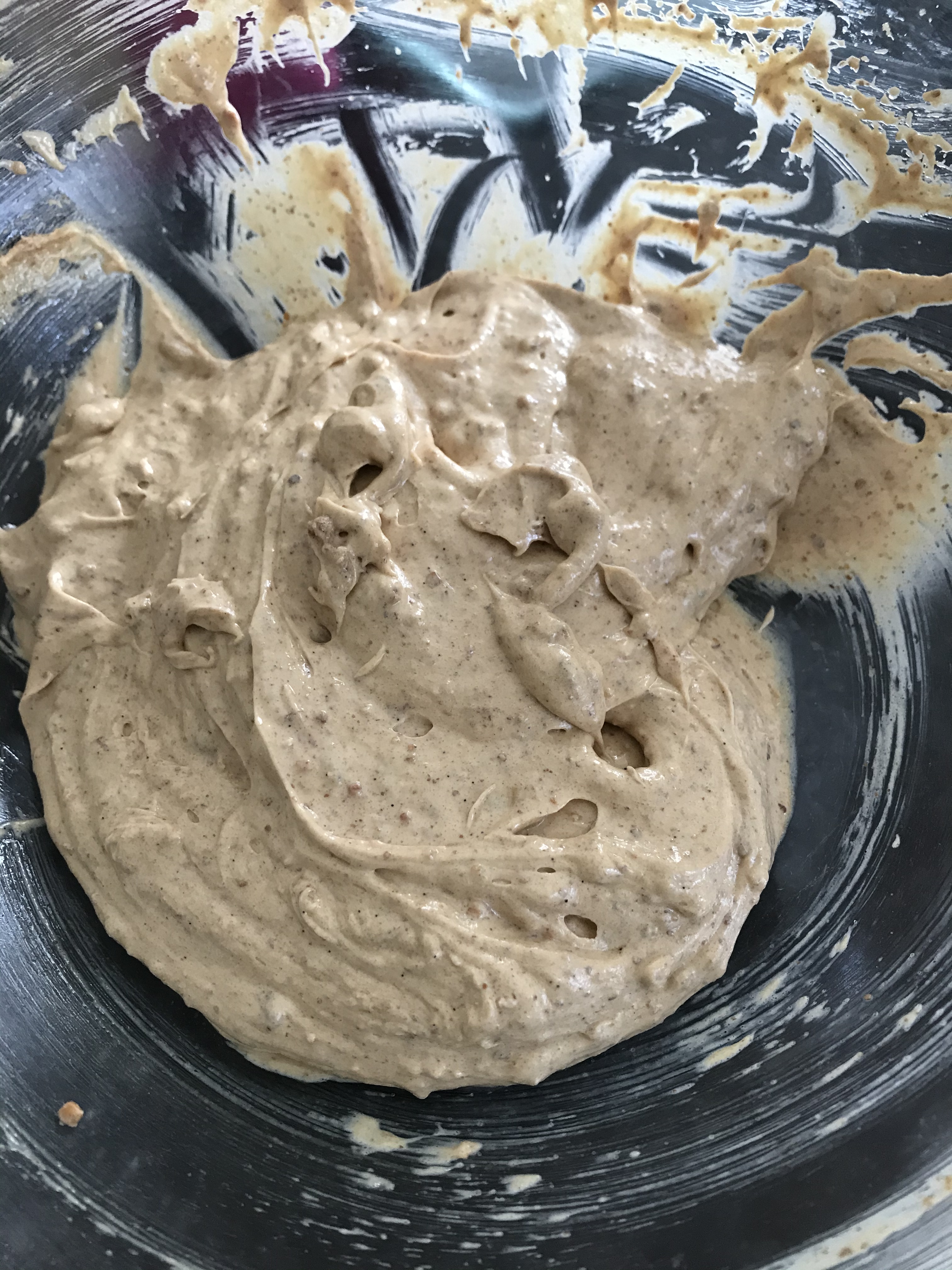 In a medium bowl, whisk together the flour, oats, bicarbonate of soda and salt. Add these dry ingredients to the creamed butter mixture and beat until just combined. Don't over beat it.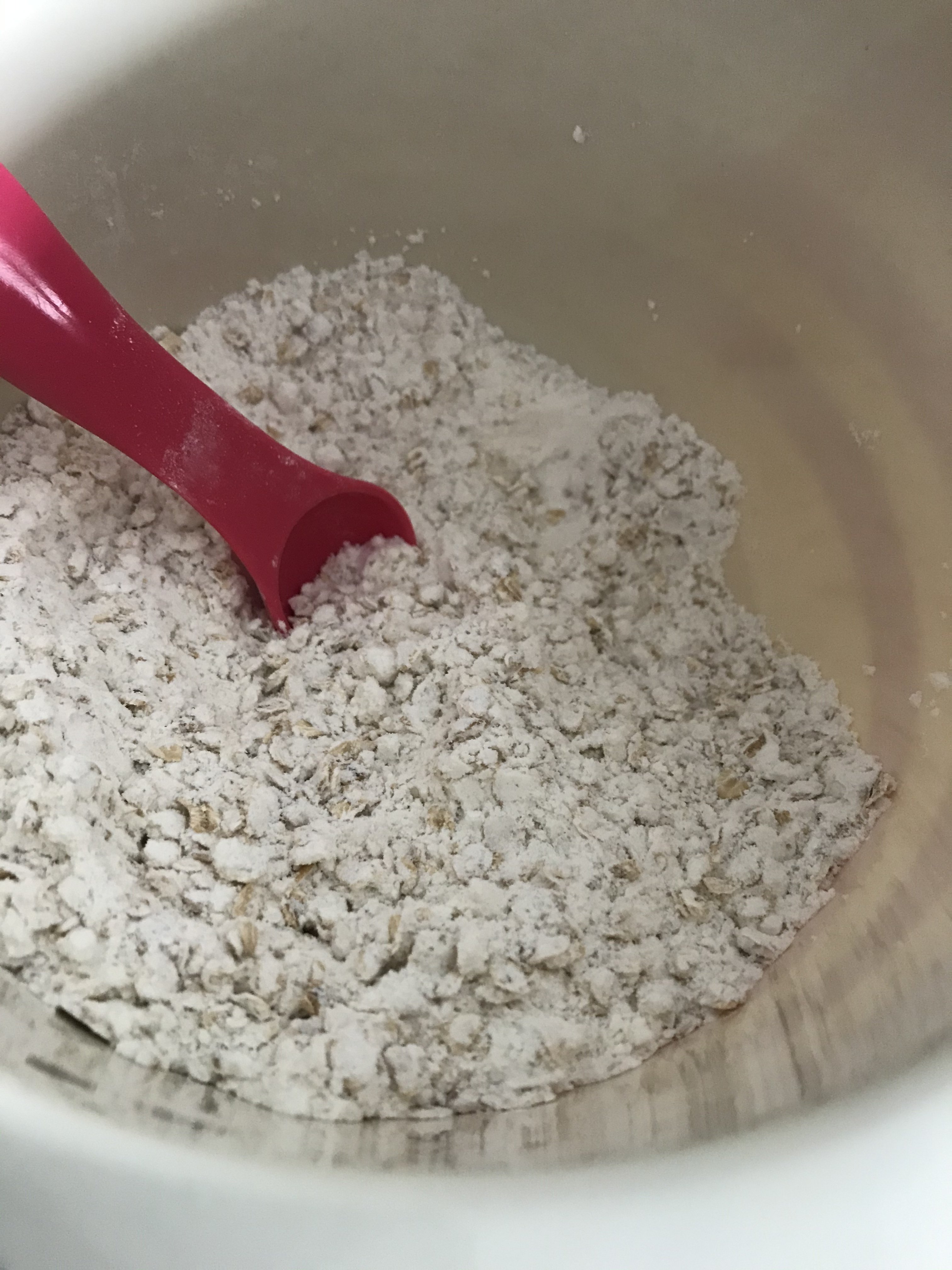 Mash the bananas with a fork and mix them in and then add the chocolate chips. Use a large spoon to combine everything. I like to keep a few chocolate chips aside to place on top of the cookie mounds before baking.
Use a large ice cream scoop to drop mounds of the dough on the parchment lined baking tray. The ice cream scoop gives you even sized cookies which helps with the baking. You can use a smaller scoop size and will have to reduce the baking time if you do.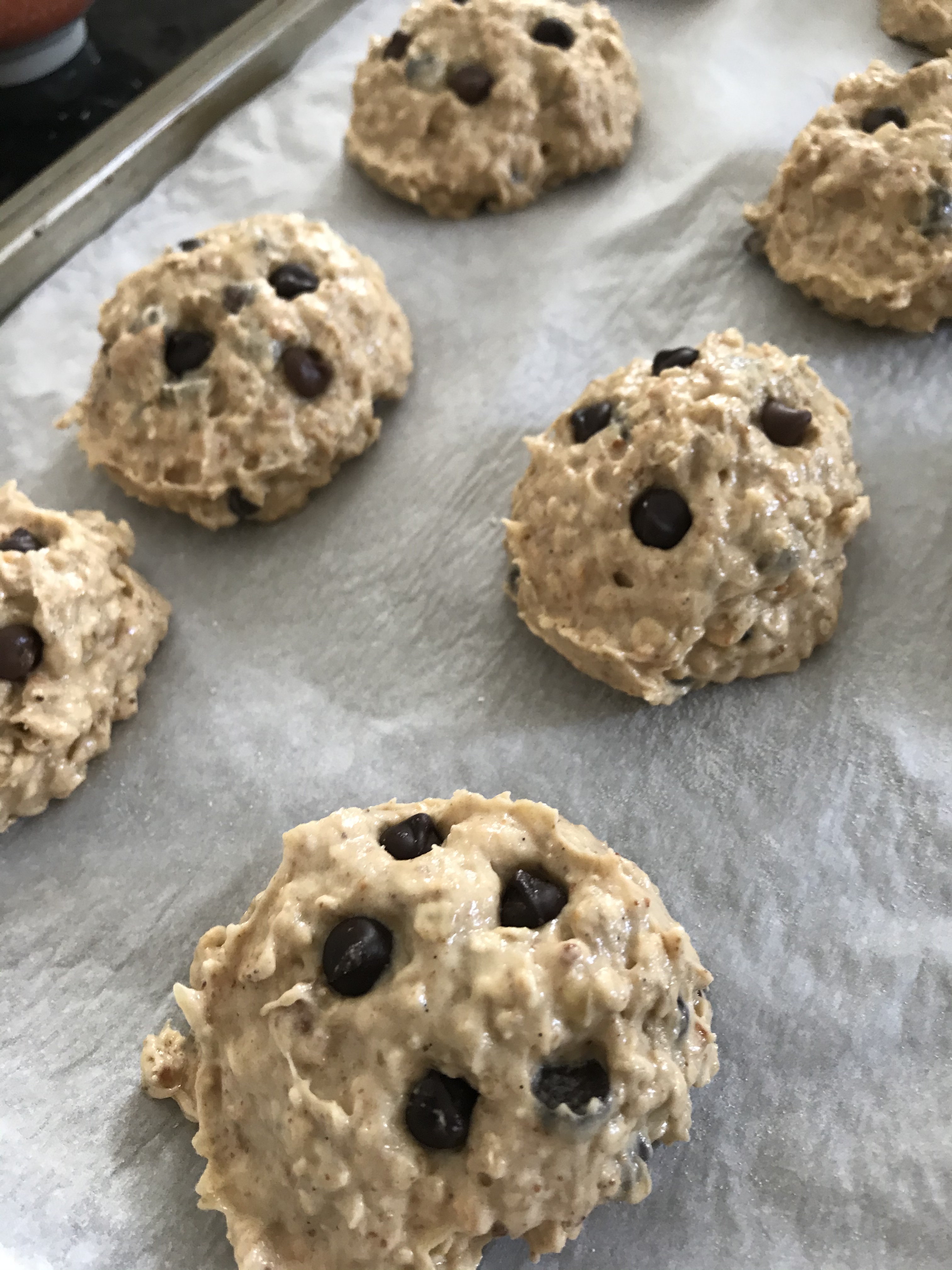 Bake for 12 – 15 minutes until the edge of the cookies are brown and the cookies are set.
Leave on the tray for about 5 minutes and then move to a wire rack to cool.
These will keep hungry people going till dinner time and you know they are getting something that's full of good stuff!
Bake with love
Soraya x