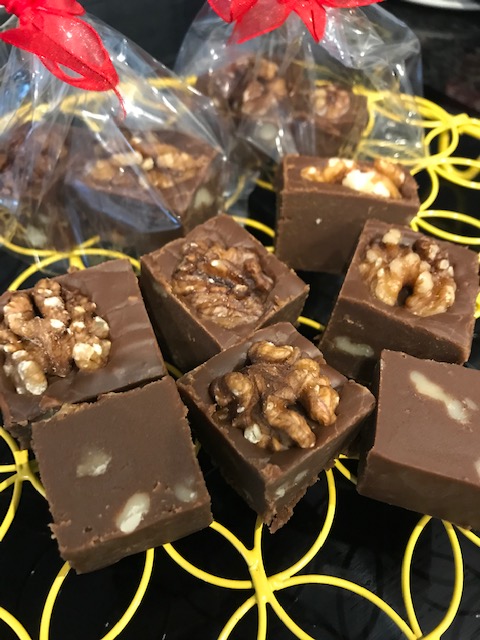 This fudge recipe is made in the traditional way so there's no fear of any crumbly bits. It's so smooth and so delicious but does take a little time when you're bringing it to boil but this is what gives you that smooth, professional and really beautiful finish so for special occasions, it's definitely worth it.
The flavour is gorgeous, full of rich coffee which cuts through the sweetness perfectly! Homemade fudge is so different than more commercial versions. It's full of flavour and doesn't get lost in an overly sweet taste.
The recipe is perfect to give as gifts. I put 3 pieces into cellophane bags, wrapped with pretty ribbon and gave them as gifts. People raved about the flavour and even though it doesn't sound like much, 3 pieces of this fudge is more than enough for most people!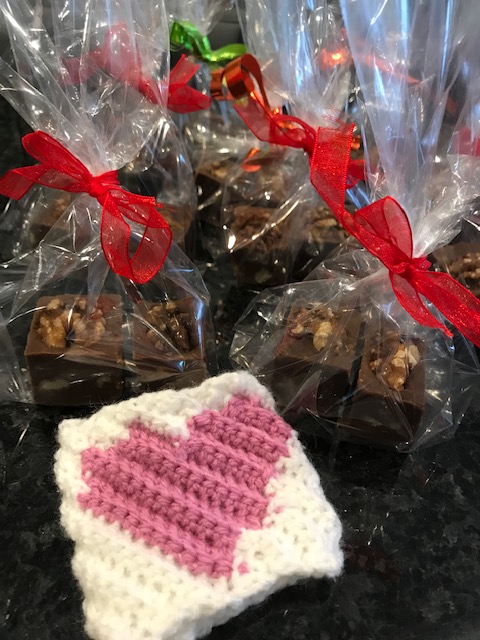 I've been diligent in getting as many pictures as I could when writing up this recipe so that you can make the perfect fudge. Coffee & Walnut is a match made in heaven and the pieces of crunchy walnuts throughout the fudge work really well.
Ingredients:
400ml Double Cream
150ml Milk
150g Butter
400g Golden Caster Sugar
200g Dark Muscovado Sugar
75g Milk Chocolate, cut into pieces
2 tbsp Coffee dissolved in 3 tbsp boiling water
75g Walnuts, chopped
25g Walnut Halves to decorate
You will need a large, heavy based pot which can hold at least 3 litres
A Digital Thermometer
Method:
8″ / 20 cm square baking tin, greased and lined with parchment
First, put the double cream, milk, butter and both sugars into the saucepan. Cook over a low heat, stirring constantly until the butter has melted and all the sugar has dissolved completely to form a smooth thin mixture.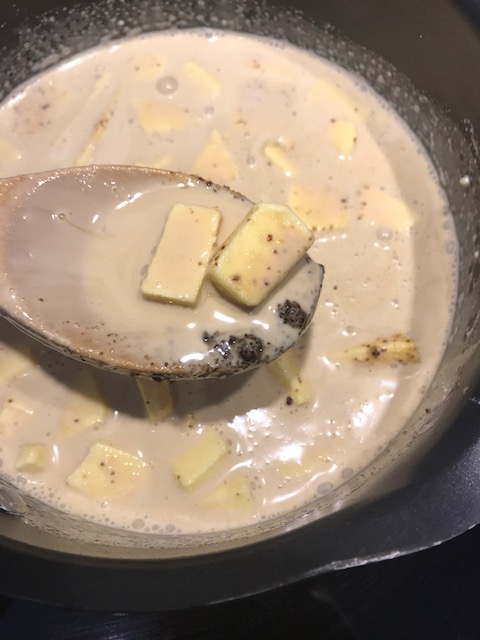 Once everything has melted, increase the heat so it will come to the boil while you keep stirring all of the time. Boil the mixture, whilst continuing to stir, until it reaches 116C (soft ball stage) on your digital thermometer. Please be careful – the mixture is very hot!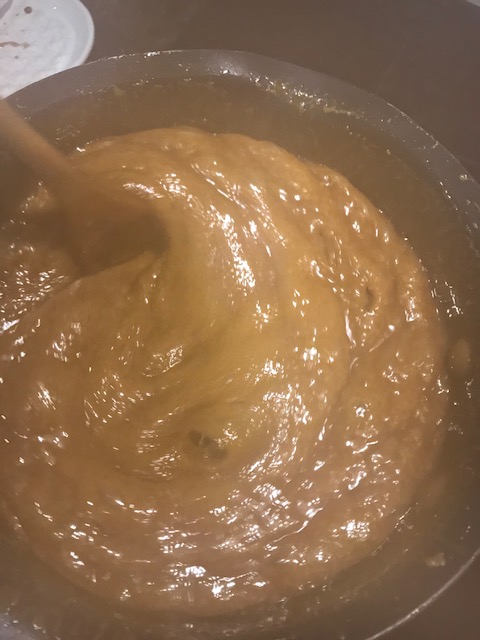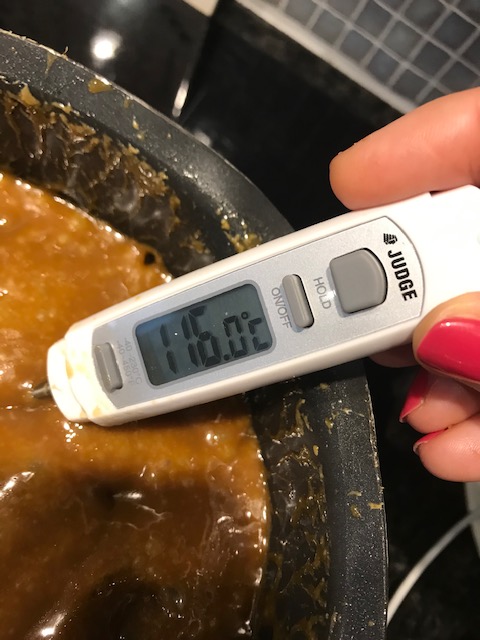 Once the mixture has reached 116C, remove the pan from the heat and leave it to cool down (don't stir it) to 110C. This will only take a couple of minutes. Think it took about 2 minutes to reduce down.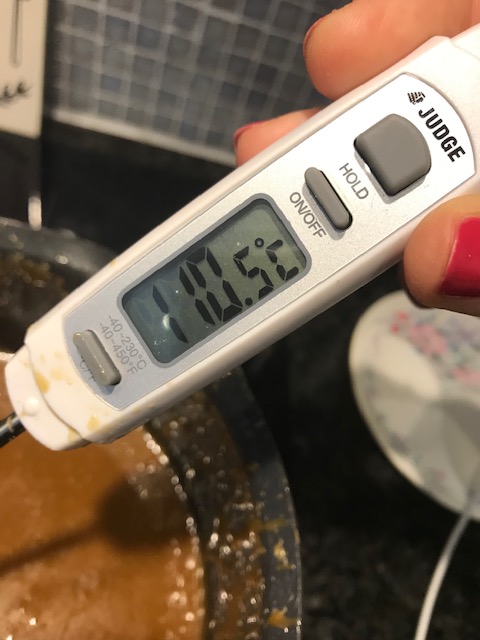 I had the other ingredients prepared and ready to go before I started as you can't have your mixture sitting and cooling while you chop other ingredients.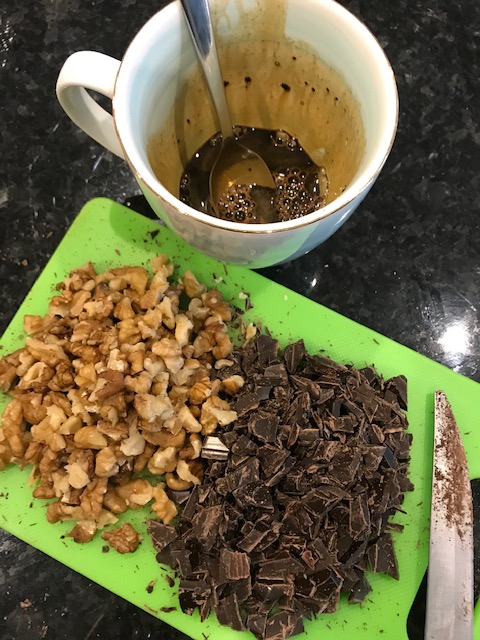 Once your mixture reaches 110C, you then stir in the chopped chocolate; then add the dissolved coffee and the chopped walnuts. Beat the mixture with the wooden spoon vigorously until it begins to thicken and looses its glossy appearance and become more sateen in appearance. You may find that oil is released from the chocolate to begin with but keep beating the mixture, it will gradually re-combine with the fudge. I didn't have this issue but I used good quality baking chocolate which I would advise you to do.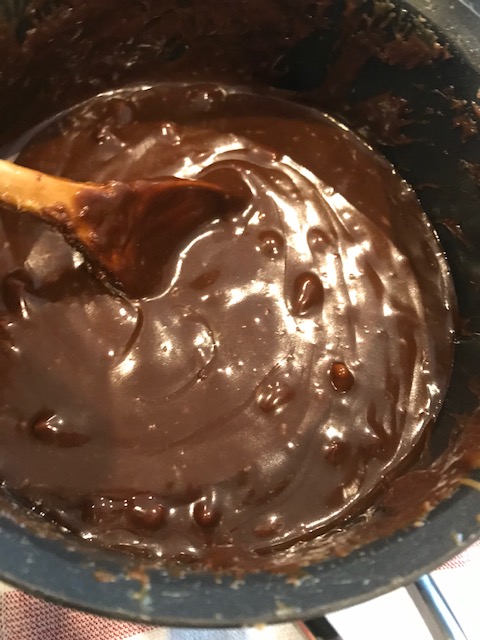 Pour the chocolate fudge mixture into your greased and lined tin. it's handy to have an overhang with the parchment for easy removal later. Spread the mixture so it's level.
Place the walnut halves over the top of the fudge gently pushing the walnuts into the fudge.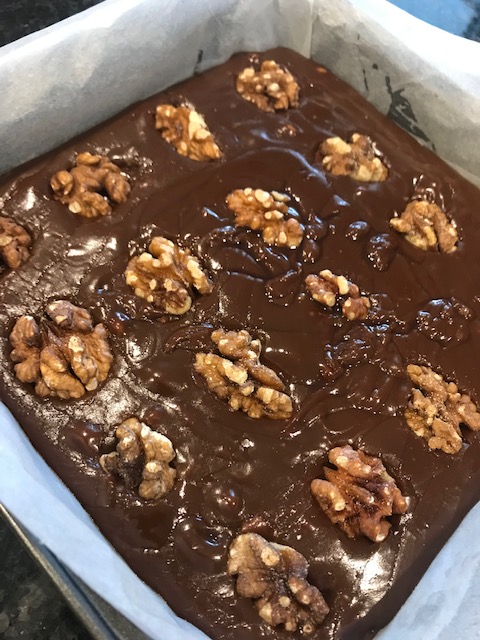 Leave the baking tin to cool at room temperature for at least three hours so the fudge can firm up. Once fully cold and firm, remove the fudge from the tin. This is where the parchment overhang is useful. Use a very sharp knife to slice the fudge into bite sized pieces. I dipped my knife into a mug of warm water, wiped it and then cut the fudge and this worked well to get clean edges.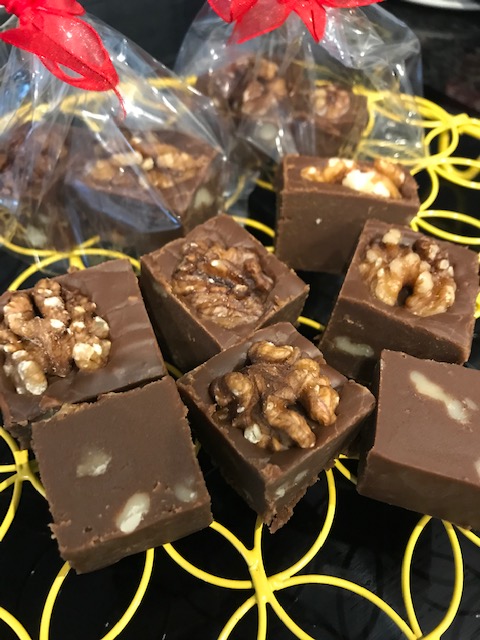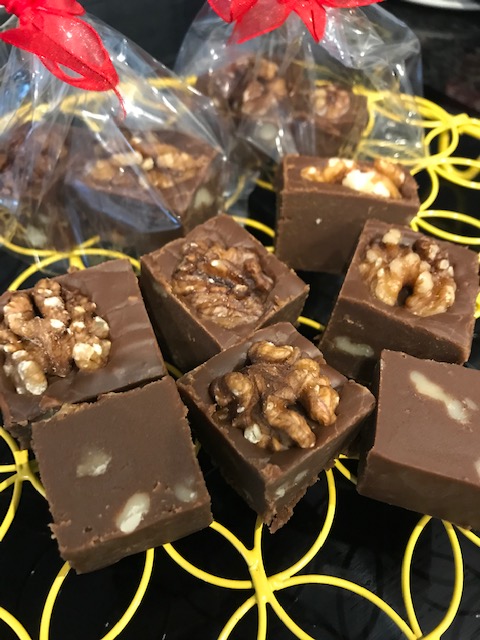 Obviously this is not a recipe to make on a weekly basis. It's high in sugar and cream but as a foodie gift or for a party, served with coffee and tea, it's a sure fire winner!
Enjoy!
Soraya x