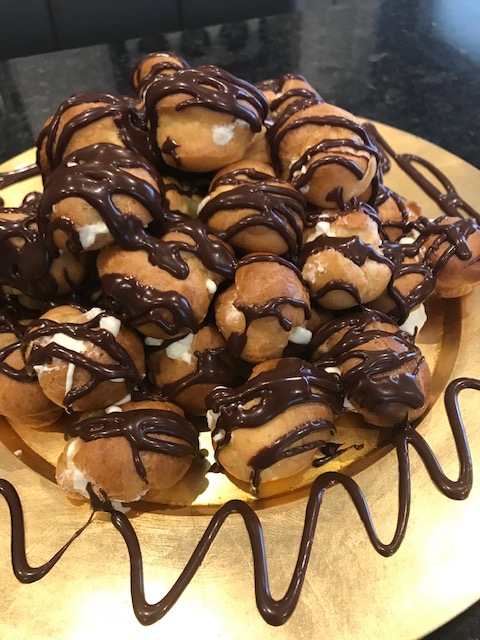 Choux pastry is what you need to make both profiteroles and eclairs. It can be seen as difficult to make but once you know and follow the basics, you will realise there is no big mystery or special skills needed.
Making choux pastry is more like making a sauce than a traditional shortcrust pastry.
My only note is that they don't do well made too far ahead as they can go soft so making them before guests arrive is ideal and prepare the filling and topping separately. Once you're ready to serve, filling each one and giving them a glossy chocolate dressing will result in truly, delicious Profiteroles which will make everyone very happy 🙂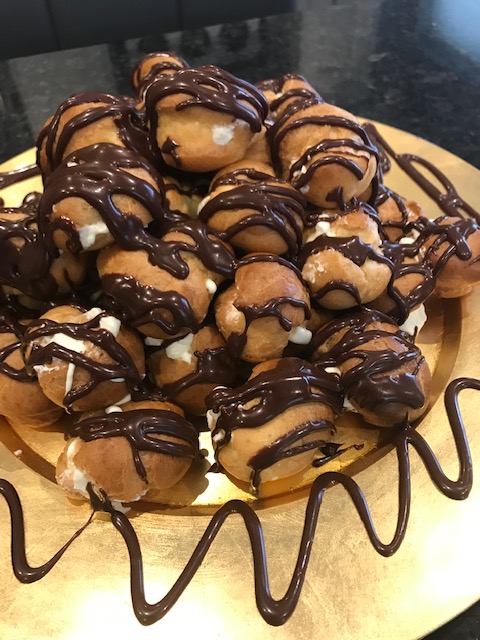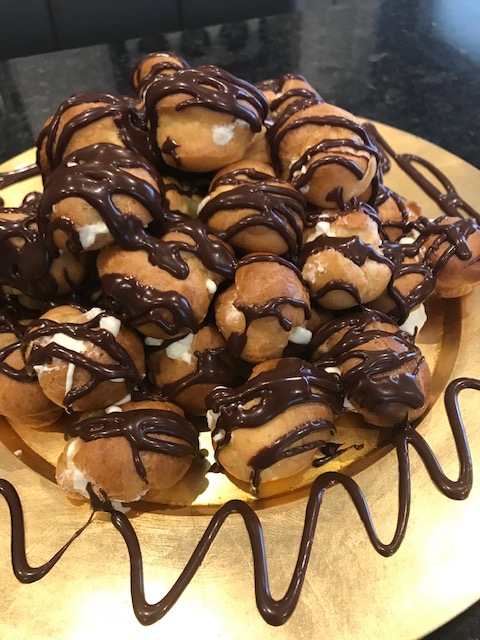 I made the last batch for a party which is why they are dressed up fancy and such!
Also as I'm not a huge chocolate fan, I drizzled (heavily admittedly) my chocolate sauce covering the profiteroles so everyone got enough with each bite. You can take each one and dip it into a bowl of the chocolate sauce if you prefer.
I have step by step pictures included to help you see what things look like at different stages.
Ingredients:
50g butter, preferably unsalted and cut into cubes
2 tbsp caster sugar
150ml water
75g plain flour
Pinch of salt
2 eggs, lightly beaten (medium size will work)
300ml cream
Tsp Vanilla Extract
For the Chocolate Sauce:
25g butter (unsalted)
50g dark chocolate
125g Icing Sugar, sifted
45g milk
Method:
Heat your oven to 220C or 200C Fan. I left mine at 190C as it's a hot oven.
Put the butter and 2 tsp of the caster sugar into a saucepan with the water. Turn on a low heat and allow the butter and sugar to melt.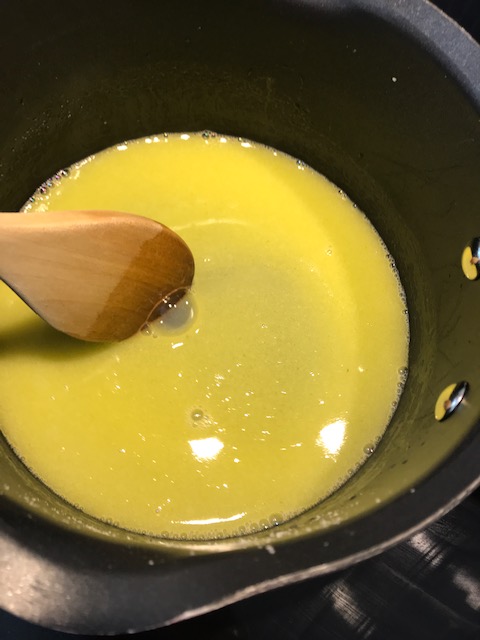 Once everything has melted together, then bring the mixture to the boil. When you see the bubbles, it's time to remove the pan from the heat.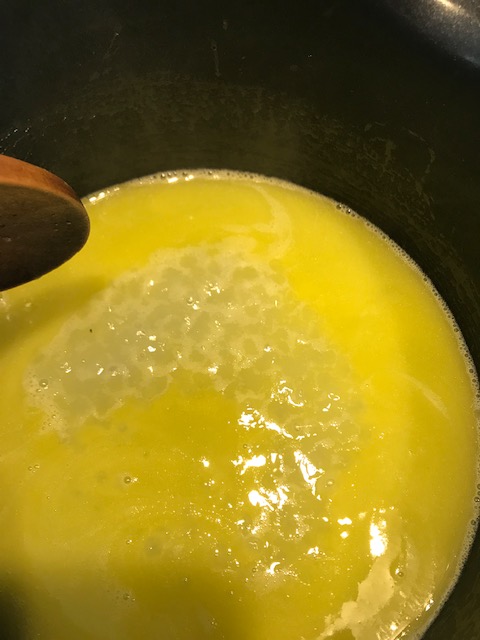 Next, add all the flour at once and beat with lots of energy using a wooden spoon. Keep beating until the dough comes away from the sides of the pan, like below.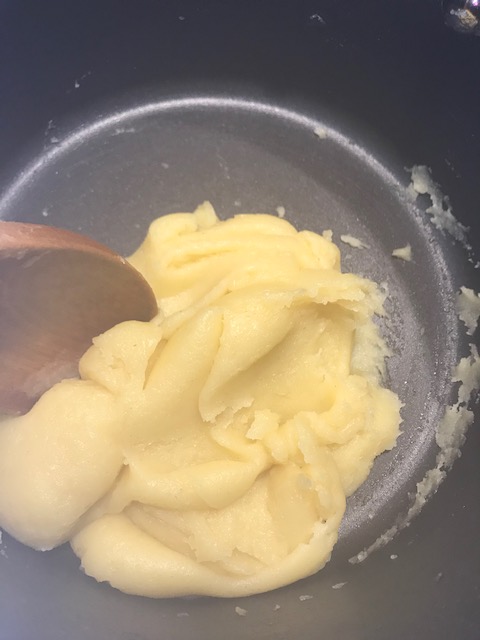 Now you need to let the mixture cool down a bit before adding the eggs so I tend to swap it over to a glass bowl and leave it sit for about 5 minutes.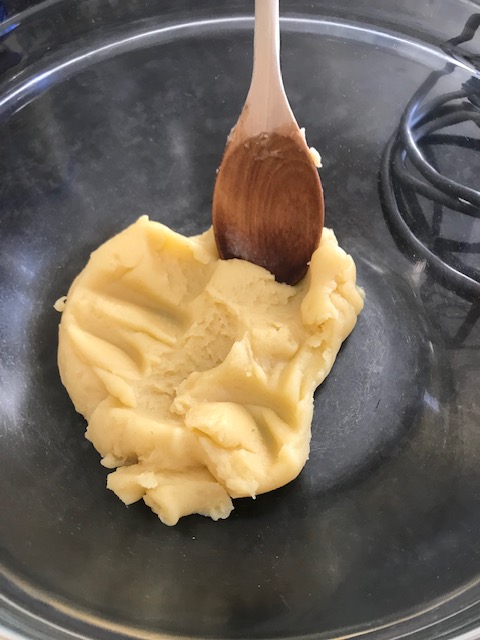 Next you beat in the eggs, bit by bit. Please don't add them in all at the same time. I tend to use an electric mixer for this as it helps to achieve the high gloss you are looking for.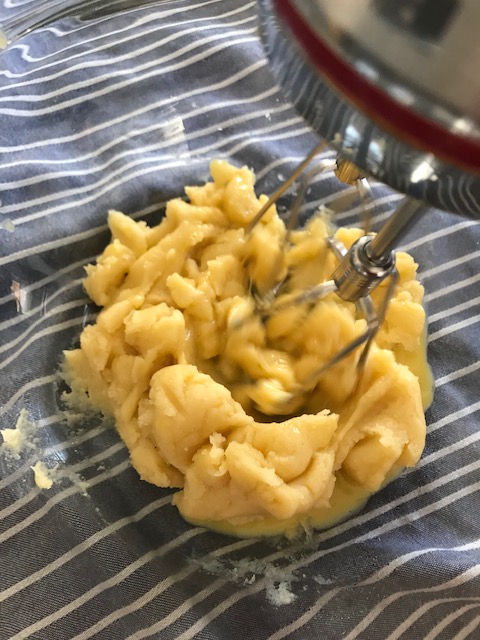 So once you have added all the beaten eggs, you will have a stiff, glossy mixture.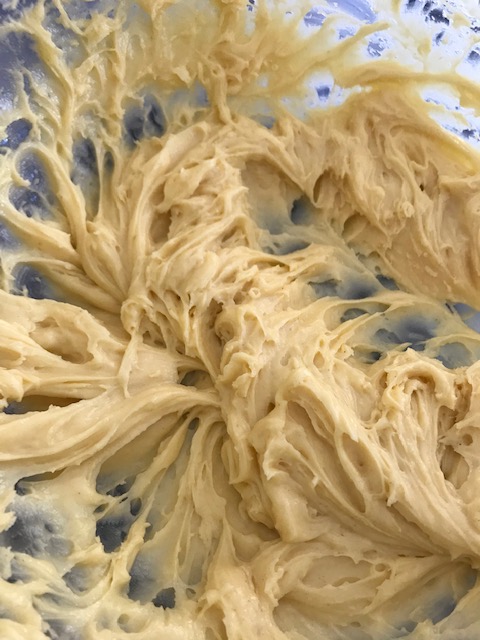 Now some people like to leave this in the fridge for about 20 minutes and if you have the time, you can do this. I have two baking trays lined with parchment ready to go.
You can use a teaspoon to drop small mounds onto your tray but I like to use a piping bag. Just cut the top off and pipe small mounds in rows.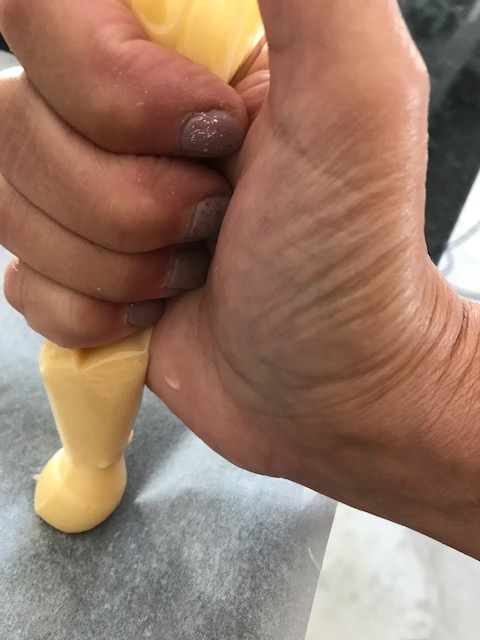 Keep the mounds small as they do rise and I think profiteroles look sweet when they are bite sized.
Before baking, just wet your finger and run it over each mound just to flatten any tips sticking out, then bake in the preheated oven for 18 – 20 minutes. You want them to have a nice golden brown colour.
Remove the baked profiteroles from the oven and you can cut or pierce a small hole in the base or side of each one to let the air out so they don't collapse. I usually put the opening in the side as that's where I'll go in to pipe the filling.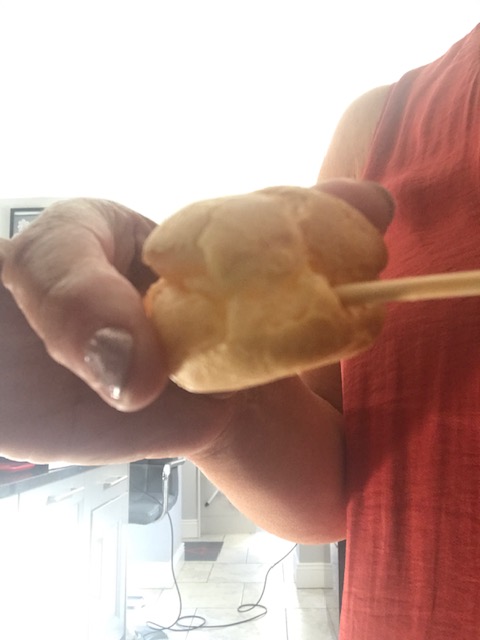 Cool completely on a wire rack. They can be kept for a couple of hours like this.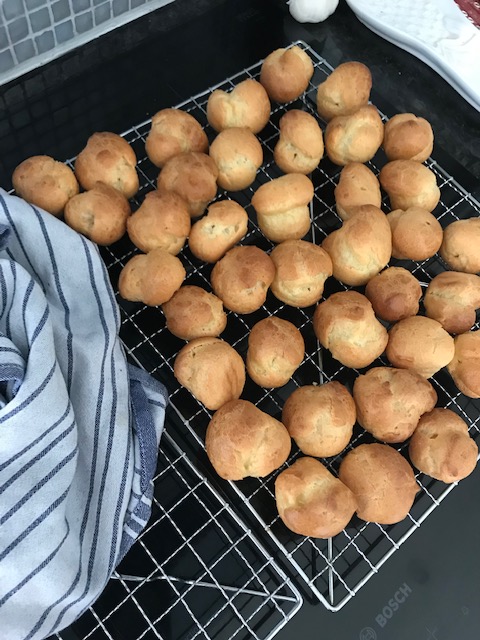 When you're ready, whip the cream lightly till it holds it's shape. Add part of all of the remainder of the caster sugar to your personal taste along with the vanilla extract.
You can cut the profiteroles in half and fill them with the sweetened cream or fill a piping bag with a narrow nozzle and pipe in the cream into each one. Whatever works best for you is fine. ** See Note Below **
To make the Chocolate Sauce:
Melt the butter and chocolate.
Add in the sifted icing sugar and mix.
Next add in the milk and beat until the sauce is smooth and glossy.
Either dip each profiterole into the chocolate sauce or drizzle across a pile of delicious profiteroles. I tend to do it in two stages – drizzle over the first lot, pile on more profiteroles and drizzle of this second batch so they all get a nice coating.
** Note **
You can pop the filled profiteroles into the fridge for an hour, maybe two but no longer or they will go soggy. Remove them from the fridge and drizzle with the chocolate sauce to serve.
Bake with love
Soraya x