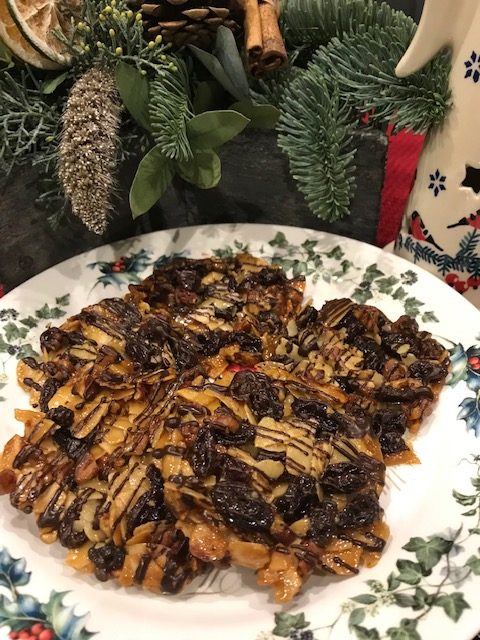 The original recipe for these delicious florentines was from the lovely Laura of Bake Off fame. She made her version during the series competition and they were very well received and I think she may even have got rare "Hollywood Handshake" for them.
I used a slightly bigger cutter than recomended and changed one or two ingredients plus quantities. When I made a second batch, I decided to convert them to Gluten Free and they worked equally as well so a big bonus with these!
You could make them smaller as they really spread out hugely; I mean really spread out so leave tons of space between them and you will still probably have some spreading into each other but don't worry, you can do a bit of adjusting once they're out of the oven and still hot.
So let's get on with making these perfect mouthfuls of delight …
To start, get a couple of baking trays ready. If you don't have more than one or two, you can bake in batches which is fine also as the baking time is so short. Line each baking tray with parchment.
Preheat oven to 180C or 160C Fan and Gas 4
Ingredients:
65g flaked almonds
60g pecans, chopped finely
40g mixed peel (optional) – I used 25g dried cranberries instead
70g raisins
20g plain flour (Gluten Free if needed)
45g unsalted butter
75g light brown soft sugar
55g golden syrup
1/2 tsp fine sea salt
To decorate: I used 12 squares of dark chocolate melted with 1 teaspoon of coconut oil
A 6cm pastry or biscuit cutter. Lightly oil it. I placed a little oil in a dish and dipped the cutter in this every now and again to keep it oiled.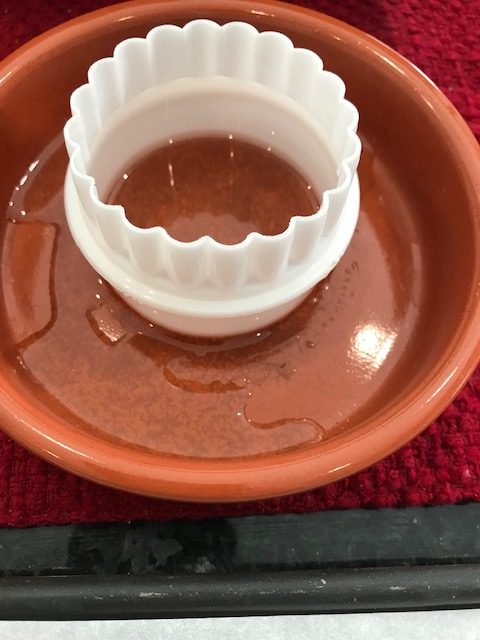 Method:
In a bowl, mix together the flaked almonds, pecan pieces, candied peel if using, raisins and flour. Just use a fork to make sure all the fruit and nuts are covered with the flour.
In a small saucepan, add the butter, sugar and golden syrup and place over a medium heat for about 5 minutes until all the butter and sugar have melted and it turns into a thick caramel type sauce.
Remove the saucepan from the heat and add the sea salt. Mix it in well and then add this caramel to the dry ingredients.
Stir these together really well until both are completely incorporated and there are no streaks of flour to see.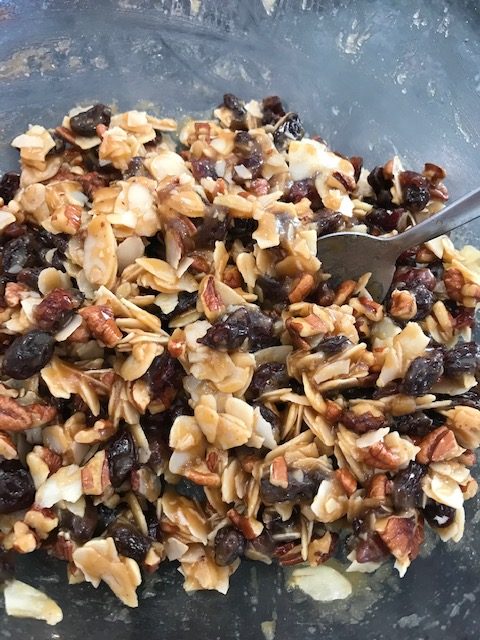 Get your oiled cutter and put it on the lined baking tray. Put about 3 heaped teaspoons of the mixture in the centre and press out to an even thickness using the cutter to help keep the shape. Remove the cutter gently and repeat again.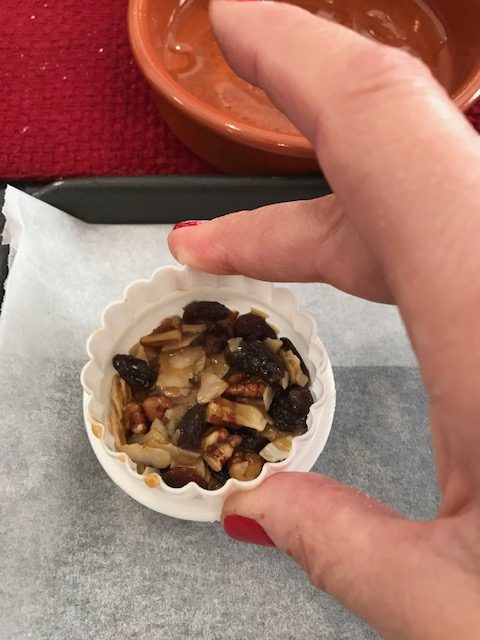 Repeat this process until you have used up all the mixture, making sure to keep a good distance between each florentine.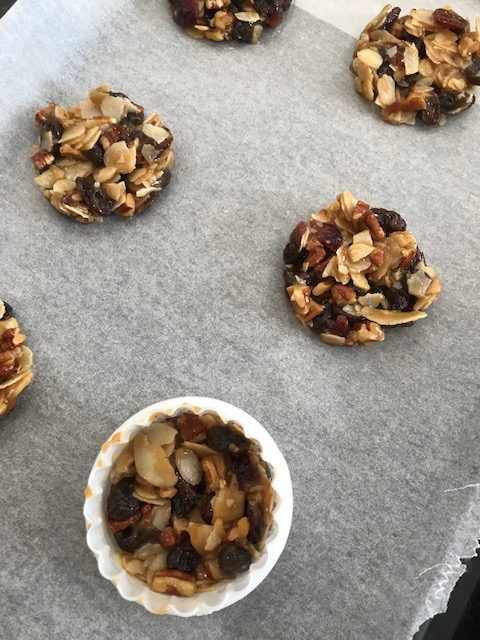 Bake in the preheated oven for 10 to 12 minutes, keeping an eye on them. If they are too brown, they will be brittle. If they are pale, they will be quite chewy so it's important to watch them baking and get them at the right time.
Remove from the oven. They will be really spread out, very soft and probably have run into each other but you can now reshape them using the oiled cutter. Gently nudge the edges of the florentines with the cutter to get them back into a circular shape. Leave them to cool completely on the baking tray. Please don't try to move them.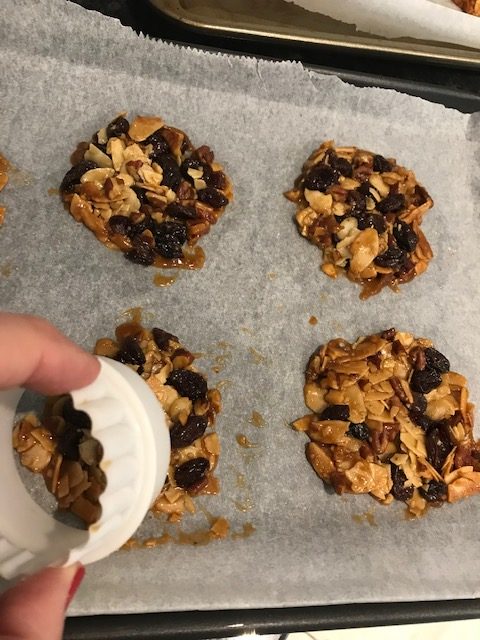 To decorate them, melt the chocolate and coconut oil together in bursts of 15 seconds in the microwave. It should only take about 3 rounds and mix really well between each one. The heat of the bowl will melt the chocolate pieces.
Place a small bag into a high glass and pour the melted chocolate into this bag. Gather the top and cut a teeny piece in one corner. Drizzle the chocolate over each florentine.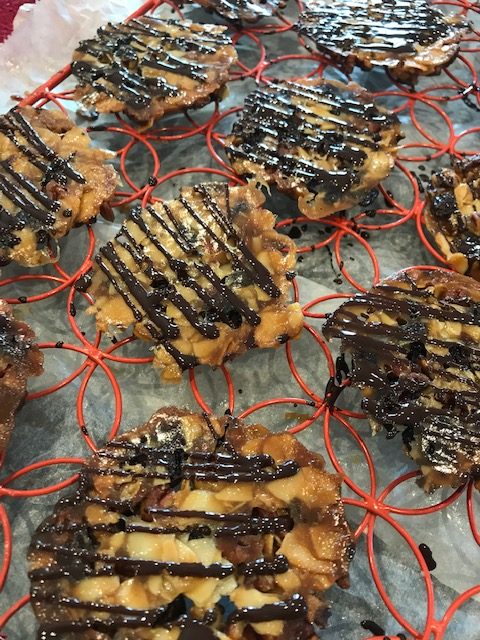 These florentines are totally delicious! I used dark chocolate for the drizzle as I felt milk or white chocolate would be too sweet and would fight against the gorgeous ingredients.
Keep the florentines in an airtight container, in one layer with parchment between each layer to prevent them sticking. They make the most lovely gifts as they look so pretty.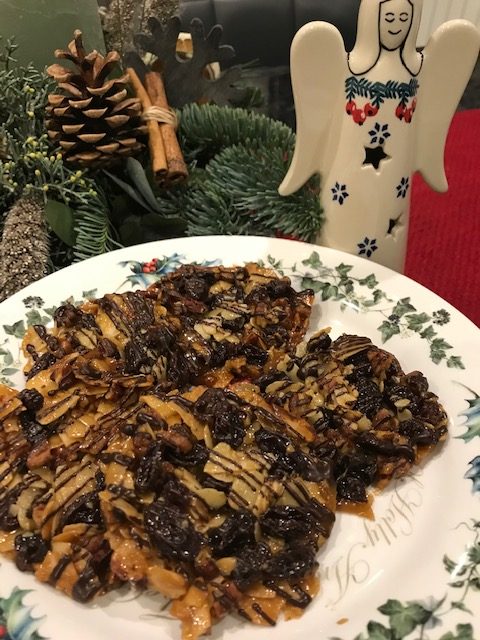 Bake with love
Soraya x