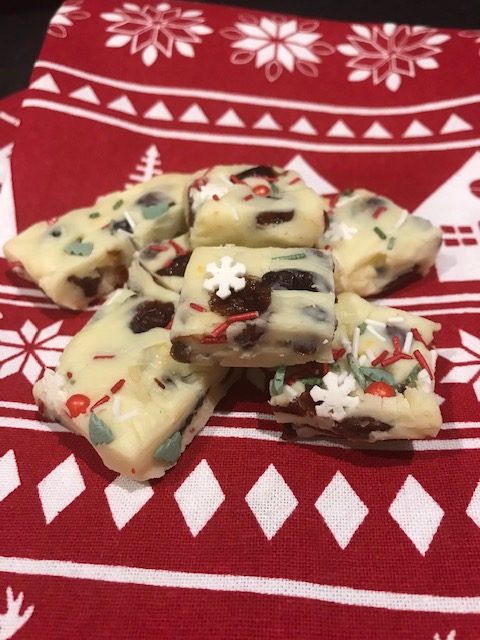 A totally delicious fudge that's so easy to make. You don't need a sugar thermometer, just some good strong arm muscles and a bit of preparation to help the process go smoothly as possible.
I added the zest of half an orange just to give an extra dimension to this fudge but equally you could add some ground ginger or ground cinnamon. It depends on what you like personally.
To make this a very festive fudge, add some Christmas Sprinkles on top and you're done! You can use an 8″ x 8″ square baking tin or a brownie tin as long as it's lined with parchment.
You can use chocolate chips (Dr. Oetker) or good quality eating chocolate. No cooking or decorating chocolate here please!
Ingredients:
400g white chocolate, broken into pieces
1 tin of condensed milk, 397g weight
100g icing sugar, sieved
1 teaspoon vanilla extract
70g dried cranberries (some extra for topping)
Zest of half an orange (optional)
Sprinkled (optional)
Method:
Line your chosen baking tray with parchment. Leave an overhang for easy removal.
Put the white chocolate into a bowl and set over a pan of simmering water to melt gently. You can also melt in bursts in the microwave and stir well between each bout of melting. Remove from the heat.
Once the chocolate has melted, add the condensed milk and stir really well to combine. Then add the vanilla extract and mix again. Sieve in the icing sugar and now it gets quite stiff and so you need to really mix well. I find a metal spoon works well. Once everything is well combined, then add the dried cranberries.
Mix everything really well together and if using the orange zest, add it in now. Once everything has been well combined, transfer the fudge to your prepared tin and smooth out with the back of a metal spoon.
Add some extra dried cranberries on top and gently press them in. If you are using the sprinkles, then add them in here also and press in.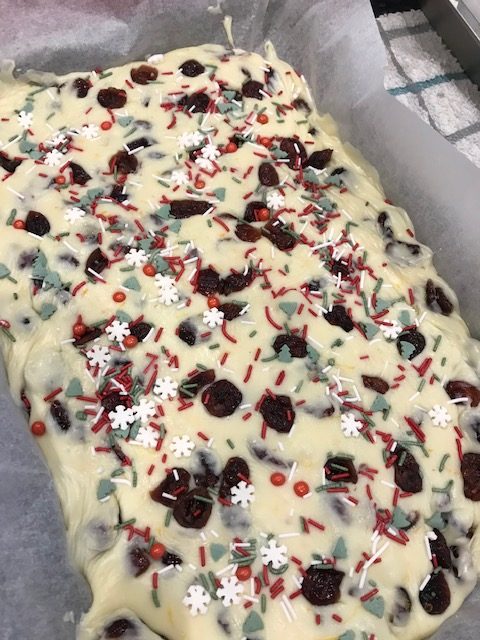 Place in the fridge for a minimum of 2 hours. Remove and mark with a knife to your desired size and then put back into the fridge for several hours to finish setting.
Here's a quick "how to" video:
You can keep this fudge in the fridge for up to 3 weeks in an airtight container. It's a wonderful gift to give also. Just place slices with parchment between each one into a cellophane bag, tie with pretty ribbon and give with love!
Enjoy making these lovely homemade gifts
Soraya x