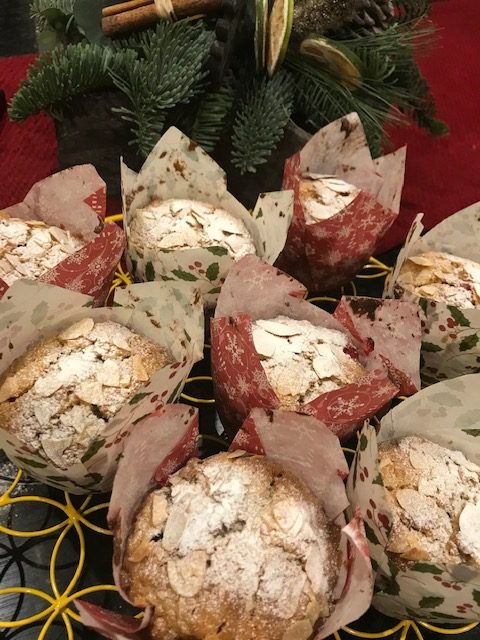 Originally a recipe from Olive Magazine, I've adapted it and also am offering a Gluten Free method if needed. Both worked out really well and this is probably one of the easiest recipes to make and bake. No equipment needed, just a whisk and a large spoon. No forward planning as you melt the butter and no extra calories with lots of buttercream.
All in all, it's a winner!
You can make these muffins in traditional cupcake cases and you will get approx 12. If you use the larger muffin cases, you should get 10 and if like me you make them in muffin tulip cases, you will get 8 good sized muffins. The baking times will also change according to what size you make so do check them with a skewer inserted into the centre to see they are baked.
The small cupcake case should take 25 minutes, the muffins cases about 30 minutes and you will probably need 35/40 minutes for the large tulip cases.
I sprinkled flaked almonds on top of my muffins before baking to give them extra flavour and then simply dusted them with icing sugar. They need very little else and are really, really tasty.
The Gluten Free ingredients that differ are in Bold, everything else remains the same
Ingredients:
150g light brown sugar
1 large egg
125g butter, melted
165ml apple sauce (175ml for Gluten Free) ** – See note below
Zest of 1 orange
200g plain flour (200g Gluten Free plain flour)
1 tsp baking powder (1 tsp Gluten Free baking powder)
3/4 tsp Xanthan Gum (only for GF)
100g Ground Almonds
100g Fresh cranberries
Flaked Almonds to decorate (optional)
Icing Sugar to decorate (optional)
** Note: Apple sauce is simply the stewed apple that can be bought in the Baby Food section. It has nothing added and is perfect for subbing when a recipe calls for sour cream, Greek Yoghurt, etc.
Method:
Preheat oven to 180C or 160C Fan and Gas 4. Line your muffin tin with your chosen cases. See note above for sizes and baking times.
In a large bowl, whisk the brown sugar, egg, melted butter, applesauce and orange zest. A good few beats with a hand whisk will be fine.
In a smaller bowl, measure out the flour, baking powder, xanthan gum if using and ground almonds. Give these a whisk together to break up any lumps. Then add the cranberries to this dry mix and using a spoon, give a few stirs to help the cranberries disperse evenly.
Add the dry ingredients into the bowl with the wet ingredients and mix quickly to combine. It will be a thick batter and that's perfect. Even with a few lumps, there's nothing to worry about. Don't hang around with this mixture.
Using an ice cream scoop, divide the batter equally between the paper cases and if using, sprinkle the flaked almonds over each muffin.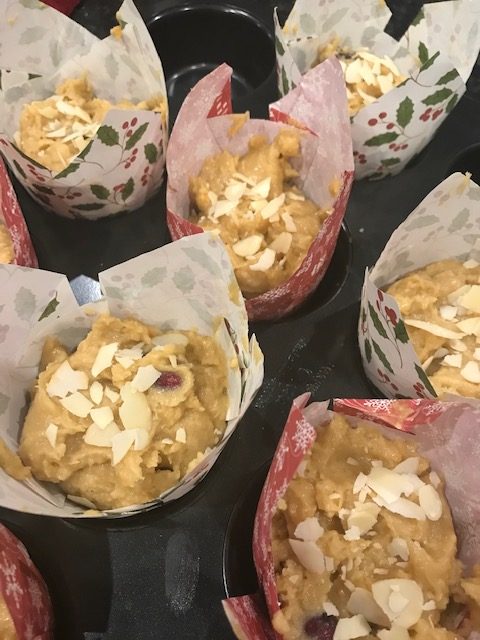 Bake in the preheated oven for the time required depending on the size of your muffins. See the note at the start of the recipe. They will take anything from 25 to 35/40 minutes depending on the size of case used. Check with a skewer to make sure they are baked through.
Here's a video showing the method –
Remove from the oven and place on a wire rack to cool. Once cooled, dust with icing sugar if you wish.
A simple yet delicious recipe to Bake with Love
Soraya x