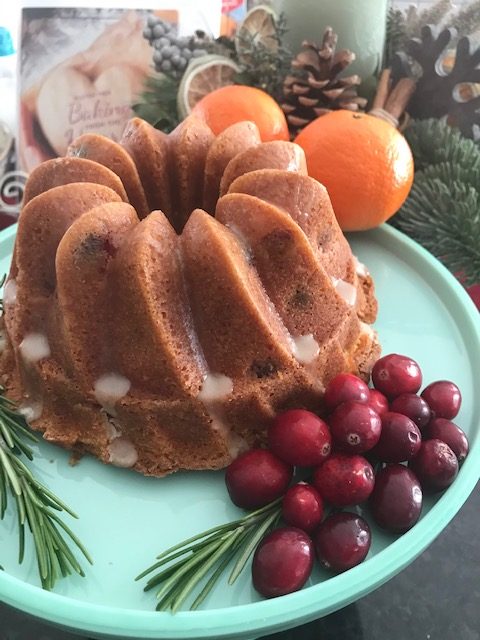 The flavours in this stunning cake are just so lovely. Orange and Cranberries go hand in hand and they compliment each other so beautifully. I've used my Nordicware double tin to make these but you can use a large bundt tin also.
I've topped the cake with a sweet orange glaze which just sets everything off to perfection. You can of course leave it out but I would really encourage you to make it as it's the perfect finish!
You can keep this cake at room temperature, covered, for a day or two and it will be fine. It's also great for keeping in the fridge, in an airtight container and will be great for 4/5 days.
If you want to get ahead, you can make the cake, let it cool completely and then wrap twice, and freeze for up to 3 months. Defrost at room temperature overnight and then glaze as per the recipe.
I've used fresh cranberries in my cake but if you prefer, you can use dried cranberries. Just add enough for your personal taste.
If you're using a bundt tin that has curves and indents, then I would say to cut the cranberries in half so they don't create pockets against the pattern of the tin. If you're using a standard plain bundt tin, then you can leave them whole. Also, I used a combination of flour and sugar to dredge my cranberries as they can be quite tart and the sugar will help sweeten them.
To start, I would strongly recommend you prepare your bundt tin properly. Give it a good coating of soft butter and use a pastry brush to get into any nooks or indents. Then add a couple of tablespoons of flour and shake it so all of the inside of the tin is covered with a coating of flour, then set aside till needed.
Ingredients:
345g plain flour
1 & 1/2 tsp baking powder
1/4 tsp bicarbonate of soda
1/4 tsp salt
227g butter, softened
280g caster sugar
4 eggs
Zest of 1 orange
150ml buttermilk
65ml orange juice
2 tsp vanilla extract
150g fresh cranberries
1 tbsp flour and 2 tbsp caster sugar
Orange Glaze:
120g icing sugar
2 – 3 tbsp orange juice
Method:
Preheat oven to 170C Fan / 175C and prepare your tin as above.
In a medium sized bowl, whisk the flour, baking powder, bicarbonate of soda and salt and set aside.
In a large bowl, beat the butter and sugar till they are light and fluffy. Add in the eggs, one at a time, and beat well between each egg addition. Then add in the orange zest and vanilla extract and beat well to combine everything.
Next add in about 1/3 of the flour mixture and beat to combine. Next add in about half of the milk and beat again. Finally add the remainder of the flour, then the milk and beat everything to combine. Then add in the orange juice and give a final beat to combine everything.
In a small bowl toss the cranberries with the flour and sugar till they are all coated and then add them to the batter mixture and fold to disperse evenly. Spoon the batter into you prepared bundt tin. Don't fill it too much. About 2/3 of the way up the tin is perfect. If you have batter left over, you can get a couple of muffins out of the mixture!
Depending on the size tin you use, baking time will be anything from 45 minutes to 55/60 minutes. As I used two smaller tins, they took 45 minutes. I also got 3 large muffins out of the batter and I removed them from the oven after 35 minutes. Check with a skewer inserted into the centre. It should be clean.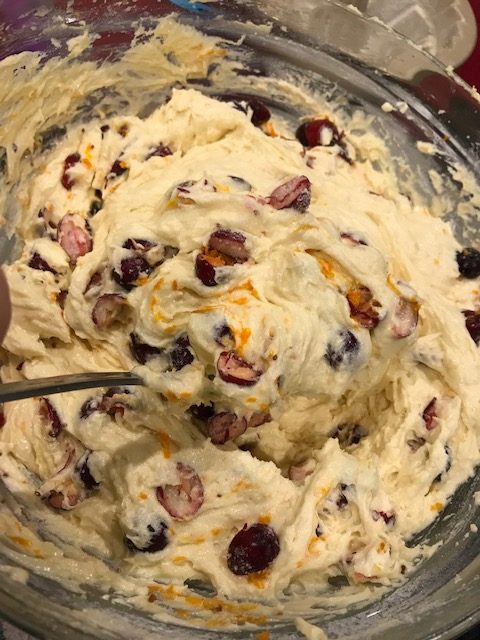 Leave the cakes on a wire rack in their tin for about 10 minutes before attempting to remove them. Place a wire rack over the cake and turn it upside down so it drops onto the wire rack. Leave to cool completely.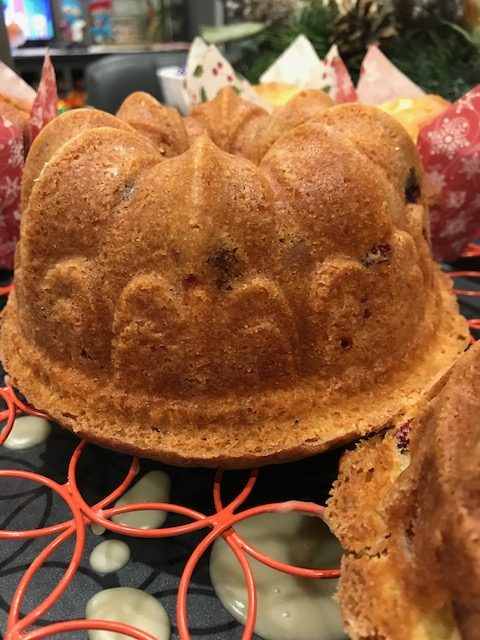 If you're using the glaze, put the icing sugar in a small bowl and add 2 tablespoons of orange juice. Whisk this well until the icing sugar is well mixed and you get a nice drizzle consistency. Drizzle this over the completely cooled cakes.
The cranberries are dispersed throughout the cake and this is because they are coated in flour before folding them into the batter.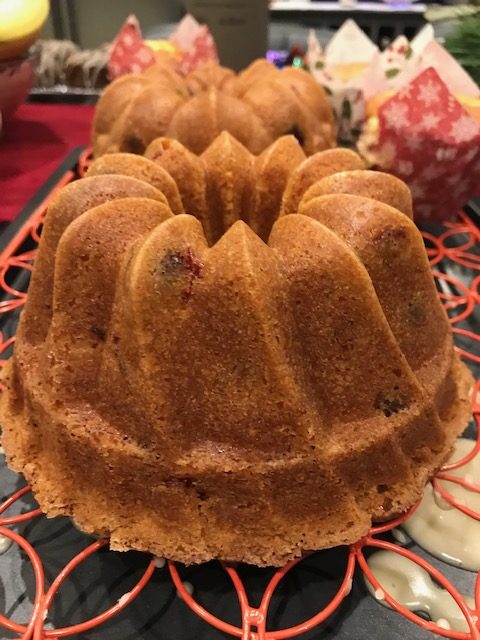 You can see every bit of the pattern in the finished cakes. Putting a little bit of effort into preparing the tins before baking makes all the difference. There's no need for fancy pastes and don't use baking sprays if you are baking with a Nordicware bundt tin. Use butter and then flour. The trick is simply to brush on the butter into every crease and corner, then dust everything with a light coating of flour.
Such a great festive baking recipe! I hope you try it.
Bake with love
Soraya x