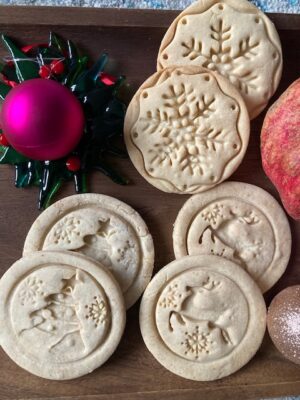 This is a basic gluten free and vegan vanilla biscuit recipe that's really easy to make and perfect for using cookie cutters and stamps with. I love that it can be made and ready within half an hour without any fridge time needed and it's so easy to work with the dough that you will get beautiful results every time!
I've left mine with the vanilla flavour as it's a double whammy using not only vanilla extract but also vanilla bean paste so the smell is as good as any high end candle and it tastes just so lovely. I'm also a fan of not using refined sugar in this recipe though I'm guilty of decorating them with fondant icing or royal icing at times!
I've used a selection of cutters and stamps in this batch but equally, you can just use a simple round or square cutter and keep them handy for when you want a nice pick me up.
If you would like to venture out a little when making these biscuits, here are some flavour combinations you might like to try.
1/2 tsp ground cinnamon or ground all spice in place of the vanilla bean paste
Zest of a lemon
Zest of an orange
1/4 tsp ground cardamon & 1/2 tsp ground cinnamon
Just a note that I use organic maple syrup for this recipe. You can also use a liquid sweetener. If you want to try using honey, it needs to be a clear and runny type or they may not work out.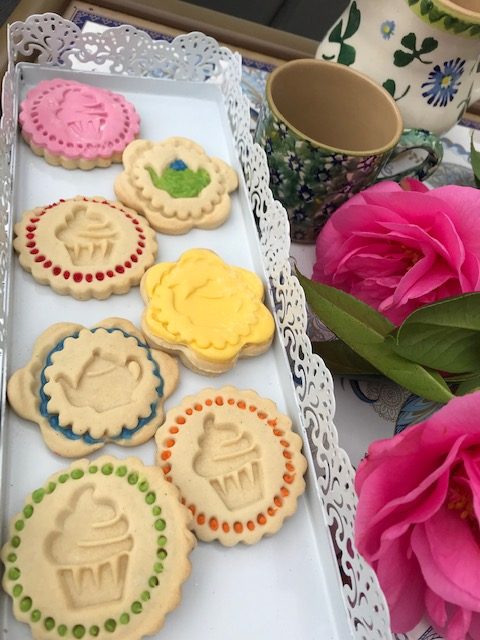 Ingredients:
115g non dairy butter or coconut oil, softened
120ml maple syrup or liquid sweetener of your choice
1/2 tsp vanilla extract
1/2 tsp vanilla bean paste
Pinch of salt
290g gluten free plain flour (please use a flour blend brand to get the best results)
1/2 tsp xanthan gum
Keep 1 – 2 tbsp flour extra aside in case the dough is very sticky
Method:
Preheat oven to 180C or 160C Fan and line 2 or 3 baking trays with parchment. This depends on the size of the cutters you use. You will also need a board lined with parchment and another piece of parchment to go on top.
In a large bowl, add the butter and beat it until it's pale and creamy in texture. Then add in the maple syrup, vanilla extract, vanilla bean paste and pinch of salt and again, beat till this is all well combined.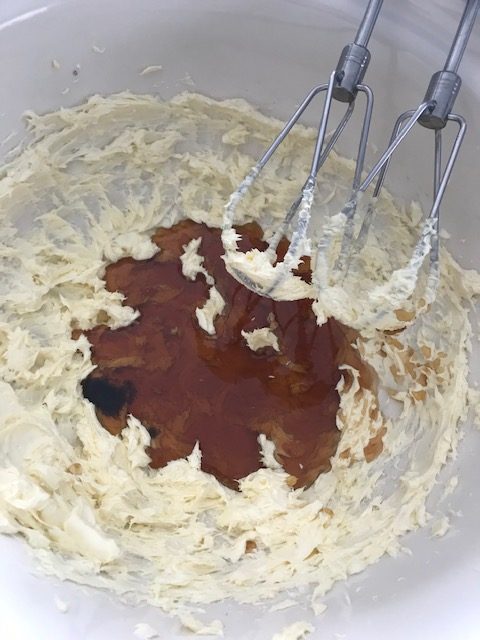 Next add in the gluten free plain flour and xanthan gum and begin to mix with either a wooden spoon or a large metal spoon to bring together into a dough. After a few turns, it's best to get in with your hands at this stage and mix together until it forms a dough you can shape.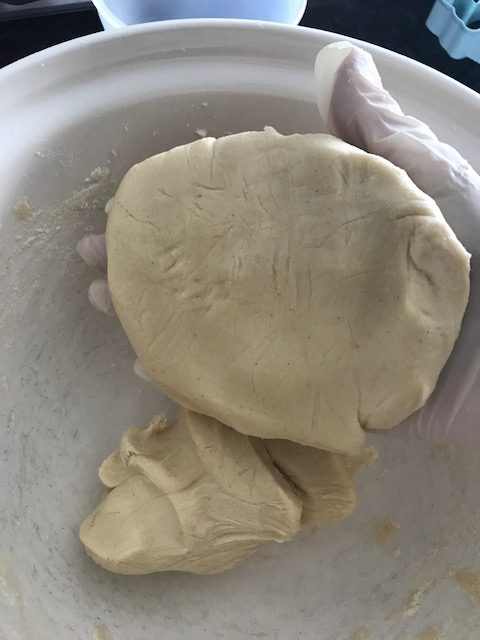 Depending on what flour blend you use, you might find the dough is too sticky. If so, then add 1 to 2 tbsp of the flour and knead again. If it's too dry, then you can add more maple syrup (try 1 tbsp). Make sure to knead the dough well for a few minutes before proceeding to rolling out.
Cut the dough in half and flatten each one into a disk shape. Lay one piece of dough on a parchment lined board and place a second sheet on top. Then roll out the dough between the sheets of parchment to about 1/4″ thick.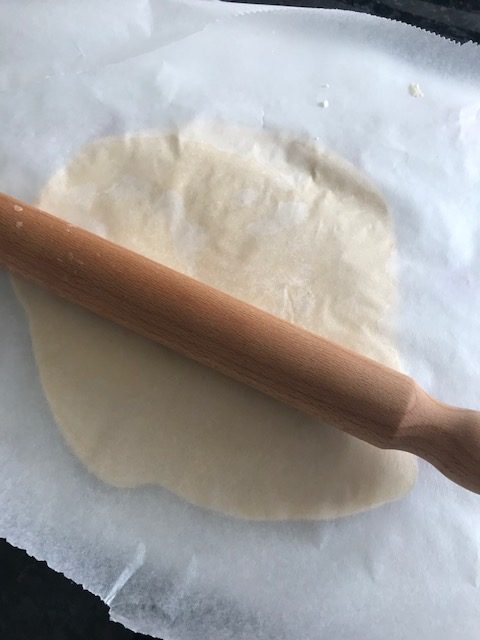 Lift the top piece of parchment and set aside. Cut out biscuits using your preferred cutters. Use a palette knife to gently transfer to the lined baking tray and even though they won't spread as they bake, leave about 1/2″ between them. Use up all the scraps and keep repeating the process until all the dough is used up. Then do the same with the second dough ball.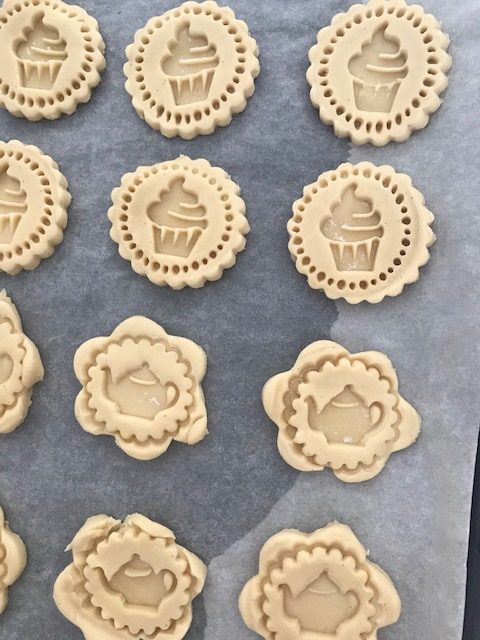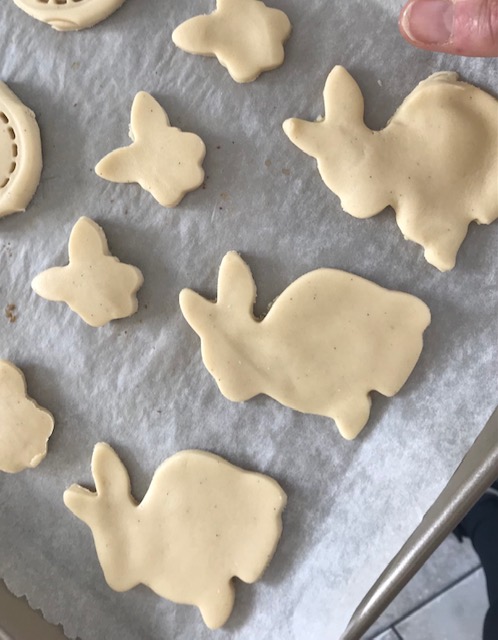 Bake in the preheated oven for approximately 11 – 13 minutes depending on how thick the biscuits are. The edges should just begin to turn golden when they are ready and the biscuits won't brown much. Remove from the oven and gently transfer them to a wire rack to cool. They will harden a little as soon as they start to cool so it's important not to overbake them. Let them cool for about 10/15 minutes and then enjoy!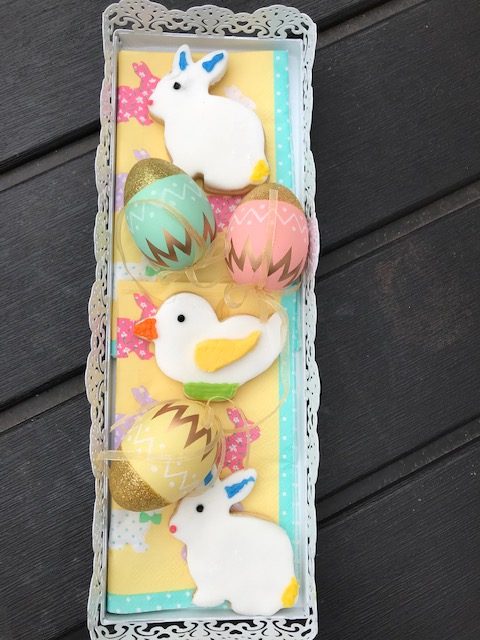 Some pictures show the biscuits with a fondant covering and also using a simple icing writing pen. Using a stamp is ideal if you don't want to decorate as the pattern is enough.
Bake with love
Soraya x