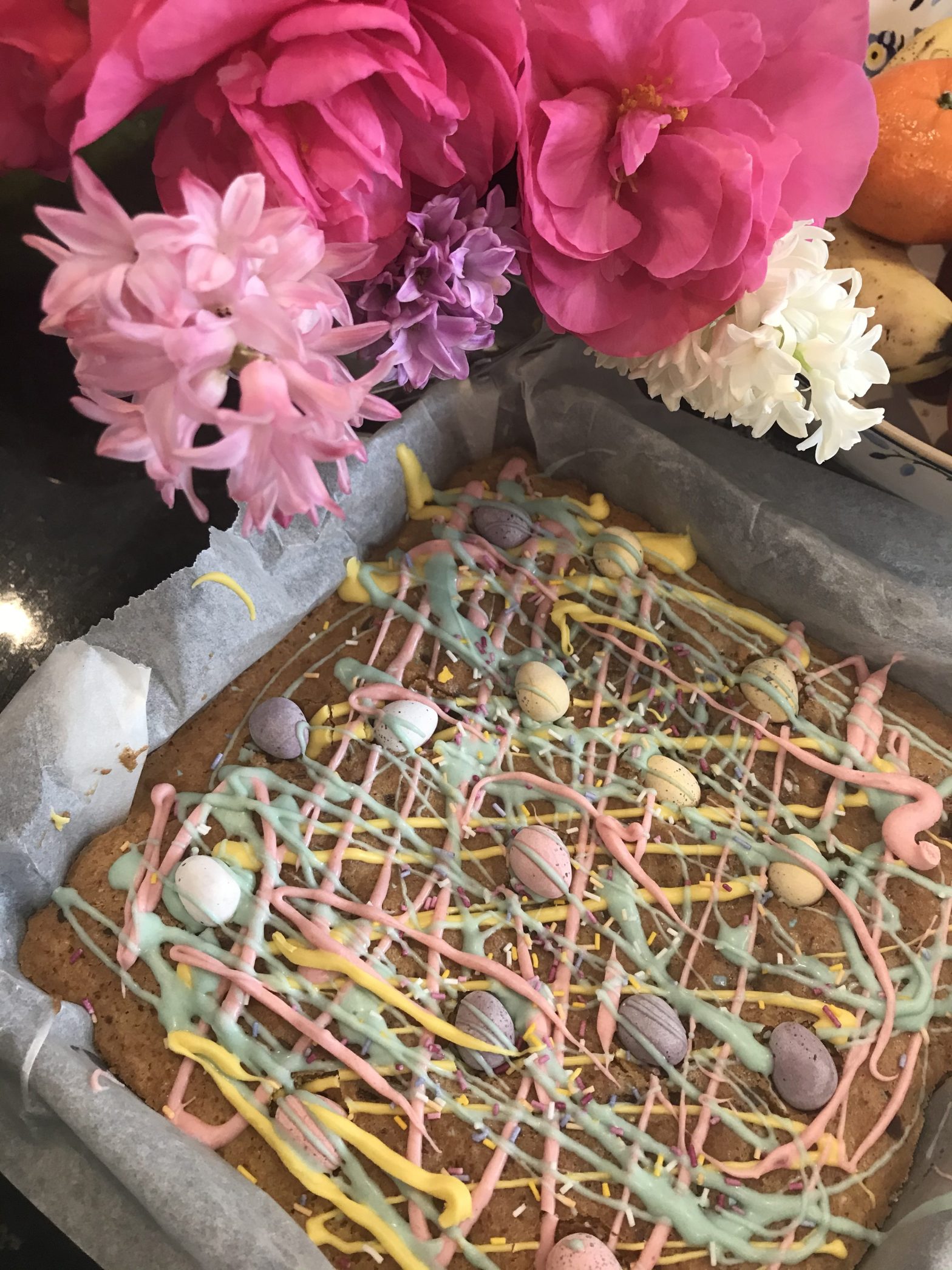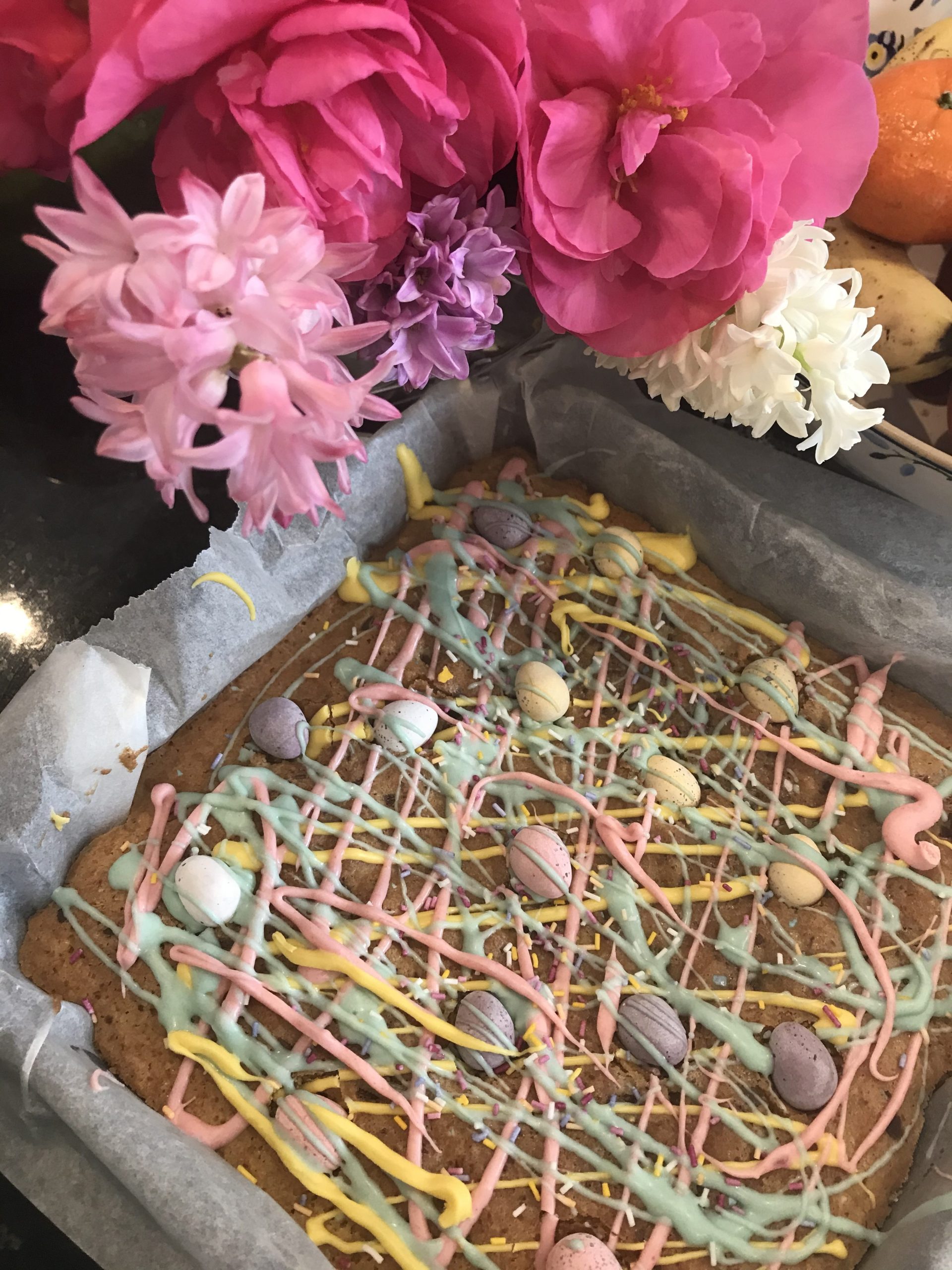 These are really good vanilla flavoured blondies which I've decorated with some mini eggs as it's a recipe that always seems to appear around Easter time. I think it's because of the white chocolate and they seem like a brownie's lighter little sister! I've used gluten free flour for this recipe but want to experiment with a recipe that won't use flour at all but that's for another day. Today, we make Blondies that are Brilliant!!
I would advise you use a 9″ /23cm square baking tin for this recipe if you can. If you only have an 8″ / 20cm size then the blondies will be thicker and will take longer to bake and there's a chance they might sink a little in the middle due to their size.
Ingredients:
200g unsalted butter, melted
100g caster sugar
150g light brown sugar
1 tsp vanilla extract
3 large eggs
225g plain gluten free flour
150g white chocolate chips (GF)
50g white chocolate for drizzling (GF)
Mini Eggs for decoration (Cadbury's are GF)
Gel colouring for decoration (optional)
Method:
Preheat oven to 180C or 160C Fan and line a 9″ / 23cm square baking tin with parchment.
In a large bowl, add the melted butter, caster sugar, light brown sugar and vanilla extract and beat well to combine everything. Then add the eggs to the batter and beat again until it starts to thicken up. It will also go lighter in colour.
Then add the flour and chocolate chips to the batter and fold in gently. Make sure you can't see any flour bits left in the bowl. Go gently with folding in. I chopped up some extra mini eggs and added them at this stage. Most of them will tend to end up near the bottom but that just adds to the deliciousness!
Pour the batter into the lined baking tin and smooth out with the back of a spoon.
I put some mini eggs on top of the batter but they sank in anyway so don't waste them.
Bake for around 20 – 25 minutes. Every oven is different so keep an eye on them. They should be golden brown on top but still a little soft in the middle. Remove from the oven and allow to cool completely in the tin. The blondies will continue to bake after removing them. You can also place the tin into the fridge to speed this up.
Be aware not to overbake the blondies or they will be more cake like. If you feel the centre is very undone, then put them back in for a little longer.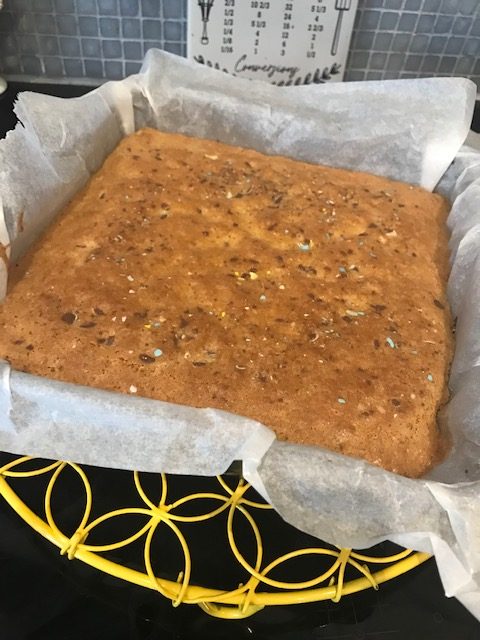 Once completely cooled, drizzle the melted white chocolate over the top and cut into slices.
If you want, you can separate the melted chocolate into 3 bowls and add dye colouring to them. I used pastel shades for Easter. Drizzle the different colours over the cooled blondies and gently push in mini chocolate eggs to finish.
Bake with love
Soraya x