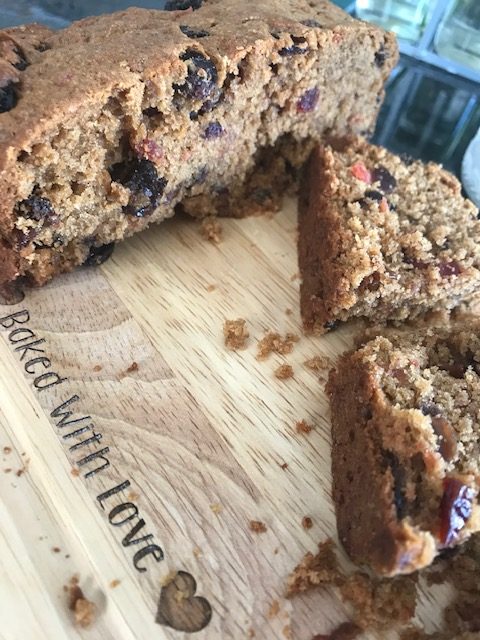 I'm a huge fan of a fruit cake, of any variety at all. I absolutely love fruit cake but there is the awful dread that you'll bite into a slice and it will be dry…disaster! No fear with this recipe at all. It's so delicious and moist and you can add your favourite dried fruit when making it.
No mixer needed to get this into the oven and it takes about 15 minutes , an hour to bake and the smell, it's just so good!
I would feel you're better making this cake the day before you need it as it cuts better after resting for about 24 hours.
I used a 6″ / 16cm square tin but it will also work in a 2lb loaf tin. I would recommend you have some parchment up above the side of your loaf tin while prepping it.
I very lightly oiled the tin and then lined the sides and the bottom of the tin with parchment. Preheat oven to 160C Fan or 180C and keep an eye on it, you might need to lower the temperature for the last 10 minutes of baking. I would also recommend you bake it on the lower shelf of the oven.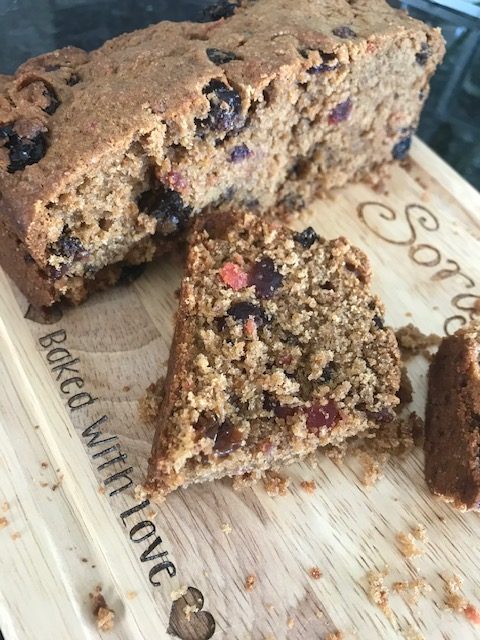 Ingredients:
230 g plain flour
115 g butter
110 g dark brown sugar (i reduced mine to 75 g)
230 g mixed dried fruit of your choice
1/2 tsp ground cinnamon and 1/2 tsp mixed spice
1/4 tsp ground nutmeg
10 ml treacle
1/2 tsp bicarbonate of soda
150 ml buttermilk
Method:
Place the butter and flour in a large bowl and rub the butter in until it resembles breadcrumbs. Then add the sugar and mix it through. After that, add the dried fruit and spices and mix again till everything is combined.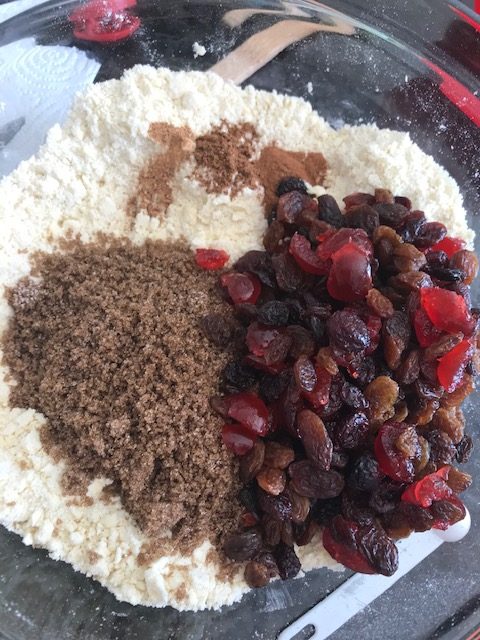 Gently warm the buttermilk so it's hot to the touch but not boiling. Add the treacle and whisk it in and then add the bicarbonate of soda which will froth up. A note of warning …. use a jug which has room to grow as the mixture froths up quite quickly and rises up.
Pour this into the cake mixture and stir everything together until it's combined. It's a bit stiff to start but does all mix in evenly.
You can see the frothiness from the bicarbonate of soda. That's what you're looking for.
Transfer the fruit mixture into the prepared tin and level off. You can see it only goes about half way up the tin but it rises to don't worry.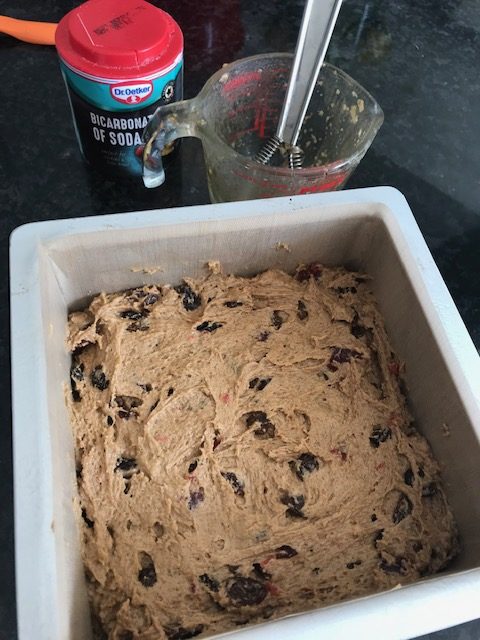 Bake in the preheated oven for 55 minutes to 1 hour. Check after 55 minutes to see if a skewer inserted into the centre comes out clean. If it's getting too brown on top, lower the oven for the last 10 minutes and as I said before, bake it either in the centre or lower shelf of the oven.
Remove from the oven and leave to sit for about 20 / 25 minutes on a wire rack before removing from the tin. Let the cake sit on the cooling rack until it's completely cold.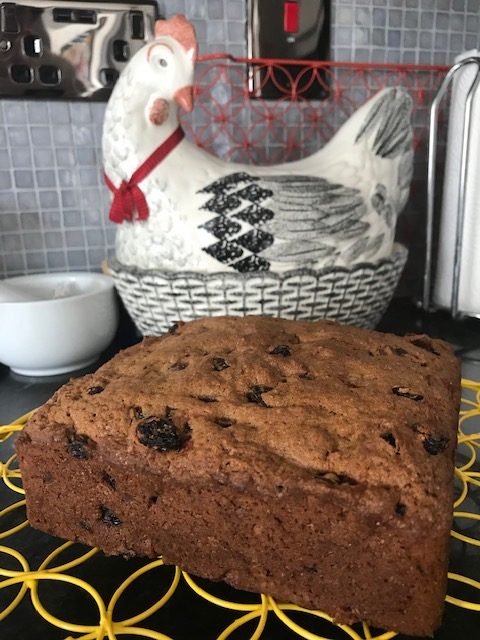 Once completely cold, wrap in foil and let it settle at room temperature for 24 hours before cutting.
You can cut the cake in half and freeze one half till you need it while you enjoy a few slices of the other piece. It's also a lovely cake to gift. If you're freezing it, I would cut it into slices, separate with parchment and then freeze.
Bake with love
Soraya x