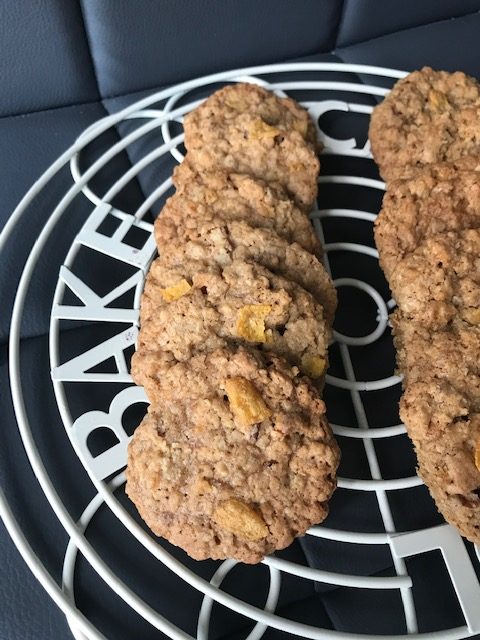 These amazingly good cookies are chewy with a little bit of crunch and are packed full of delicious ingredients like coconut and pecans. Of course they also have cornflakes! Yes the humble cornflake cereal has been given a boost here and has become a little star in the making.
Interestingly, you would think the cornflakes would get soft and sort of soggy but no, they keep their crispiness and add a perfect balance of chewy and crispy to these sweet and oh so good cookies. It's really hard to stop at just one … you have been warned!
I've given the recipe for making regular cookies and also for Gluten and Dairy Free options too so everyone can enjoy them.
When making these cookies, I used two sizes of ice cream scoops to see how they would work out. Both worked well and really, it depends on what you want to do yourself. I used my smallest scoop which is about 3.5cm wide and the other was about 5cm in width. You can see below the size difference of the scoops and the resulting cookies. The larger cookies needed about 2-3 minutes longer in the oven.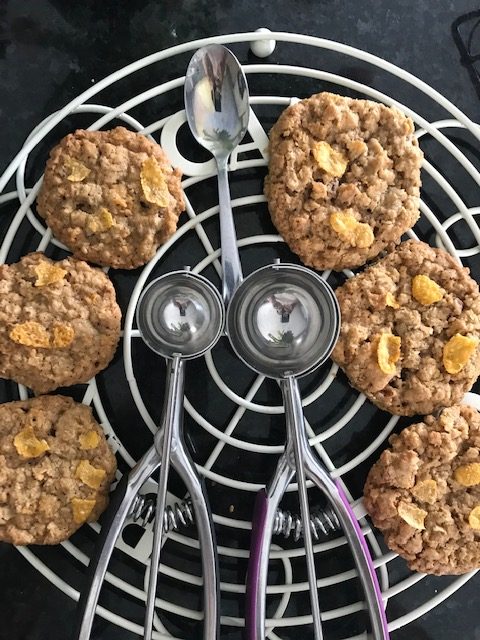 If you're making these Gluten Free, replace the Oats, Cornflakes and Baking Powder with GF options and also the desiccated coconut. I use the Shamrock brand as they are GF.
If you need to make the cookies Dairy Free, then replace the butter with a plant based option and continue as normal.
If you have a problem with eggs, just replace the egg with the following: Mix 1 tbsp Chia or Flax Seeds with 3 tbsp water and mix. Leave to settle for about 5 – 10 minutes and it will turn into a gel like substance. Simply replace the egg in the recipe with this gel. If you don't have the seeds, 1 egg can be replaced with a small ripe banana or approx 63g organic, unsweetened applesauce.
So let's make some cookies!
Ingredients:
113g unsalted butter, softened ( or Dairy Free if needed)
85g caster sugar
85g dark or light brown sugar
1 egg (see above for substitute)
1/2 tsp vanilla extract
140g plain flour (use 136g GF plain flour if needed)
1/2 tsp baking powder (GF if needed)
1/2 tsp bicarbonate of soda
1/4 tsp salt
80g oats (use GF if needed)
35g unsweetened cornflakes (use GF if needed)
40g desiccated coconut (see above notes for GF)
50g chopped pecans (if you like pecans, you can increase these to 65g)
Method:
Preheat oven to 160C Fan, 180C or 350F and line two baking trays with parchment. Leave to one side till later.
In a large bowl, beat the butter and both sugars with an electric mixer or use a stand mixer. Beat very well until the mix is light and creamy. Add the egg or replacement and vanilla extract and then beat well again.
Measure out the flour, baking powder, bicarbonate of soda and salt and use a fork or whisk to just combine them and remove any lumps. Then add these dry ingredients to the batter and beat well again.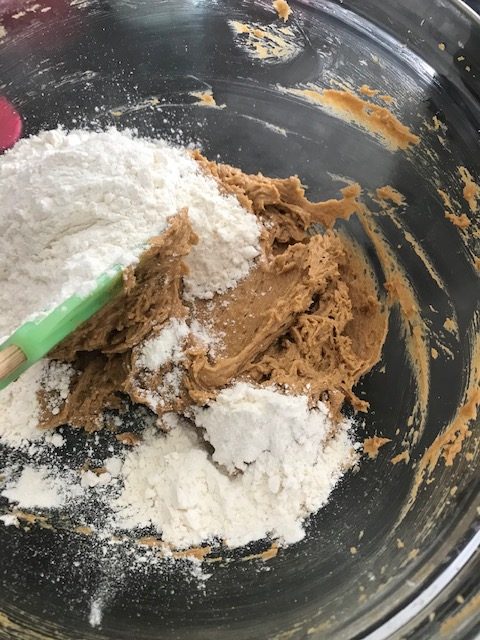 I started by mixing with a spatula and then got the mixer to finish beating everything together.
Next, you add the oats, cornflakes, desiccated coconut and chopped pecans to the batter and using a large wooden spoon, mix everything together.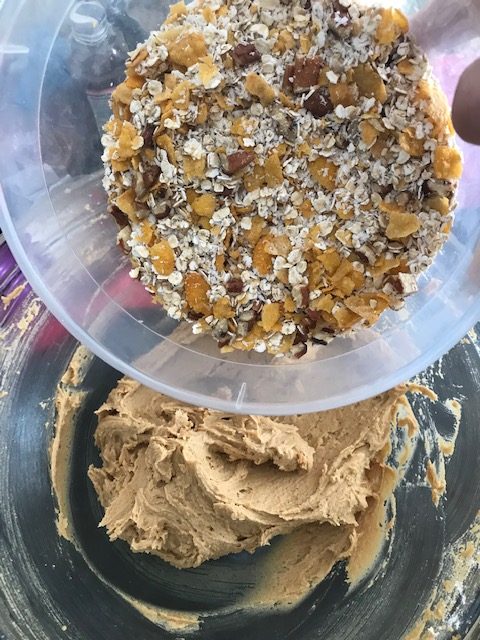 Keep some cornflakes aside for finishing the cookies before baking.
Using your chosen ice cream scoop, drop portions of the batter on the lined baking trays and keep them about 2″ apart as they do spread a little. I then topped the cookies with a few pieces of cornflakes. You can press each dome down a little bit if you like but they do flatten as they bake in the oven.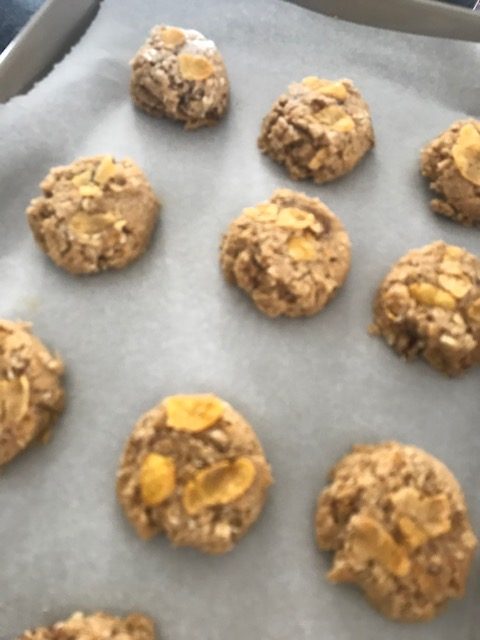 Bake for approx 12 – 14 minutes depending on the size of the cookies. Remove from the oven and leave them on the baking tray for a few minutes as they come out very soft so don't try to move them yet.
After a few minutes, they should be sturdier and gently move them to a wire rack to cool completely.
Keep them in an airtight container. They will keep for 4-5 days and are totally delicious!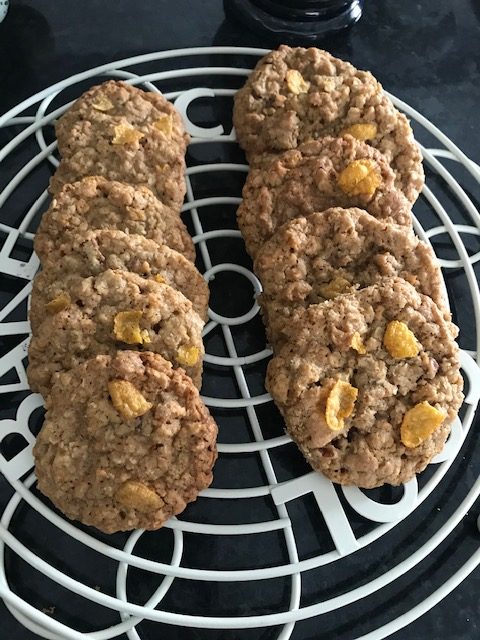 Both sizes shown above and both were equally devoured!!
Bake with love and enjoy!
Soraya x