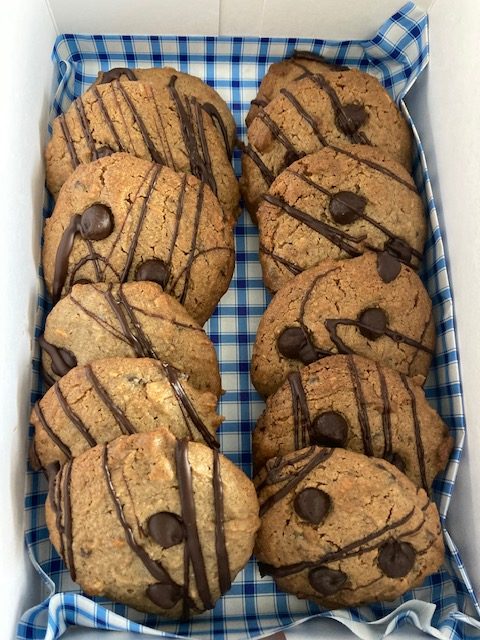 Honestly if you had asked me a few years ago to taste one of these cookies, never mind make one, I would have declined politely figuring I could always just get a "regular" chocolate chip cookie if I wanted one. Moving on a few years and with a lot more knowledge on board, I can see that these different options are much healthier than buying a processed cookie and also help to add fibre, protein and healthy fats to your diet.
They are also great for most dietary needs being gluten free, dairy free, vegan and suitable for paleo diets. There's only a little bit of prep with toasting the coconut flakes and making the flax seed mixture (in place of eggs) beforehand but I'm talking about 10 minutes and I would recommend toasting the coconut as it lends another whole level of flavour but it's not necessary.
Making these tahini chocolate chip cookies was a real pleasure and I was delighted how well they turned out. I had a few visitors to the kitchen remarking on the great smell (always a good thing) and I chose to make large New York style cookies so I got 12 large ones but you can of course make them smaller and you should get about 17 cookies. This is one of the recipes from my Simple and Healthy Recipe book – https://www.cozebakes.com/product/new-simple-and-healthy-recipe-book/
A couple of tips to note:
Using Tahini – mix it well before using as the natural oil tends to rise to the top in the jar
Using maple syrup – you can sub this for Date Syrup or Agave Syrup if you like but not honey
Coconut Flakes / Desiccated Coconut – make sure you use unsweetened
Dark Chocolate Chips – depends on your personal dietary needs so choose the one that works for you.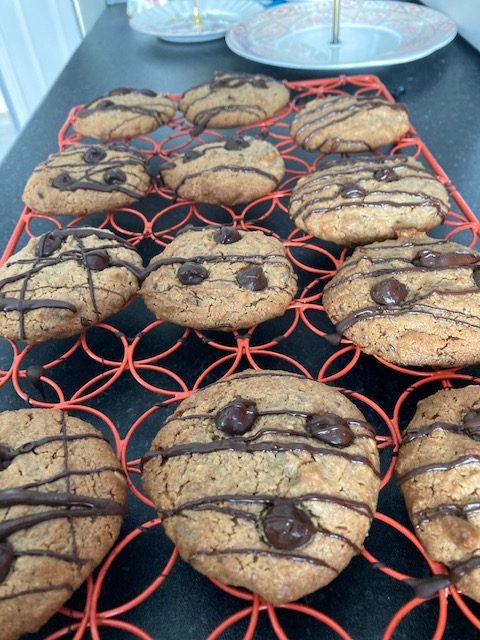 Ingredients:
260g Tahini
170g Maple Syrup (see Note above)
1 tbsp ground flax seed mixed with 3 tbsp water (use 1 egg if diet permits)
1/2 tsp cinnamon
1/2 tsp sea salt
1/2 tsp bicarbonate of soda – always check the Best Before date
1/2 tsp vanilla extract
3 tablespoons Coconut Flour
18g Coconut Flakes / Desiccated Coconut – toasted
40g Dark Chocolate Chips (see Note above)
Method:
Preheat oven to 180C, 170C Fan or 350F and line a baking tray or two with parchment.
To start mix the flax seed with water in a little bowl and set aside for about 10 minutes until it becomes like a gel consistency. While you wait, dry roast the coconut till light golden brown in colour – takes about 3/5 minutes on a medium heat. Once done, let that cool.
Once the flax seed has become gel like, then you can begin by adding the tahini, maple syrup, flax seed mixture, cinnamon, bicarbonate of soda, sea salt and vanilla extract and stirring everything together to combine it properly.
Next fold in the coconut flour, toasted coconut flakes/desiccated coconut and dark chocolate chips. You will have a thick, slightly gloopy result which holds itself on a spoon.
Using your scoop size of choice, place dollops of the batter on the lined baking tray. You need to leave about 1 + 1/2 inches between each cookie and I used the bottom of the scoop to make a circular shape. Finish by topping each cookie with a couple of dark chocolate chips if you like and you could add a sprinkle of sea salt on each one too.
Bake in the preheated oven for 18 / 20 minutes until the edges are golden brown.
Remove from the oven and let them cool on the baking tray for about 15 minutes before you then transfer them to a wire rack to cool. You can eat them straightaway if you like or they store in an airtight container for up to 5 days.
I gave mine a drizzle with a little bit of chocolate just to dress them up a bit 😉
Make them, Bake them, Love them!
Soraya x