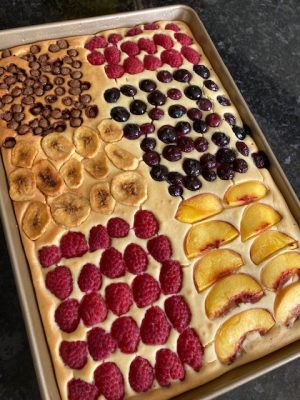 This is such an easy way to feed a few people with as little hassle as possible. Everyone loves pancakes but the person making them has to stand over the pan until all the batter is used up. Here's a great way to fix that and everyone eats together!
I tend to use either a small roasting tin or a medium sized baking tray depending on how many people I'm making this recipe for. The smaller size is 28cm x 16cm – it's a small roasting tray and feeds 2-3 people and the larger size is 38cm x 26cm and that would happily make enough for 4-6 people.
I used the regular quantity of my recipe for the smaller size and one a a half times the quantity for the larger baking tray size.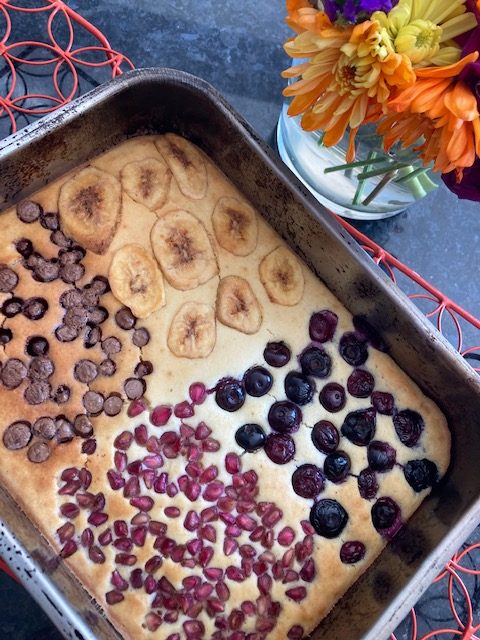 As we make for a coeliac, I use the Fluffy Pancake Recipe from my Gluten Free Baking from the Heart Book (page 38) but you can use your own favourite pancake recipe. Just be aware that you need a fluffy type American pancake for this to work. You can also find the recipe here: https://www.cozebakes.com/2019/07/01/light-fluffy-gluten-free-pancakes/
This Pancake Traybake is perfect for a weekend brunch as you can top it with as many and varied toppings as you like. I've used different fresh berries such as raspberries, blueberries, strawberries, pomegranate seeds, banana chips, chocolate chips, fresh peach slices, raisins and pecan nuts. It keeps in the fridge, covered for up to 2-3 days. Simply reheat in the microwave and add a little maple syrup or yoghurt of choice.
Method:
Make your pancake batter recipe as you normally would and increase if needed.
Preheat oven to 190C Fan and grease the tin. Prepare your chosen toppings and set aside.
Pour the batter into the prepared tin and shake gently to disperse evenly. Top the batter with whatever you like – as little or as many as you think.
Bake in the oven for 18 – 20 minutes. Keep an eye on it and if it starts to turn too brown, then remove and check with a skewer which should come out clean. Let it sit for a couple of minutes and then drizzle over some maple syrup. Cut into slices and serve with a mixed fruit platter for a perfect Weekend Brunch!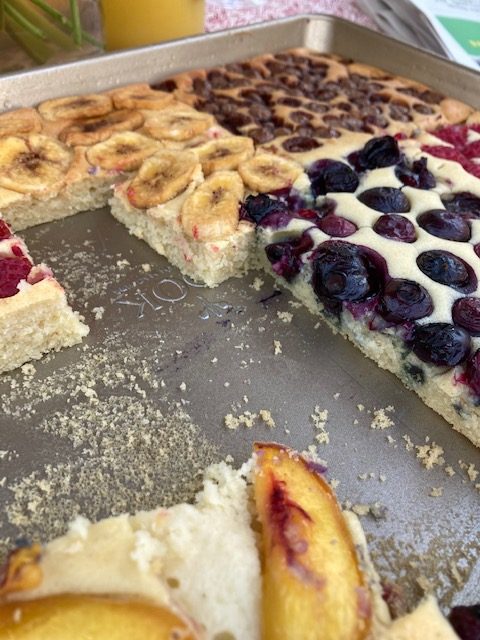 You can see it's there's a good depth to the pancake batter as it rises in the oven. Let your imagination go and top with fantastic fruits, berries and nuts.
Soraya x