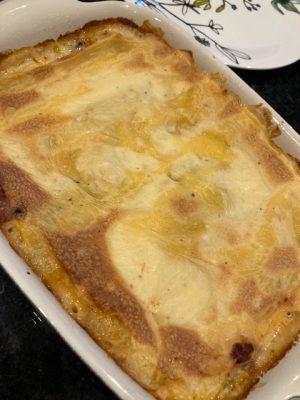 Gluten Free, Vegetarian, Dairy Free, Vegan
This is a delicious Lasagna recipe which uses no meat but it's hard to tell the difference. A little trick I have with kidney beans works wonders! Using plant milk and cheese means this lasagna will also be vegan and dairy free.
Don't be put off by the sauce – it takes about 10 minutes and is so much better for you than a packet. A tip for time saving would be to make double the quantity of a bolognese sauce and keep the second half for when you want to make a lasagna. All you have to do is make the sauce, add a few bits and pieces and bake in the oven!
Ingredients:
GF lasagna sheets (see tip below)
1 onion, chopped
1 celery stalk
1 garlic clove, peeled and grated
2 tbsp olive oil
200g mince beef or 240g kidney beans*
300g passata sauce
1 tsp oregano
200g chestnut mushrooms, chopped into small pieces
Salt and pepper
For the Cheese Sauce:
600ml plant milk (regular will also work)
3 tbsp GF cornflour
100g cheese of choice (vegan or regular)**
Salt and pepper
Method:
Use olive oil to grease a 2 litre ovenproof dish and set to one side.
In a large frying pan, add the chopped onion, celery and garlic with the oil and cook on a medium heat for about 3-4 minutes. If you're using beef, add it to the pan along with the mushrooms. If not, drain the kidney beans and mash them before adding to the vegetables in the pan along with the mushrooms.
Fry until the meat changes colour or until the mushrooms have gone golden brown. Pour on the passata sauce and add the oregano and season well. Check the taste and see if the sauce needs anything more. Cover and cook on a low heat for 20 minutes.
While this is cooking, make the Cheese Sauce by adding the milk you have chosen to a saucepan and keep behind about 3 tbsp of milk. Heat the milk and while it's heating, stir the cornflour into the 3 tbsp of milk and mix to make a paste. Just as the milk begins to boil, remove it from the heat and stir in the cornflour paste. Put the saucepan back on the heat and keep stirring over a medium to high heat until the mixture starts to bubble and it will thicken as you stir into a light sauce.
Remove from the heat again and add the grated cheese of choice. Season really well with salt and pepper and stir to combine.
Now you can preheat the oven to 180C or 160C Fan.
I have a little trick to help with gluten free lasagna sheets. I stand them up in a bowl of very hot water for about 3 minutes, turn them and let the top half then sit in the water for 3 minutes. Do this with as many sheets as you need. Don't lay them on top of each other in a bowl of hot water or they will stick.
To assemble, place lasagna sheets on the base of the dish. Spoon some of the sauce on top and spread it out, then spoon some of the cheese sauce over the meat. Repeat these layers to use what you need for your dish size and finish with some cheese sauce on top. You can add a little extra grated cheese on top if you want.
Bake for 55-60 minutes and then remove from the oven, sprinkle some fresh thyme leaves over the top and serve with a mixed salad.
* A tin of kidney beans will weigh 400g but 240g when drained
** Use your favourite plant based cheese or a mix of cheddar and parmesan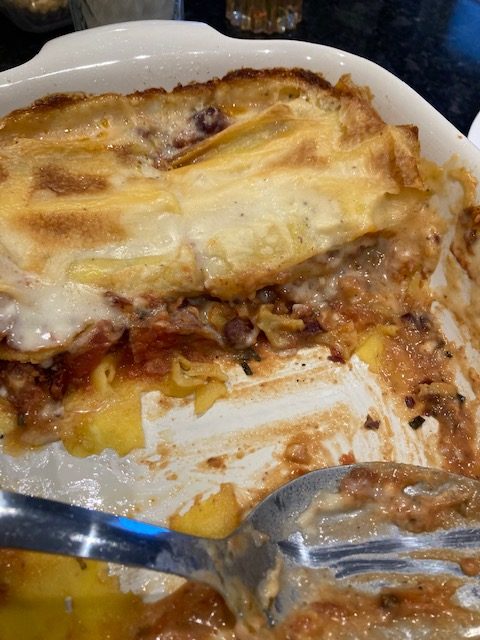 The wonderful thing about lasagna is that it tastes even better the next day! Simply reheat to enjoy and save yourself time 🙂
Let me know if you make this. I would love to see your pictures. Just tag cozebakes on Instagram or Facebook with your photos. Leave a comment below to let me know how you get on.
Enjoy!
Soraya x