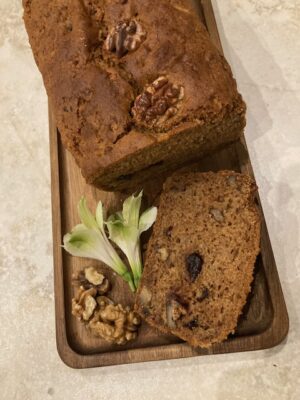 I'm a big fan of a loaf tin bake. The possibilities are endless. The recipes are always pretty straightforward. They look great and can be an every day treat or dressed up and they win over a crowd. What's not to love!
This bread has everything I love. The dates, lots of warming spices and nuts and it uses no refined sugar!
If you need it Dairy Free, then substitute the butter for your usual non dairy brand.
Vegans can sub the egg with a flax seed egg (see below) and use maple syrup or date syrup in place of the honey.
You should get about 10 – 12 slices from this loaf and you can keep it in an airtight container for up to a week. It also toasts really beautifully. Honestly, what's stopping you from making this? It's delicious!
Ingredients:
385g chopped dates
375ml boiling water
1 1/2 tsp bicarbonate of soda
210g plain flour (also use plain Gluten Free flour, Rice Flour, Buckwheat Flour)
1/2 tsp Xanthan Gum (for Gluten Free only)
1/4 tsp ground cloves
1/4 tsp ground cinnamon
1/4 tsp ground ginger
1/4 tsp ground nutmeg
250g honey (Vegans use maple syrup, date syrup or sweetener of choice)
28g butter (Vegans and Dairy Free use regular substitute)
1 egg, large (Vegans use Flaxseed egg – one tbsp flaxseed to 3 tbsp water)
2 tsp vanilla extract
180g chopped walnuts or pecans (I like to add 2 tbsp mixed seeds too for extra nutritional boost)
1 tbsp milk or plant milk Gluten Free Version only
Method:
Preheat oven to 160C Fan / 180C. Grease and lightly dust a 2lb loaf tin or use a liner.
In a large bowl, add the dates, boiling water and bicarbonate of soda. Set to one side.
Whisk the flour, xanthan gum if using and spices together in a small bowl.
Using either a stand mixer or your electric hand mixer, add the honey and butter (or substitute) and beat together. Then beat in the egg (of flax seed egg) and vanilla extract.
Add the dry ingredients alternatively with the dates and water mixture into the batter. If you're making the Gluten Free version, add the mik and stir it through. Finally, stir in the nuts. Spoon the batter into the prepared tin and bake for 65 – 75 minutes. Check with a skewer inserted into the centre to see it comes out clean. If the top was getting too brown, then cover with some foil for the last 15 minutes.
Remove from the oven and leave it sit in the tin for about 20 minutes before turning it out on a wire rack and let it cool completely.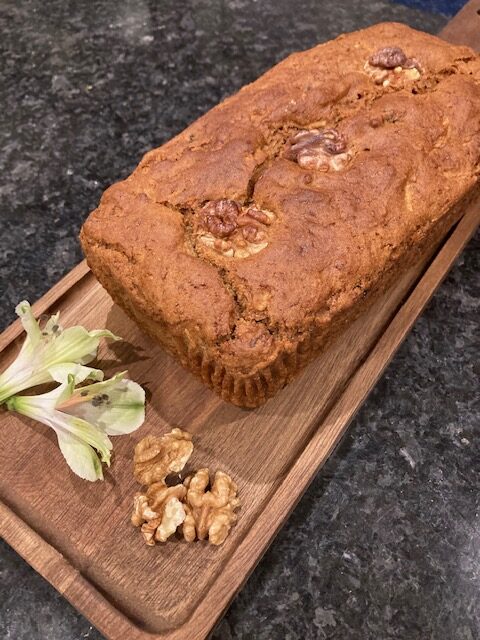 That's it folks! That's how simple it is to make this delicious bake that's full of goodness! If you make this, I would appreciate a review below and would love to see a picture!
Enjoy! Soraya x