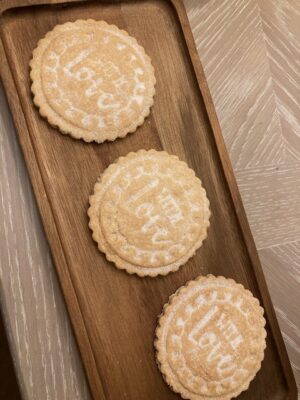 There's something so comforting about a piece of shortbread. It's simple yet delivers on so many levels. The buttery taste, just enough sweetness and perfect for any time of the day.
Shortbread has only a few ingredients but it does lend itself well to adding other flavours too. You can use a combination of flavoured sugar like a lavender infused one along with regular caster sugar. Use the zest of citrus fruit to add other flavours such as lemon or orange but don't add other liquids to the mix or it won't result in perfect shortbread. Of course if you like, drizzle a bit of melted dark chocolate over one half of your cooled shortbread for a beautiful finish.
I've used this shortbread recipe both in wooden moulds and for cutting out shapes. It works perfectly for both and is very forgiving. If you make this recipe, I would love to see the results and would be great if you could leave a review below.
I like to let the shortbread sit in the fridge after I've cut them out or used my moulds so you won't need to turn on the oven until you're ready to bake the shortbread. If you have a food processor, it's very handy and quick but an electric hand mixer is equally good.
Ingredients:
250g butter. softened
110g caster sugar*
360g plain gluten free flour
1/4 tsp xanthan gum
Optional extras:
Zest of a lemon or an orange
1/2 tsp vanilla bean paste
1/2 tsp almond extract
Zest of 1/2 a lime
* If you have a flavoured sugar, you can split a 60/40 ratio of caster sugar and flavoured sugar
Line your baking trays with parchment. It's probably best to use 2 as these will spread a bit while baking.
In a large bowl or in your stand mixer, add the butter and just beat it for a few minutes on it's own to completely soften it and get it a little creamy. Then add in the sugar and beat together. You want to do this for a few minutes until the butter has lightened in colour and the mixture is creamy.
Whisk the flour and xanthan gum together in a small bowl. Add half of this to the creamy butter and beat on a low speed to combine everything. If you're using zest or flavouring, add it in now and again on a low speed, beat to combine. Then add in the remainder of the flour and xanthan gum and beat on low till all the flour is incorporated. Make sure to check under the dough that no flour is sitting at the bottom of the bowl.
Increase the speed of your mixer just for a minute to bring it all together and then turn out the dough on a lightly floured surface. Bring the dough together with your hands. It should feel smooth and silky but don't knead it for long. It will only need a few turns to get it ready to cut out.
If you're using moulds they need to be lightly greased and then dusted with flour. Take a portion of the dough (about the size of a golf ball) and press into the mould. Then tap the mould on your work surface firmly to get the shortbread to drop out. Place on the prepared baking tray leaving 2 inches between each one.
If you're using cutters, then either roll out or simply press the dough out with your hands making sure to keep the height even. Shortbread needs to be substantial so don't roll too thinly. About 2cm is a good size. If you make them thicker, they will need a bit longer to bake. Cut out your chosen shapes and re-roll until all the dough is used. Make sure to leave a space between the biscuits as they spread. Let them sit in the fridge for at least 30 minutes before baking.
When you're ready to bake, preheat the oven to 160C Fan / 180C and place the trays into the oven directly from the fridge. Bake for approximately 25 minutes. You want the biscuits to be a light gold colour. Remove them from the oven but don't touch them. Leave the shortbread on the baking trays for at least 5 minutes. You can sprinkle them with a little extra caster sugar. Once they are a little more stable, shake off the excess caster sugar and very gently use a palette knife to transfer them to a cooling rack to cool completely.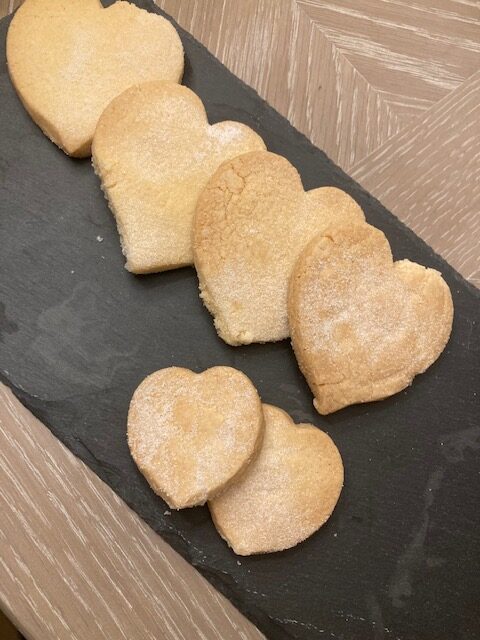 Keep them in an airtight container for up to 5 days (but they won't last that long!)
Enjoy!
Soraya x