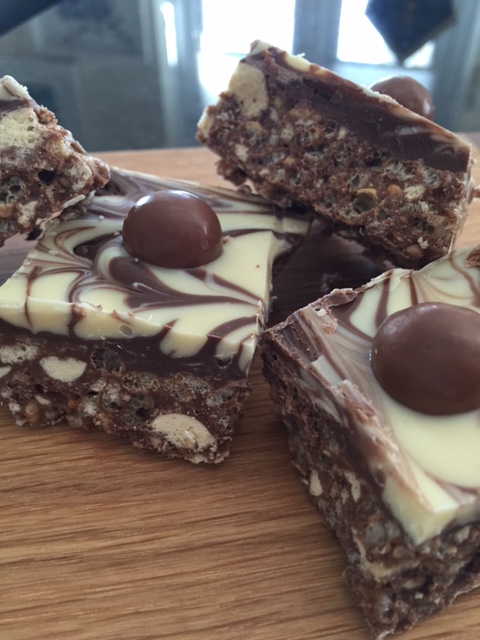 Such a real treat and no baking involved with this recipe, just some melting and mixing. You can be as creative as you like with the topping. Using Maltesers along with rice krispies gives these delicious bites that something extra plus if you have young people at yours, they can get right in and be delighted with their results. Quick, easy and very, very delicious!
You need an 8″ square baking tin and you can line it with cling film or baking paper. Just be sure to have whatever you use hang over the edge of the tin to help remove the squares easily.
Ingredients
200g milk chocolate
75g unsalted butter
2 tablespoons golden syrup
185g Maltesers
60g Rice Krispies
For the topping:
100g each white and milk chocolate
45g (approx.) Maltesers
Method:
Place the milk chocolate, butter and golden syrup into a medium sized bowl that you can use in the microwave. Heat the ingredients on a low setting, stirring in between. I set the microwave at 60% and melted at 30 second intervals. It took about 3 goes and a good mix for everything to be melted.
If you prefer, you can place all the ingredients in a bowl over a pan of simmering water, just don't let the bowl touch the water and melt everything this way.
You can use a food processor to blitz the Maltesers but I was happy enough to bash them with a rolling pin!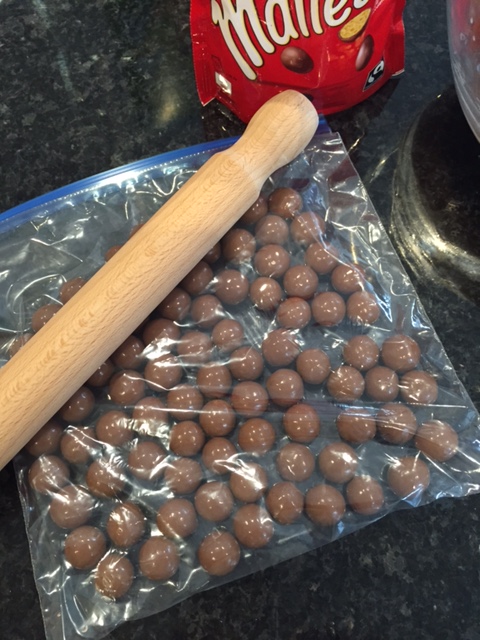 Before …..       
After !
Pour the crushed Maltesers into the melted chocolate mixture followed by the rice krispies. Use a wooden spoon to mix evenly then tip the mixture into the prepared tin. Use the back of the wooden spoon to press the mixture well in place and pop in the fridge for approx. 30 minutes.
When the mixture is ready to come out of the fridge, melt the white and milk chocolate and pour the milk chocolate on top, spread it out and then place blobs of the melted white chocolate around the top and using a wooden skewer, swirl it around for a nice effect.
Place the Maltesers on top of the melted chocolate. Place the tin back in the fridge for about another 30 minutes and then it's ready to share out!
Another decorative idea would be to melt 200g of only white chocolate and spread that on top of the mixture. You can either place the whole Maltesers on top or crush them and spread over the melted chocolate. Up to you 🙂
Enjoy – this time no bake but still with love
Soraya x