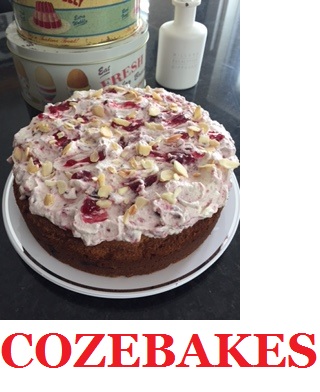 Sometimes, you just want a proper cake. You know? Just a proper tasting cake of what cake used to taste like and this recipe is just that. It's crying out for a dainty plate and a cup of tea for pure nostalgic perfection.
Looking pretty impressive doesn't hurt either 🙂 and it's got ground almonds in it which helps to keep it  moist and not become too dense or dry. The wonderful surprise is the layer of delicious cherry jam in the centre of the cake – perfect!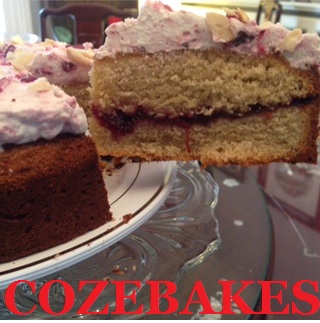 Using two types of spices really adds something different to this cake. It's not expected but works so well. There's just a touch of warmth when you bite into a slice. Lovely!
You need a 20cm (8″) deep round cake tin, loose based which you line the base with buttered baking paper. I also greased the sides just to be sure 😉
Preheat oven to 180C / 350F but if you have a fan, 170C would be better.
Ingredients:
250g butter
130g caster sugar
2 eggs (large)
250g plain flour
1/2 tsp ground cinnamon
1/2 tsp ground cloves
250g ground almonds
1 tbsp. gin
5 tbsp. cherry jam (I used Black Cherry Jam Conserve)
Small carton of cream, whipped
Method:
Beat the butter until soft first and then add the sugar and continue to beat until the mixture is light and fluffy.
Add the eggs, one at a time and beat well after each one.
Sift the flour, cinnamon, cloves and ground almonds together. (Don't skip this, it's important). Add the sifted dry ingredients to the creamed mixture along with the gin and using a wooden spoon, mix till all the ingredients are well combined.
Spoon half the cake mixture into the prepared tin.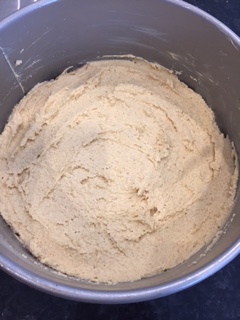 Spoon in 3 heaped tablespoons of the cherry jam and spread carefully to cover the base mix.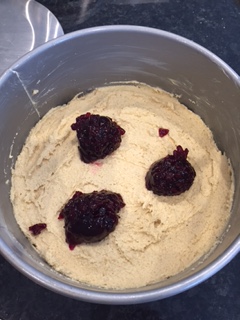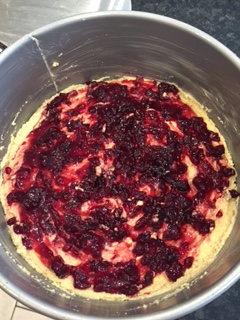 Spoon the remaining of the cake mixture over the top. Don't be tempted to add too much jam or it will seep out the sides during baking.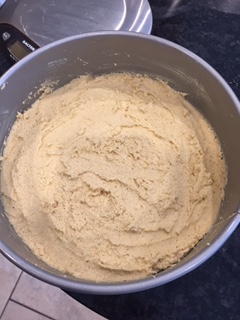 Covered and oven ready.
Bake for one hour until it's a pale golden colour.
Leave to cool in the tin for 5 minutes and then turn out on a wire rack to completely cool. A tip for easy removal is to place your tin on top of a tin and gently push the sides of the tin down to release the cake. Then slide the cake off the base gently on to the wire rack.
Once totally cool, spread the top of the cake with the cream and swirl the remaining cherry jam through for a lovely effect. I sprinkled some toasted almond slivers on the top too.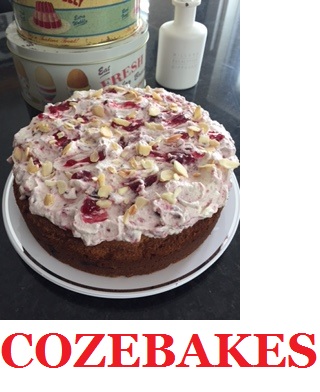 A lovely bake made with love
Soraya x