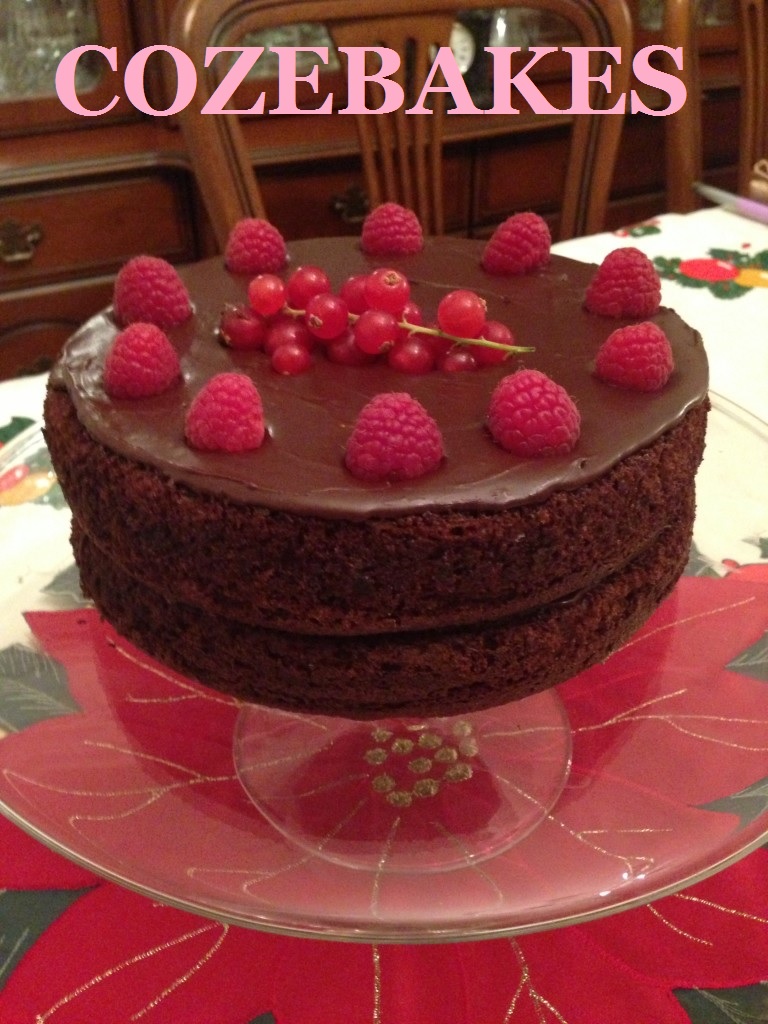 This is a recipe from the U.S so it's originally given in cup measurements. I've adapted it slightly as some of the products are not available here and the oven temperature and timing were guessed at so you will have to keep an eye on it and see how it works with your oven. I weighed each of the ingredients as I measured them so if you like, you can use the equivalent weights given in grams next to the cup measurements but they are only approximate so it's up to you. Just don't mix them. Use either cups or grams.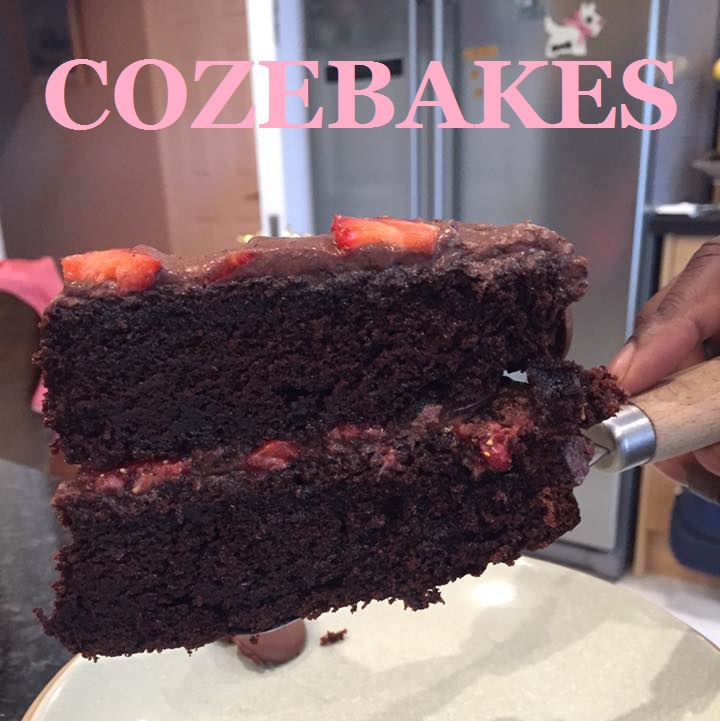 This is a real chocolate lovers cake – full of very rich, chocolate flavours which are made deeper by adding coffee granules. Probably not one to make for kids as it's quite rich. I've used a simple chocolate frosting which just gives enough sweetness.
This time I have used strawberries both in the middle of the cake with the frosting and on top. Raspberries or mixed berries would also be delicious. I have two examples of this gorgeous cake here. It's the same cake but decorated for different occasions and it's a good indication of how versatile the cake is and how easy it is suit yourself while still making an impact 🙂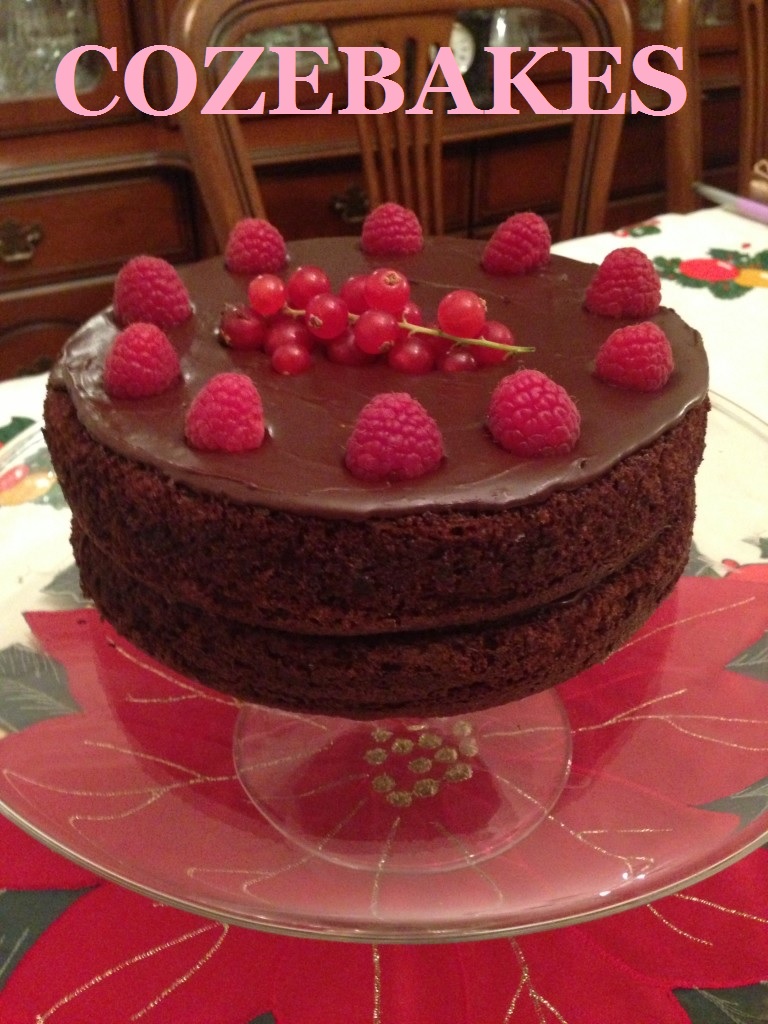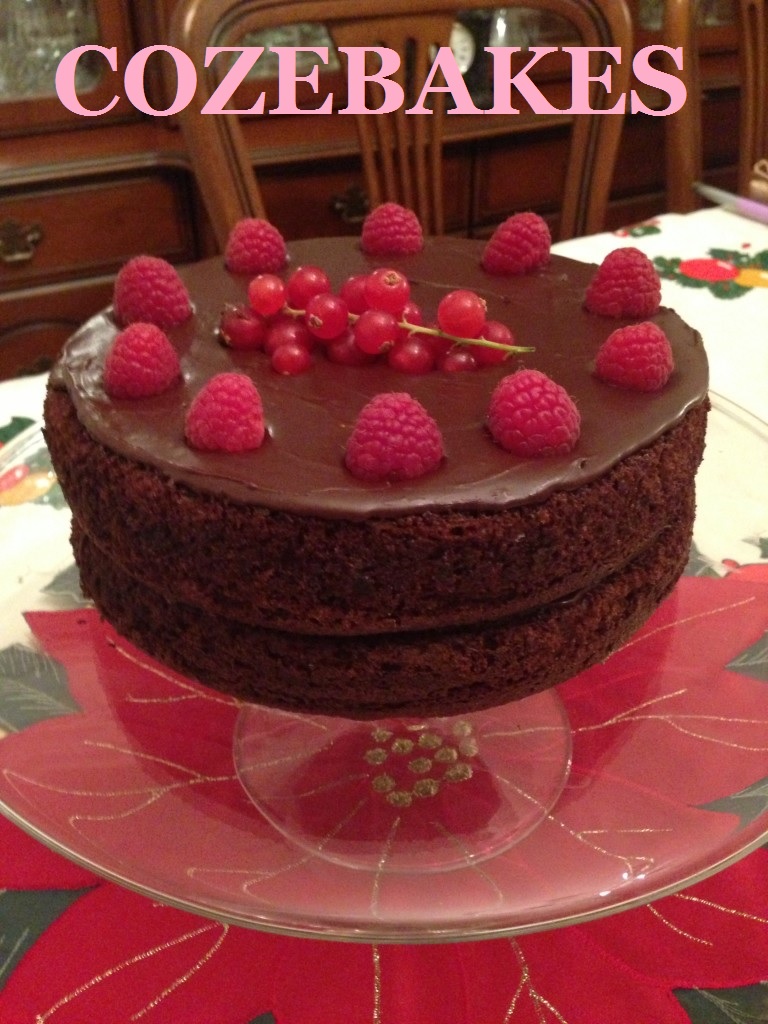 This is the first version. Simpler with frosting in the centre and topped with raspberries and redcurrants. Makes a lovely centrepiece.
So you need two 8″ baking tins. Grease them really well and flour them. You can add a piece of parchment to the base also if you are any way worried.
Preheat oven to 175C/180C or 350F
Ingredients:
2 cups golden caster sugar (245g)
1 & 3/4 cups self raising flour (210g)
3/4 cup Cocoa powder, Bourneville or Green & Black (70g)
1 & 1/2 teaspoons baking powder
1 & 1/2 teaspoons bicarbonate of soda
1 teaspoon salt
2 eggs (medium)
1 cup milk (195 ml)
1/2 cup vegetable oil (85 ml)
2 teaspoons vanilla extract
1 cup boiling water (200 ml)
and …
1 tablespoon instant coffee granules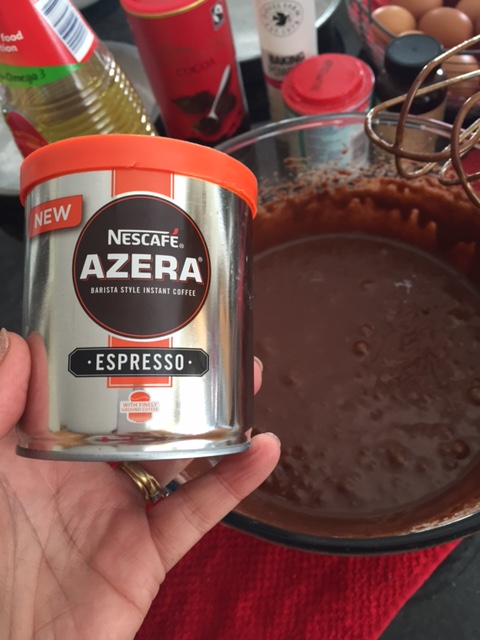 Best flavour!
Method:
In a large bowl mix together the sugar, flour, cocoa, baking powder, baking soda and salt. You might need to sieve the cocoa first if it's very lumpy. Mix these dry ingredients well to combine properly. It makes a difference to do these stages properly.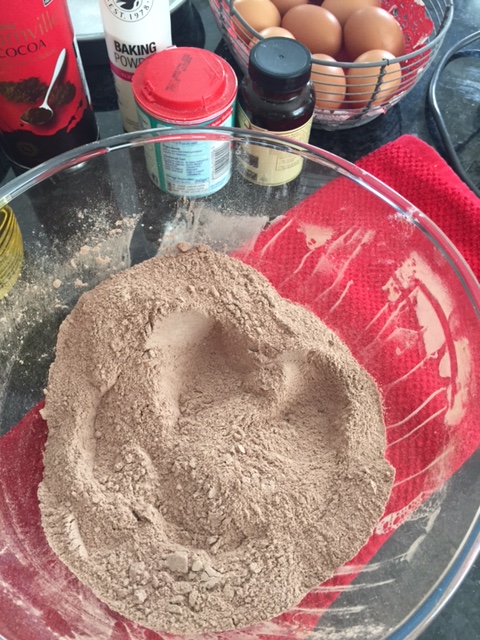 Mix together in a large jug or small bowl, the eggs, milk, oil and vanilla; whisk for about 2 minutes.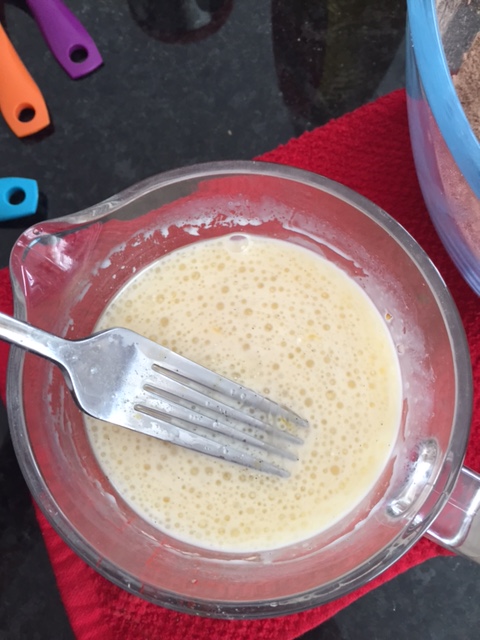 Mix these wet ingredients into the dry ingredients. Then blend the coffee granules with boiling water and stir in (batter will be thin)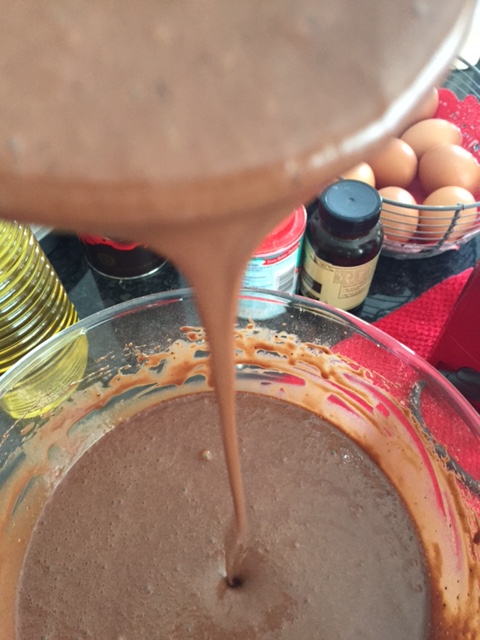 Just to show you how thin and runny the finished batter looks. Don't worry, it's supposed to be like this 🙂
Pour batter into prepared tins. Bake 35 to 40 minutes or until wooden pick inserted in center comes out clean. If you're oven is hot, check after about 30 mins as you don't want it to over bake. This cake should have a moist and almost sticky texture. Cool in tins for 10 minutes – this is important. If you try to remove them before this, they will stick! Remove from tins to wire racks. Cool completely.
Recipe for Chocolate Frosting:
90g unsalted butter
60g cocoa powder (sifted)
325g icing sugar
80/85 ml milk (you will need to check consistency and add more if needed)
1 teaspoon vanilla extract
1/2 tsp salt
Melt the butter gently in a large saucepan. Remove from the heat. Stir in sifted cocoa and salt. Alternately, add the icing sugar and milk, beating to spreading consistency. I know it seems like it won't work, but I found the 80ml of milk was perfect. It is important to add alternately as this helps to get the right consistency. If you need, you can add a little extra milk.
Add in the vanilla essence and mix well.
Once your cakes are completely cold, place one on a serving plate. Spread some of the chocolate frosting with a palette knife and if you want, add your chosen berries at this stage. Gently place the second sponge on top (upside down so you get a nice flat surface) and spread the remainder of the frosting on top. You have enough to use on the sides if you want. Decorate as desired.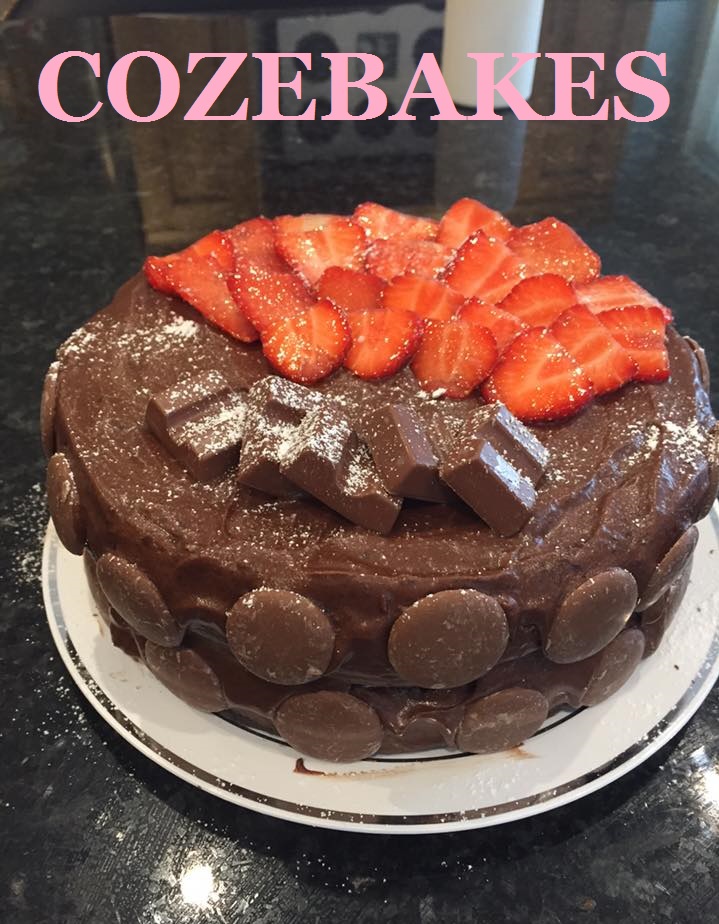 Remember to bake with love!
Soraya x