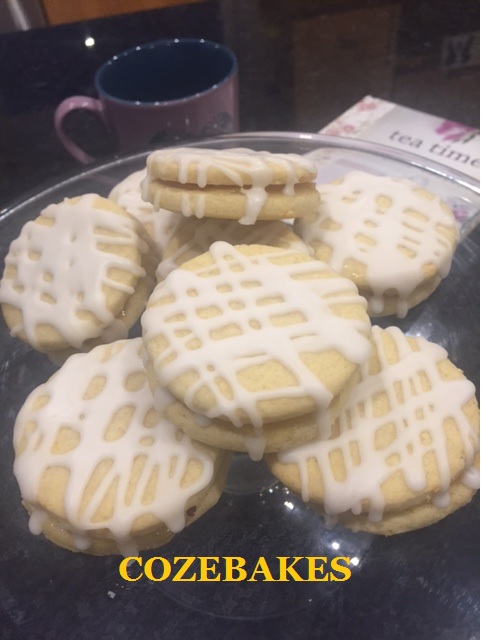 These gorgeous little bites of lemon heaven are very simple to make but do make sure to leave them chill in the fridge for 30 mins before baking. The only other thing to remember is to try and buy or make really good quality lemon curd to fill them. You need that sharp and lemony bite to make all the difference.
I put them back into the fridge after making them to set the icing and so the lemon curd would take a hold of the biscuits and not slide off. They were pretty delicious cold too! The recipe called for the zest of 2 lemons and to use only one in the batter and the other to decorate the biscuits but I added the zest of both to the batter as you're coating them with a lemon icing and there is no such thing as too much lemon 😉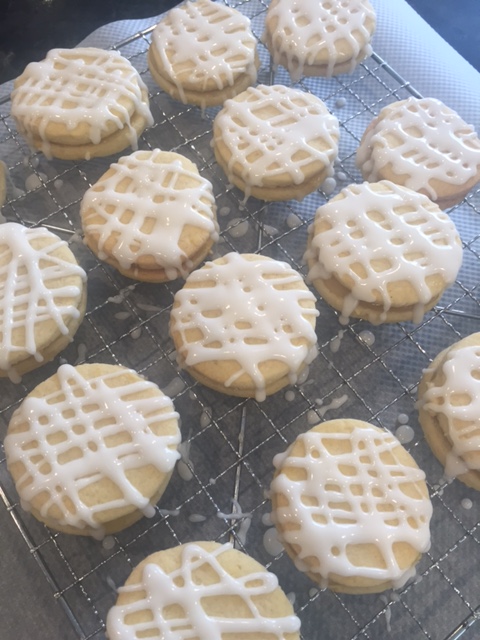 Don't preheat the oven until you put the trays of cut out biscuits into the fridge.
Line two baking sheets with baking parchment and leave aside.
Ingredients:
200g soft butter
140g caster sugar
1 egg yolk (large egg)
1 tsp vanilla extract
zest of 2 lemons, the juice of 1 lemon
300g plain flour (you will need extra for rolling out)
1/2 jar of good quality lemon curd
140g icing sugar
Method:
With a wooden spoon, stir together the soft butter, sugar, egg yolk, vanilla extract and zest of 2 lemons.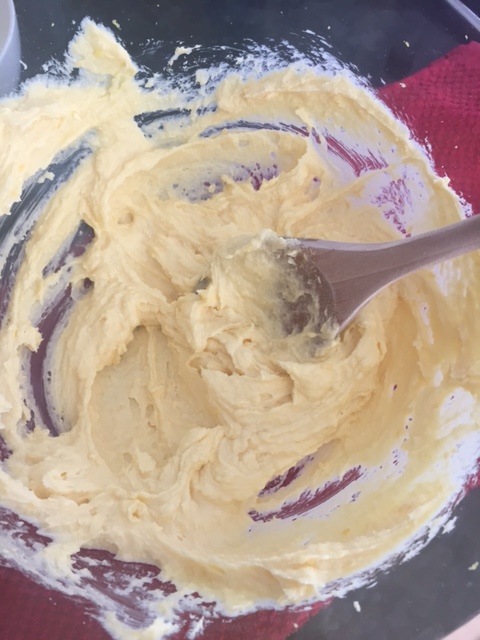 Stir in the flour. You might need to use your hands but I added it in two lots and made sure to get any extra flour on the bottom of the bowl. It will look like this.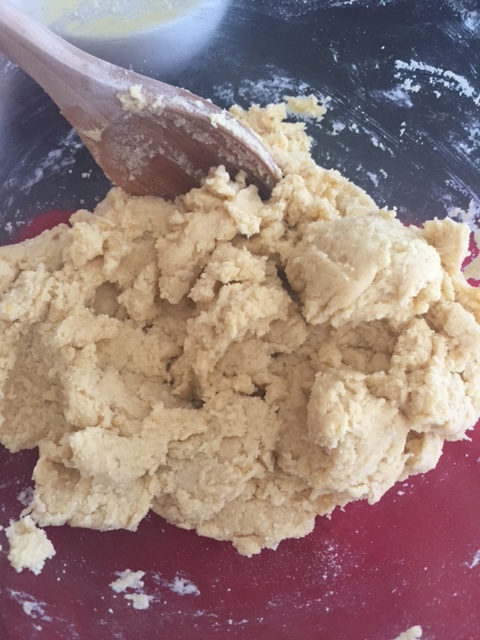 Tip out on a floured surface and bring together into a smooth dough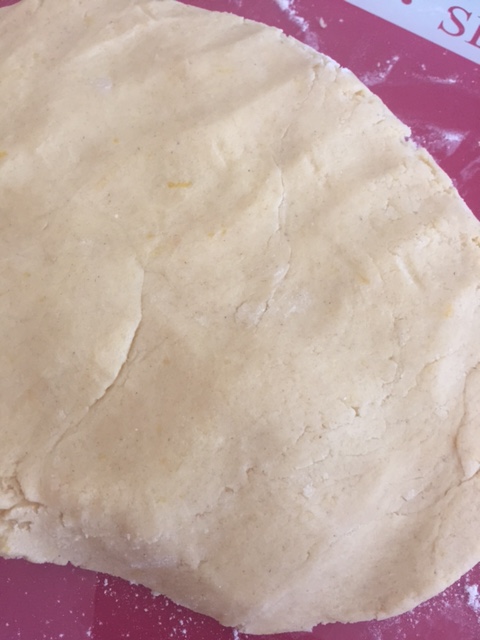 Split it in two and roll out a half at a time to about this thickness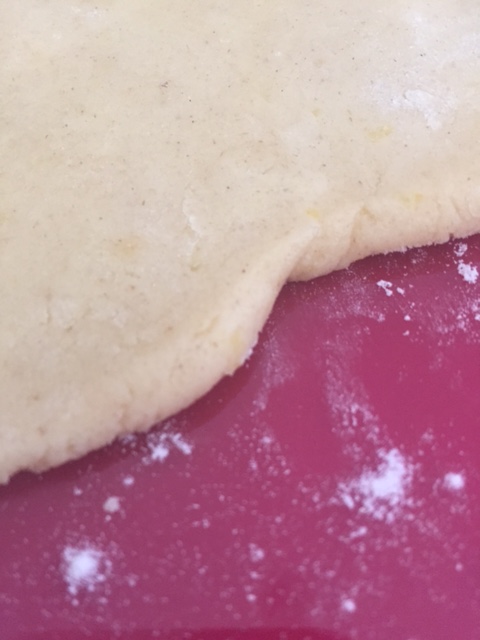 Stamp out rounds of about 5cm or 6cm depending on what size biscuits you want and keep re-rolling until you use up all the trimmings. I used a 6cm cutter and got 30 rounds to make 15 biscuits. Place these cut out rounds on the lined baking sheets, cover with cling film and chill for 30 mins. I'd advise you use a palette knife to lift them so you don't get fingers prints all over the cut out rounds (learnt by my mistake!) You can turn on your oven now to 200C or 180C for Fan Oven.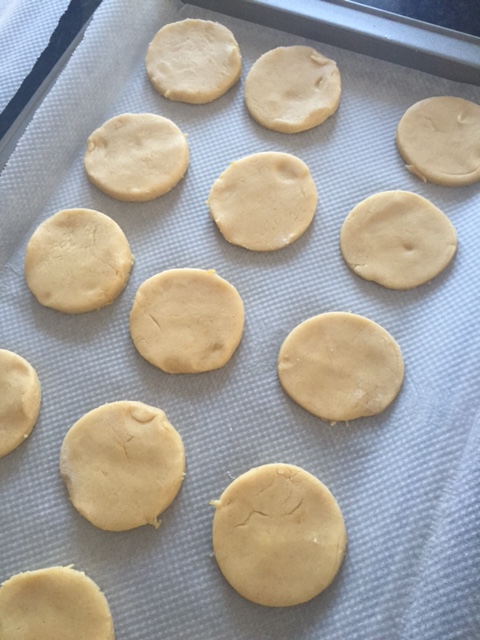 They don't spread so this is how they will turn out after baking.
Once chilled, bake in the preheated oven for 8 to 12 mins. You want them a pale gold colour. Cool on the trays. Once cooled, spread half of the biscuits with a little lemon curd (don't be tempted to spread a lot on as the lemon curd will overtake the taste of the biscuits). Top each of them with a second biscuit. Try to match up sizes as evenly as possible.
Arrange the biscuits on a wire rack sitting over parchment. Mix enough of the lemon juice into the icing sugar to make a runny consistency. I used 3/4 of the juice from 1 lemon to get this. I placed the icing into a zip lock bag, snipped the corner off and drizzled the icing over the biscuits in a zig zag pattern.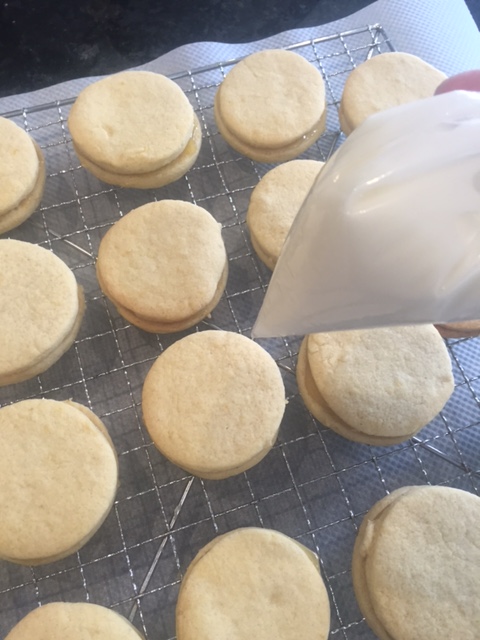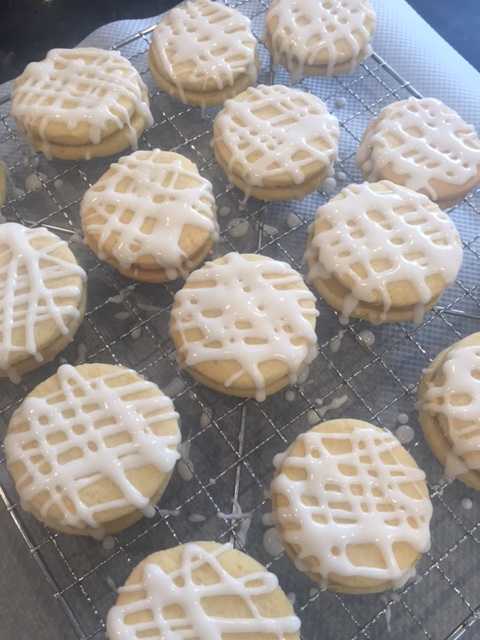 You can scatter a bit of lemon zest over the biscuits or leave as they are. I would advise you leave them to set before you eat them. I popped my tray back into the fridge to let them set and the lemon curd and biscuits gel together. Then keep them in an airtight container.
I used a square cutter (7cm) just for a change: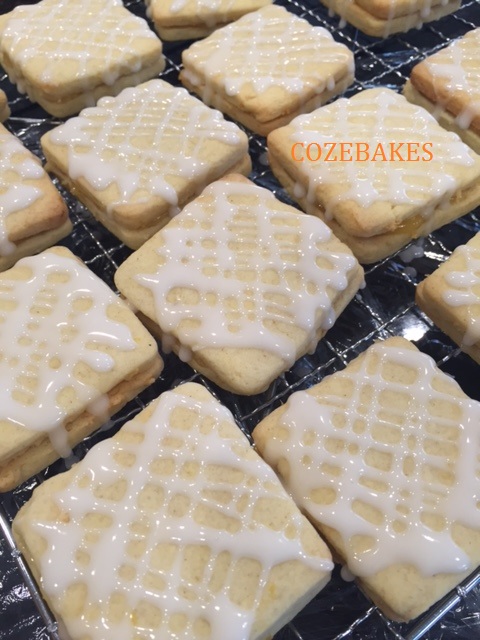 You can also choose a pretty cutter and cut out biscuit shapes without using the lemon glaze. They are still delicious with a lovely lemon flavor and perfect for someone who prefers less sweet treats.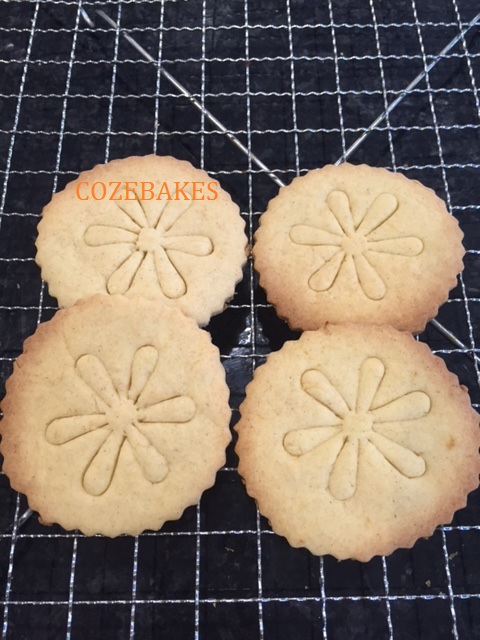 Remember to bake with love
Soraya x