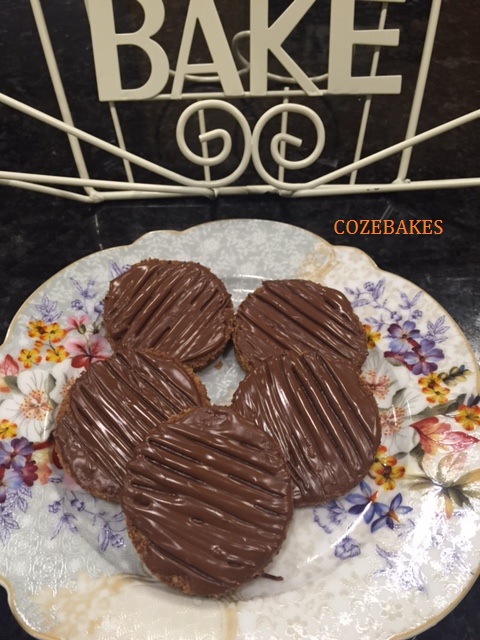 Homemade digestive biscuits are so rustic, so tasty and practically healthy with their wholemeal flour, oats and wheat germ, that having one or two with your cup of tea seems almost a good thing! There is very little sugar added to this recipe so really, compared to the shop bought, very sweet digestive biscuit, these soar way above and are most definitely worth making. They don't have that very sweet taste the processed ones tend to which is refreshing!
I used milk chocolate to cover mine but if you prefer dark chocolate, then by all means go ahead and use that. I made a batch and they were gone in quick time. Try them …. go on …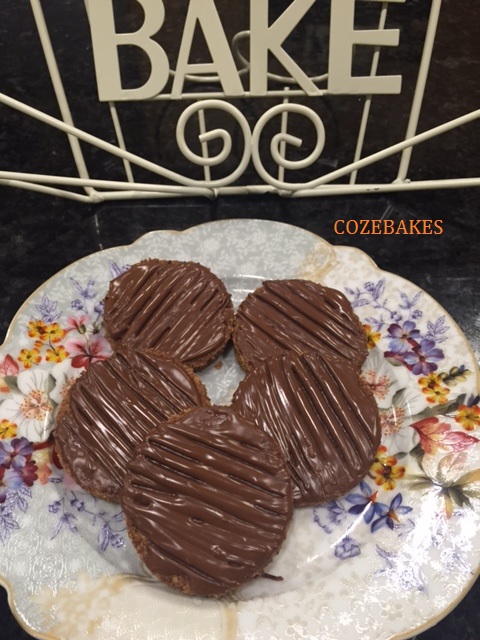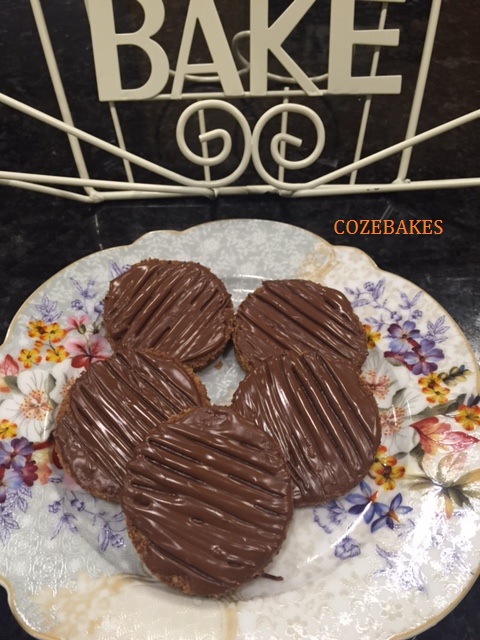 You should get at least 20 – 25 biscuits using a 6cm cutter and remember to use the cut offs to get every last one you can. If you prefer smaller bites, use a 4cm cutter.
For Valentine's Day, I made heart shaped ones and got lots from this mix. They were decorated with Freeze Dried Raspberries.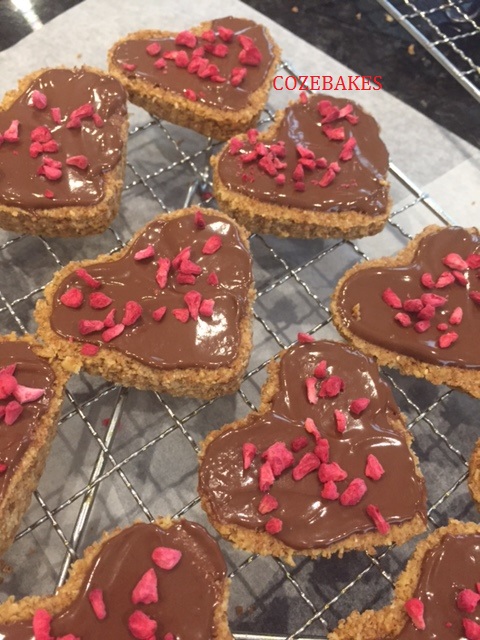 Preheat oven to 180C / 160C Fan / Gas 4 and line two baking sheets with non stick baking paper.
Ingredients:
250g plain wholemeal flour (I used spelt wholemeal flour)
50g oatmeal or oats
40g wheat germ (I have used oat bran too)
1/2 tsp bicarbonate of soda
1/2 tsp salt
60g light brown sugar (I used raw cane sugar)
125g unsalted butter, cold **
5 tbsp. milk (you can use semi skinned)
100g chocolate of your choice to coat
** If you don't have unsalted butter, use plain butter and omit the salt
Method:
Put the flour, oats, wheat germ, bicarbonate of soda, salt and sugar into a bowl and mix well.
Grate the cold butter into the dry ingredients and use your fingertips to combine well until the mixture looks like breadcrumbs.
Add the milk a little at a time, mixing with your hands between each addition. I added 3 tablespoons first and then one more. Another half and it seemed perfect. You don't want the mixture to be crumbly.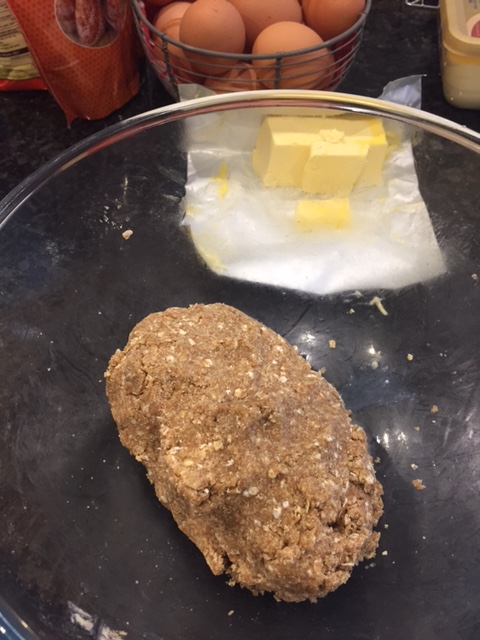 Divide the dough into two flat discs and put one between two sheets of cling film. Use a rolling pin to get a thickness of about 3 mm.
Remove the top layer of cling film and use your chosen cutter to cut out circles or whatever shape you fancy. Put them on the baking tray giving them some space. Keep repeating the process until you have used up all the dough.
Use a skewer to pierce the biscuits all around the edges. You need to do this to help the biscuits bake evenly and it doesn't hurt that it looks nice too 🙂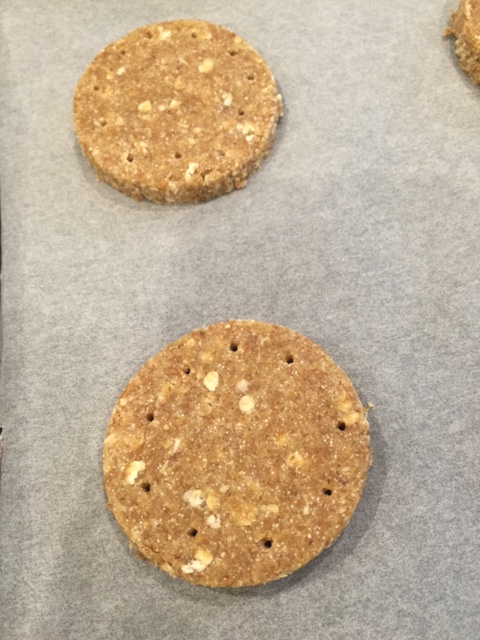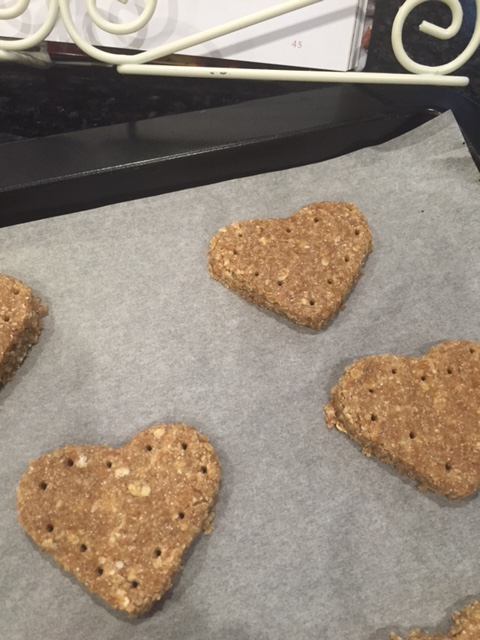 Bake in the preheated oven for about 25 mins but check after about 20/22 that the edges are not burning. They should look dry on top and be light golden in colour. Leave them to firm up on the trays for about 10 mins before moving to a wire rack to cool completely.
Once they are cold, melt the chocolate. Turn your biscuits over to the flat side and put a teaspoon of melted chocolate on each one and spread with a palette knife to cover the surface. Leave to set for at least an hour. You can use a fork after about 20/25 mins to draw waves on them for a nice pattern.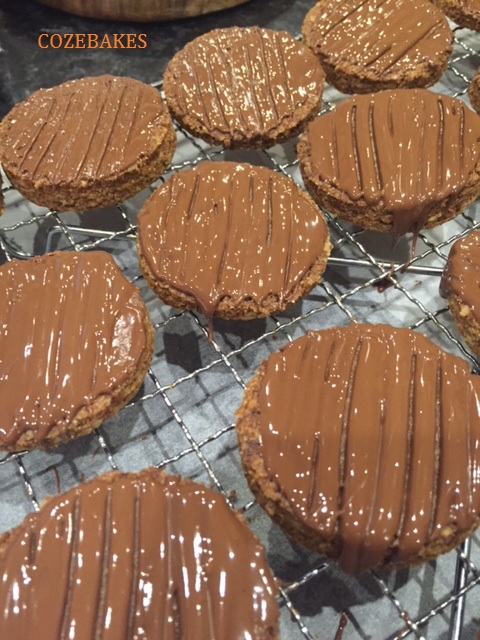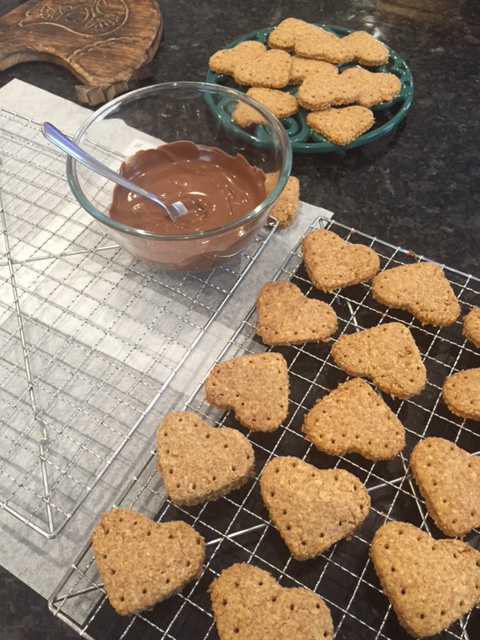 Bake with love
Soraya x