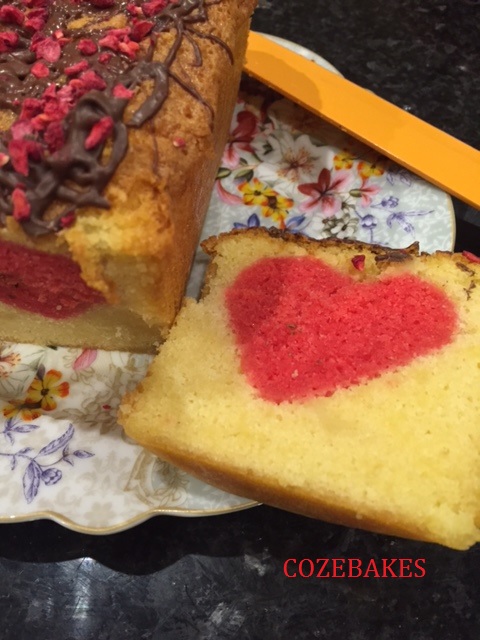 Soooo I've been looking at this cake for over a year now and really wanted to make it. The problem I had is the person I wanted to make it for is coeliac so I had to find a recipe that was gluten free and would work in holding up the style of cake. After a couple of attempts, I found a good one and it worked! I was so pleased with how it turned out that I sort of glowed happily for a while 😉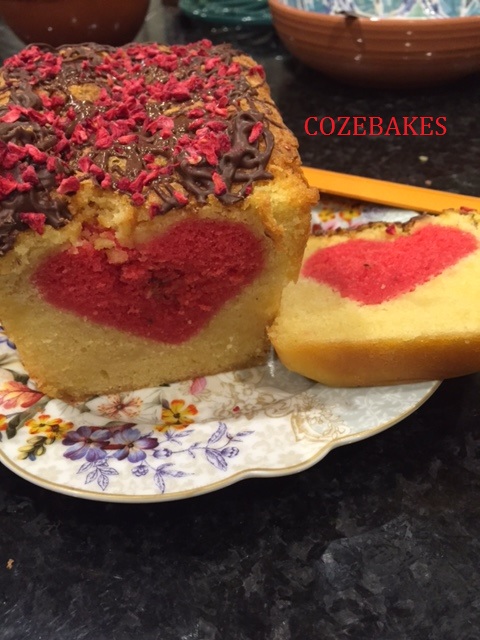 With this cake, it's not particularly difficult but it does take time. If you want, you can make it over two days. The issue is that each cake takes 65 – 75 mins to bake and can't be made at the same time so plan ahead for this but otherwise, it's so simple that it's definitely worth trying to impress your loved ones.
Regarding the gluten free option, please follow the method exactly as I have them written or it might not work out for you and then you'll be upset with me 🙁
I made the cake in a l lb loaf tin. Unless you have a large crowd, I think it works beautifully but you can double up the recipe if you need to use a 2lb tin. There is a bit of leftover cake from the pink one so I've given you a little idea at the end of the recipe on how to use these up.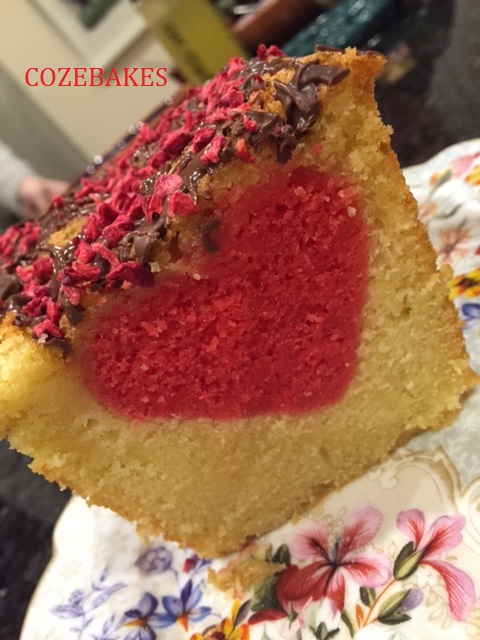 For the standard sponge cake:
100g soft butter x 2
100g caster sugar x 2
2 eggs, x 2
150g plain flour x 2
1 tsp baking powder x 2
50ml milk x 2
Red food colouring
100g chocolate melted for topping (optional)
Method:
Preheat oven to 180C / 160C Fan / Gas 4. Grease and flour a 1lb loaf tin or use a pre cut liner.
Cream together the butter and sugar till it's light and fluffy. Add in the eggs one at a time and beat well after each addition.
In a small bowl, mix the flour and baking powder and stir this dry mix into the wet one alternatively with the milk.
Use gel colour if you can and add a bit at a time to get the shade you want. I find a toothpick or skewer handy for this rather than trying to drop it in.
Put the mix into the prepared tin and bake for approximately 55 / 60 minutes. Test with a skewer and if it comes out clean, then it's done. Leave it to cool for at least 10 minutes before moving to a wire rack to cool completely.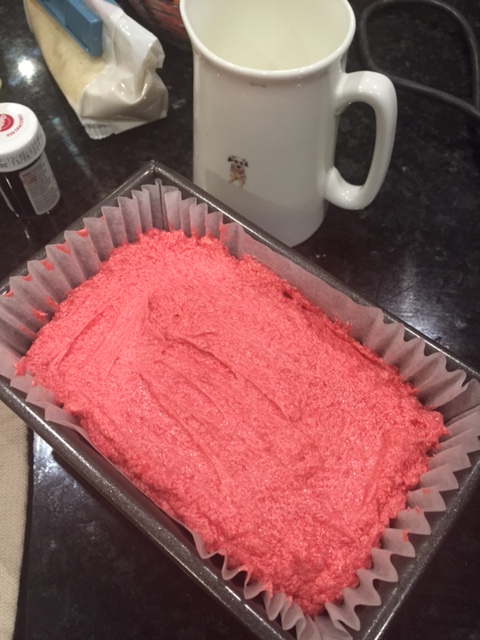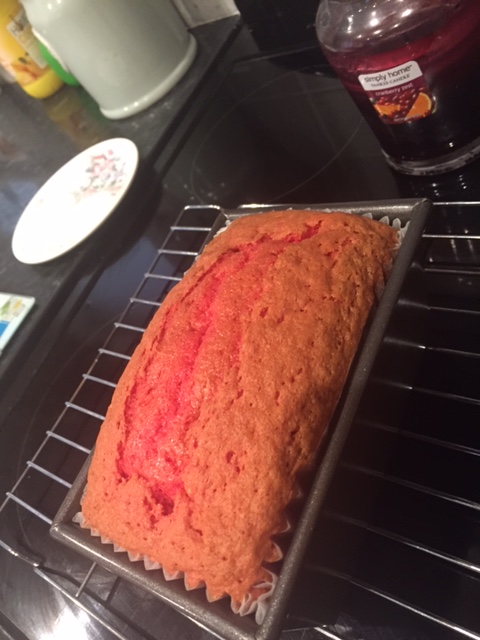 Next step is to prepare the recipe again as above but leave out the gel colouring.
Cut the cooled, coloured cake into about 7 slices that will fit your heart cutter.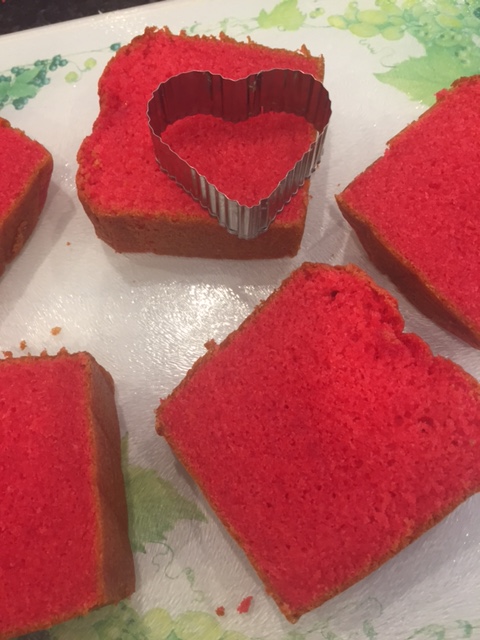 Press out the hearts from the red cake and set aside. Put about 1/3 of the plain mix into the bottom of the prepared tin and if you can, put some on the sides, front and back of the tin too.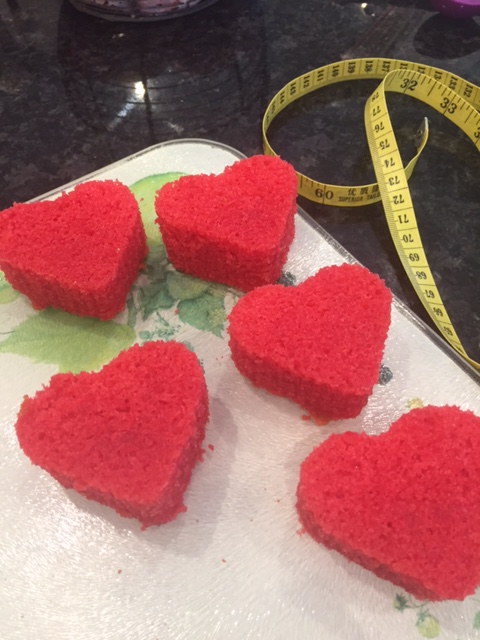 Arrange the pink hearts closely together in a row on top of the 1/3 of plain mix and fill the rest of the pan with the remainder of the plain mix so everything is covered and you can't see the hearts.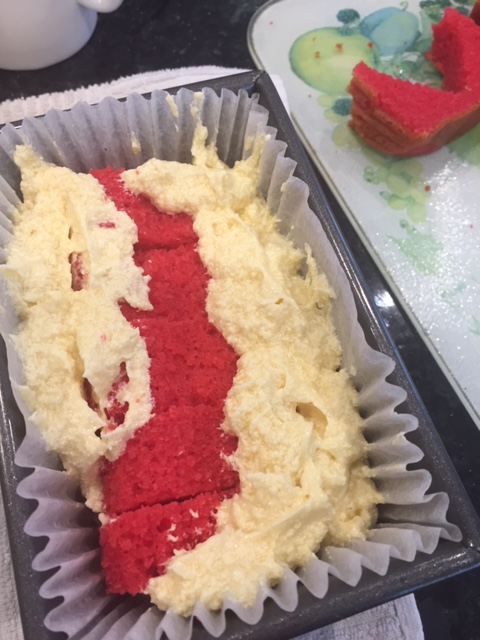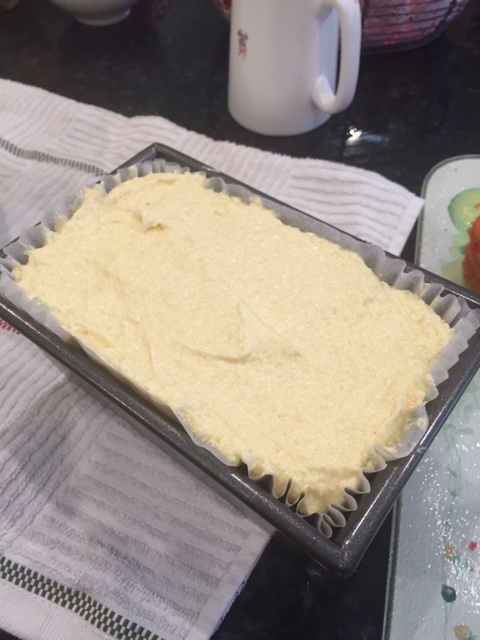 Bake again for 50 / 60 minutes and again, cool in the tin before removing. If you like, melt 100g of chocolate and pour over the cooled cake. Decorate with freeze dried raspberries if you like or if cake is to be eaten within a couple of hours, out some thin slices of strawberries and/or raspberries on top.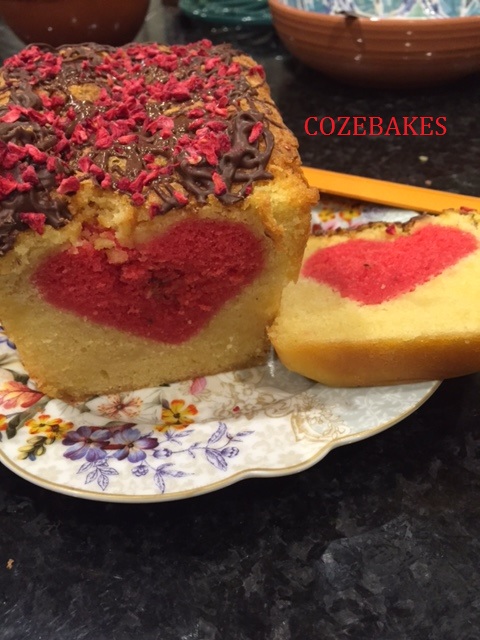 Enjoy every heart filled slice x
For the Gluten Free Cake:
Line a lb loaf tin with parchment or use a pre cut liner. Preheat oven to 170C / 150C Fan / Gas 3
150g unsalted butter, softened x 2
150g caster sugar x 2
2 tbsp. ground almonds
3 eggs
100g gluten free self raising flour
2 tbsp. milk
Method:
Beat the butter and caster sugar together well until really light and fluffy.
Beat in one of the eggs.
Add in the ground almonds and beat again.
Beat in the remaining eggs, one at a time, mixing well after each one.
Sieve in the flour and mix with a large metal spoon adding the milk to get a nice, sloppy consistency.
As with the standard cake, here you add your gel colour till you get the desired shade. Put into the prepared tin and bake for 65 – 75 mins until a skewer pushed in the center comes out clean. Leave in the tin for a good 10 mins and then transfer to a wire rack to cool completely.
As above method, repeat the cake recipe again and leave out the coloured gel. Use your chosen cutter to cut out shapes from the coloured cake and follow the method above to create the line of hearts. Cover completely and bake till skewer comes out clean.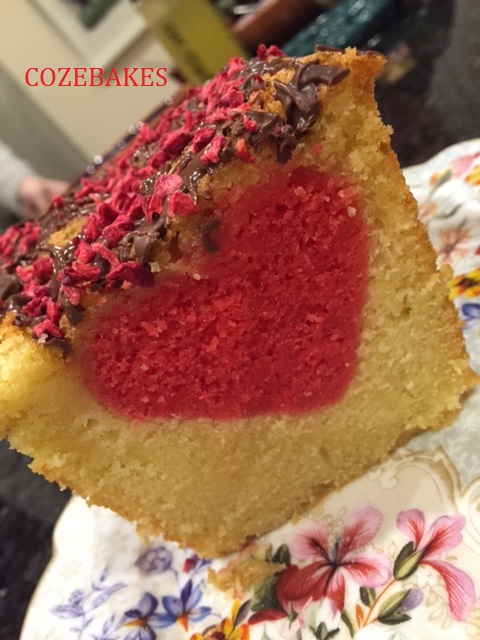 Baked with lots of love
Soraya x
Here's an idea to use up the leftover cake from the pink one. There is a good bit left so either freeze it or you can make Hidden Heart Cupcakes. You can of course use any cutter you like so let the kids have a go.
At another time you can use the leftover cake pieces for trifle, cake pops, roll into balls and cover with fondant, icing, etc.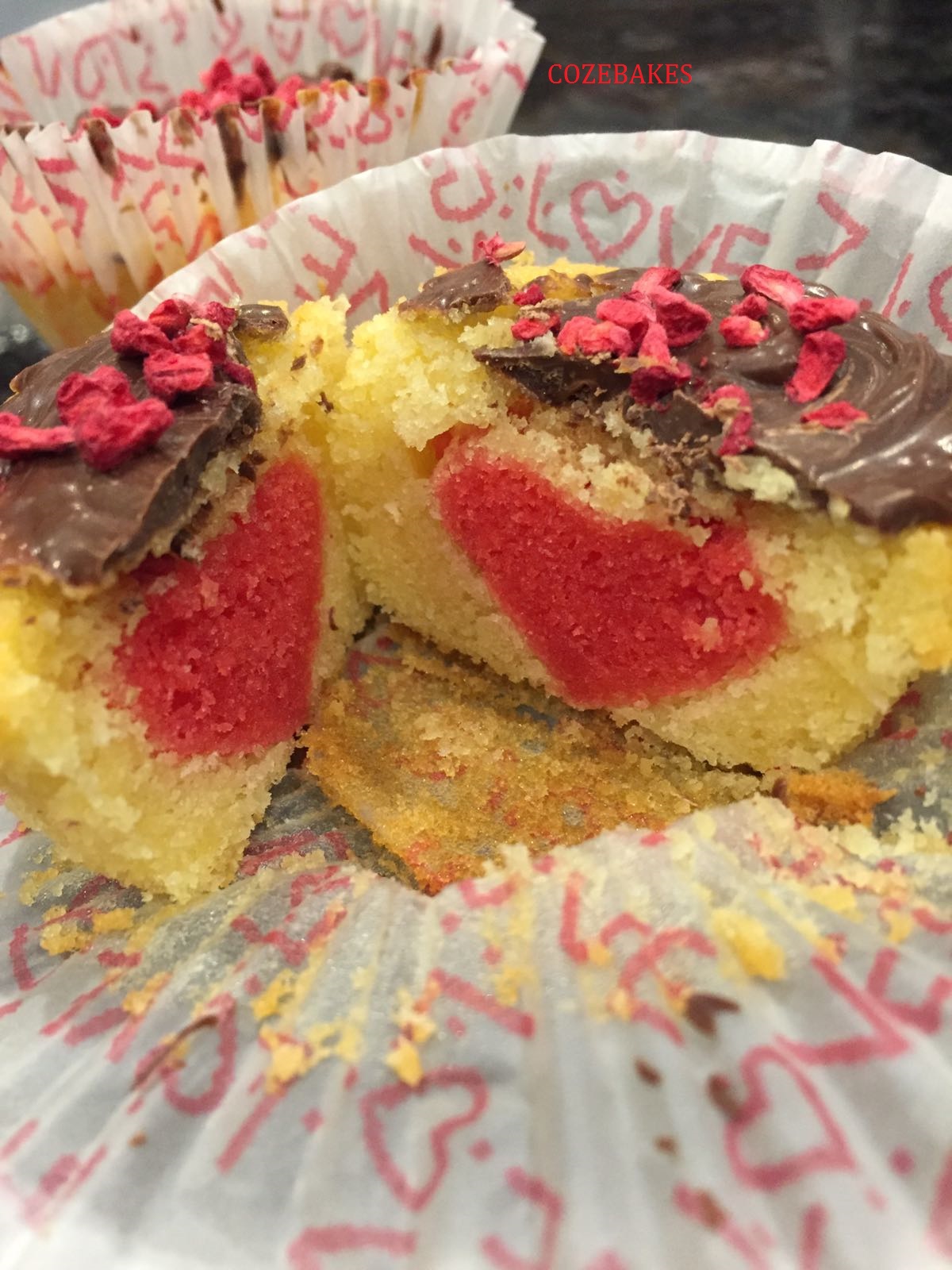 I made up one batch of the recipe and filled the bottom of 6 cupcake cases with some batter. I then cut out smaller heart shapes from the leftovers and placed one heart on each base. Then I filled around each heart with the remainder of the batter till you couldn't see the pink heart any longer. They took about 20/25 mins to bake. Perfect little bite sized Valentine treats!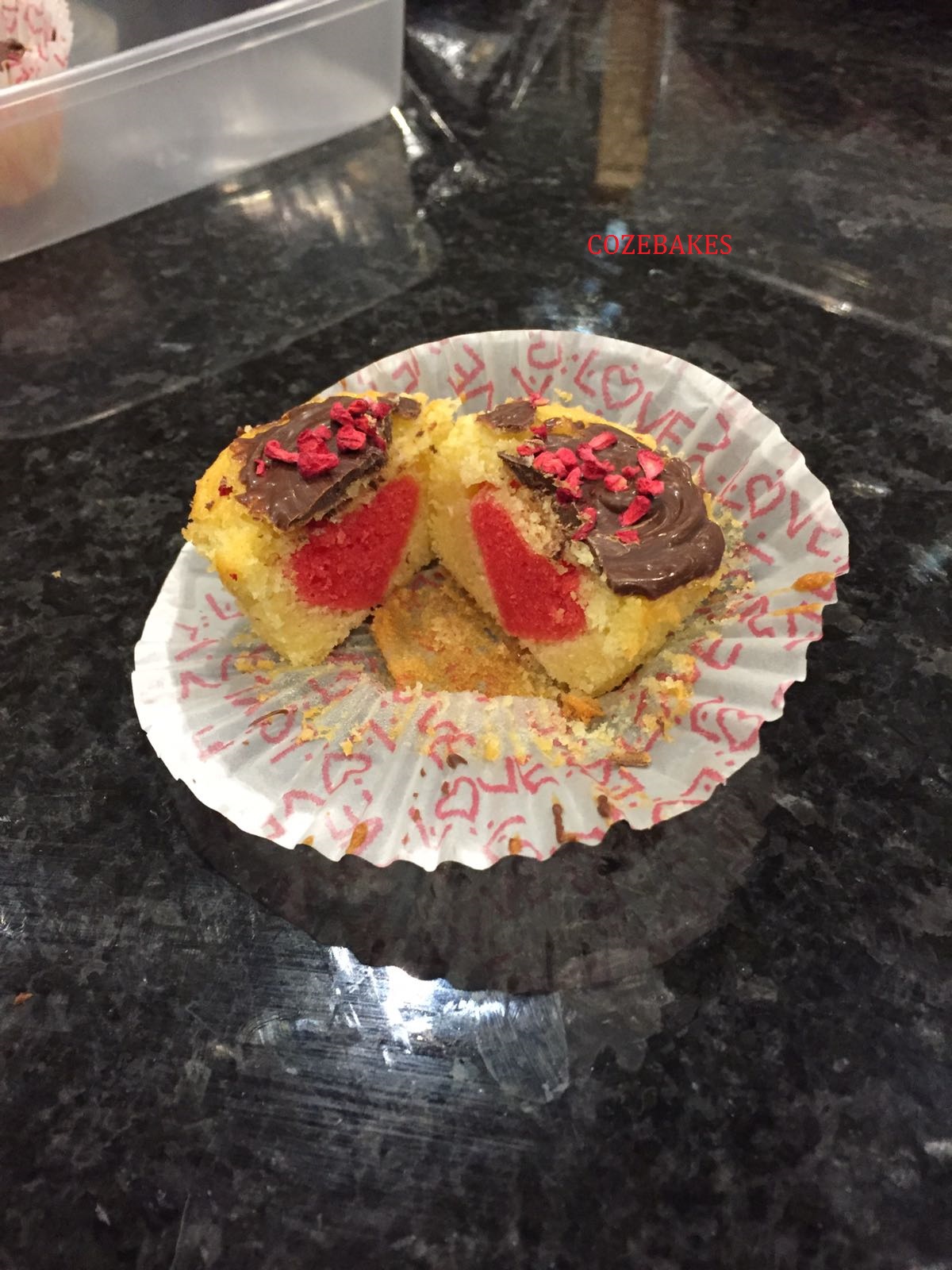 Soraya x