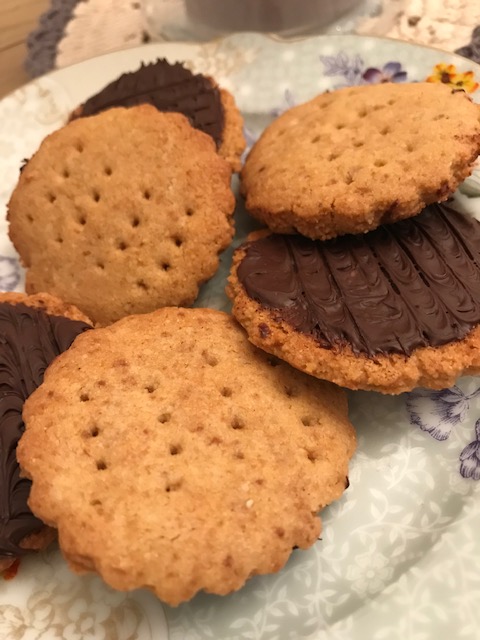 I regularly make my Chocolate Digestive recipe and they are always a big hit. They're really good and recently made another batch and as they cooled, my husband walked into the kitchen and said the smell was great and could he have them? He's a coeliac and I felt really bad having to say no, these are not for you 🙁
So the hunt began to find a workable recipe for gluten free digestive biscuits and this is a combination of two I found and together, they worked perfectly. I also like that the ingredients were ones most coeliacs or gluten intolerant bakers would have at home. You will find this recipe along with some other great biscuit and cookie recipes in my Gluten Free Baking from the Heart Recipe Book (available here) 
There was one ingredient that did surprise me – Chinese Five Spice! Yep I know it gives a little heat at the back of the throat. Perfect! You can smell the spice while the biscuits are baking but it's not identifiable once baked. You could replace the Chinese Five Spice with some Mixed Spice if you prefer.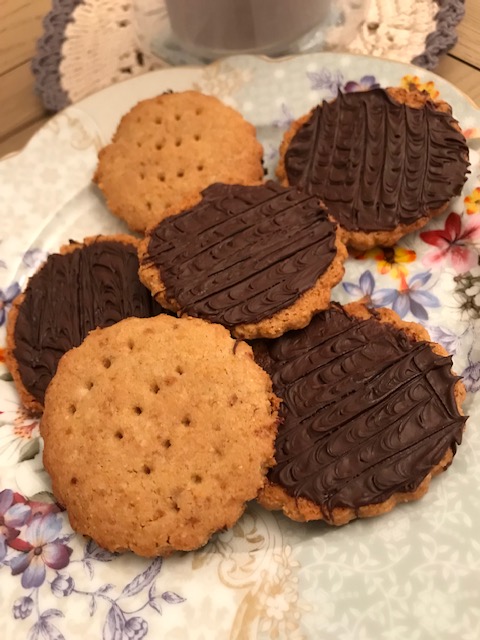 Did I mention that I turned them into Chocolate Digestives? Well what else would I do?! 😉 I used a combination of GF/DF dark and milk chocolate.
You will need to put the dough into the fridge for at least 10 minutes but if you can, I would leave it for about 15/20 minutes. The dough is sticky and could be hard to work with otherwise. Also as you're working with gluten free flour, make these biscuits smaller than you would regular Digestives. It's much easier to work with the smaller cutters for these. This is the size difference with regular and gluten free ones below.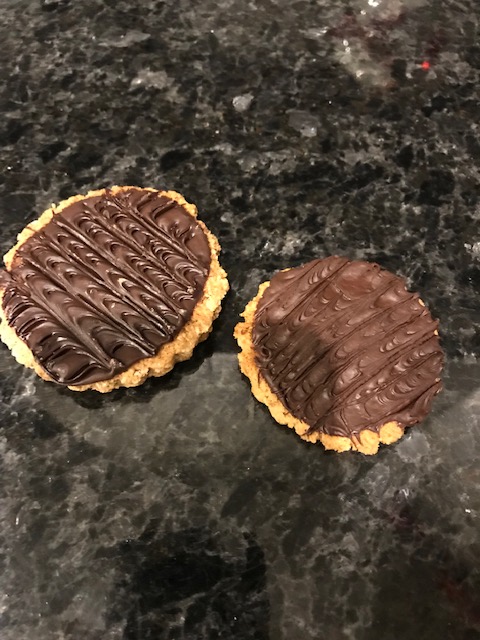 I found the gluten free versions didn't stay as crispy as the regular ones. This is probably due to the combination of ground almonds and polenta but it didn't take away from the enjoyment. From the 2nd day after baking, the GF versions will start to become softer but there were no complaints! Afterwards I did wonder was it because someone kept dipping into the biscuits and not putting the lid back properly???
Ingredients:
50g GF Rice Flour
25g Ground Almonds
25g GF Polenta (the Biona brand is GF)
Pinch of Salt
1/2 tsp GF Baking Powder
20g Soft Brown Sugar or Coconut Sugar
25g Butter at room temperature (use Dairy Free if necessary)
1/4 tsp Chinese Five Spice (see above Note)
1 tbsp Maple or Golden Syrup (you can sub Agave or Date Syrup)
1 tbsp Milk to bind (use Dairy Free milk if necessary)
Method:
Prepare a baking tray, lined with parchment. Don't turn oven on until after cutting out the biscuit shapes.
In a large bowl, mix all the dry ingredients together. I use a whisk to remove any small lumps.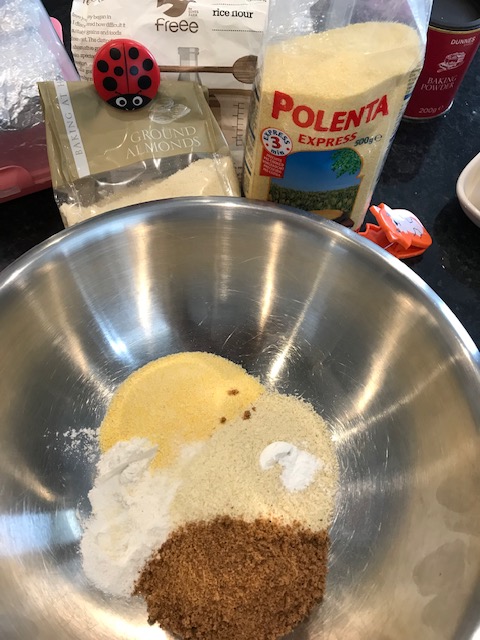 Next rub in the butter, the way you would when making pastry. Next add the maple syrup and some milk to form a stiff dough. I didn't add all the milk at once, just a bit at a time so you don't end up with the dough too soggy. Use a palette knife to bring together and finish using your hands to form a soft dough.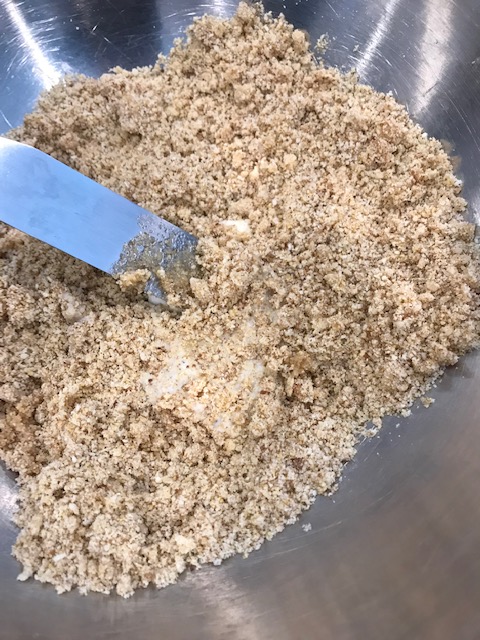 You will have a relatively sticky dough which will work well between two sheets of cling film or a plastic wrap of your choice.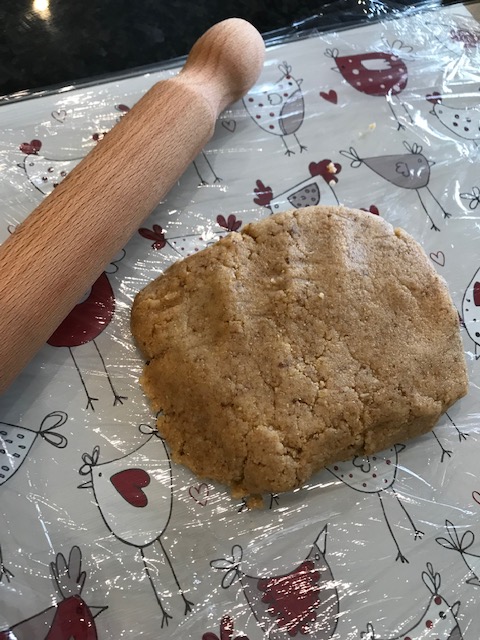 Roll out the dough between the two sheets to about 3mm thickness and then place this, still in the plastic wrapping, into the fridge for a minimum of 10 minutes but no harm to leave it for between 15 – 20 minutes.
Remove from the fridge and take off the top layer of plastic covering and using a 6cm cutter, cut out biscuits and re-roll as needed (just put the plastic wrap back on top to roll again).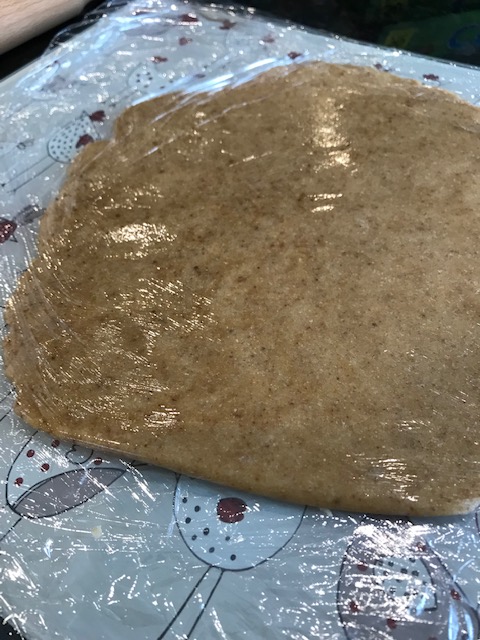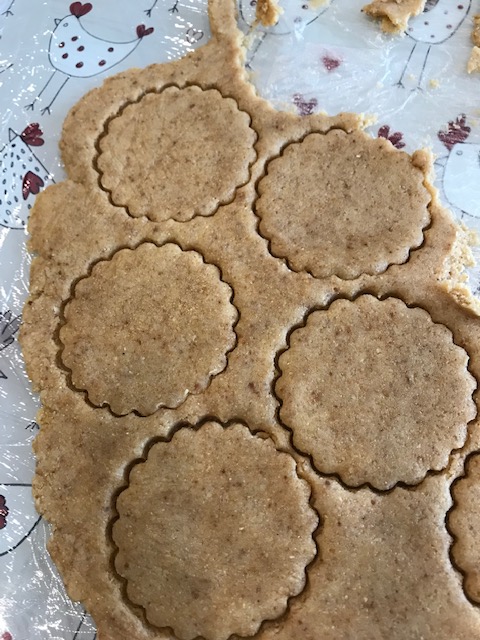 Use a wide palette knife to gently remove the cut out shapes to a lined baking tray. Use a fork to prick all over the biscuits and then pop them, on the tray, back into the fridge while your oven heats up. You will need to leave them in the fridge for a good 15 minutes.
Turn on oven now to 175C Fan to preheat. I set mine at 170C as it's very hot.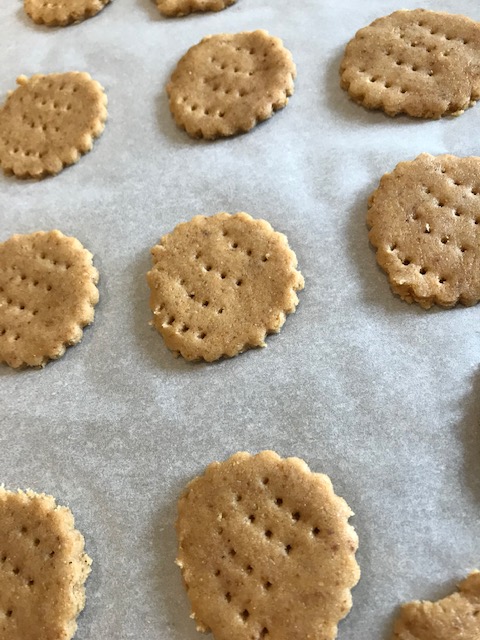 Once the time is up, remove from the fridge and place the baking trays into your preheated oven for about 8 – 10 minutes. They should be removed once the biscuits just start to colour.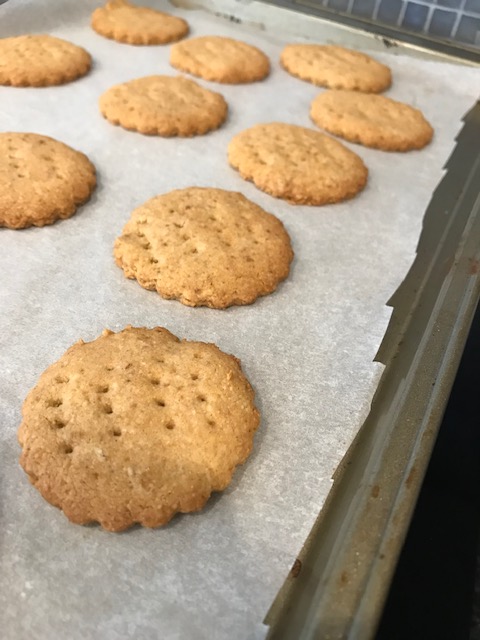 Use a palette knife to gently remove the baked biscuits from the baking tray to a wire rack to cool completely.
Melt the chocolate and once the biscuits were completely cooled, I used the back of a spoon to spread the melted chocolate over one side of each biscuit. Let set for about 10 mins then use a fork to draw lines over the chocolate.
I find dark chocolate works well as a contrast though these are not overly sweet. You can combine half milk and half dark if you like too. They were a really big hit and will definitely be made very soon again. I always leave some without the chocolate coating as I love a plain biscuit with a cup of tea.
Bake with love
Soraya x