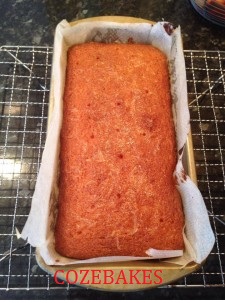 A lovely combination using both oranges and lemons instead of the traditional single lemon makes this a delicious tasting cake, perfect for zingy cake loving people like me. It's lovely to have with your cuppa but equally, can be dressed up as a gift to take for a friend. At the end of the video, I have some decoration suggestions you might like to try. (Link in main body)
The finishing touch is a sharp, sweet & tasty syrup and instead of adding it in the traditional way of heating first, this is simply mixed and drizzled over the cake, while it's still warm, to give it a slight crunch once it fully cools.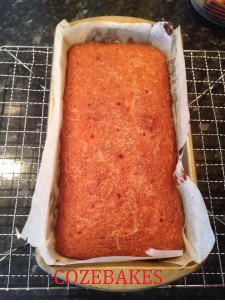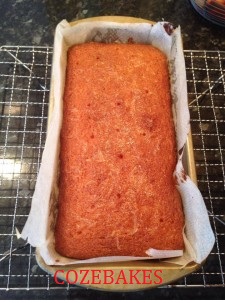 Here is a tutorial video showing how it's made – it takes approx 10 mins to prepare and about 45 mins baking. If you're new to baking or sometimes have problems with making a sponge cake, it might help to take a look at the method in the video before starting.
https://www.youtube.com/watch?v=-VQuc27S3NQ&feature=youtu.be
2lb / 900g loaf tin
Preheat oven to 180C / 350F / Gas Mark 4.
Grease and line the base and sides of the loaf tin with parchment paper leaving an overhang for easy removal once cooled
Ingredients:
175g butter, softened
175g caster sugar
2 eggs
Juice (for syrup) and finely grated zest of 1 lemon and 1 orange
50ml milk
175g self raising flour, sifted
100g granulated sugar (for syrup)
Method:
Cream the butter in a large bowl. Add the caster sugar and beat until light and fluffy.
Whisk the eggs together first for a little bit and then gradually add them to creamed mixture, beating all the time
Beat in the lemon and orange zest, followed by the milk.
Fold in the flour (see video for technique if you're unsure) until combined then place mixture into prepared tin. Bake for about 45 mins until golden on top and a skewer inserted in the centre comes out clean.
While the cake is cooking, pour lemon and orange juice into a bowl and mix in granulated sugar.
When the cake is ready, prick a few times and drizzle the sugary juice all over the cake allowing it to soak in.
Leave the cake to cool completely in the tin and carefully lift out with lining paper. Peel away paper and decorate as desired.
See video for decorating suggestions.
Bake with love. Soraya x