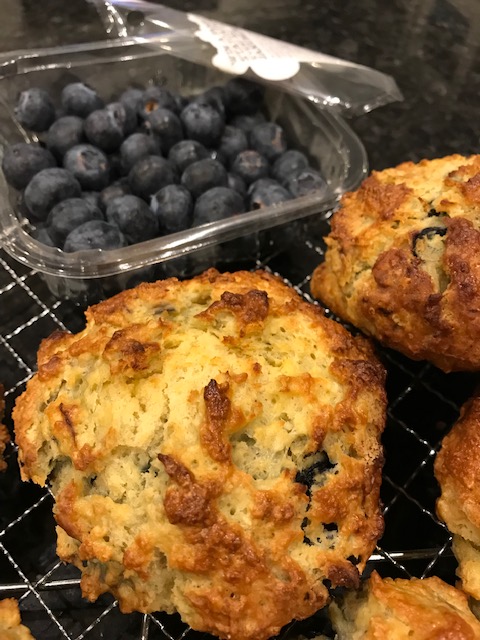 I've tried a few scone recipes and found this one and this method to be the most successful for me every time. Great big high scones are a pleasure to eat and this recipe is so easy to adapt so you can make different types of scones to suit your occasion.
Scones are really best eaten on the day they are made unless you freeze them and then you can pop them in a moderate oven for about 10 minutes to have lovely, fluffy perfect scones again. I've made the ones in the pictures here a Lemon flavoured scone with a Lemon Glaze but will give alternative flavour options for you to choose.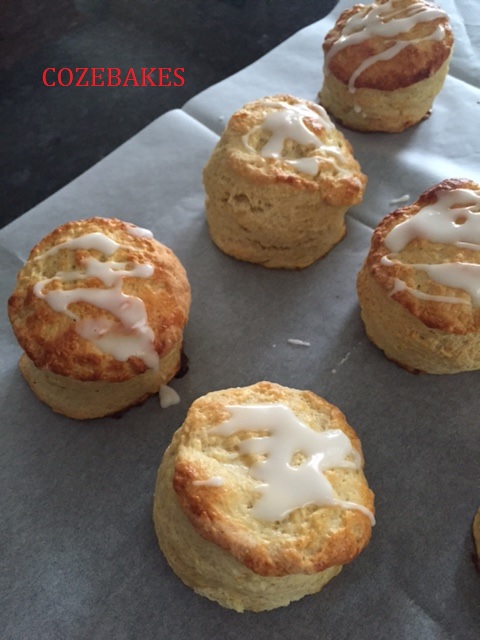 You will get 7 large scones from this recipe and one smaller one (cook's treat 🙂 ) or you can use smaller cutters and get maybe 9 or 10 but what's a scone if it's not a great height, fluffy and full of deliciousness?!
The trick with achieving the perfect scone is not to use all the liquid in the recipe, not to over handle the dough and to cut out the scone at the approximate height you want them to be. Even though you use self raising flour and baking powder, scones don't do a huge amount of rising compared to sponges so you need to cut them at a good height. You will see the picture below before they go into the oven to give you a good idea of height.
Ingredients:
450g self raising flour
2 teaspoons baking powder
105g butter, cubed
35g caster sugar (if you like your scones quite sweet, then add another 25g)
2 large eggs, beaten
255 ml buttermilk
For the Lemon Scones: Add the zest of 2 lemons to the dry mixture, 2 teaspoons of lemon juice and 1 teaspoon of lemon essence to the buttermilk & egg mixture.
For Fruit Scones: Add 100g sultanas, raisins or dried fruit of choice to the dried mix.
For Orange & Cranberry Scones: Add the zest of one large orange to the dried mix and the juice of the orange to the buttermilk and egg mixture
For Blueberry Healthy Scones: Replace 1/3 of the flour with wholemeal flour, use 25g of caster sugar or a sugar replacement such as Xylitol and add 100g of Blueberries
Method:
Preheat oven to 200C (fan) Gas 7 and line a baking sheet with non stick parchment.
Measure out the flour, baking powder and cubed butter into a bowl and rub with your fingertips until the mix looks like breadcrumbs. Use your fingertips, not hands when doing this. You can also use a pastry blender.
At this stage, stir in the sugar and you can add the zest, dried fruit, etc., of your choice.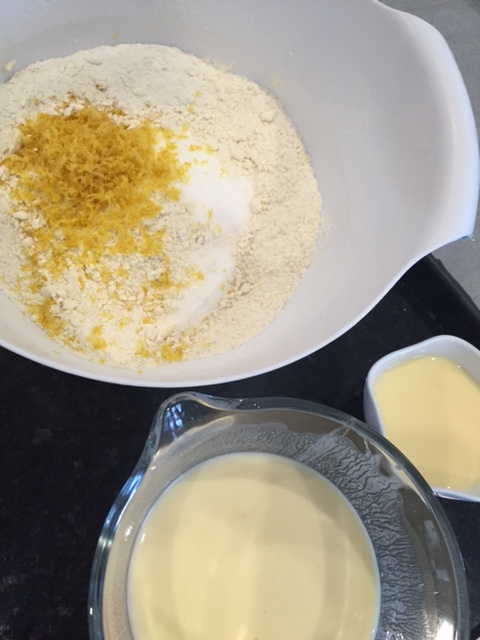 In a jug, mix the eggs and buttermilk together and pour about 3/4 into the dried mixture. If you're using lemon or orange juice, add this to the egg and buttermilk mix.
You can use a wooden spoon to start mixing but then use your hands to bring it all together. Don't be tempted to add all the liquid at one go or it will result in too wet a dough and then you will have to add extra flour to get the right consistency which will then make your scones heavy. You are looking for a fairly moist but not wet mix. Keep the rest of the liquid for brushing the tops.
Lightly dust your worktop with flour and turn the dough out. Gently knead until it's smooth and soft. You will see and feel it turn this way. Use your hands to shape the dough about 6cm high.
Using a cutter of 7cm (large scones) or 6cm, stamp out scones. As you cut down, don't twist. Simply press down and lift the cutter up. It helps to keep some flour on a saucer next to you and dip the cutter into this before stamping out each scone.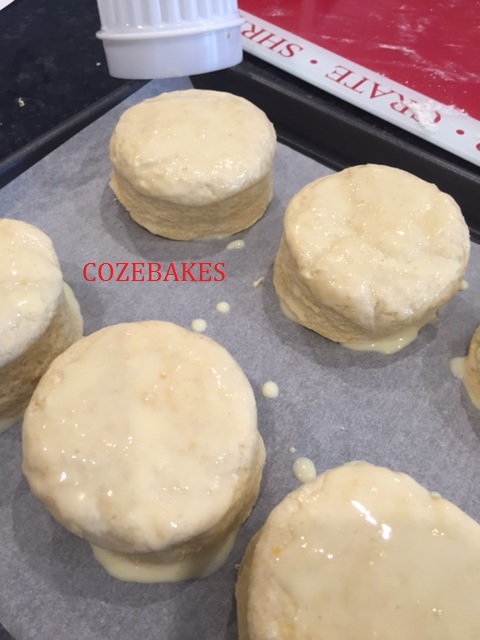 Once you have cut what you can, pull away the extra dough and using a palette knife, lift the cut out scone unto the parchment. Knead the remainder gently again and keep stamping out until you have used up all the dough.
If you want scones similar to the Blueberry ones, I used the a large cutter and once placed on the baking tray, used my fingers to lift tips around the scone. These give that "shop bought" look to your finished scone.
Brush the tops generously with the leftover buttermilk/egg mixture and bake for 12/15 minutes until they rise and are golden in colour. If you have bigger sizes, they may take the full 15/18 mins. Check with a skewer into the centre.
I mixed some icing sugar with lemon juice to make a glaze for these lemon flavoured scones. You can do the same with orange juice if you make the orange flavoured scone and either leave them plain or dust with icing sugar for a fruit or plain scone.
You can use cutters or cut them into wedges. Whatever works for you!
Full of comfort and baked with love
Soraya x