A traditional and well loved cake which never fails to please and is so versatile. It's elegant and can be as simple or fancy as you like. This gluten free version is so good it's impossible to tell the difference and I've put some serving options at the bottom of the page if you would like to try them.
If you're following a dairy free diet, this can be adapted also by a) replacing the margarine with dairy free spread, b) using almond or soya milk and c) dairy free cream for the filling. All are available in most supermarkets.
It will serve 8 to 10 and can be frozen without the cream. Sponge freezes so well.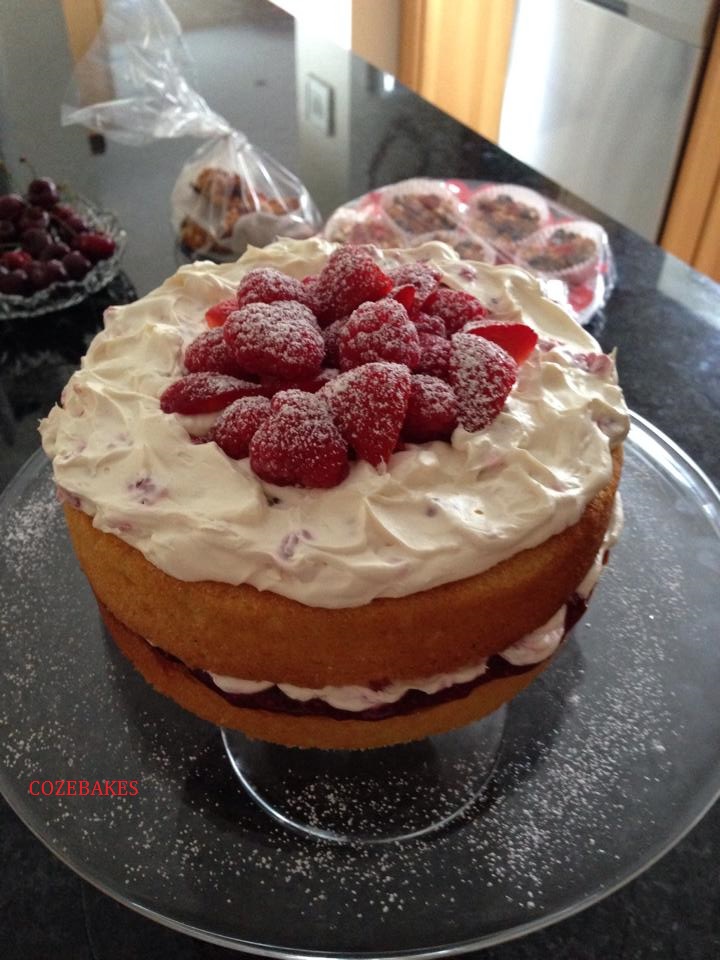 As I mentioned earlier, if you want to adapt this to dairy free, just use your preferred choices for the butter, milk and cream. The eggs are weighed in this recipe and it's important to do this as gluten free flour is very absorbent and needs the right amount of liquid for a good result.
Ingredients:
250g eggs (do weigh them – it's important – it took 2 large and 2 medium for mine)
1 tsp vanilla extract
2 tbsp. milk
250g margarine
250g caster sugar
225g wheat & gluten free self raising flour
1 tsp xanthan gum
1.5 tsp gluten free baking powder
30g ground almonds (this will keep the cake moist)
You will need two 20cm / 8″ sandwich tins.
Jam and cream for decorating
Method:
Preheat oven to 195C / 175C for fan / Gas 5. Grease the tins and line the bases with baking parchment.
Beat the eggs, vanilla and milk together with a fork in a small bowl. Use a hand held mixer and on a high setting to cream the margarine and sugar in a large bowl for about 3 minutes until it's light and fluffy and lighter in shade.
Gradually add the eggs, vanilla and milk mixture on a medium speed and mix well between each addition. Don't rush this stage.
Fold in the sifted flour, xanthan gum, baking powder and ground almonds using a large metal spoon.
Divide the mixture between the two sandwich tins and smooth the batter to the edges. I weigh the tins to make sure both cakes will be about same in size.
Bake for 20 minutes when the cakes will be golden and well risen and will spring back when touched. You should see the sponges will shrink from the sides of the tins when they are baked and ready.
Remove from the oven and cool in their tins for 10 minutes. Turn them on a wire rack to cool and leave the parchment bases on the cakes to prevent them from shrinking.
Once completely cool, place one cake on a serving plate and spread your chosen jam flavour evenly over the surface and then top with cream. Carefully place the other sponge on top and press down lightly to secure both. Dust with caster sugar to serve and see below for other serving options.
Serving ideas:
* For this one, I mixed fresh raspberries and icing sugar with the cream . I used raspberry jam for the filling with the raspberry cream and topped the cake with the same raspberry cream with a centre of strawberries and raspberries dusted with icing sugar.
* You can add the zest of a lemon to the margarine in step one and then add the zest of lemon to the cream for the filling with raspberries for the topping.
* Passion fruit is a great contrast with cream and can be used mixed with cream for the filling. Scoop out the passion fruit to decorate the top and dust with icing sugar.
* Use Lemon Curd as the filling and top with cream decorated with lemon strips.
Bake with love
Soraya x