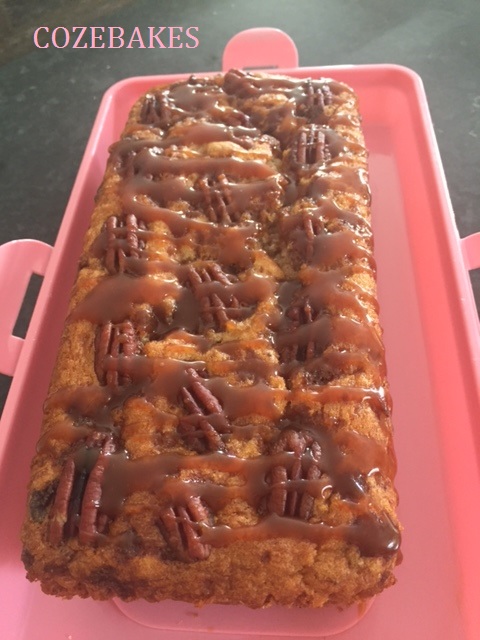 I love how versatile this recipe is and it's so easily adapted to suit your own personal taste. It's originally from BBC Good Food and I've made it with chocolate chips, with pecan pieces, walnut pieces and for a more decadent taste, with cut up dates. Just delicious!
If like me you prefer to reduce sugar quantities in your bakes, then make sure your bananas are really, really ripe – black actually as they will be so sweet that you can easily reduce the sugar content and it won't be noticed. The original recipe had a substantial sugar content and I found it extremely sweet so that the banana flavour was almost lost.
If you are looking for a gluten free option, just search the gluten free category for another delicious banana loaf recipe which will impress!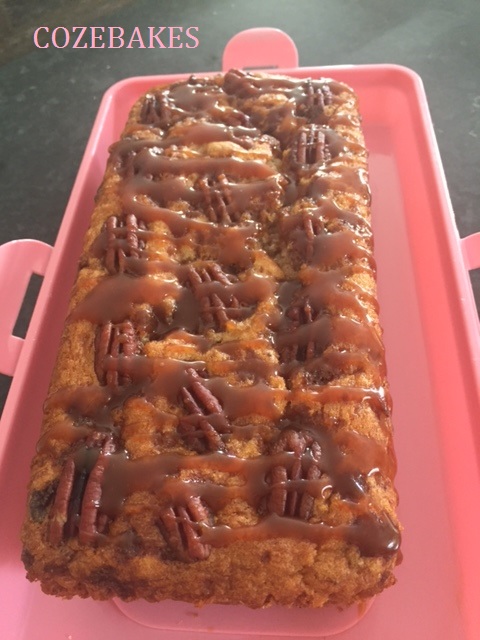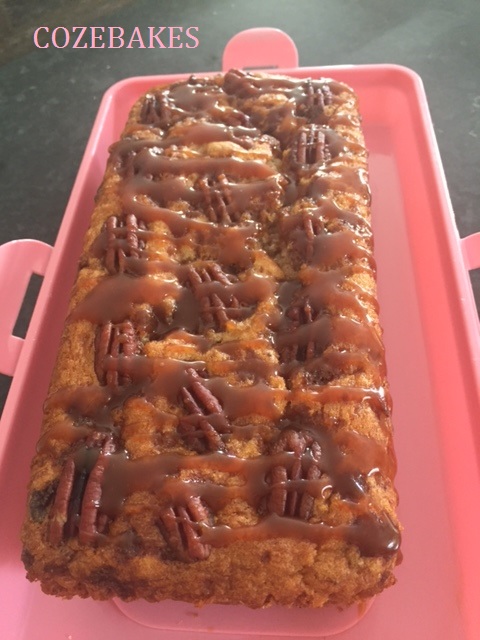 There are a couple of ways to complete this recipe and it depends on what you are looking for. If it's just a plain, straightforward slice of something nice with your cuppa, then leave it plain as it's so moist, it's yummy!
Add the nuts, chocolate chips or dates if you're making this recipe for a tea and you can top with pecans, walnuts, banana chips, etc., for a lovely finish. I have another nice decorating touch at the end of this recipe for something a little special.
I made this particular one with dark chocolate chips, topped with pecans and drizzled with salted caramel sauce ….. Mmmmmm
You need to grease and line a 2lb loaf tin with baking parchment. Line the sides and the base. Preheat oven to 180C or 160C Fan or Gas 4.
Ingredients:
140g butter, softened
100g caster sugar (optional and you can omit if you prefer)
2 large eggs, beaten
140g self raising flour
1 level tsp baking powder
2 very ripe bananas, mashed (if I use no sugar, I add 3 overripe bananas)
Handful of dried banana chips, nuts, etc., for decoration if you wish.
Method:
Cream the butter with an electric whisk until light. If using sugar, add the sugar and whisk till light and fluffy.
Slowly add the eggs, bit by bit and you can add a little flour if you're worried about curdling.
Fold in the remainder of the flour, baking powder and the mashed bananas. If you're using other ingredients such as nuts, then add them here.
The mixture is quite wet so pour it into the tin and if you're using topping decorations, place them on top.
Bake in the oven for approx. 50 mins. Check with a skewer and if it comes out clean, it's ready. The original recipe quoted 30 minutes but it's more like 50 mins to 1 hour depending on your oven. It was still completely soft in the middle after only 30 minutes.
Cool in the tin for a good 10 minutes before trying to remove it or the loaf will crack and break. Cool on a wire rack till completely cold.
At this stage you can wrap and freeze it. Alternatively, cut into slices, separate with parchment, freeze and use for lunches as needed.
An alternative topping is to mix 50g of icing sugar with approx. 2/3 tsp water to make a runny icing. You can drizzle this across the top of the cake for an added bit of luxury.
As ever, bake with love
Soraya x